Now on to the master bedroom renovation!  This room is probably my favorite in the whole new dollhouse. It just seemed to come together the easiest and was so much fun to decorate and think up things to make! And now I am remembering that the wallpaper was not so easy to pick out. SOOOO maybe it wasn't the easiest, but it turned out to be a fave!
The walls were all white from the original version, but I knew I wanted a focal wall to break up all the white, similar to how it looked before. (just not as large scale.)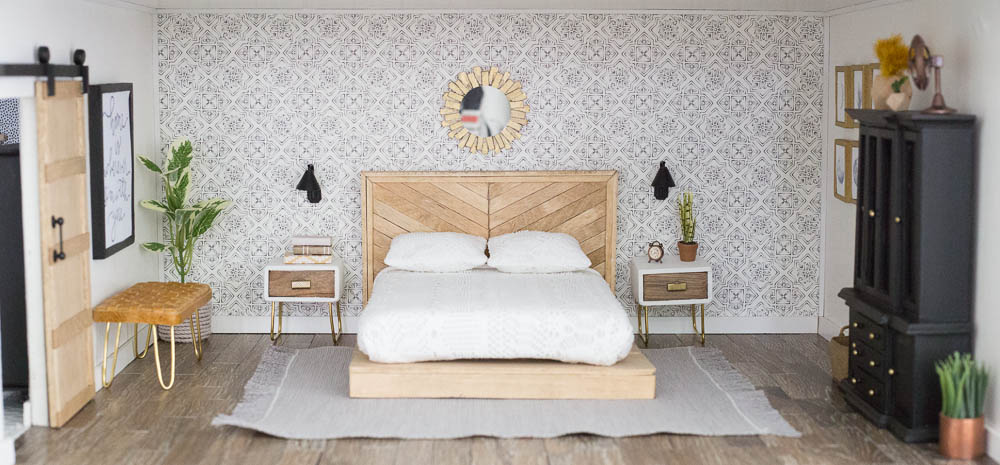 first, I painted it dark grey. nope. didn't work. Then I proceeded to try probably about 15 different patterns and papers, and spend HOURS looking at paper, before finally finding this scrapbook paper which was EXACTLY what the room needed. After installing it (with a little mod podge), I ended up having to add some tiny trim along the corners and ceilings to cover the little gaps where the grey paint showed around the edges, since even though it's tiny, the dollhouse isn't perfectly square. Like any other house, I guess!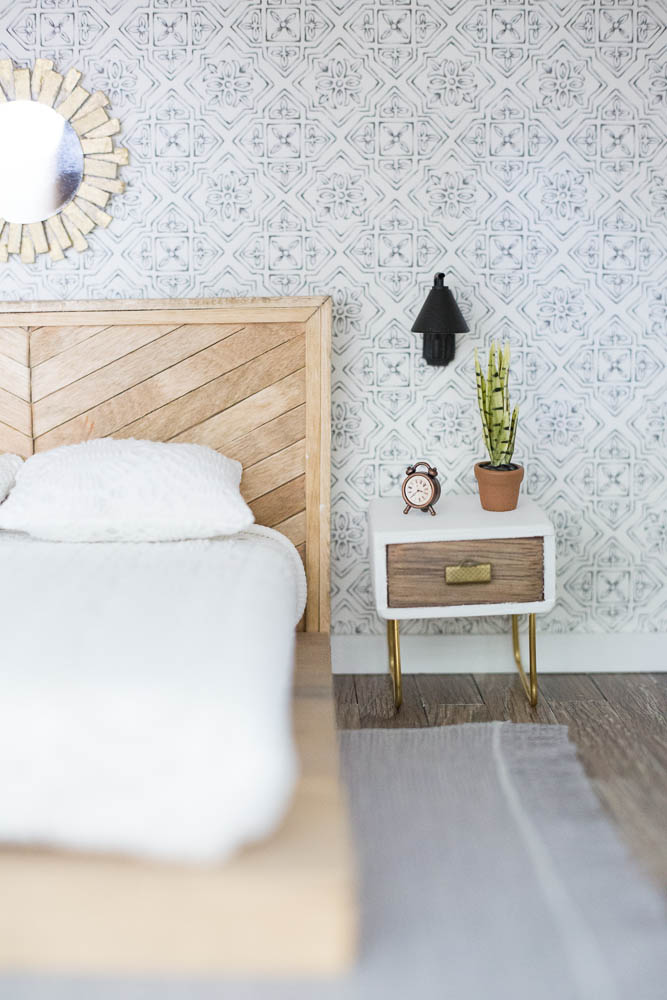 The floors were done using the same technique as the kids rooms.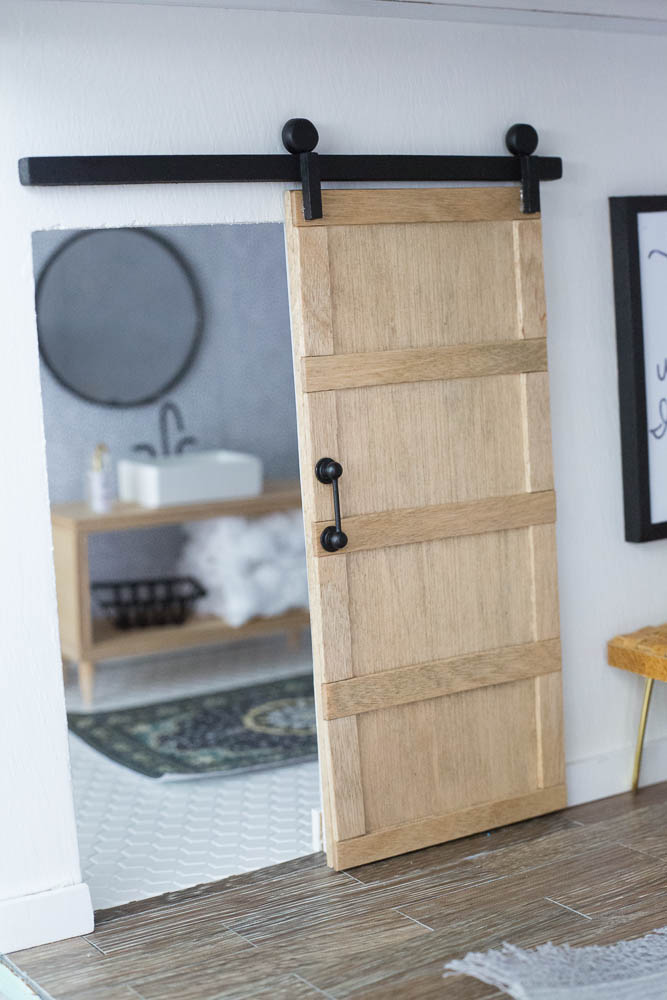 Probably my favorite part of the room is this BARN DOOR!! It seriously makes me so happy. We have no place in our house where it would make sense to do one, but I think they are so amazing, so I couldn't pass up the chance to make one in miniature. That's really what this house is, dream house fulfillment for me. I made it with some 1/8″ craft plywood (most of the furniture I made is made with that), and some popsicle sticks cut for the trim. Then I glued it together, stained it, and added a toilet paper dispenser that I painted black for the handle.
Also, spy a sneak peek of the bathroom!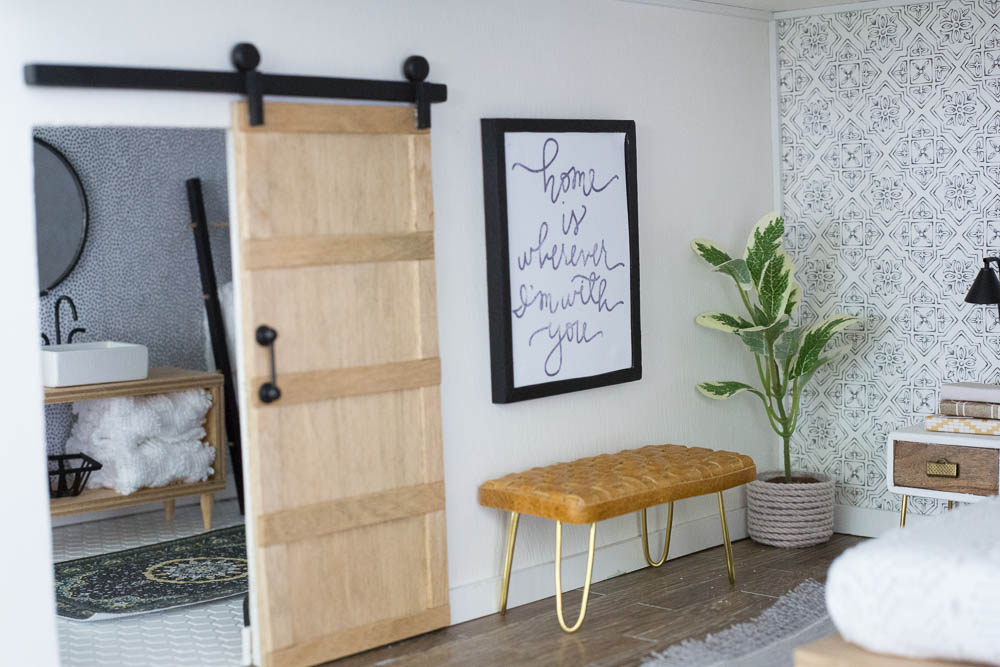 I WISH it was working and there was a point when I thought about it, but I figured it's going to get broken, and if I spent the time on it to make it actually slide, I would be SO much more mad if it did break. So the hardware on top is some craft wood and flat beads glued together and painted, then glued to the wall.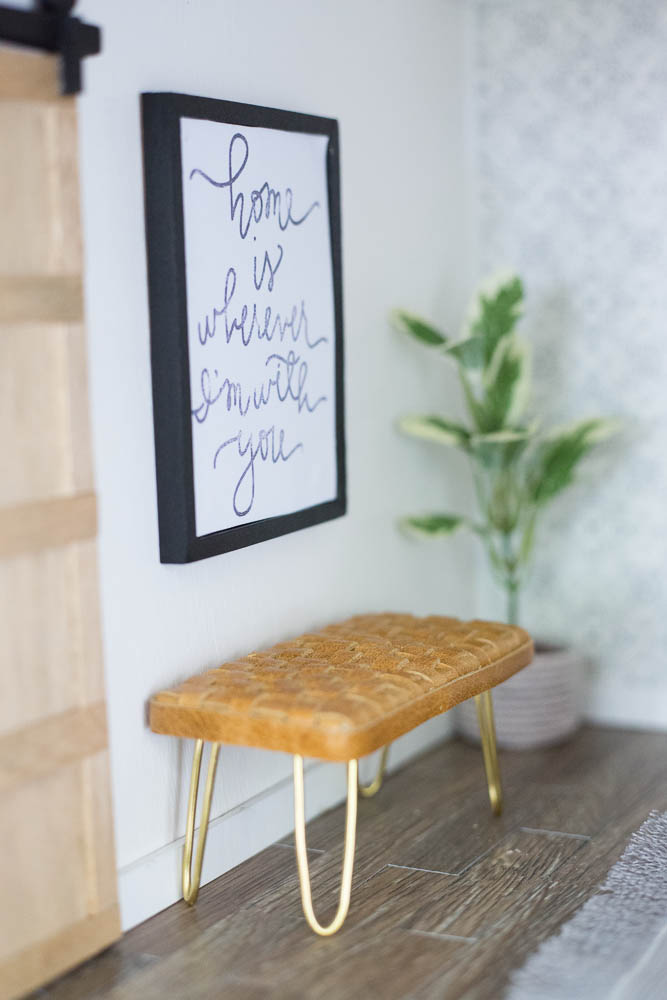 I found the artwork on Pinterest, and made a frame for it. Love how this braided leather bench worked out too! I have a video how to on my Dollhouse Instagram story highlights!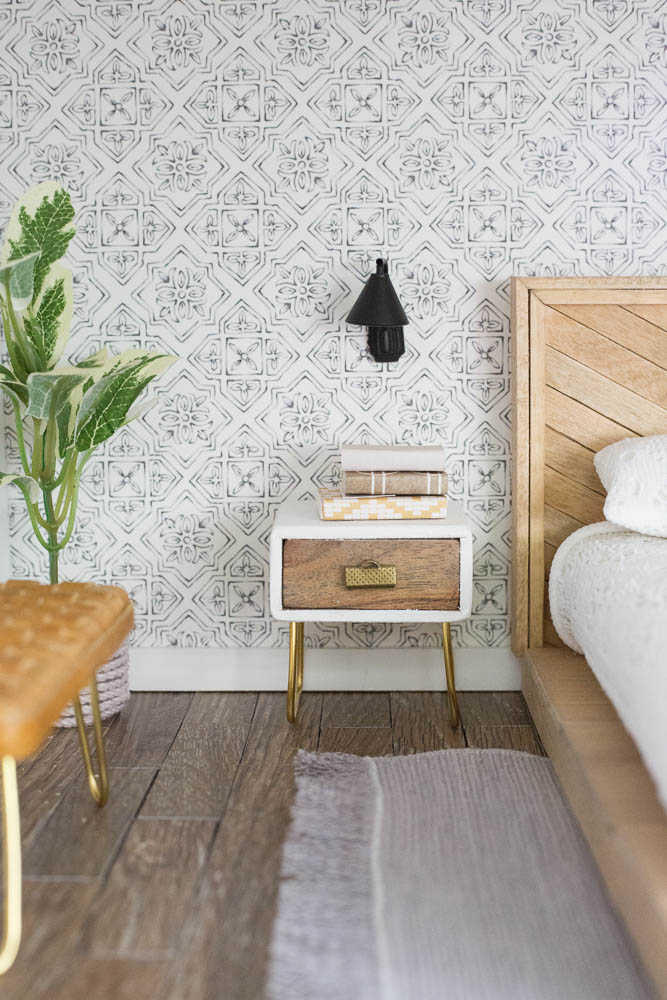 I also made the plant over in the corner, which I love! Here are some plant making tips!
I made the bedside tables too, starting with square blocks from our playroom! I built around them with some more 1/8″ plywood, then stained the inside "drawer" (non working), and then painted the outside. Then I drilled into the base in the corners and bent some jewelry wire to be the legs! Glued a random jewelry finding on for the pull, and called it a day!
I painted these sconces from Miniatures.com black and they turned out amazing!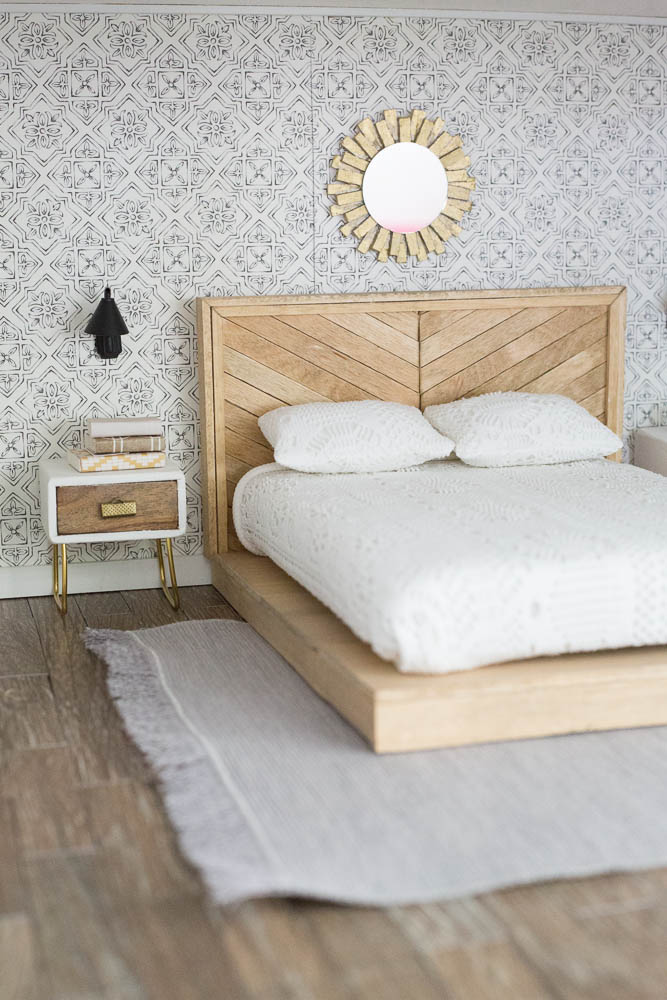 I originally made the sunburst style mirror for the living room, but once I tried it out over the bed I was SOLD. I made it with tiny pieces of balsa wood, a mirror my friend Cassy gave me, and some cardboard and hot glue! Also some gold paint, of course.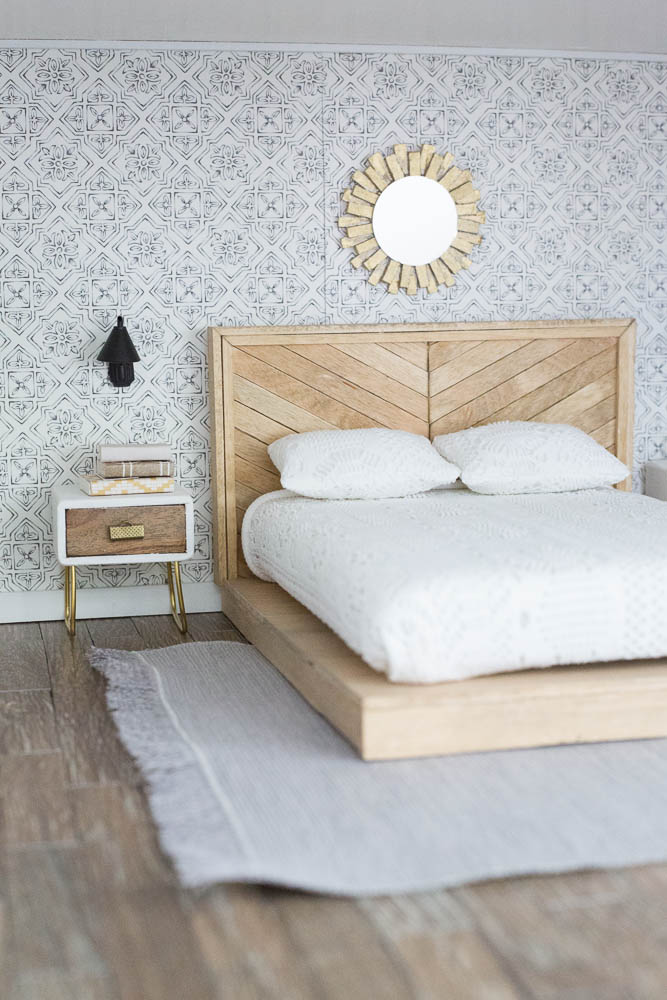 Now let's talk about the bed. When I made this, I didn't know too much about building dollhouse furniture, so it's kinda macgyvered together! I made the headboard first, with popsicle sticks and craft room. Then I attached it to the base, which I made separately. The mattress (cardboard and felt) is removable but the quilt is not. It's some stretch lace over the felt, and I love the texture it adds!
I completely adore this amazing rug that CLD miniatures sent me for the room! It's the perfect grey, perfect size, and do you just LOVE the edges? It looks SO realistic! Their shop is full of amazing modern dollhouse goodies. Check them out!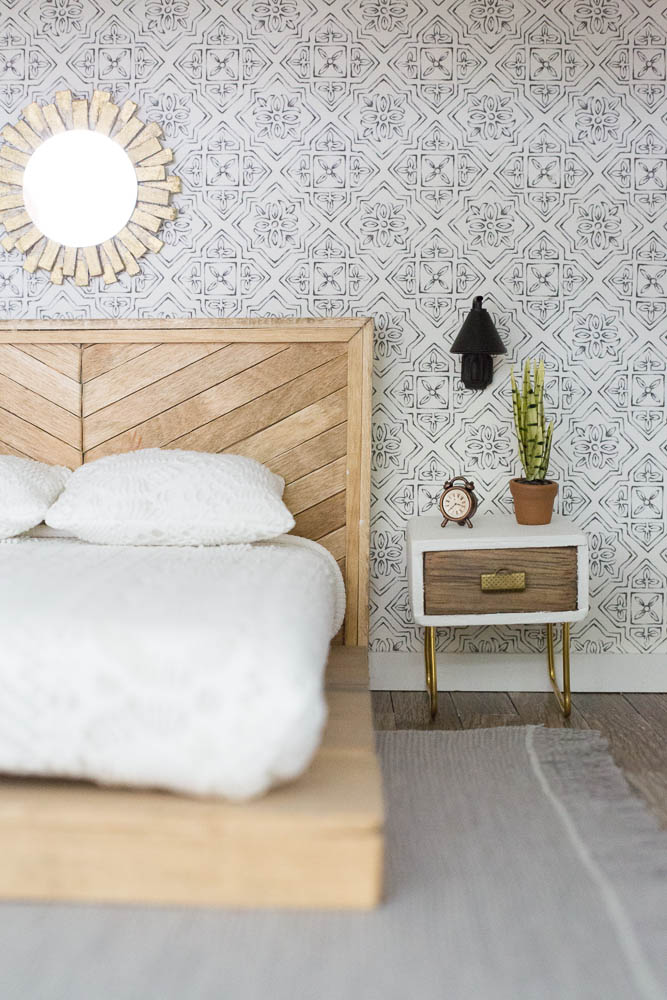 AND can we talk about this super adorable snake plant and tiny alarm clock!? be still my miniature loving heart!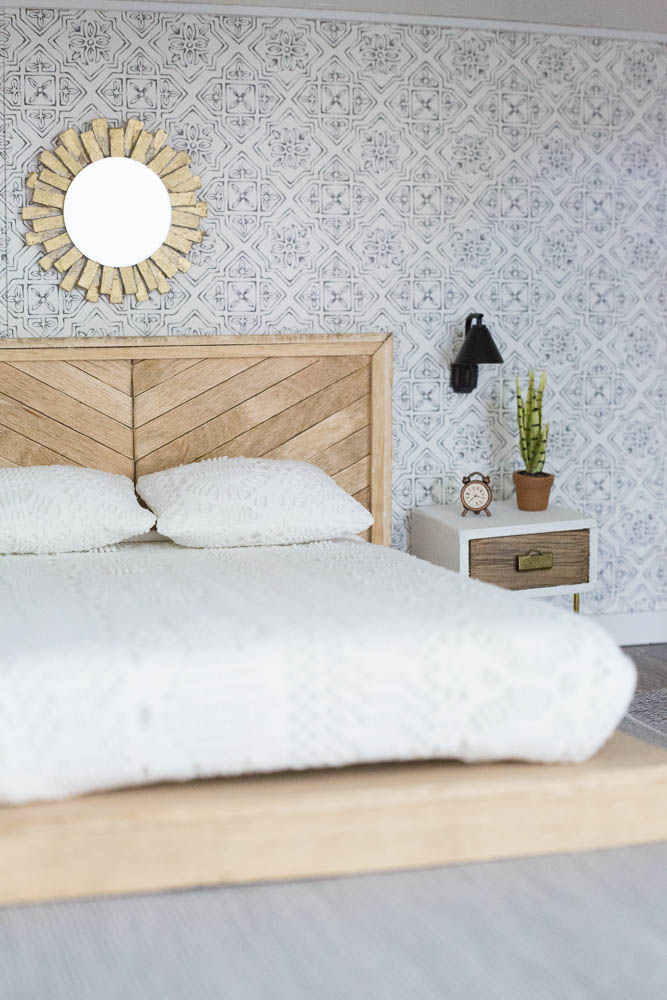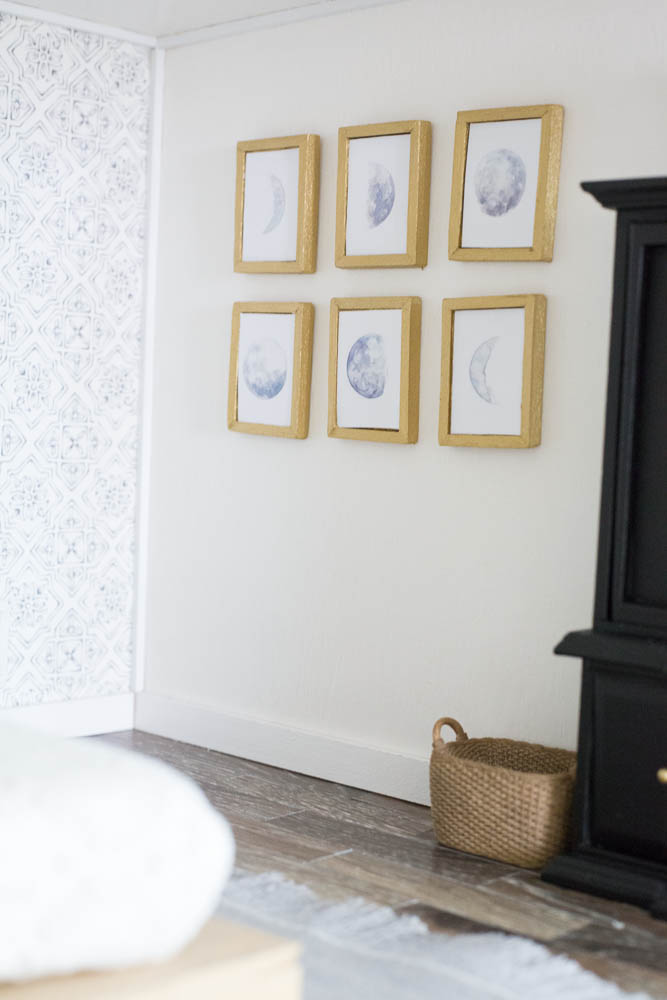 Then over on the last wall, we have a collection of lovely art prints! I made the frames by hand and they are not perfect! I still love how they turned out though! The moon phase art prints inside are by ColorWatercolor and they are perfect for that spot!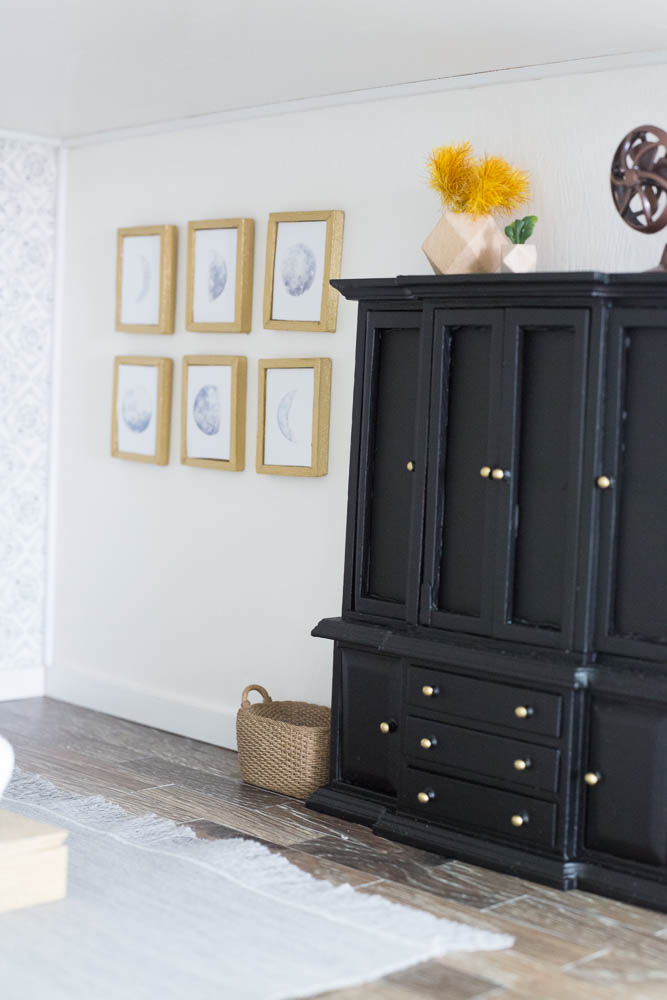 A little basket is always necessary in a bedroom, right?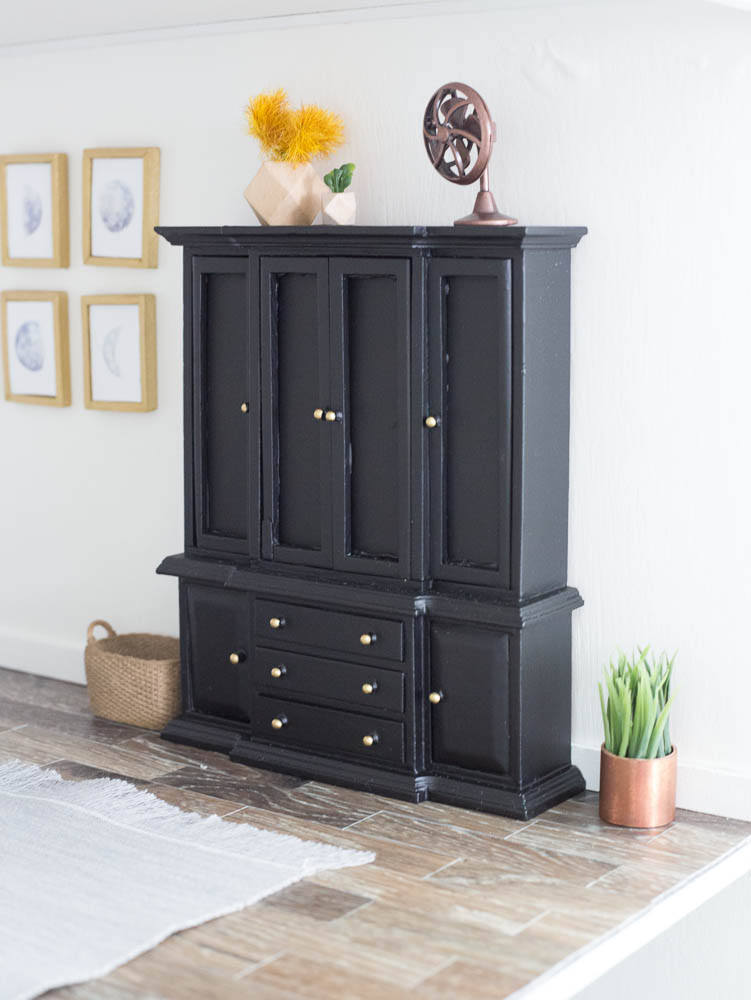 I painted the armoire that was in the old version of the living room matte black, even right over the "glass" doors. It was a pain to take them out and then I kinda broke one of the frames, so I glued it back together and decided it wouldn't be a working armoire. LOL Then I added a couple more faux plants and a fan I found on Amazon on top.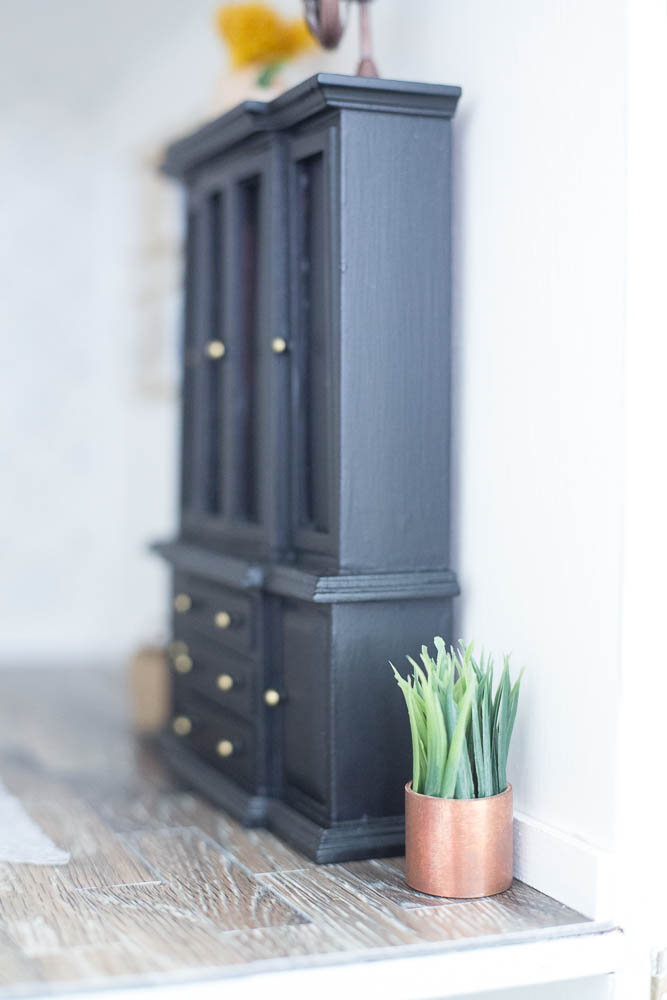 One more thing I was sent from Small Fun Shop was this amazing copper pot with grass inside! love it!