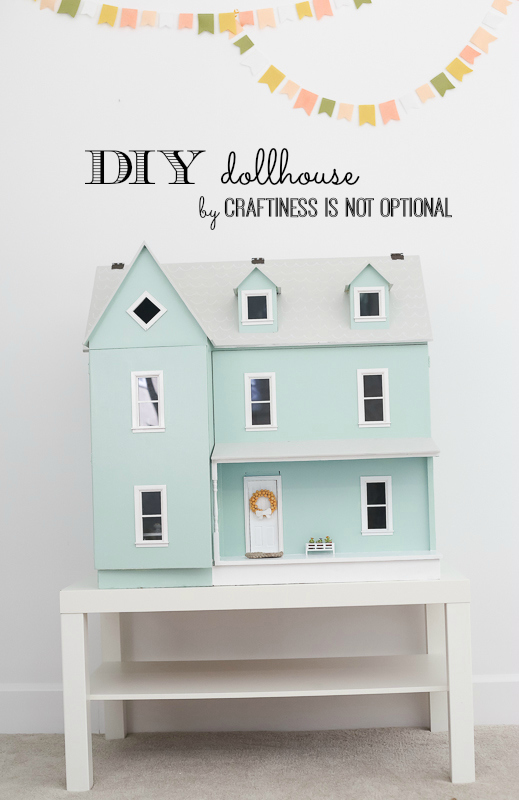 As you may know, I've been working on this dollhouse for…..many months. I had a while where I was OBSESSIVELY working on it feverishly, and then I had to wait for some things to come in the mail…and my momentum kinda slowed down, then stopped.
Recently I've been finishing and re-decorating our playroom-which is where the dollhouse was going, so…kick in the pants to finish it, here I come!
I finished up some last minute projects, painted the outside, painted new windows, and wha-la!
The post started out excruciatingly long,  kudos to you if you stick with me til the end. I'll give you a high five if you do.
Out of absolute necessity (otherwise this post would take AGES to read), I've split up the posts into 3 posts-each floor of the house will get it's own post with the info for it, and then I'll link to them in this main post.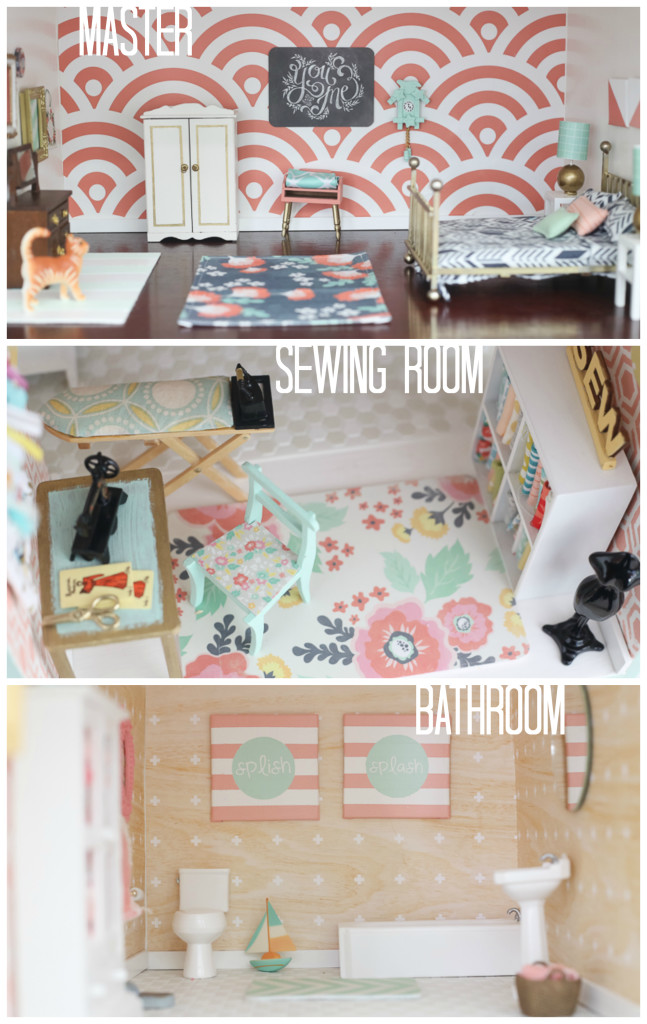 Master Bedroom, Sewing room, Bathroom post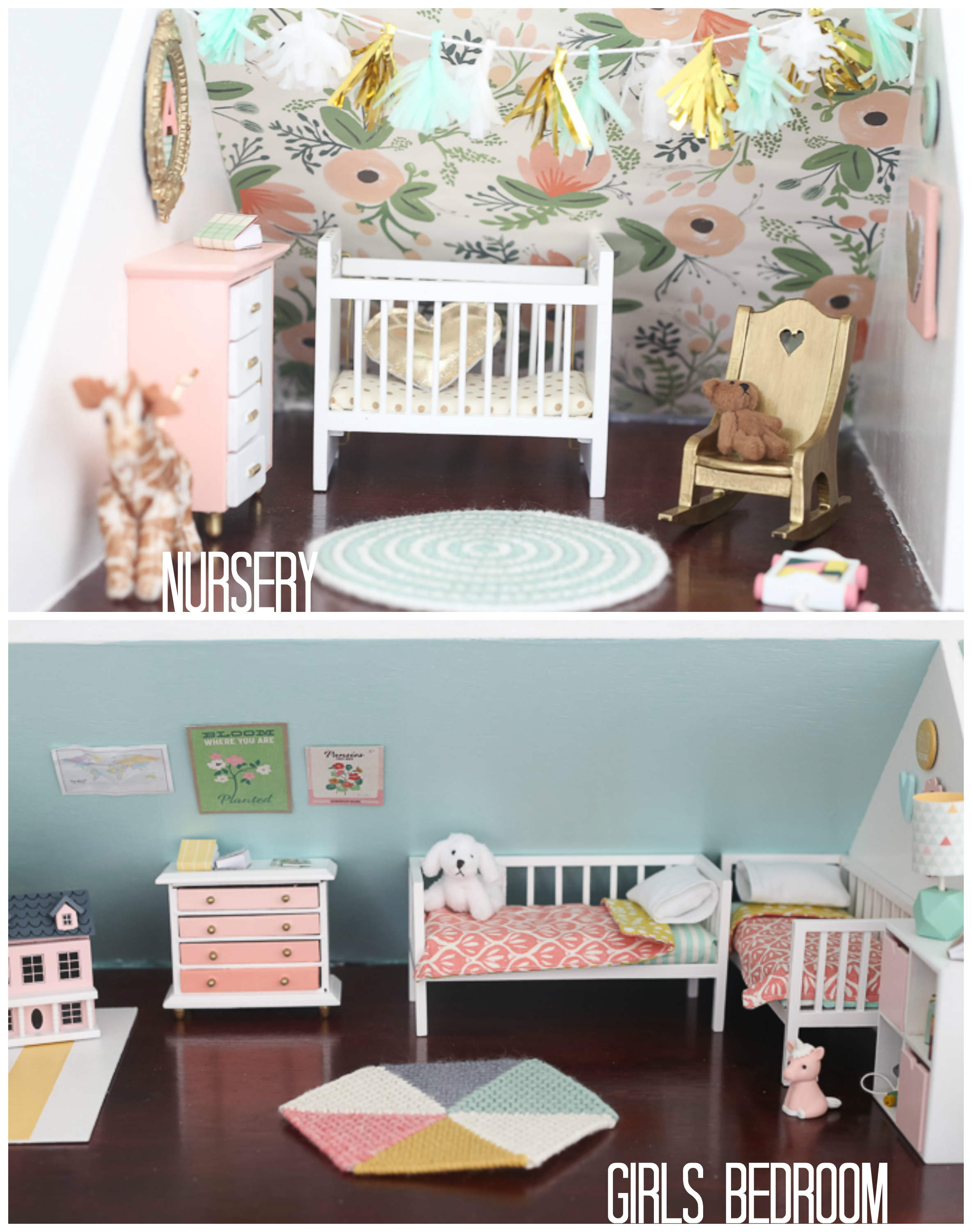 Nursery and girls bedroom post
Also, there will be many links, some affiliate, some not. Just assume the amazon ones are affl links, and the others aren't.
I had the honor of having some AWESOME blogging friends contribute to this dollhouse, so I will definitely shout out when I talk about something sent to me.
OK. let's get going.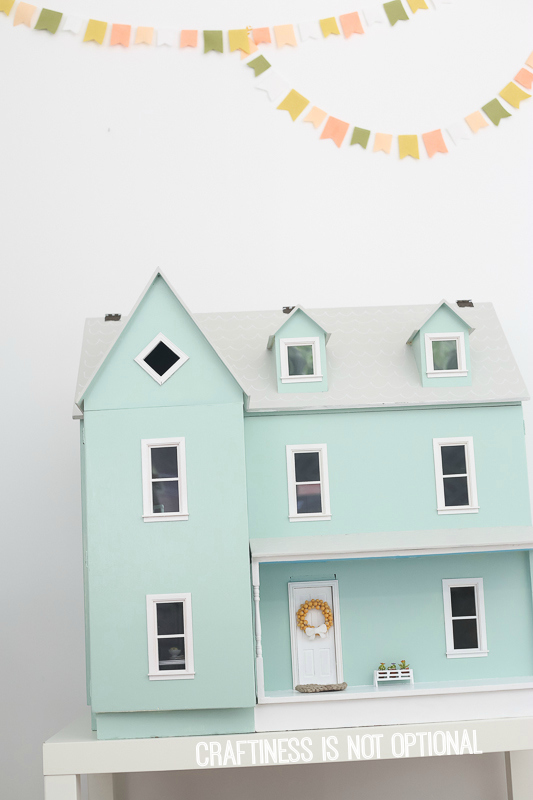 let's start with the house itself. I bought it from a guy on eBay, whose wife had started it but never finished. It was an AMAZING deal. The kit is close to $500 new  but I think the guy wanted it gone, so I got it for $80.
YES you read that right. It was pick up only but since he was in LA, we stopped by while Rory and I were frolicking in Disneyland for our 10th anniversary in Feb.
It came with a ton of furniture, etc….some of which I used, some of which I plan to re-sell since I don't need it.
I love that it closes in the front-that was important to me since I don't trust Ava (or other kids, I"ll be honest) to play nicely with it yet.
C and S are surprisingly gentle and good with everything.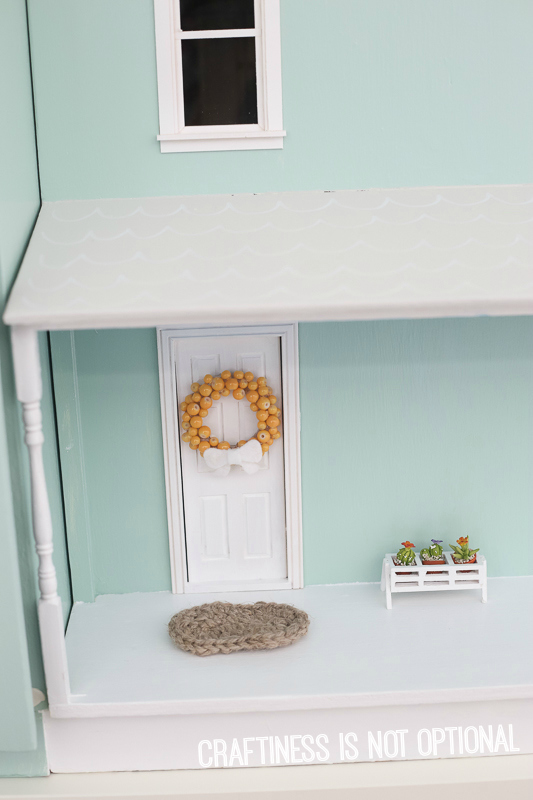 I made a little wreath for the front door (which has no handle yet-oops) out of a cardstock circle, beads, and felt.
Delia made me the front mat, and RaeAnna sent me the CUTEST little succulent planter.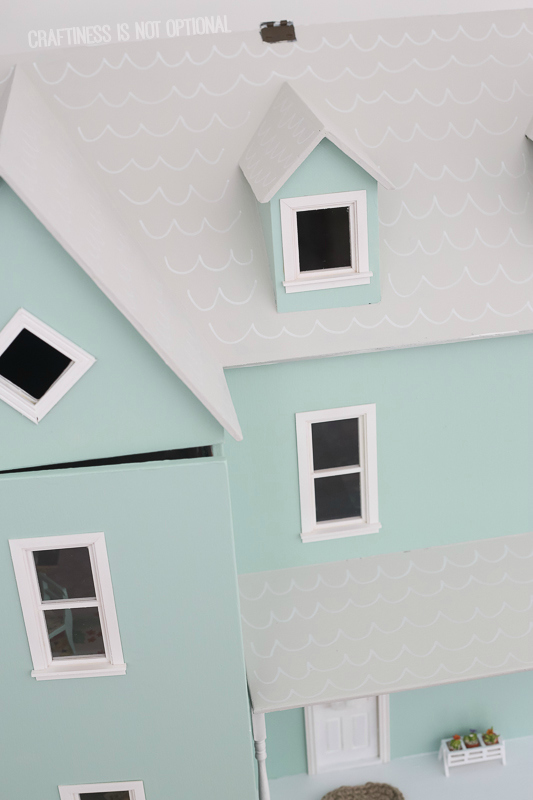 I mixed a color for the outside so don't ask what it is, lol. the grey on the roof is Dolphin Fin by Behr…and I used a sharpie paint pen to draw some scallops on.
they are supposed to represent shingles.
Just nod your head with me, mkay?
the door and windows (except the top diamond shaped one) are all from miniatures.com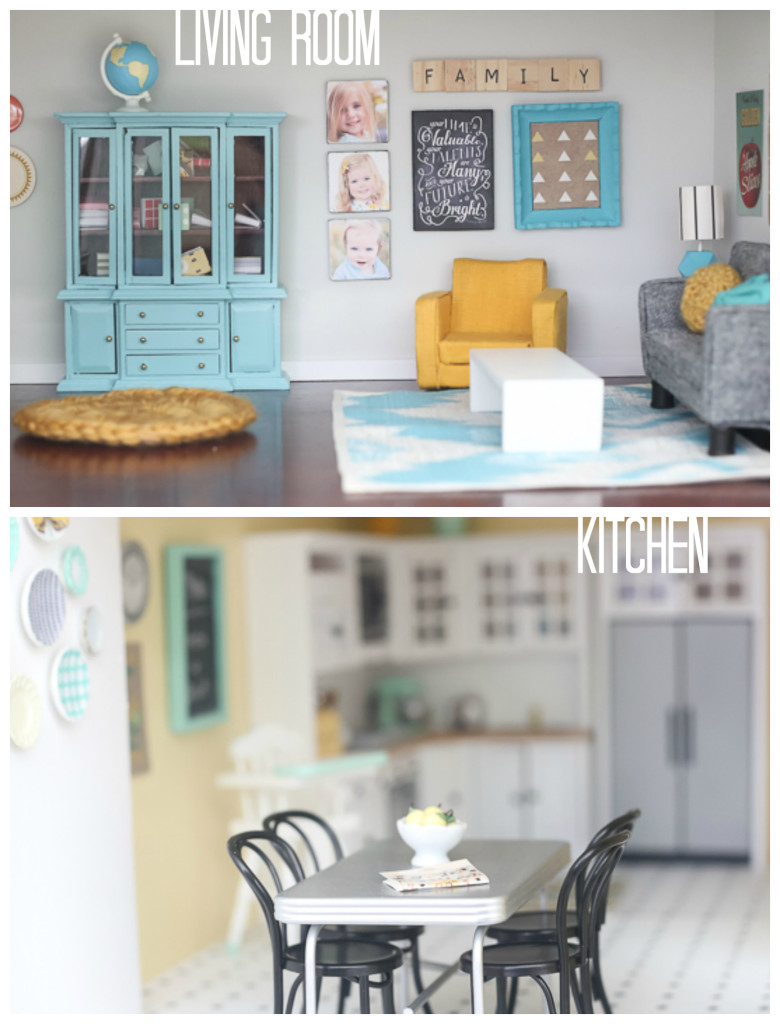 today we will cover the  bottom floor.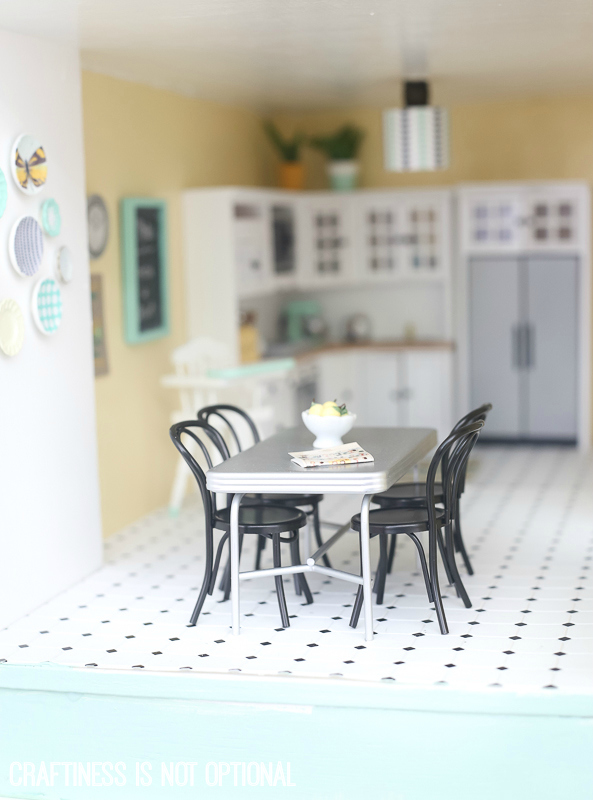 Room 1: the kitchen
paint color: …yellow of course…mixed it myself.
 The floor is some of this tile, and the lady who had been working on the house had already cut it to fit this room. perfect! thanks, lady.
Table, chairs, (similar) bowl of fruit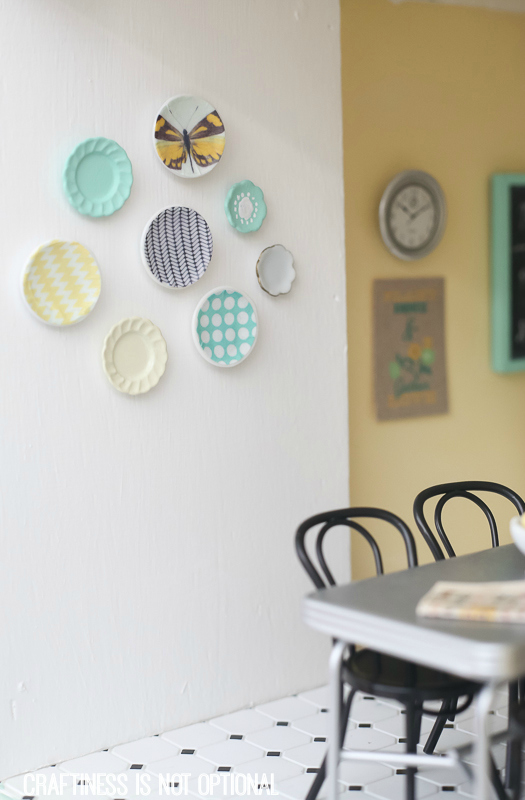 various plates from eBay, then I printed out some patterns and mod podged them to the plates…and or painted them.
everything is hung on the walls with that poster putty stuff.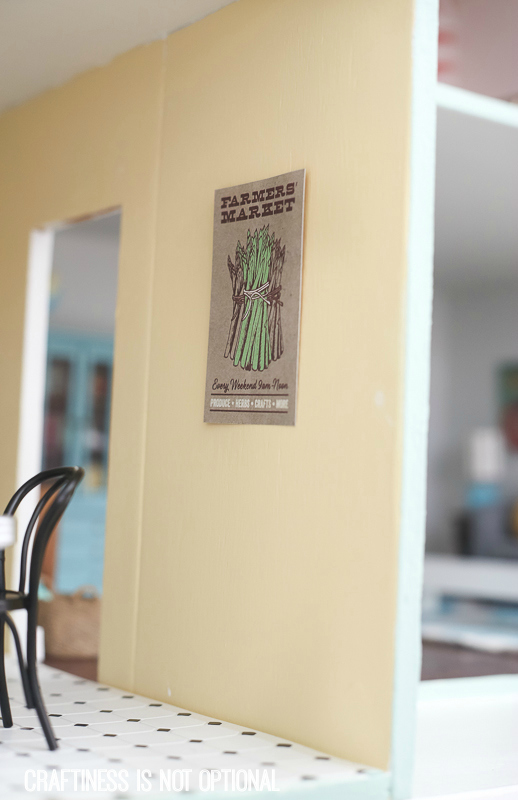 I bought a fun vintage sheet of scrapbook paper when I was in Portland at a shop called Collage and cut it up to hang in the kitchen, and some in the girls room.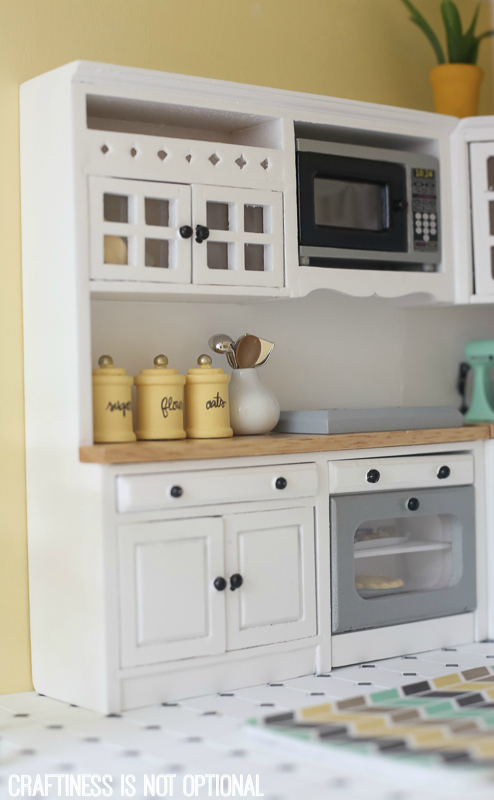 the kitchen set is from this shop, and I ADORE it.
I made the little food canisters with wooden beads, little wood circles, and a bead glued together, then painted. I penned the "labels" on with a fine tip sharpie.
The rug is a scrapbooking journaling card (with felt glued to the back for some weight) from the We R Memory Keepers brand. I bought a few of the packs at Target, and used them throughout the house for art work and tons of other stuff!
Kristin sent me the baking pan in the oven-hehe! it cracks me up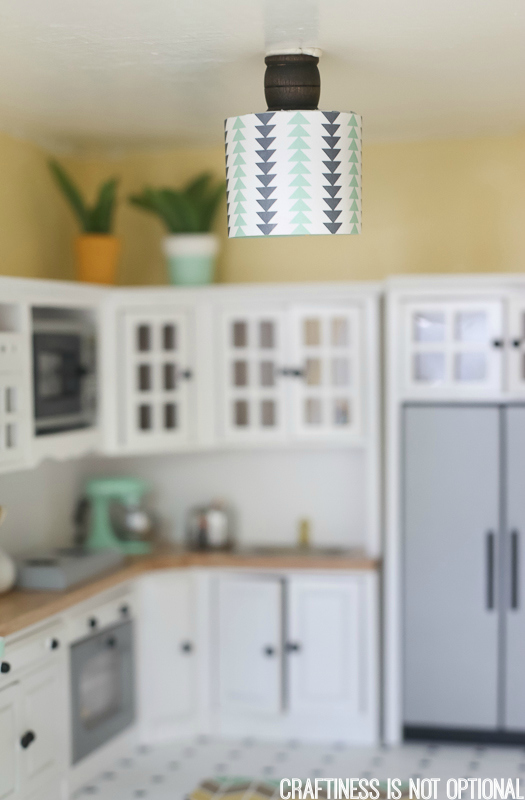 here's another piece of that paper in action-I made a little light for the kitchen…ghetto-ly stuck up on the ceiling…heh.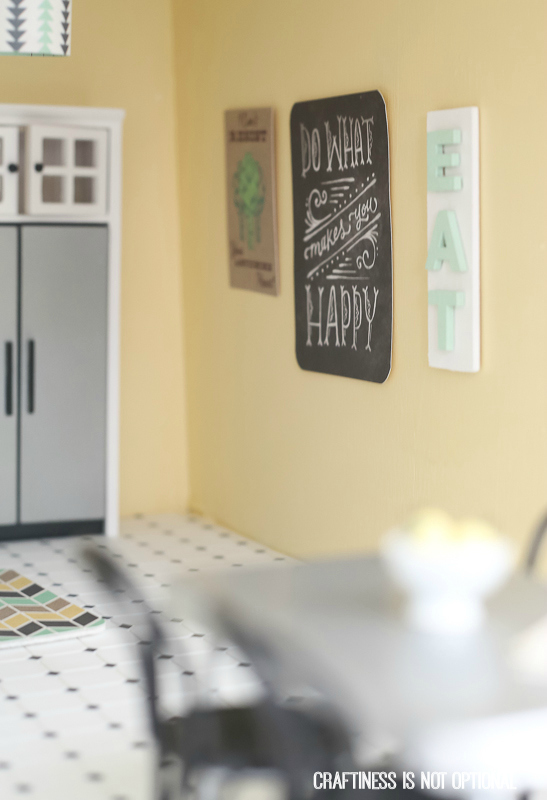 I made an EAT sign with some wooden letters and balsa wood…the other things on the wall are from the paper pack & that piece of scrapbook paper.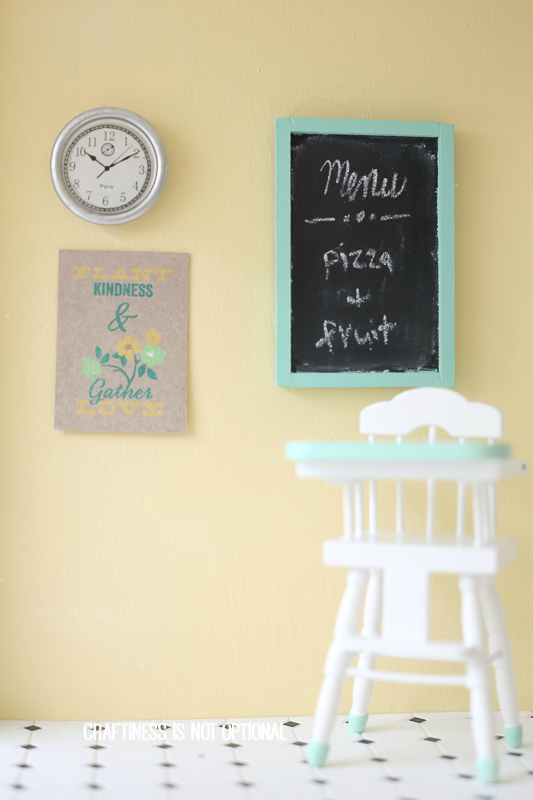 clock, chalkboard…the high chair is part of the nursery set that a group of my fabulous bloggy friends sent me.
I painted a few parts with some mint pant.
Thanks, Susan, Karen, Mie, Jen & Kirstin! (a few other things sent by this group too…)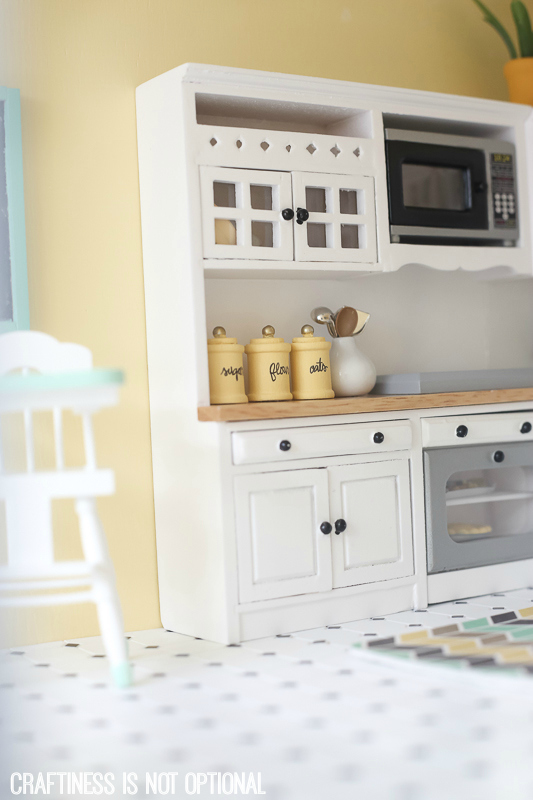 the clay pots I got from Hobby Lobby, painted, and glued some fake leaves inside.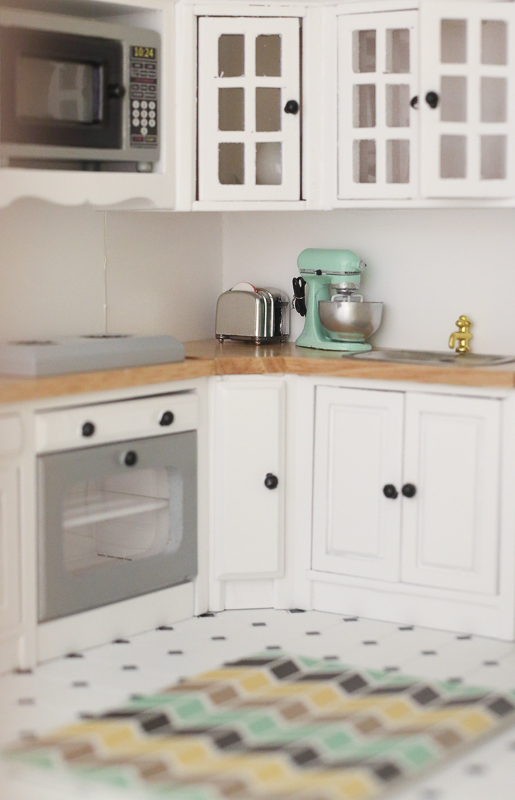 I have to point out this MINT kitchen aid. I had to have it! Found it on Etsy, but the seller doesn't have this color anymore.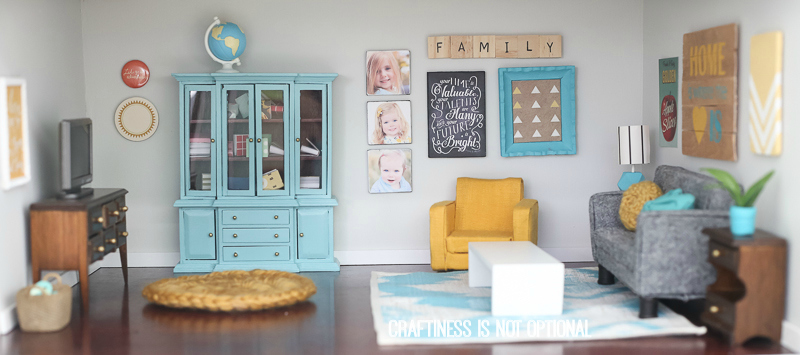 Room 2: Living room!
paint color is Silver Tradition by Behr. I put in "baseboards" in this room, the master, and the bathroom.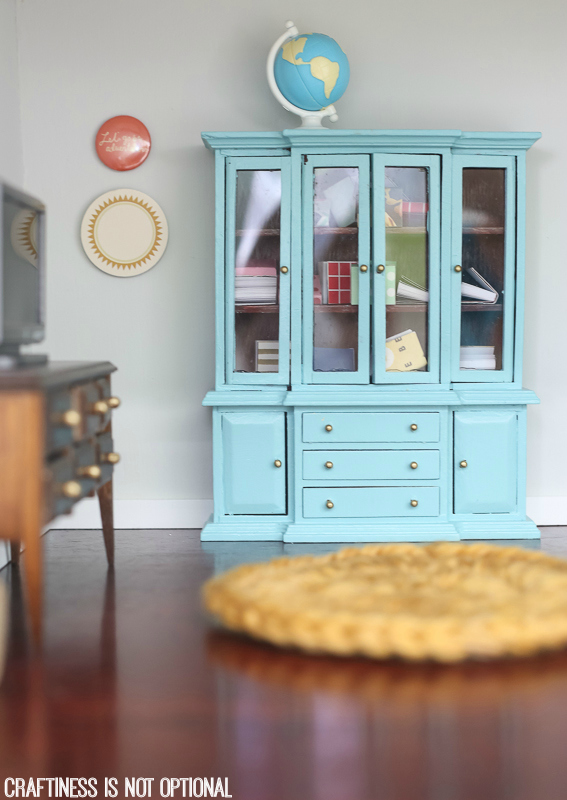 This awesome hutch came with the house-it had some ugly fancy trim on top, which I snapped off neatly (it was just glued on), sanded down, then painted this fun aqua color!
I painted the knobs with brass martha stewart gilding-all the gold finishes you see around the house were done with this.
the artwork are scrapbook thingy-bobs, and I covered all the neatly stacked (ha) books with scrapbook paper! (books from hobby lobby)
the little globe is a Little People globe, found on Ebay.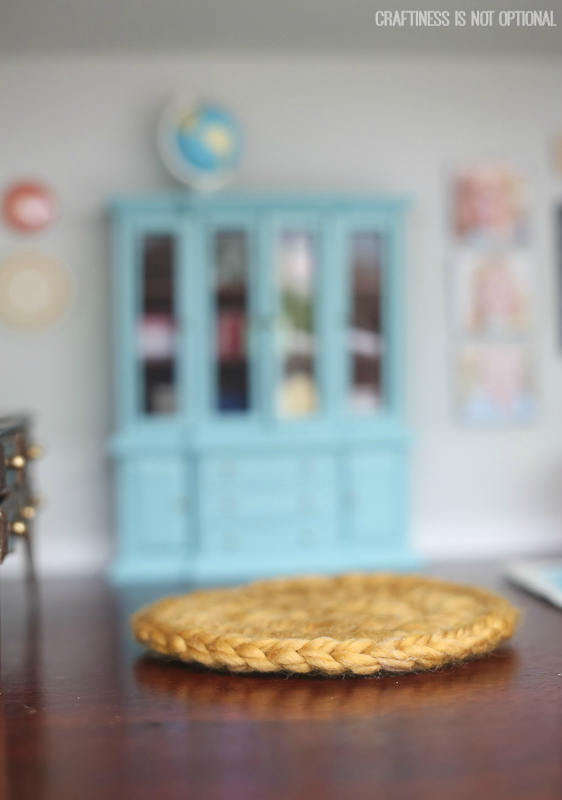 Delia crocheted me this rug, too, which fits perfectly in this little spot!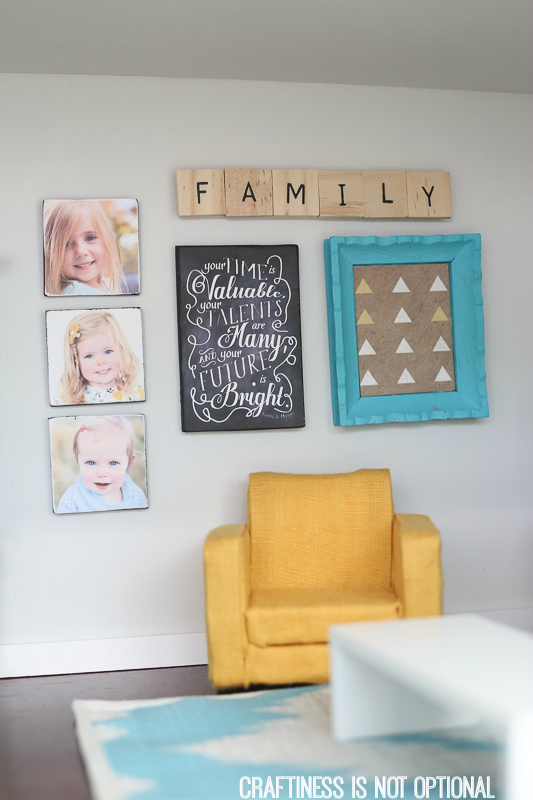 I made all the art on this wall-the little "canvases" of the girls I printed off, then glued to chipboard squares (I knew I hoarded my old scrapbook supplies for a reason!), and painted the edges black. Same thing with the chalkboard saying, found it on Pinterest (source). Painted a frame teal, from Hobby Lobby, I think, then stuck some paper from that faithful journaling pack inside.
Glued some wooden letters onto a popsicle stick for the family sign.
(Charlotte made a couple of these that said KSIHDY and FLRGBG…)
I made the mustard chair with this tutorial…only smaller dimensions.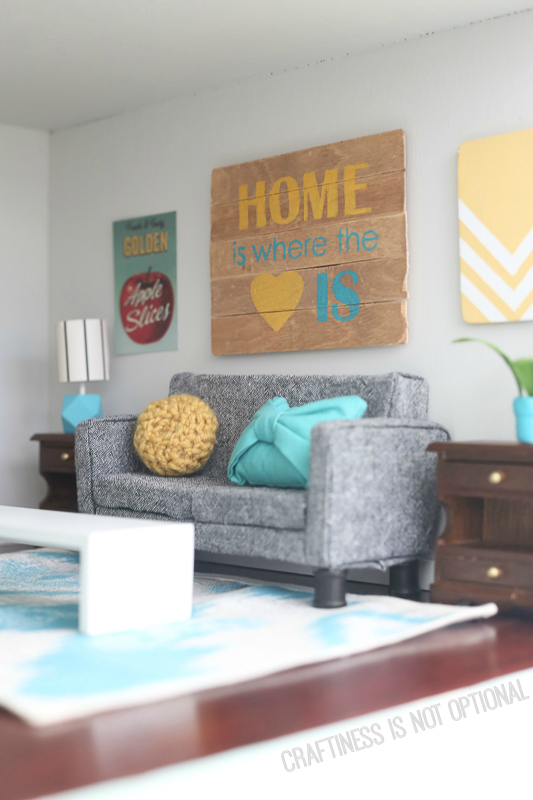 The couch was made with that tute as well! I covered it in some Yarn dyed black Essex linen, which worked out great!
I attempted to crochet a pouf for the dolls to sit in, and it turned into a pillow size since I'm not a great crochet-er, so I went with it…
I made a wee little bow pillow also.
Side tables were bought in a ebay lot.
The lamp made using my tutorial.
the apple poster is from that trusty scrapbook piece of paper, and the yellow chevron "canvas" I made with a little piece of craft wood and some tape.
The large sign I made with some popsicle sticks, and cut out vinyl with my Silhouette to make a stencil, copying this sign.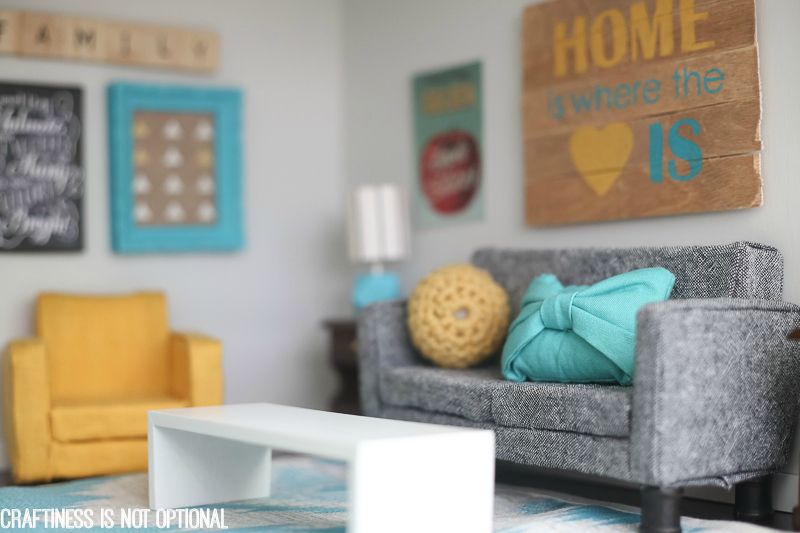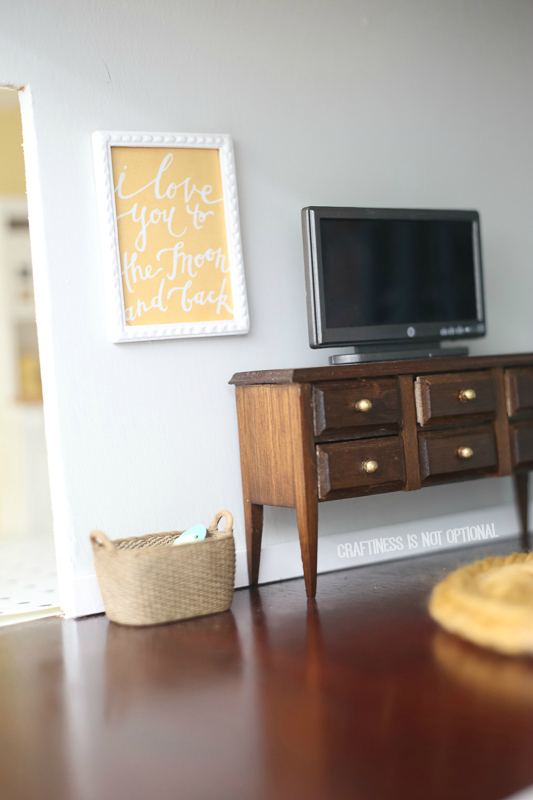 The side table was from that ebay lot, painted the knobs and called it good.
I had to have this awesome flatscreen TV.
Basket (from my group of girls!), artwork is from that journaling pack, frame from Hobby Lobby. I stuck some flip flop stickers I had in the basket…ha!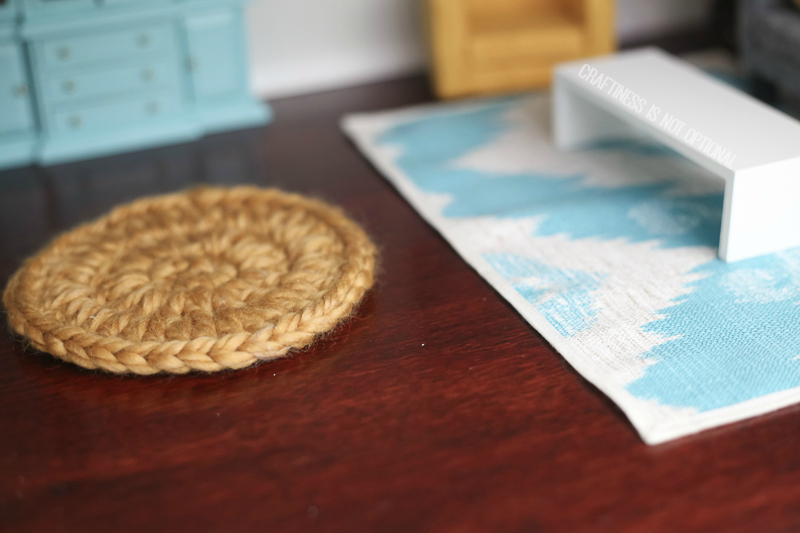 The teal rug is a scrap of outdoor fabric (I made a faux roman shade out of it for my real kitchen), with some skinny bias tape sewn around the edge.
phew! meet you back here for the next level of the dollhouse in a few days!