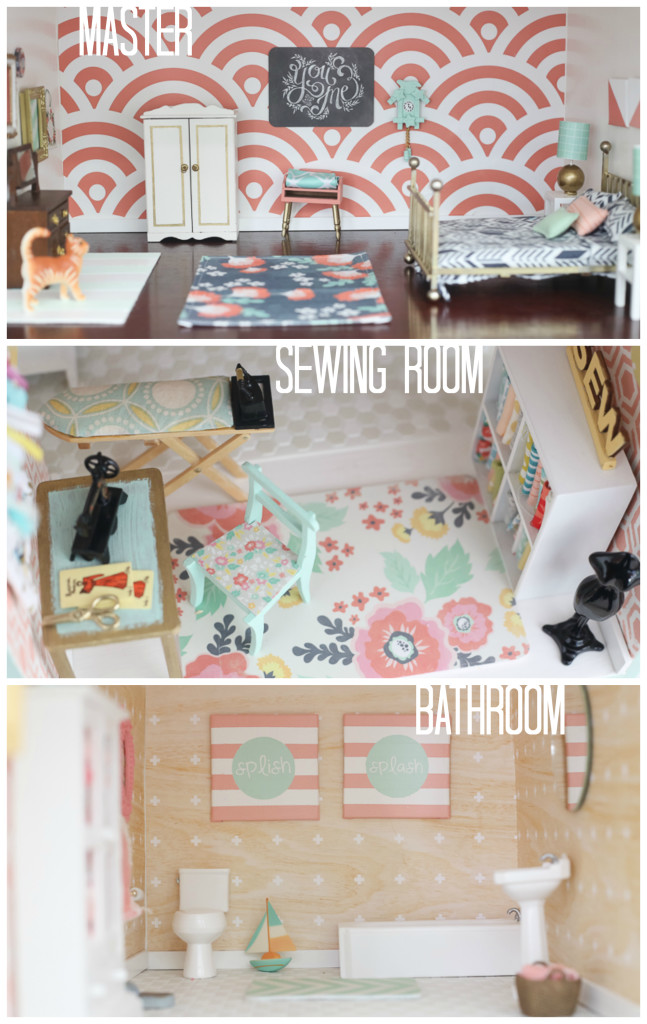 Still with me on this DIY dollhouse tour? (again, some affiliate links in this post!)
Let's move on to the second floor!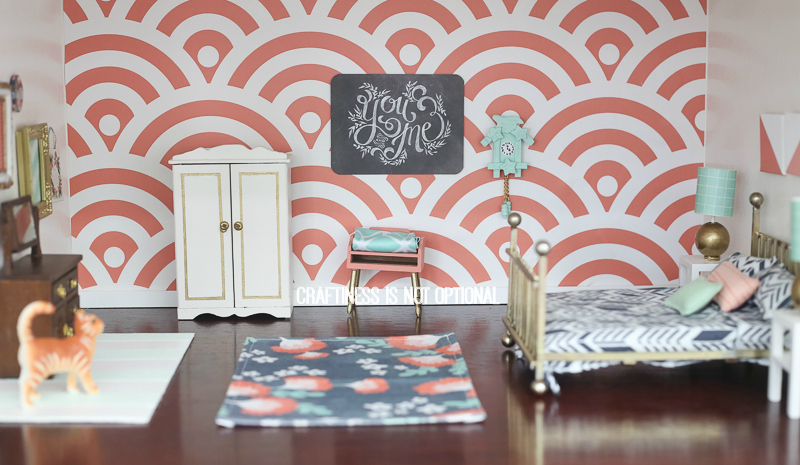 Room 3: the Master bedroom
The walls are simply painted white, except the back wall, obvs. I used a bit of  wallpaper from Chasing Paper for the back wall.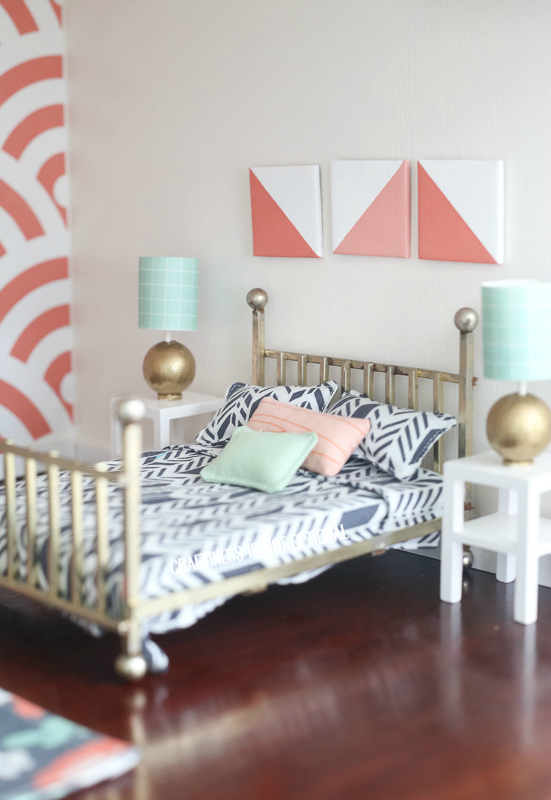 The vintage brass bed I found on Ebay, made the bedding with some fabric Kristin sent, and scraps from other projects.
side tables came with the beds in the girls room.
I made the art with some tiny canvases, painting then in half diagonally by taping them off and painting–super easy! (they are crooked..grrr)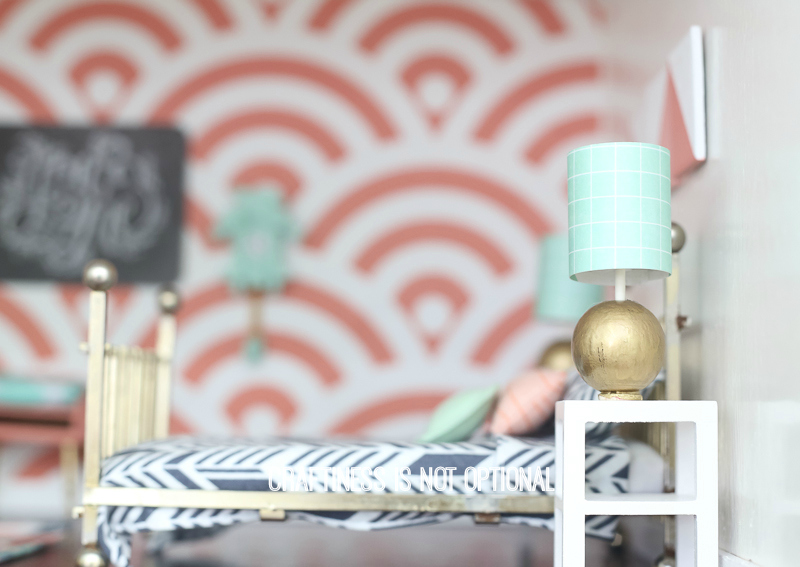 lamps from my tutorial, painted with the gilding brass stuff…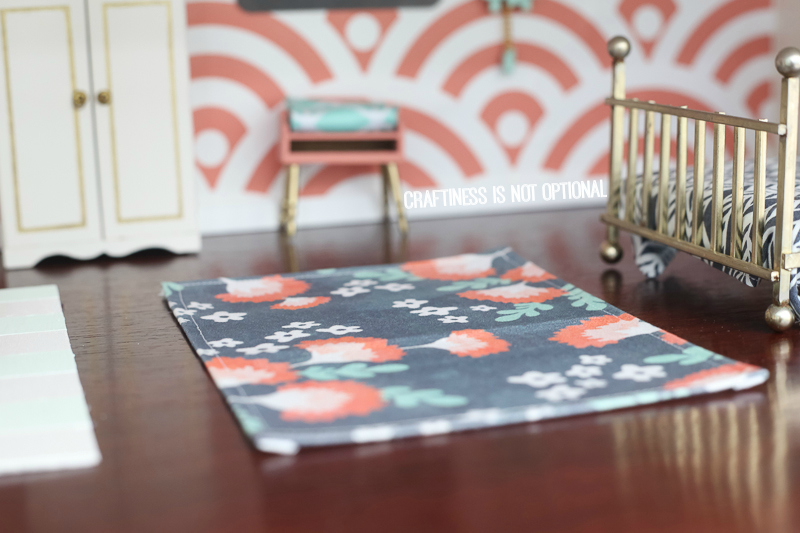 The rug I made with some of that journaling pack-I loved this print but it wasn't a big enough piece of paper for the room.
I scanned it in and uploaded it to Spoonflower, then printed a sample off in twill.
Trimmed it down and hemmed the edges. Perfect!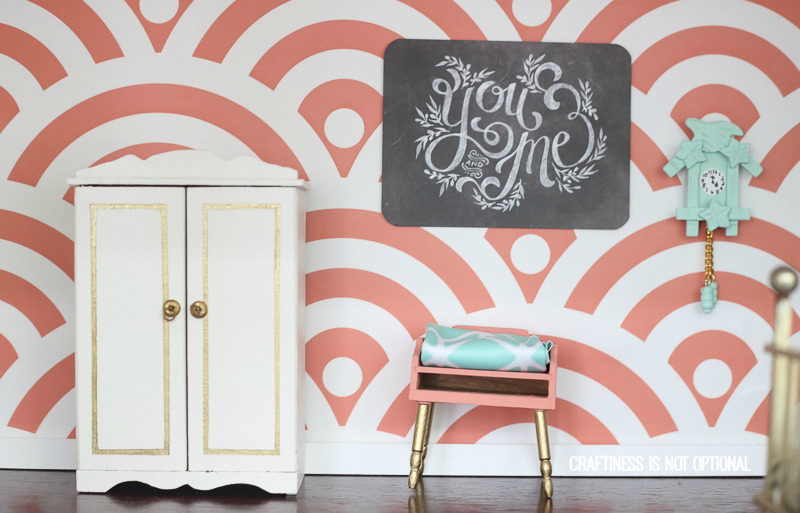 artwork from the journaling pack, cuckoo clock from Hobby Lobby, furniture from an ebay lot…painted with some gold stripes and  accents!
the "blanket" is just a scrap of fabric folded up. 🙂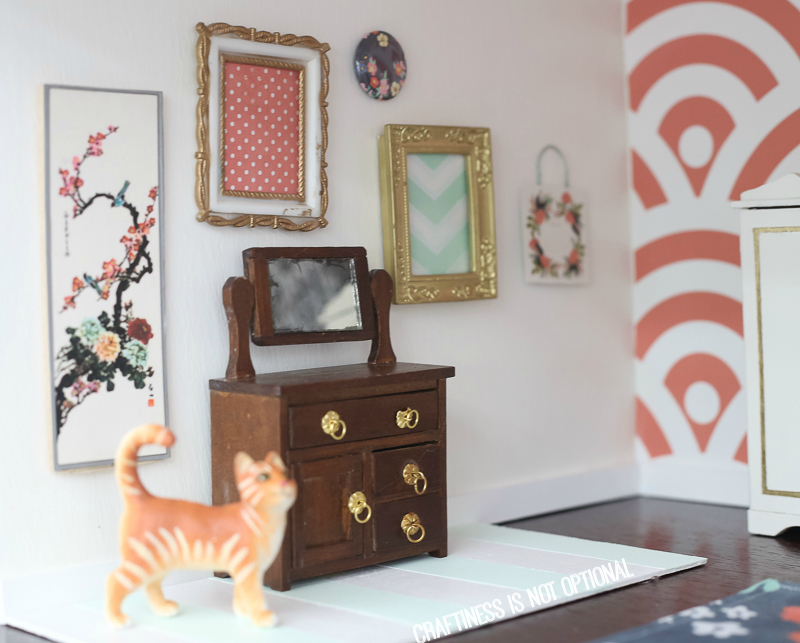 the dollhouse of course had holes cut out for the staircases, but I nixed those.
I didn't want to paint all of those steps, plus the placement was awkward and I knew my girls would never use them.
So instead, I painted some thin sheets of balsa wood to look like rugs, then glued them over the holes. bam. PROBLEM SOLVED.
the artwork is kinda a mish-mash of stuff that came with the house, paper from the journaling pack, and scrapbook items…plus a calendar cut from a rifle paper co pamphlet.
dresser/vanity from that ebay lot.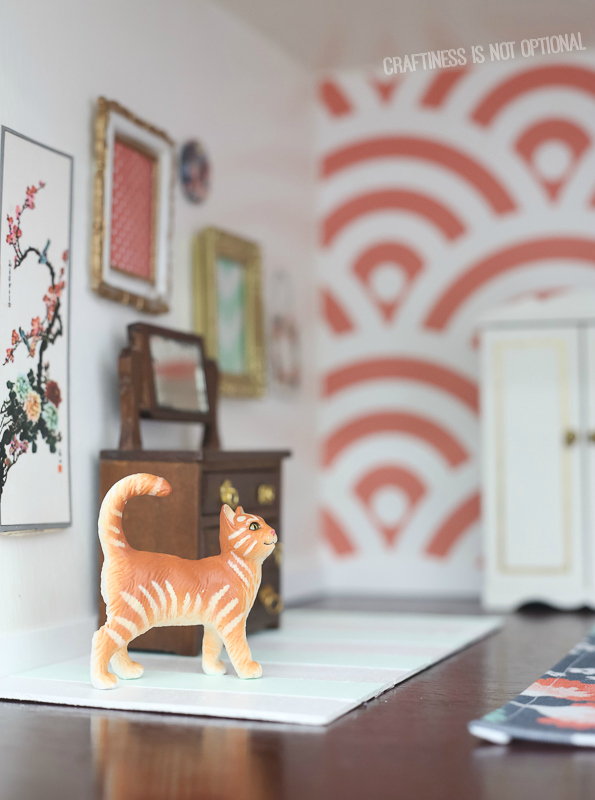 Cat from Michaels. MEOW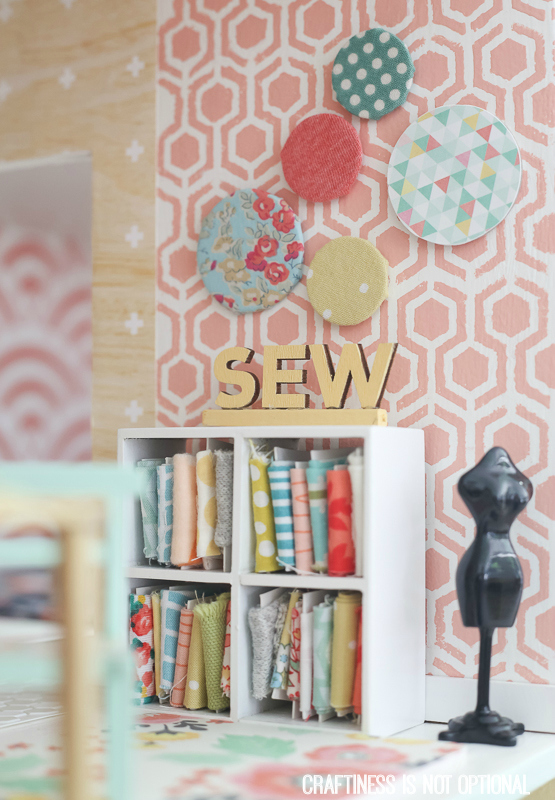 Room 4: SEWING ROOM!
You know I had to. This one is wedged in front of the bathroom, I think the original plans for the house had this as a separate room with a wall, but that would make it hard to play with the room behind it (our bathroom), so I don't know what they were thinking. It worked fine as a little sewing nook though!
I used a stencil to "wallpaper" the walls…also, I found out I'm not great at stenciling.
I made some bolts of fabric with cardboard and scraps wrapped around and glued. LURVE.
I made the little SEW sign with some wooden letters and piece of wood.
Covered some chipboard circles with fabric and paper for "embroidery hoop art"..hehe. I crack myself up.
the little sewing form is from Hobby Lobby, as is the scissors, patterns, ironing things, and sewing machine.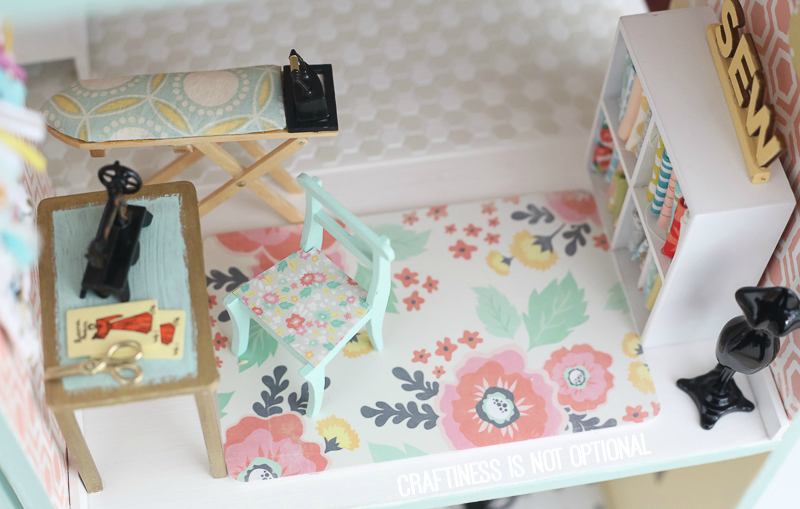 Some more paper from the journaling pack for the rug, chair cover…I recovered the ironing board with a joel dewberry scrap.
Made the little gold table from craft wood and painted it gold with some mint on top, inspired by this desk.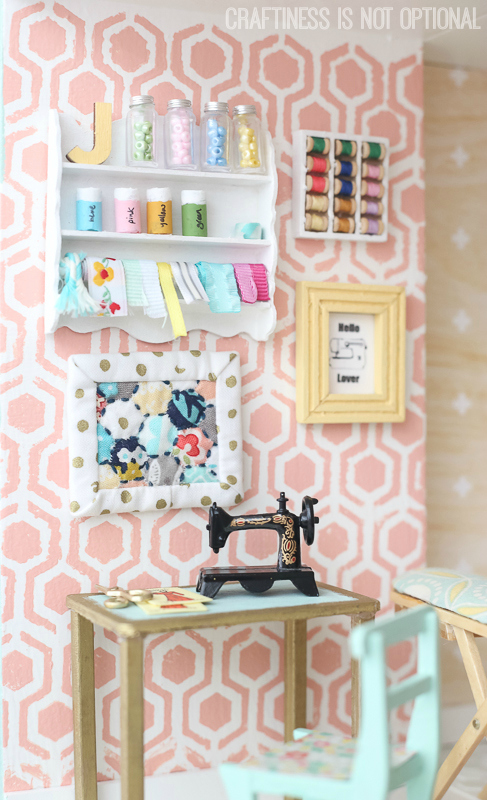 That ADORABLE tiny HAND SEWN hexie quilt was made by the lovely Rachel from Family Ever After!
She got into the dollhouse spirit via instagram and offered to make one for me and it is perfection. I utterly adore it!
the little shelf came with the house-I painted it and filled it with some tiny dollhouse bottles filled with tiny beads buttons.
I painted some pieces of glue sticks (lol) to be paint bottles…and made some washi tape..ha!
I love the little ribbon spool on the bottom shelf…used a q-tip and wrapped some small ribbon pieces around it then glued it into the shelf.
printed off some tiny sewing machine art and placed it in a frame (also came with the house) thread case from ebay.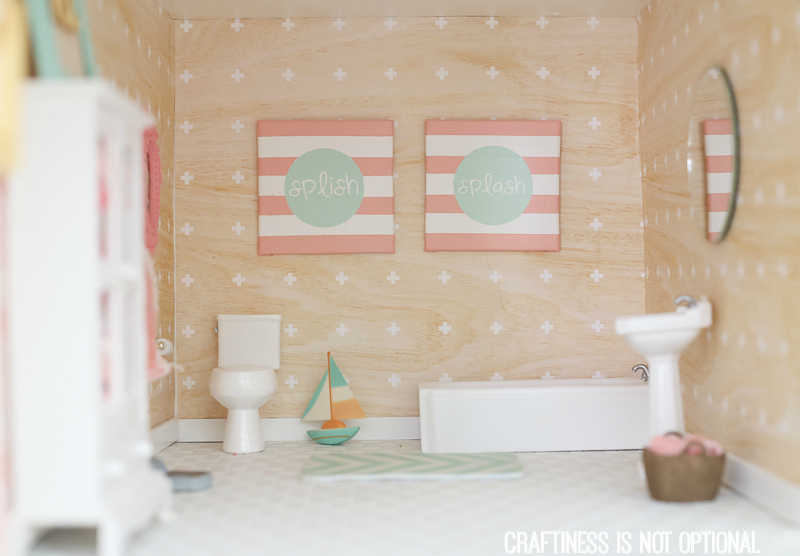 Room 5: the bathroom
Probably my favorite room…I love how it turned out. I wallpapered it with scrapbook paper from the Dear Lizzy line…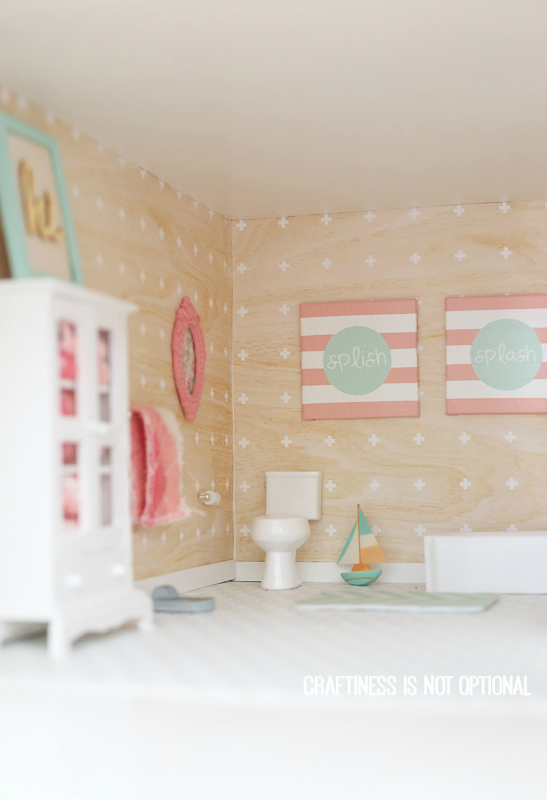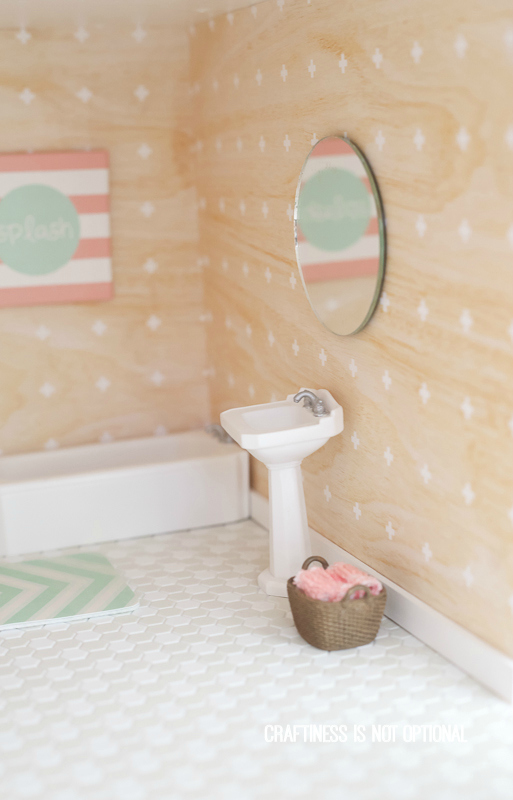 and furnished it with this modern bathroom set. (also from my group of girls…you rock!)
the mirror is just a small round one from Michaels or Joann's.
the amazing hexie flooring is from here.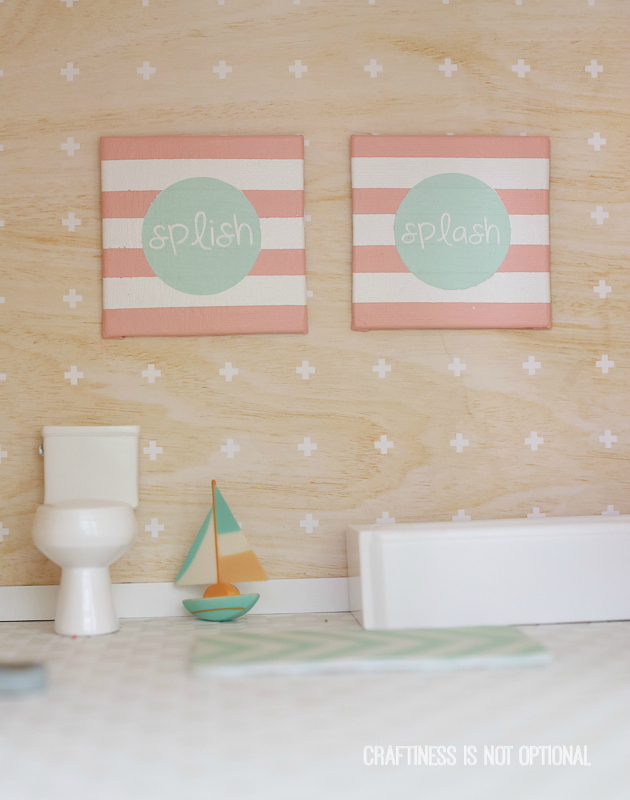 I made the art from tiny canvases, tape, paint, and again, my silhouette and vinyl. I LOVE these!
the little sailboat came with the house and I love that it matches the theme in here-what a cute little bath toy, right?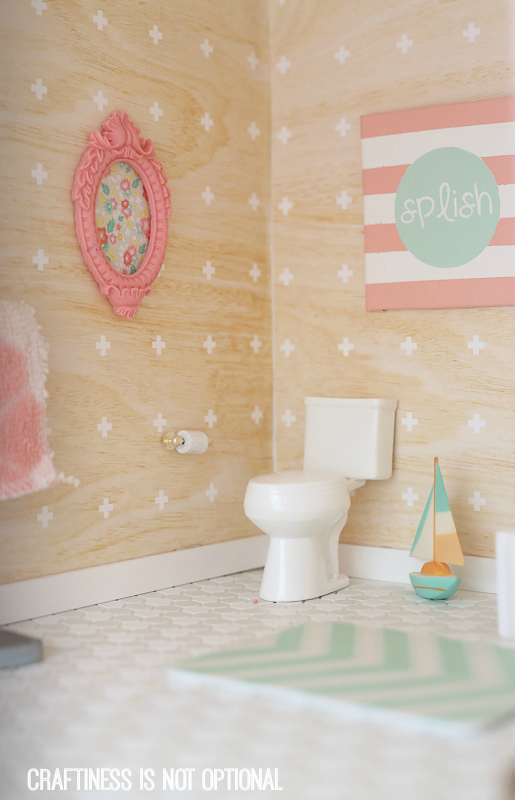 Jessica sent me that awesome ornate frame (look for another one in the nursery!), and I framed another piece of journaling paper.
the rug is also from that journaling pack and is backed in felt.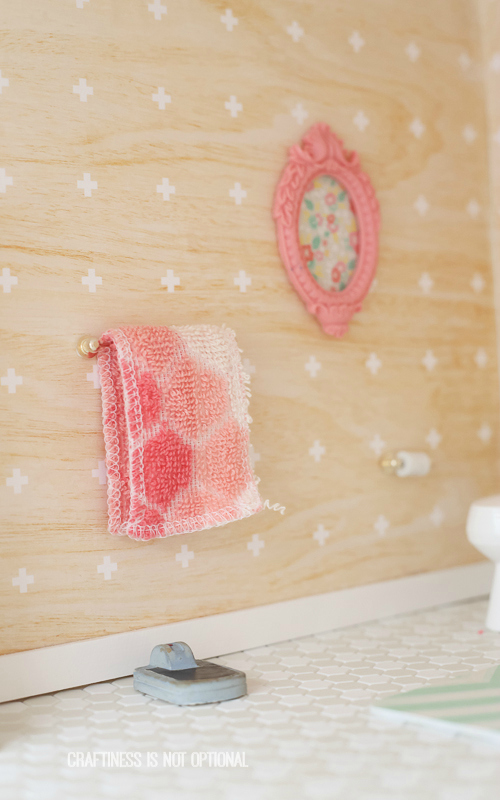 I made some towels by serging some small pieces of an actual towel (from target) and hung it on a towel rack.
the scale came with the house.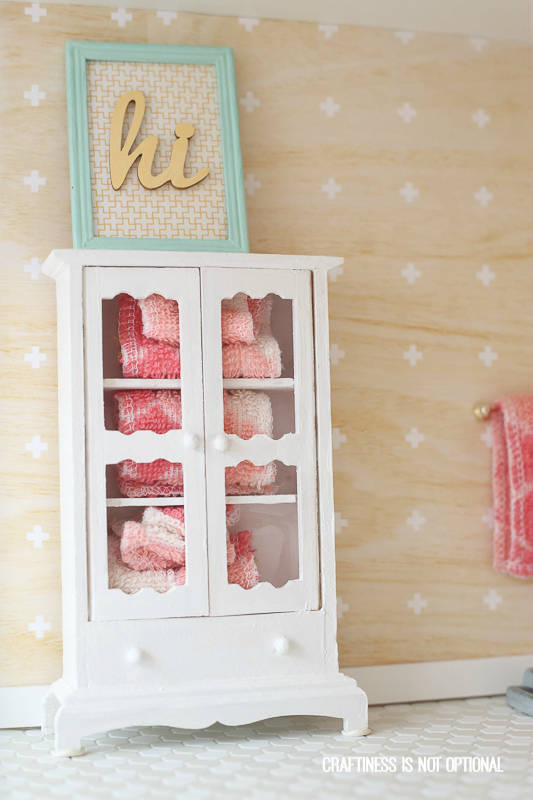 here's where the rest of the towels live…this little hutch (came with the house) got a coat of paint and a cute HI sign on top.
next up: The girls room and nursery!