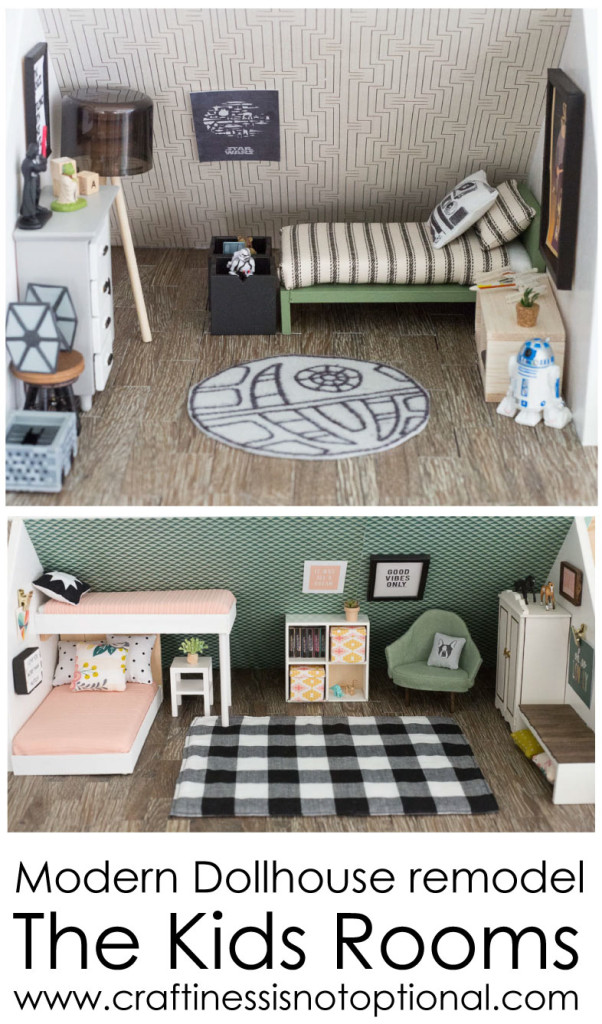 Starting off the newest dollhouse remodel-is the upper level of the house! the two "kids rooms" as we like to call them. They were a girls room, and a nursery before, but now that we have Jack in the family, I redid the nursery as a little boy's room! and went all out with a Star Wars theme! (because why not?)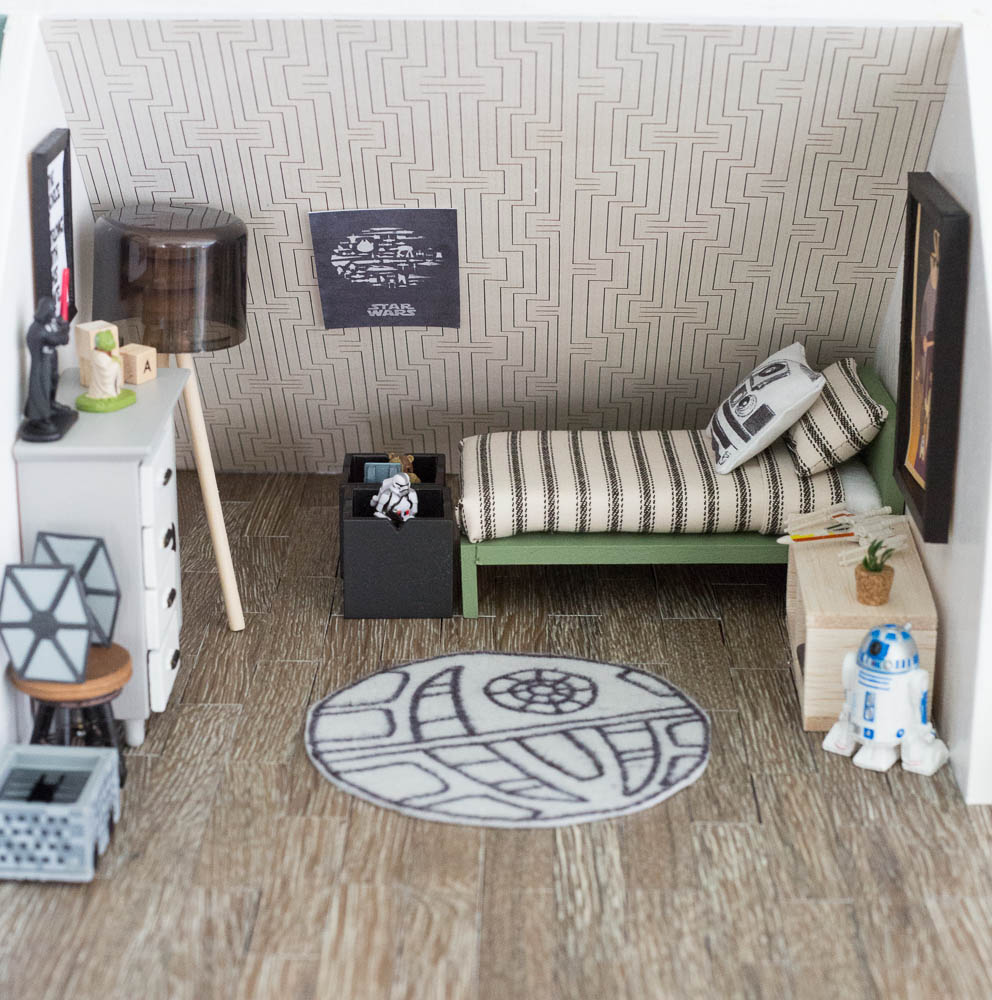 I had actually decorated it differently but then was talking to my friend Stacie and mentioned it would be fun to do a Star Wars room, so I just went for it. The basics of the room stayed the same though.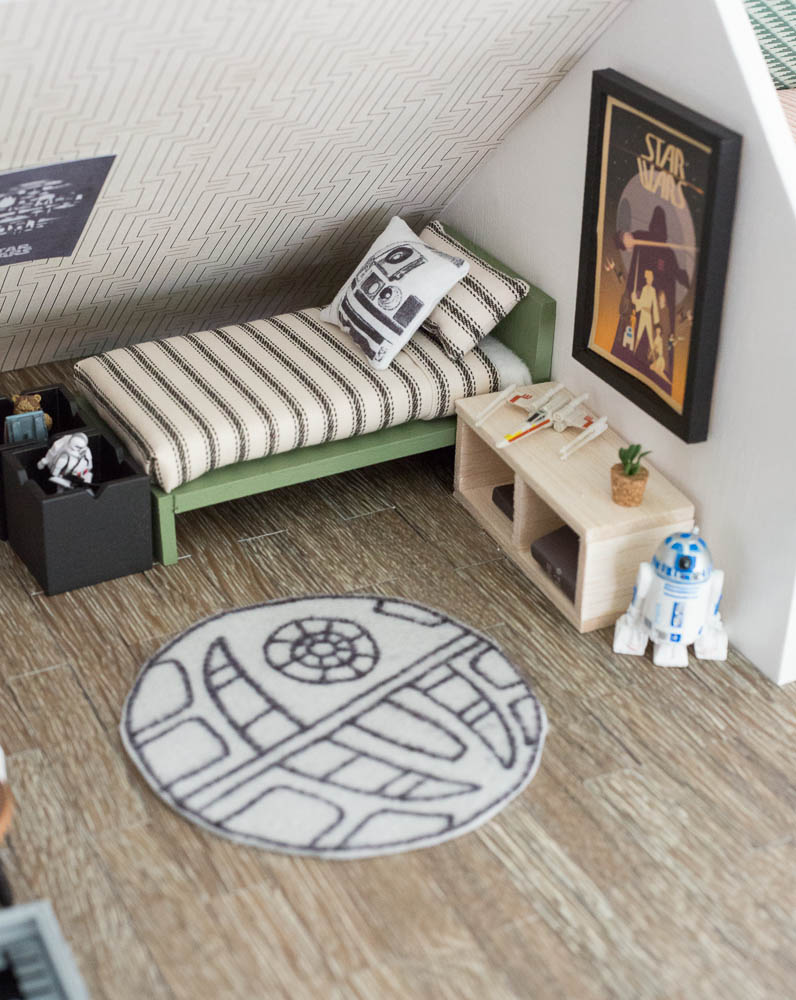 I made the rug based on one that I found online but did not pin and can't find again. oops! I cut out a circle of light grey felt with my Go Baby cutter, and then free handed the lines with a sharpie. Love how it turned out!
Also, a bit about the floors in most of the house-I bought some of those vinyl planks from Lowe's and cut them into 3″x.75″ pieces, then just laid them down like you would regular flooring! It sounds simpler than it was, but I love the effect, and it only cost about $15 for the whole dollhouse.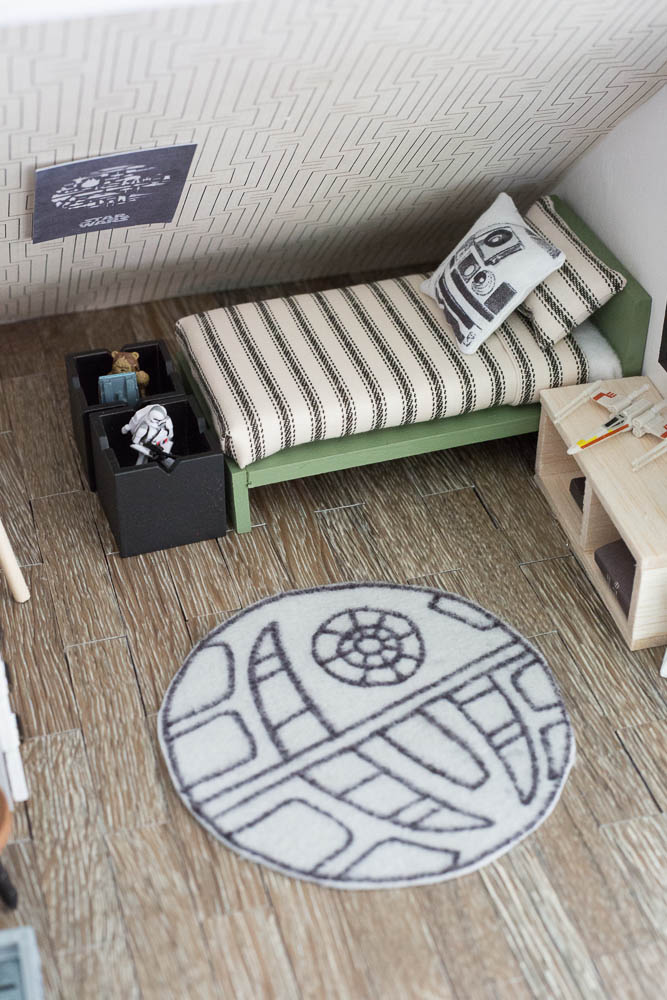 I made the bed from some 1/4″ craft plywood-super simply, then painted it and made the "mattress" from cardboard glued together. Then covered it with fabric to be the bedding, and added a couple of cute little pillows that I sewed up! I had the little boxes from the girls room before, just painted them black and loaded them up with any mini Star Wars toys I could scrounge up.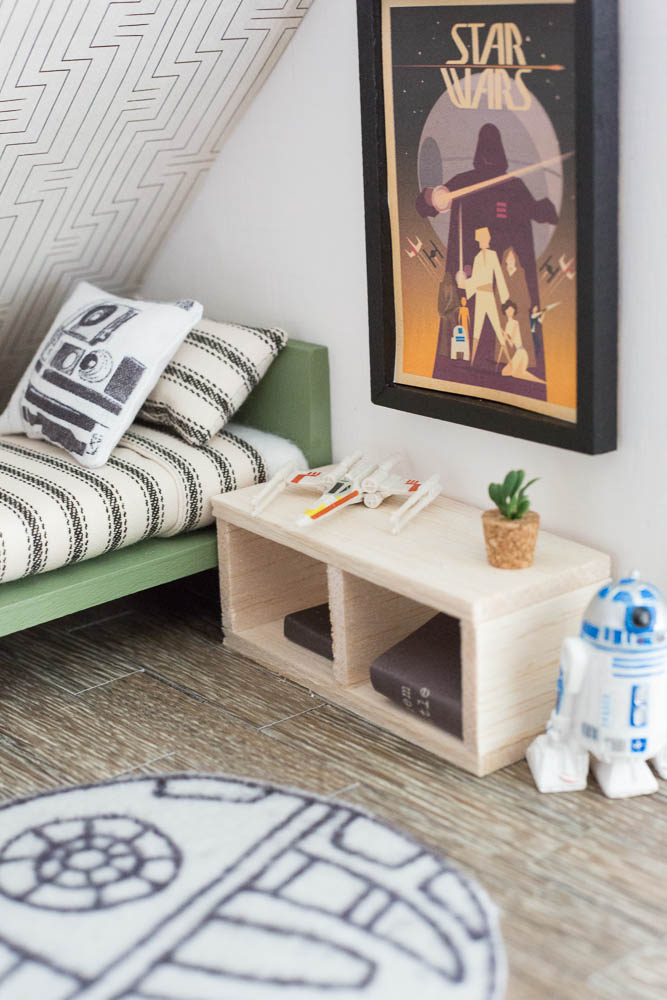 I made the bedside table from balsa wood and left it unfinished. Added a little X-wing and a few books-and a mini succulent on top! I printed the poster from somewhere online and made the frame with my tools. Will plan a post about what I use to make my dollhouse things!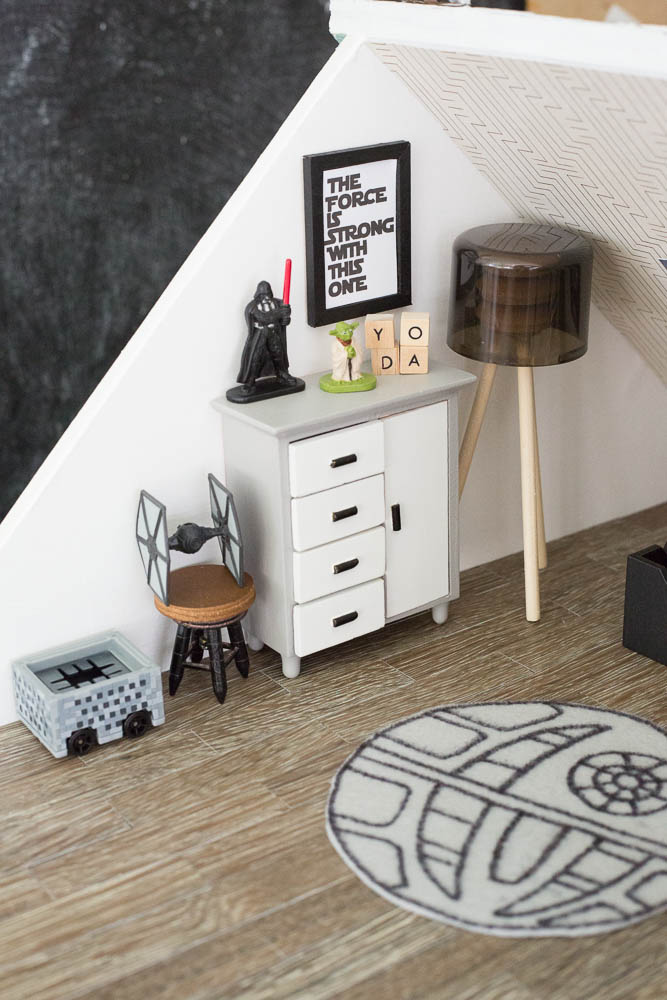 I painted the old nursery dresser (from this set only in white, originally) grey and the handles black (love the contrast), then made a floor lamp out of some dowels, wood pieces, and a hair product lid, all glued together. lol!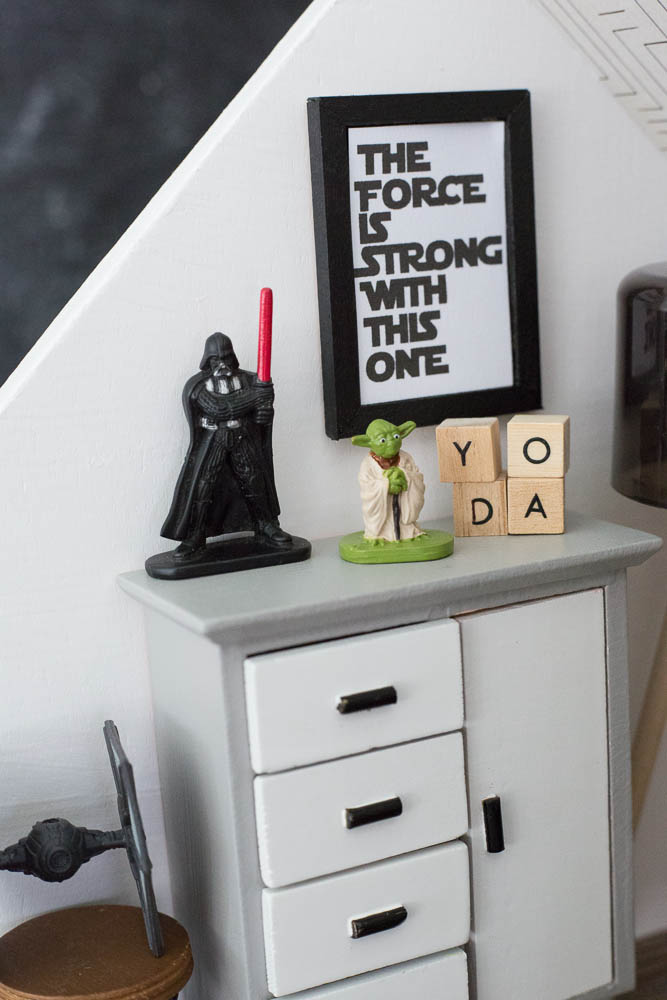 I LOVE the Yoda blocks, they crack me up. Also a little force quote art, and more mini Star Wars toys complete the room!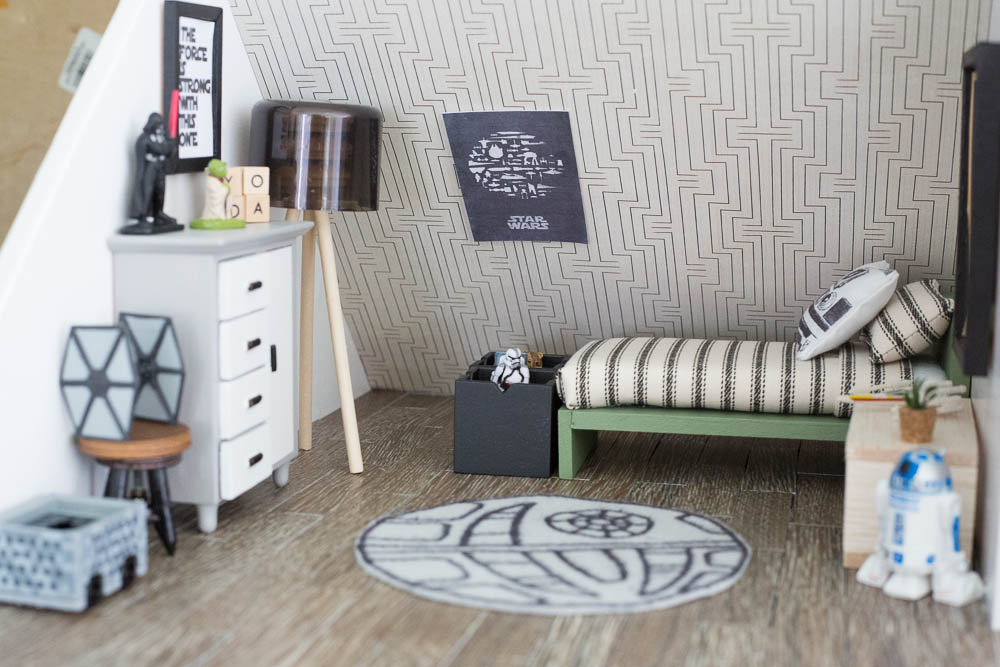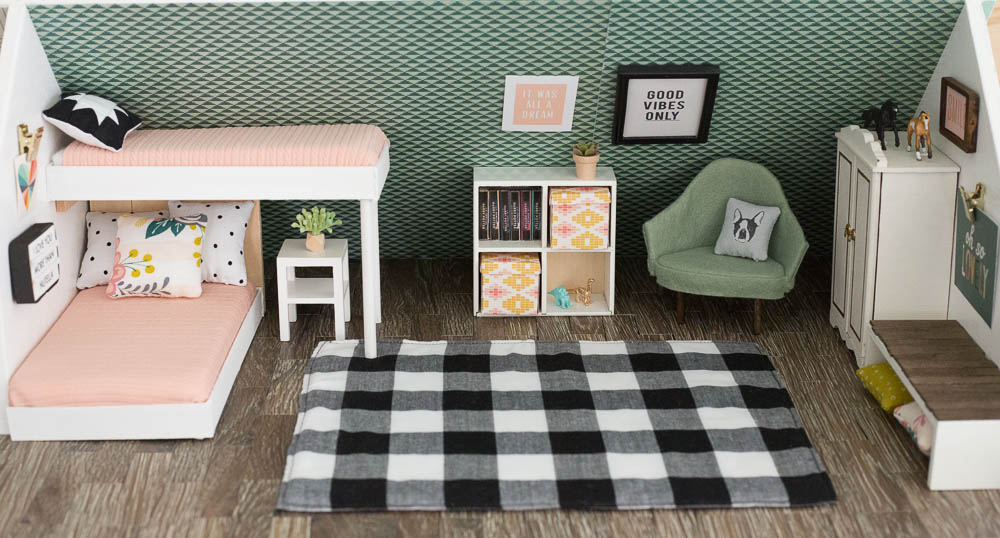 Ok now for the girls room! I fell in love with this mint and dark green scrapbook paper I had in my stash, so I wallpapered the back wall with it! It's hard to line up, so you can see a seam, but it doesn't bother me much.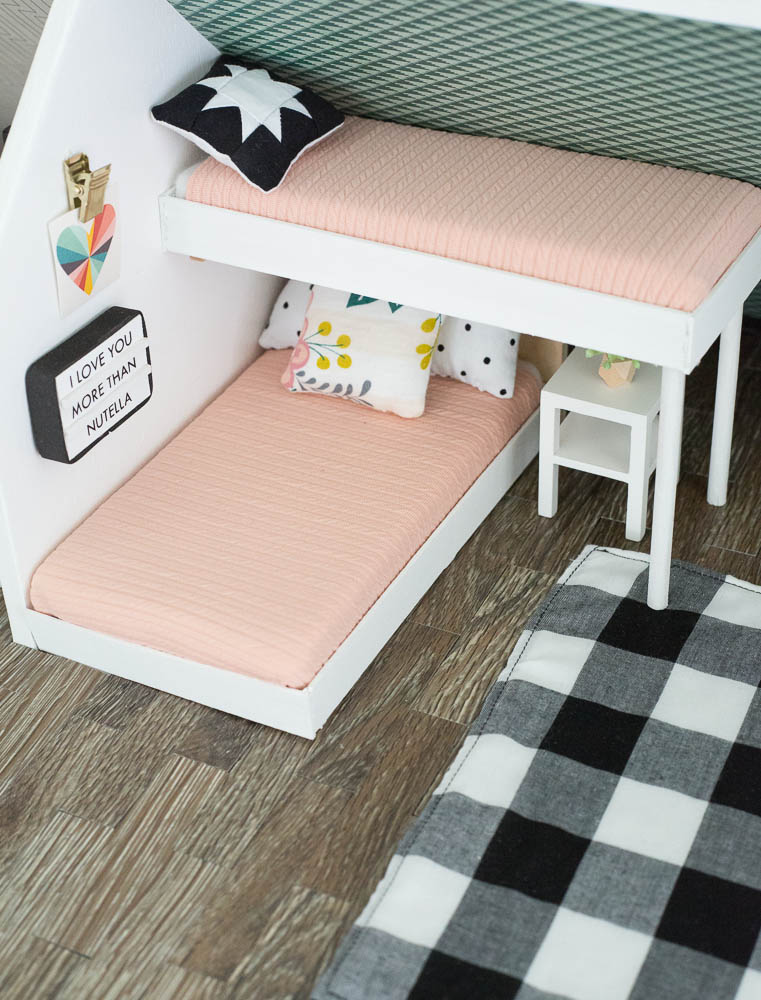 I  made the bunk beds out of craft wood, glue, paint, and prayers. loL! This was my first real attempt at dollhouse furniture, and while it could be better, it works! I planned the beds to cover the staircase hole in the floor, since I don't see the point of stairs in dollhouses. hehe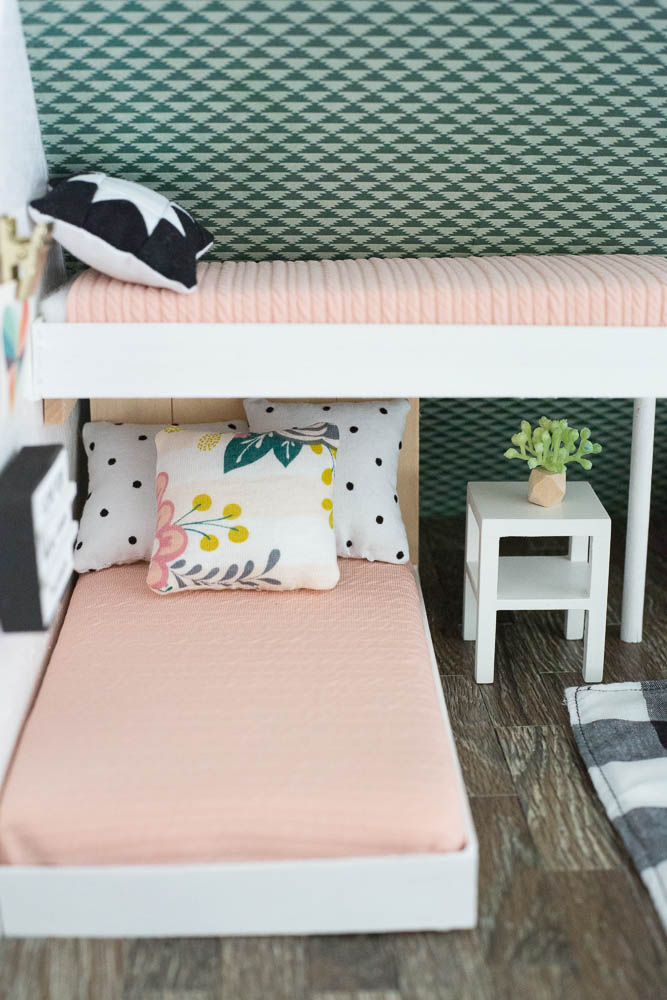 I love the blush pink bedding with the wallpaper, and also added some mini pillows that coordinated! The little plant was made with a bead and piece of faux greenery from Michaels.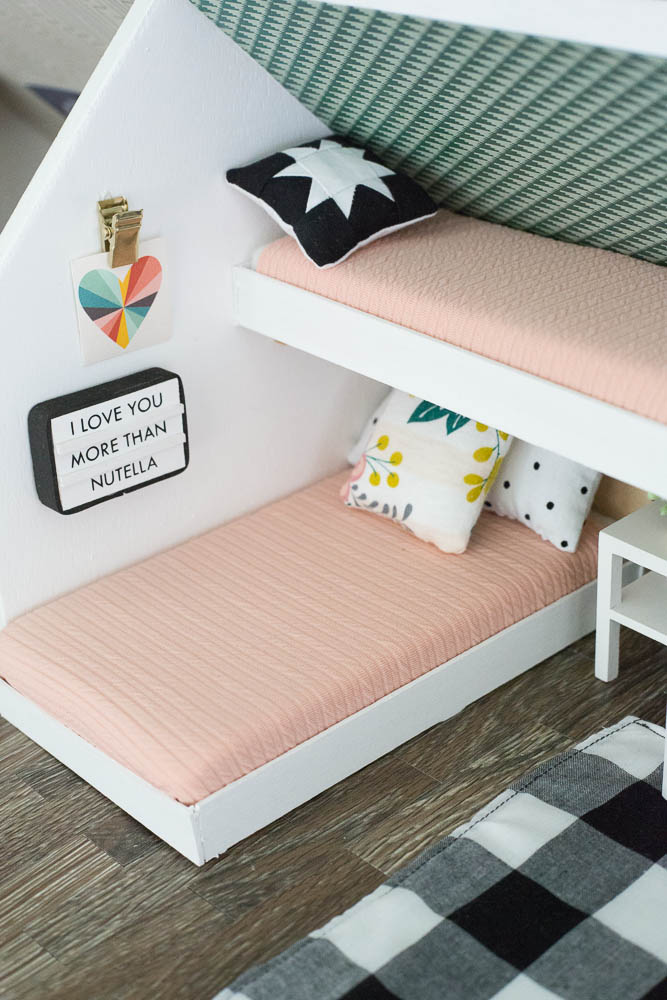 That amazing pillow is one of two that the amazing Vanessa from Punkin Patterns made and sent me for the house! Isn't she the sweetest? And wow! they are amazing.
Keep a look out for the other one!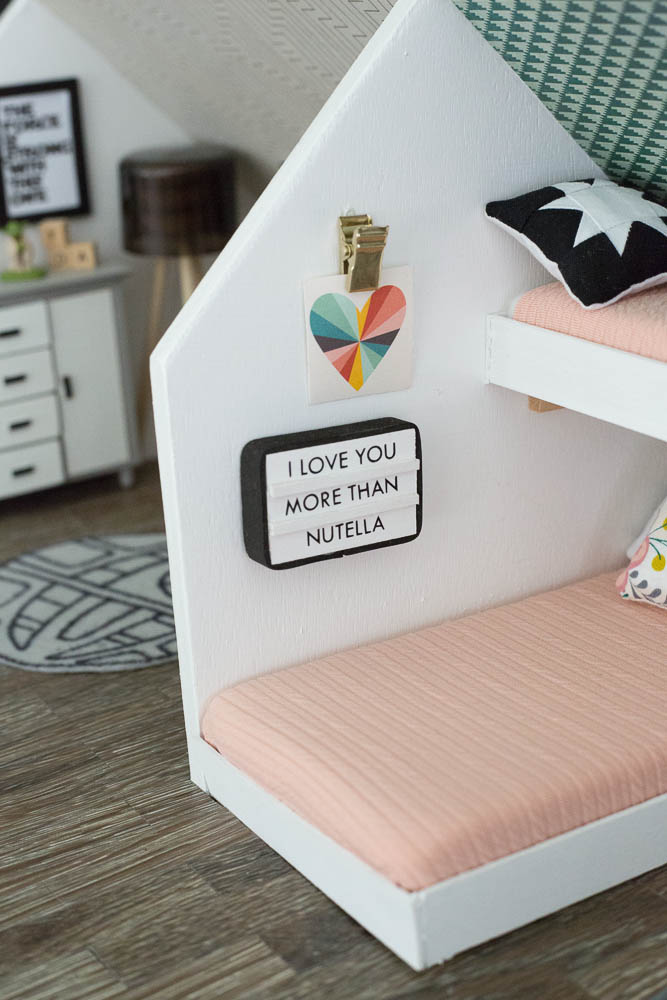 The little heart was included in a package I was sent, so I hung it up with these cute gold clips I found on clearance at Target.
I also made the faux lightbox and Charlotte helped me pick the phrase! lol!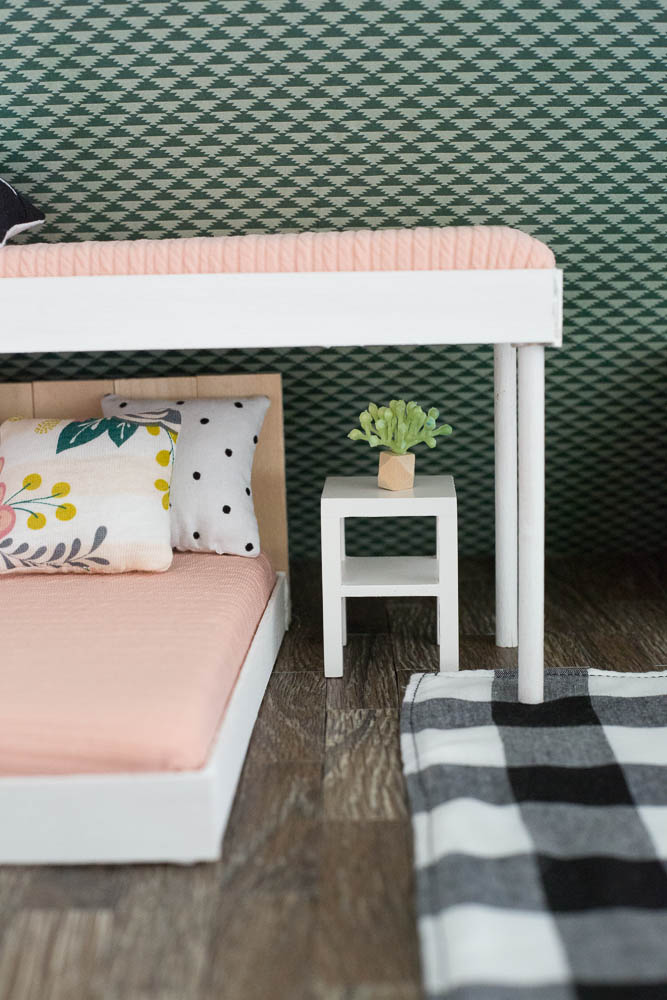 I made the rug with some fabric and felt, and have a quick how to over on my Instagram account in the insta story highlight labeled Dollhouse!
I love this  little reading nook! Let's start with the art-this cute print was sent to me from the Small Fun Shop, and it is adorable! I also got the succulent on the bookshelf from them!
I painted a dollhouse frame I had from the previous reno, and added a mini of this print we have in our master bedroom.
We also had the shelf from before, and I added some wood behind it and added some paper boxed I made, metal dinosaurs (jewelry charms from Hobby Lobby), and of course, the full collection of Harry Potter books! lol!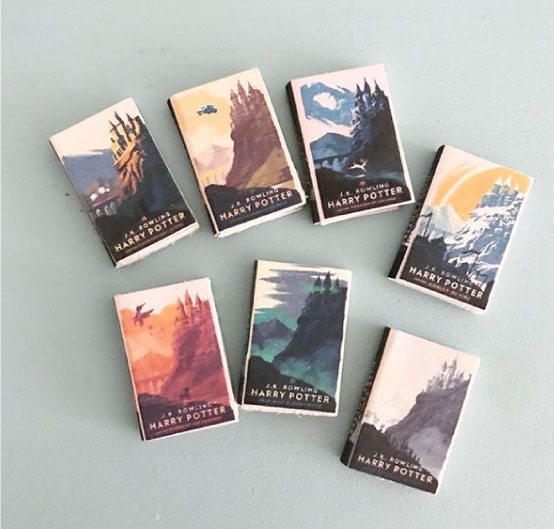 I used these beautiful prints by Olly Moss, created the covers in Illustrator, then printed and glued them to pieces of balsa wood.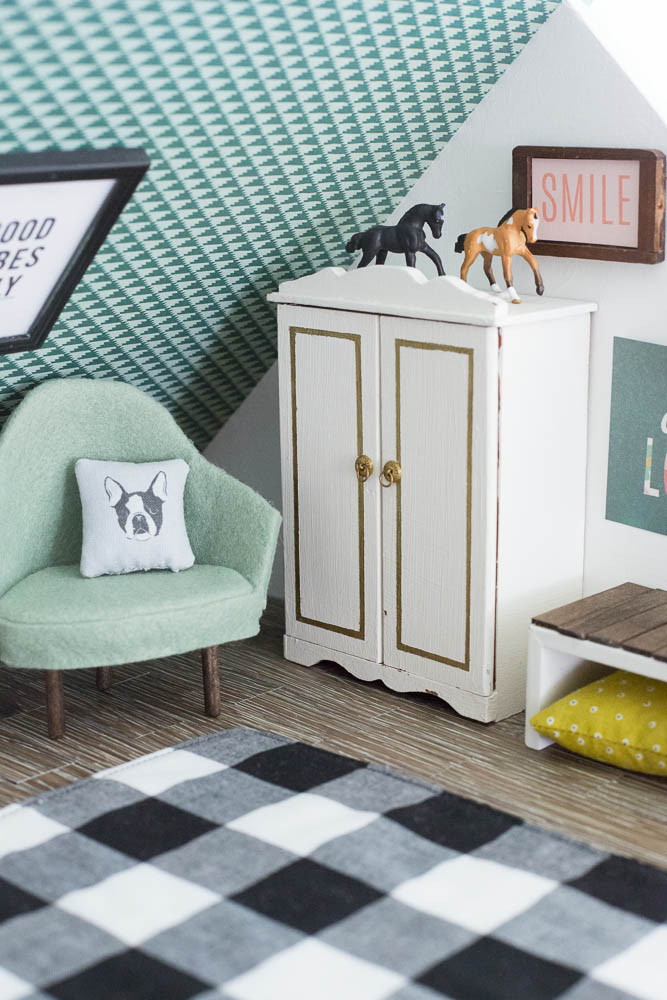 The chair I made using this tutorial, and ended up making two! They were very simple to make and you only need cardboard, felt, some dowels, and glue!
I reused the armoire from the previous master bedroom which fit perfectly in here! topped it with a couple of mini horse figurines, and hung some scrapbook paper art on the wall!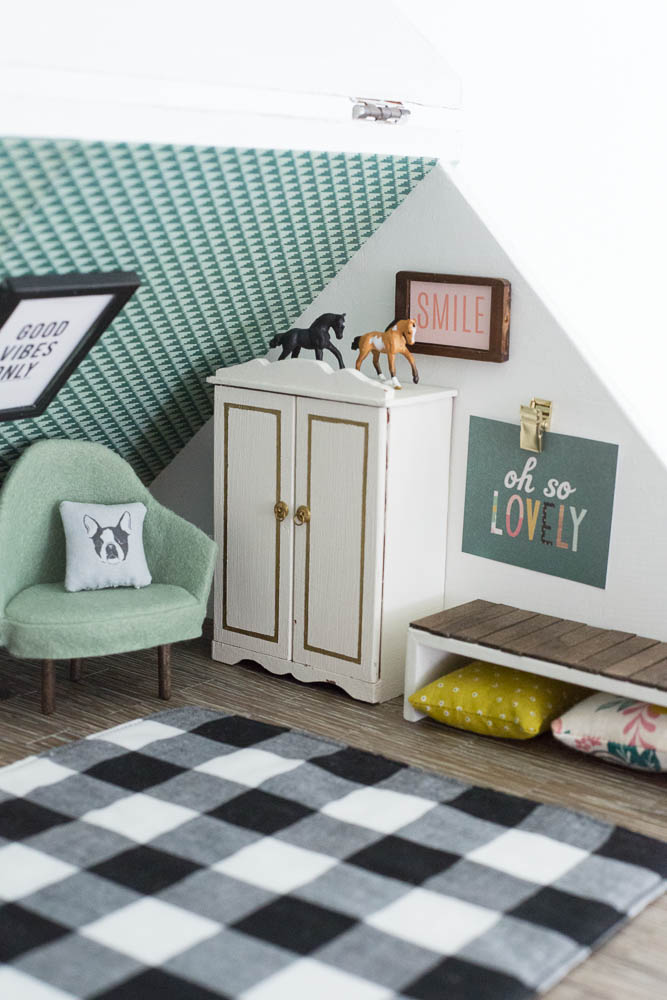 The bench was the previous dollhouse's coffee table-just stained and added some popsicle sticks to the top to make it more farmhouse-esque!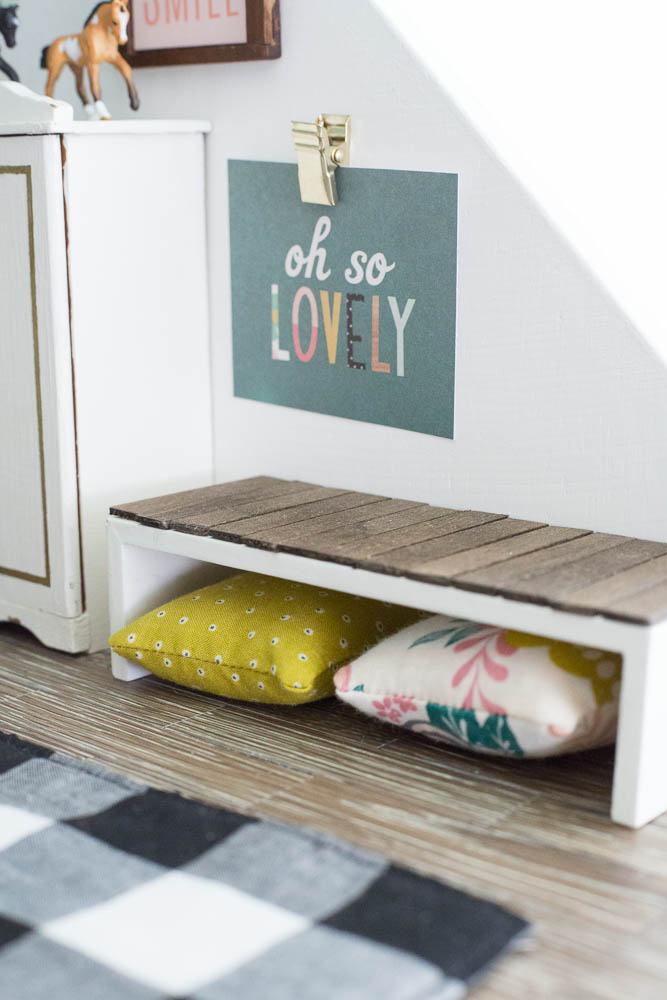 tucked a few more pillows underneath in case they have friends over!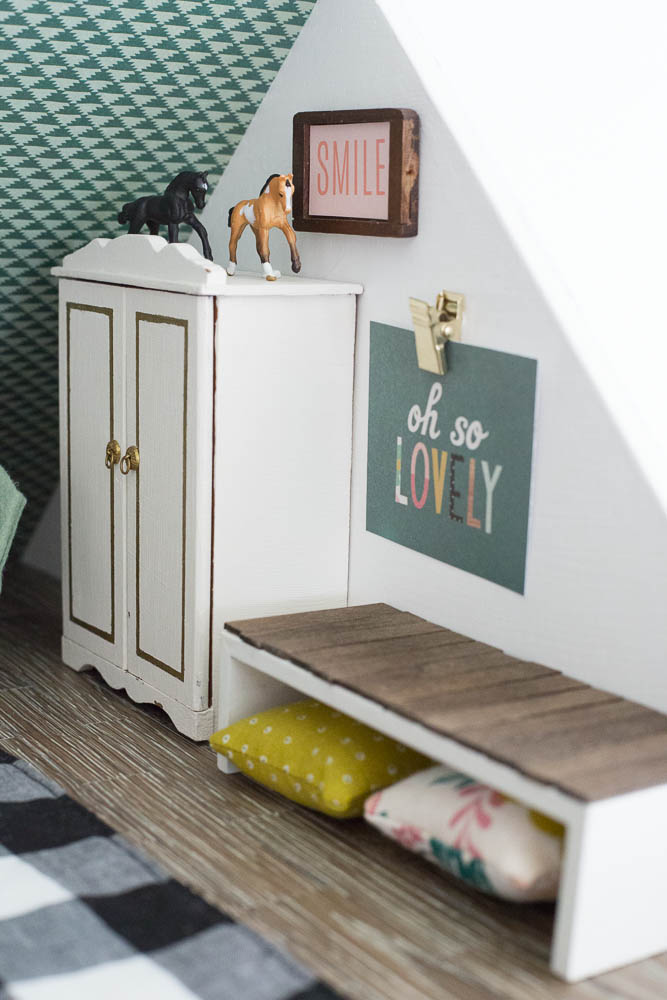 So there's the top floor! Click over here to see how it looked before!