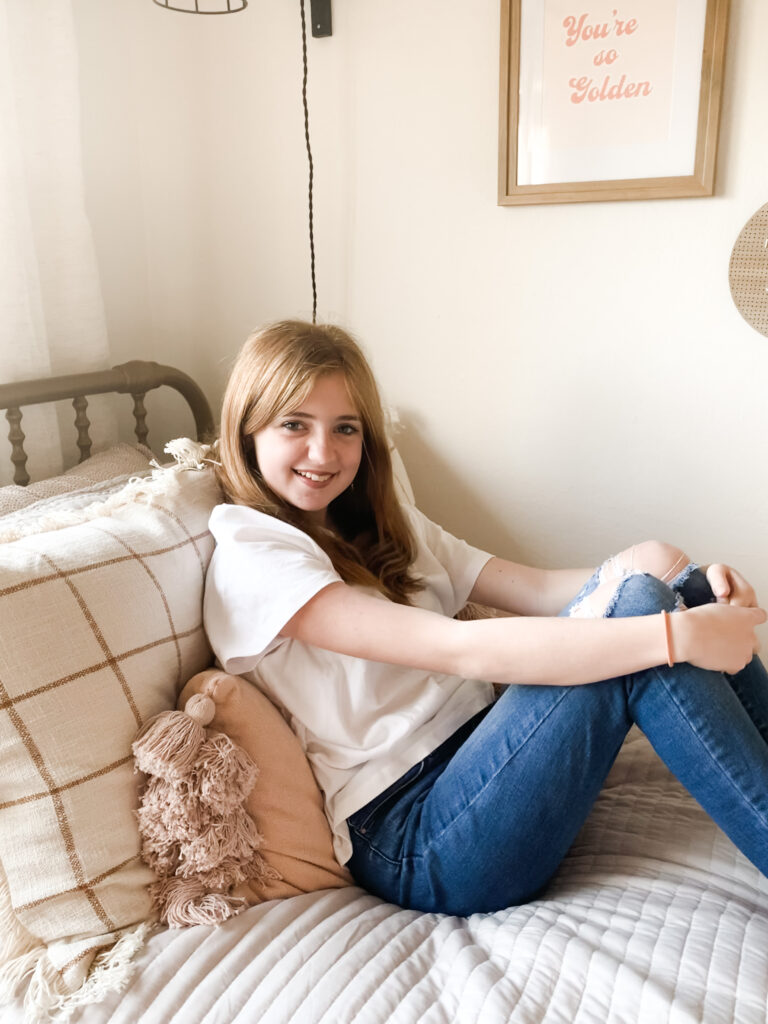 I finally made the hard decision (lol) to give up my craft room for Sadie, and I had SO much fun making this room over for her. It took weeks of work to downsize and empty out my craft room, (not to mention the design and planning and shopping! oh darn shopping), and the cover story was that we were making it into a combo craft room/guest room, since the whole thing was a SURPRISE!
One of her best friend's mom helped us out by having her over for a sleepover, and we put the room together that day/night! She was so excited she broke down into tears. It was so sweet and made the hard work totally worth it!
This room has done some heavy lifting throughout the years, first it was a nursery, then another version of a nursery, then ANOTHER version of a nursery, then my sewing/craft room, and now our teenagers room!
There are some affiliate links in this post! Thanks for your support!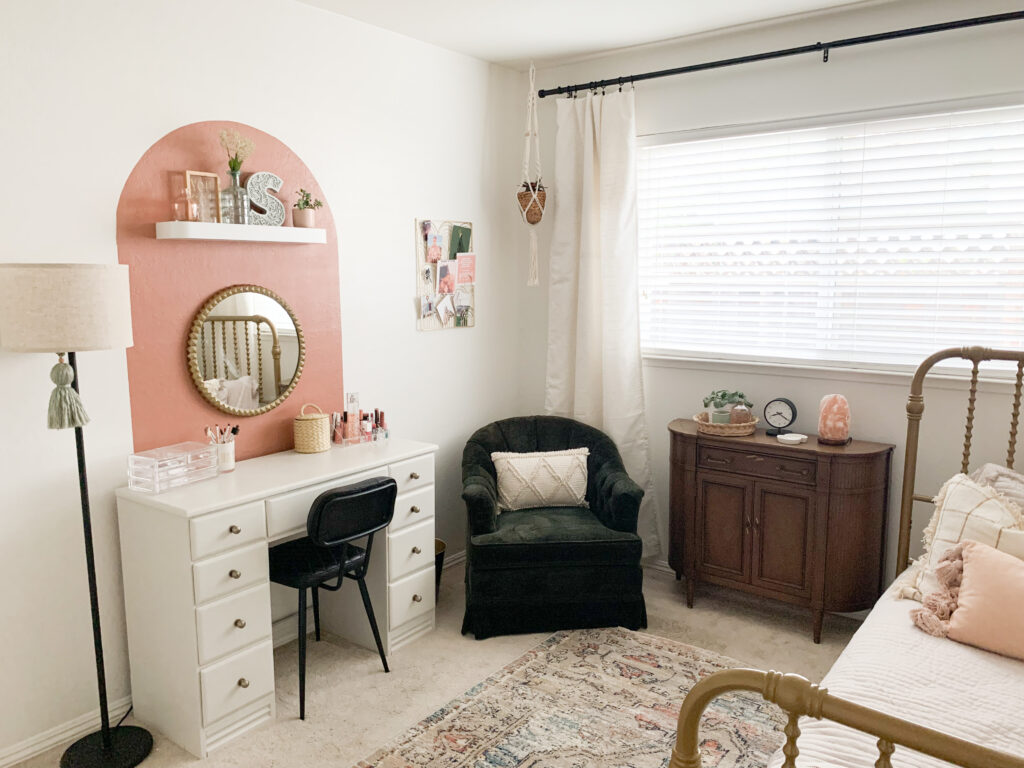 I thrifted the desk and painted it a light greige, and added some new knobs. Walls are Swiss Coffee by Kelly Moore.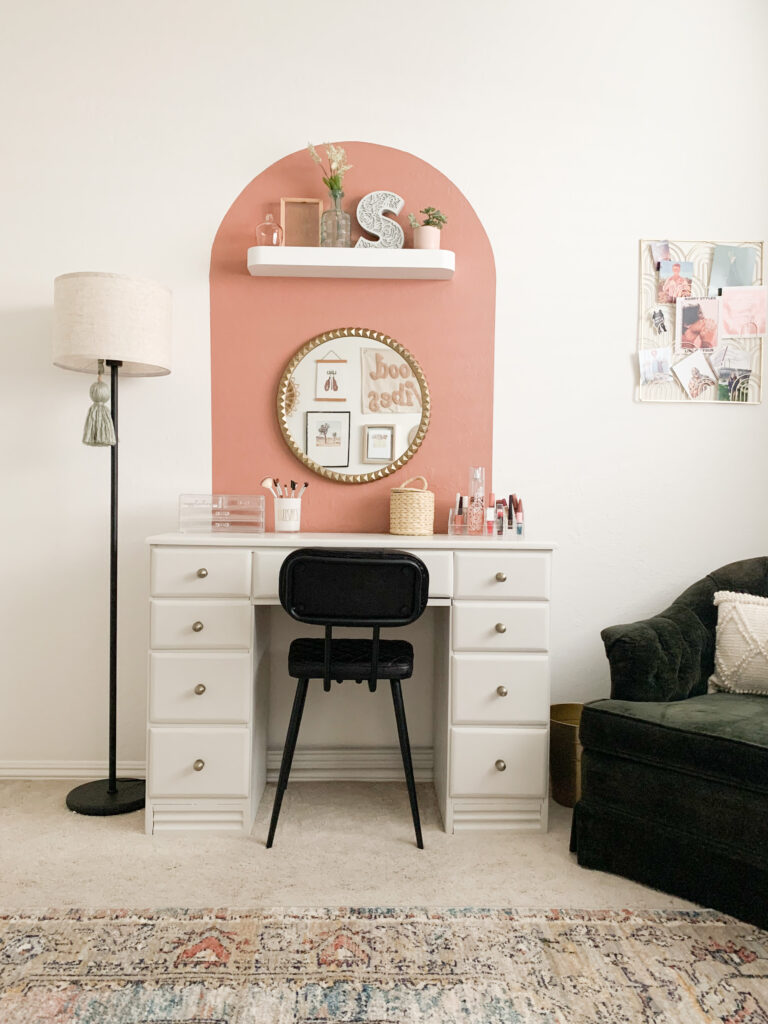 I adore these painted arches that I saw everywhere on Pinterest, so I had to do one with the desk! The paint color is Auburn Glaze by Behr.
It was surprisingly easy to do, and looks adorable, I think! It took less than a sample size of paint too, so the bang for the buck is phenomenal!
I grabbed the chair on clearance at Home Goods ( I spent soo much time at Home Goods and Marshalls and Target in the weeks leading up to the reveal!)
The mirror is from HG too, and the shelf is from Target. Makeup storage link, Brushes container from HG, and Straw container was from Target. Lamp link.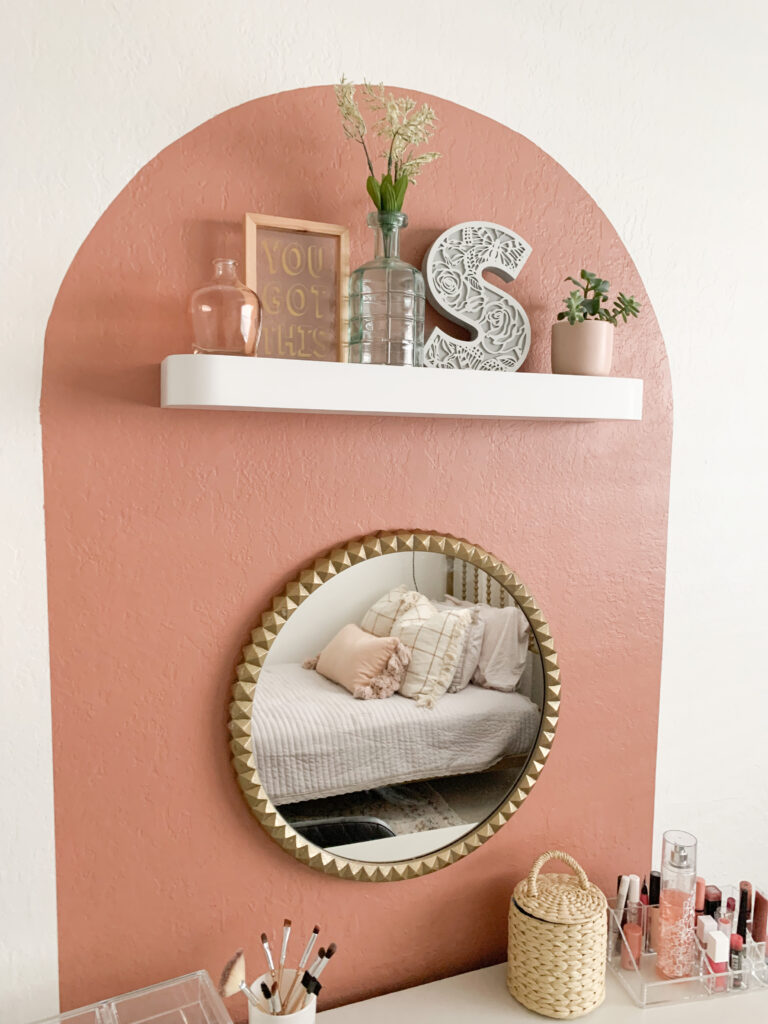 I set up the desk as a vanity but she can easily do her homework there too!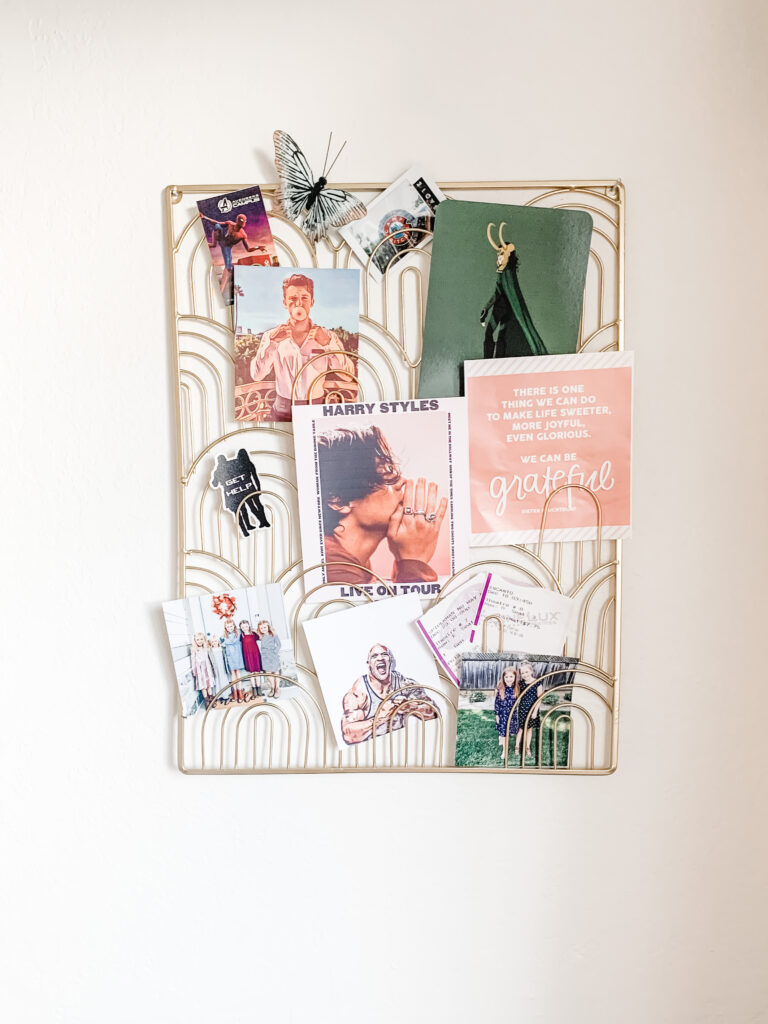 I grabbed this super cute metal display thingie at Hobby Lobby, and had so much fun finding fun pictures and fan art of people and things she loves to add to it.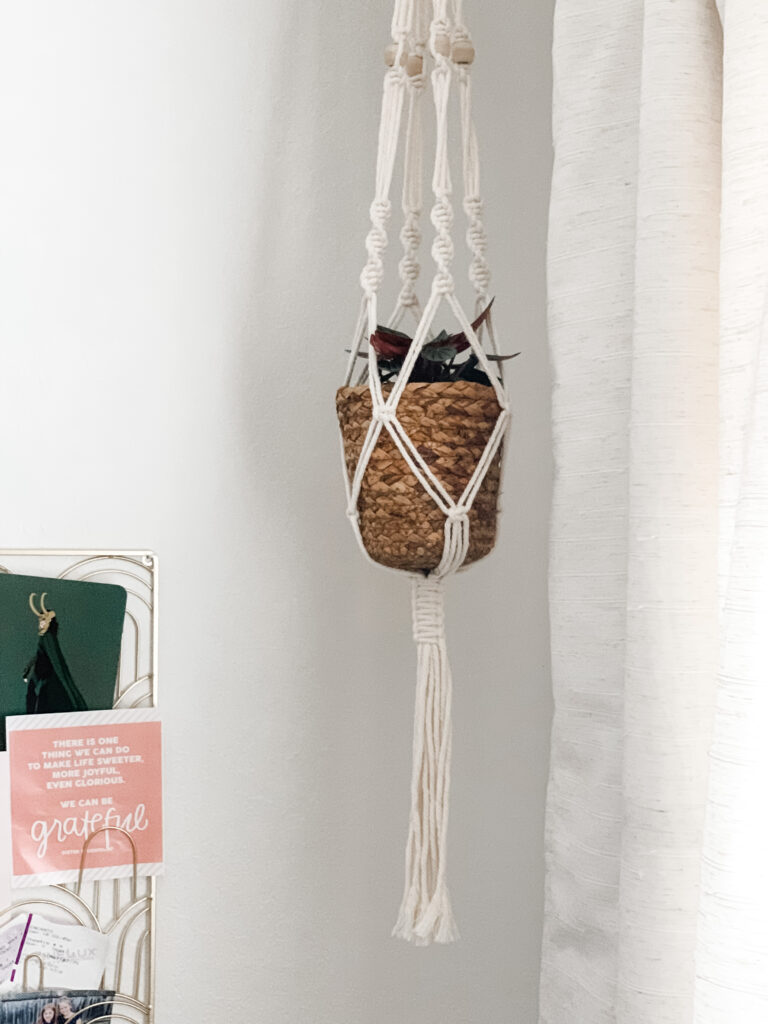 I found this cool two tone plant and hung it in the corner in a macrame hanger!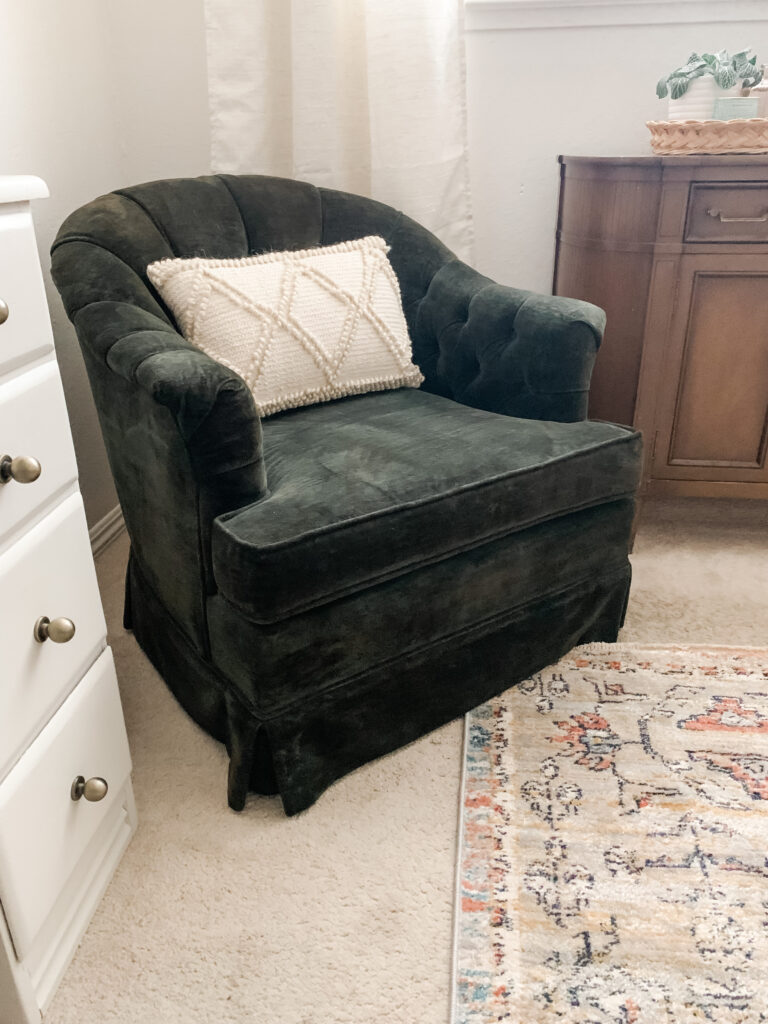 I thrifted this green chair and it's the perfect reading chair! I grabbed that little pillow from Hobby Lobby and it fits perfectly!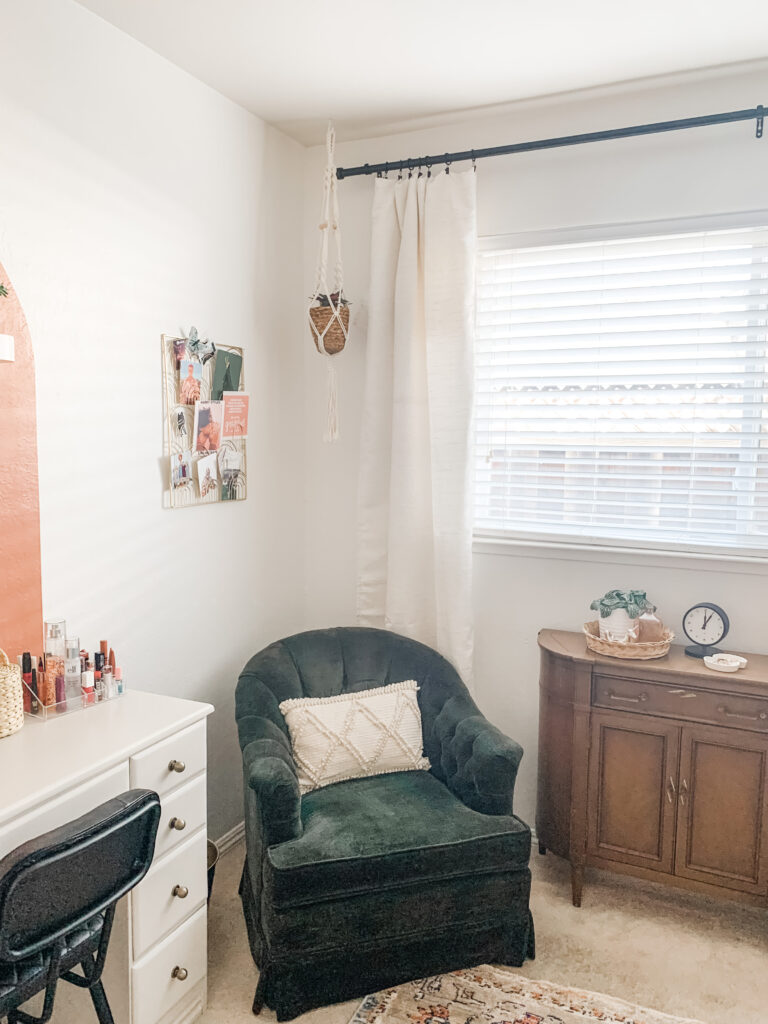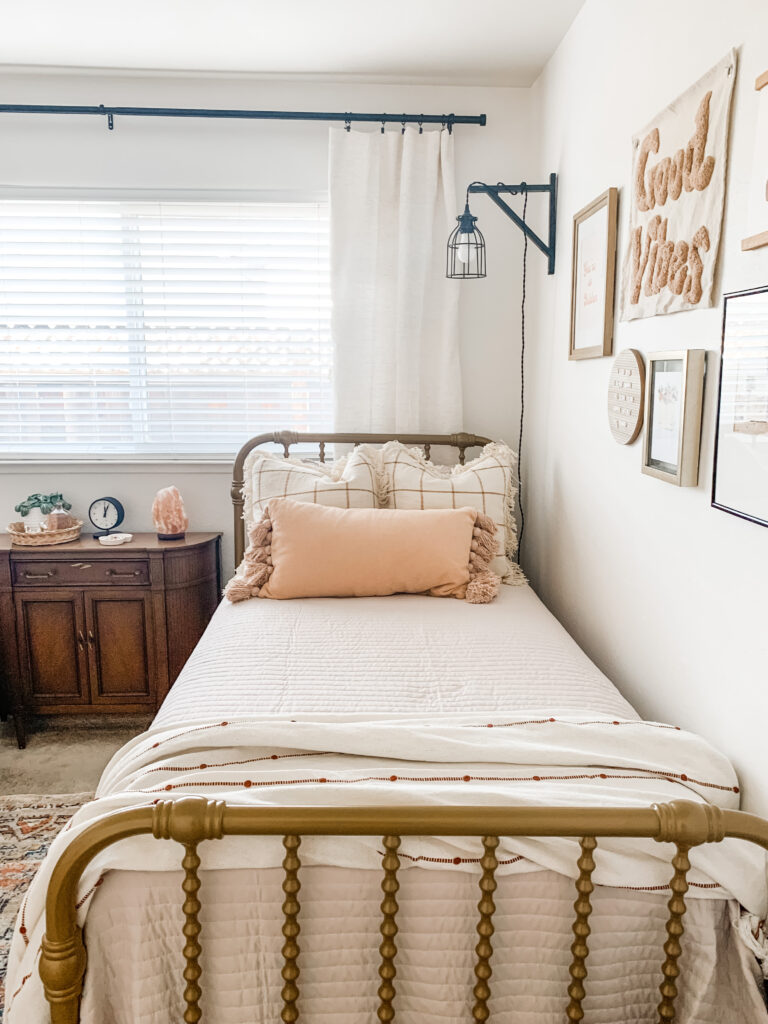 Her bedside table is vintage, from my Grandma's house and it's slim profile is perfect for the spot under the window!
Inside I put some fabric storage for socks and undies.
I loove how the bed looks, it's the perfect color and size!
Rock salt lamp from HG
Basket on the table was thrifted, and plants/accessories we already had.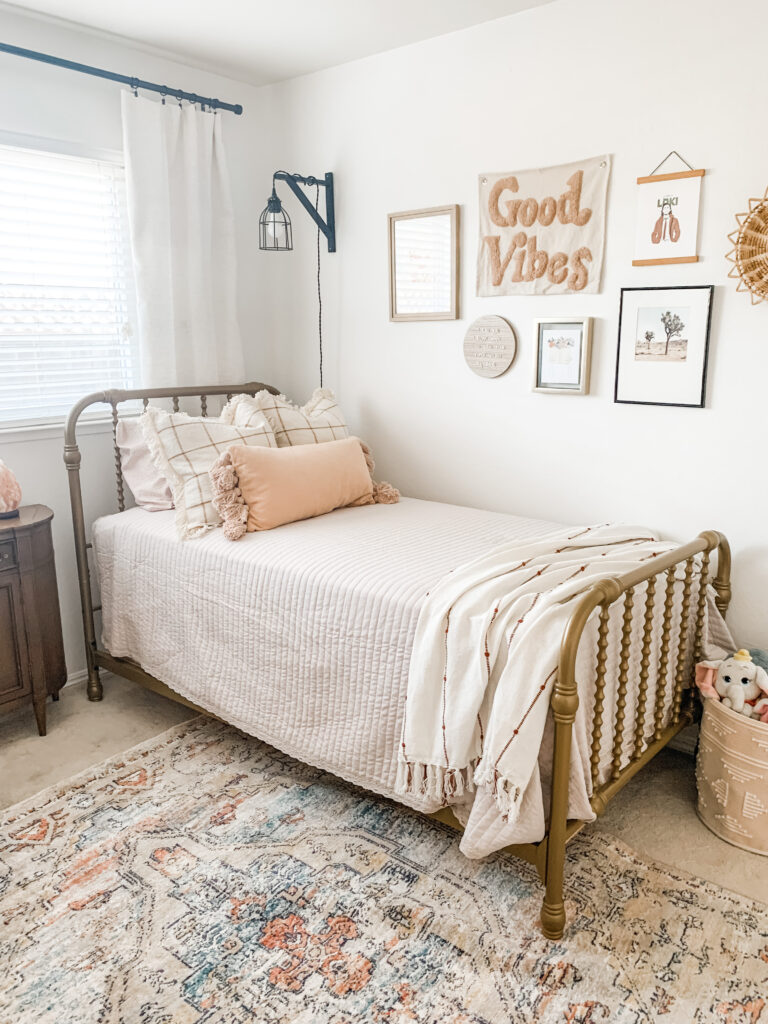 One of the first things I picked out were the throw pillows on the bed (Home Goods), and another early design choice was the rug!
I pulled a lot of the colors in the room from it and love how it looks!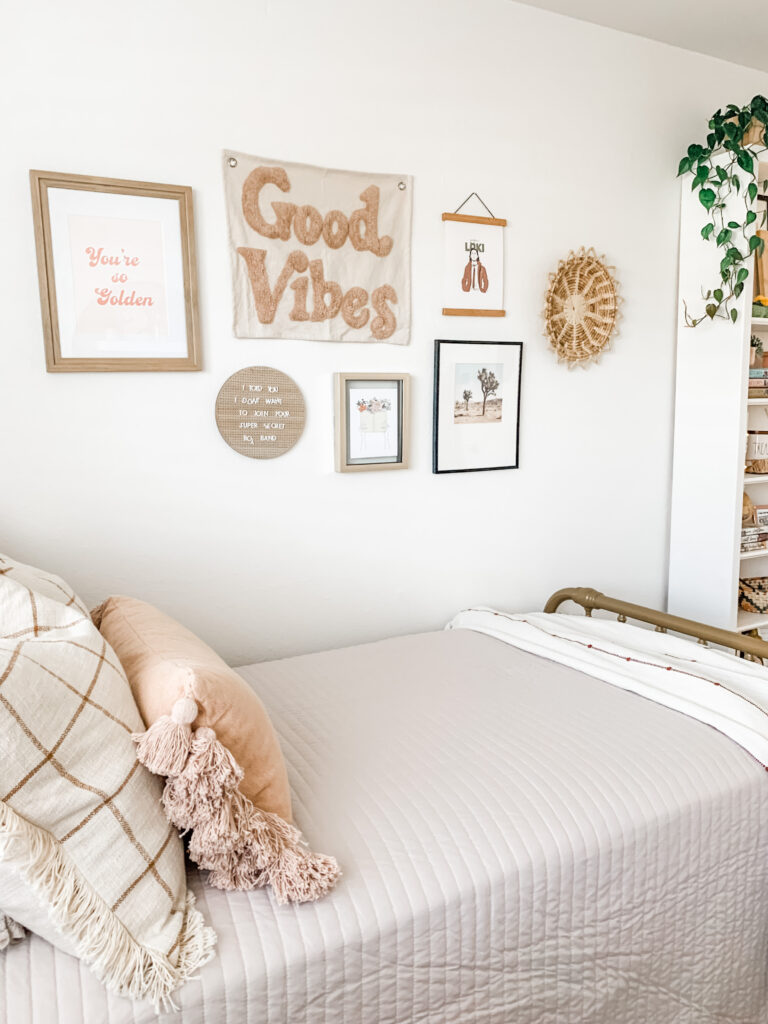 I had such a fun time on Etsy picking out artwork that she would love! (she is a huge Marvel, Loki, Harry Style, The Rock, and Tom Holland fan) I am a fan of stylized, modern takes on fan art, and luckily Etsy came to PLAY y'all. Such amazing prints.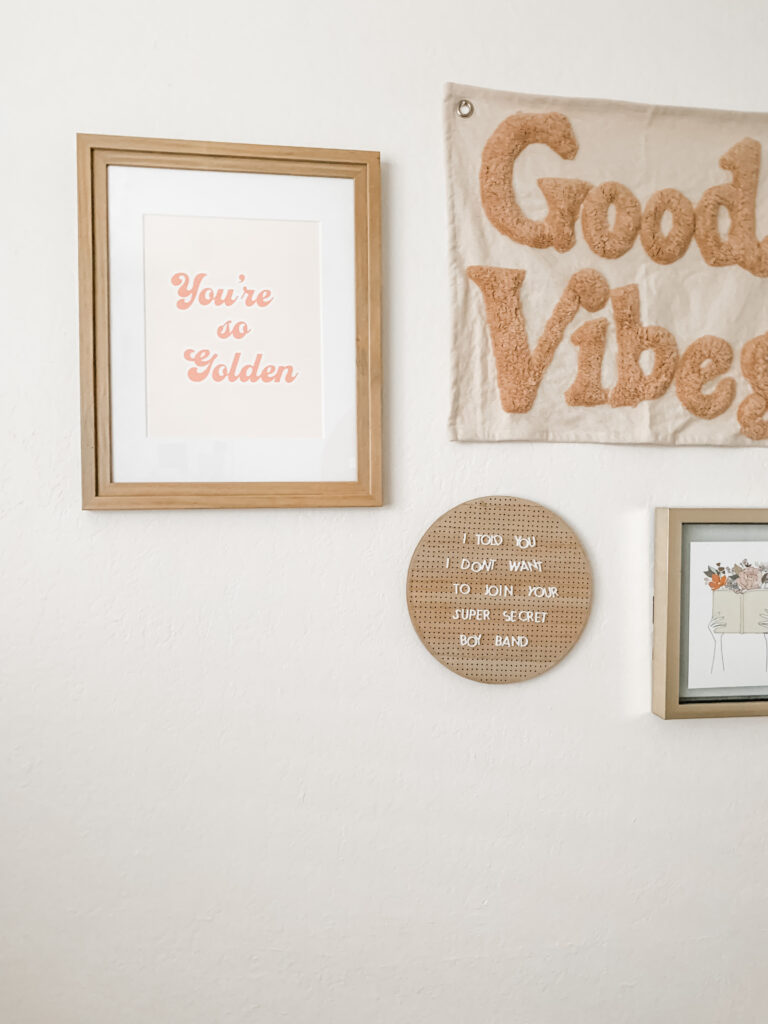 Pegboard -with Iron Man 2 quote HEHE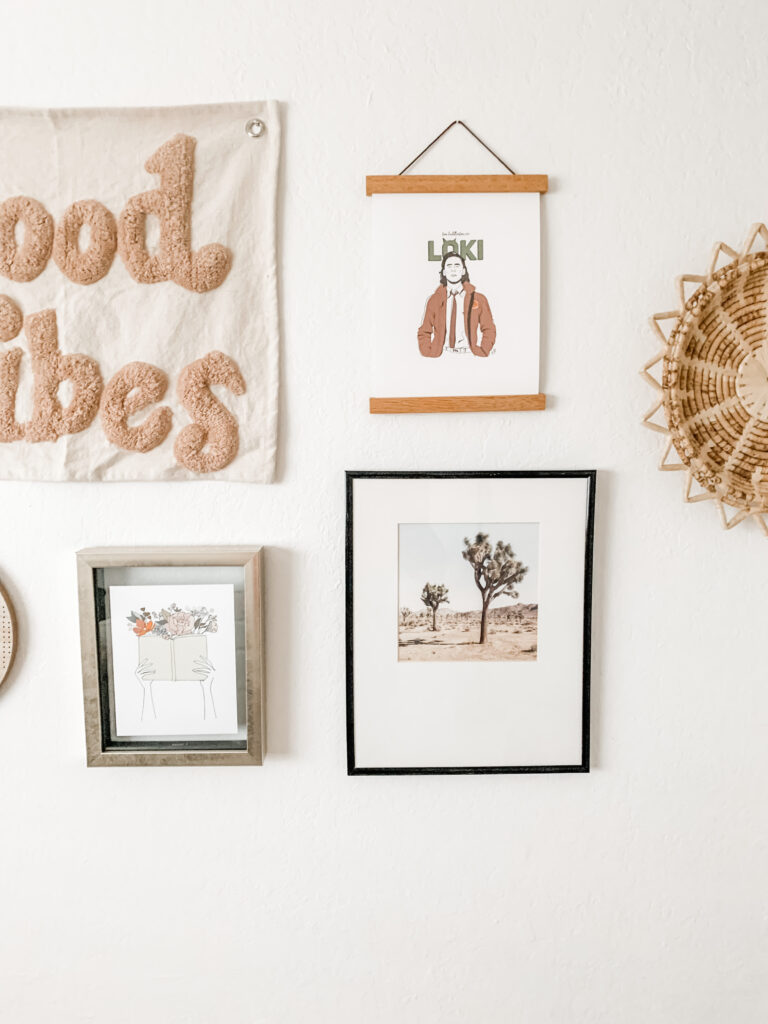 desert print I already had, and the round straw mat was thrifted.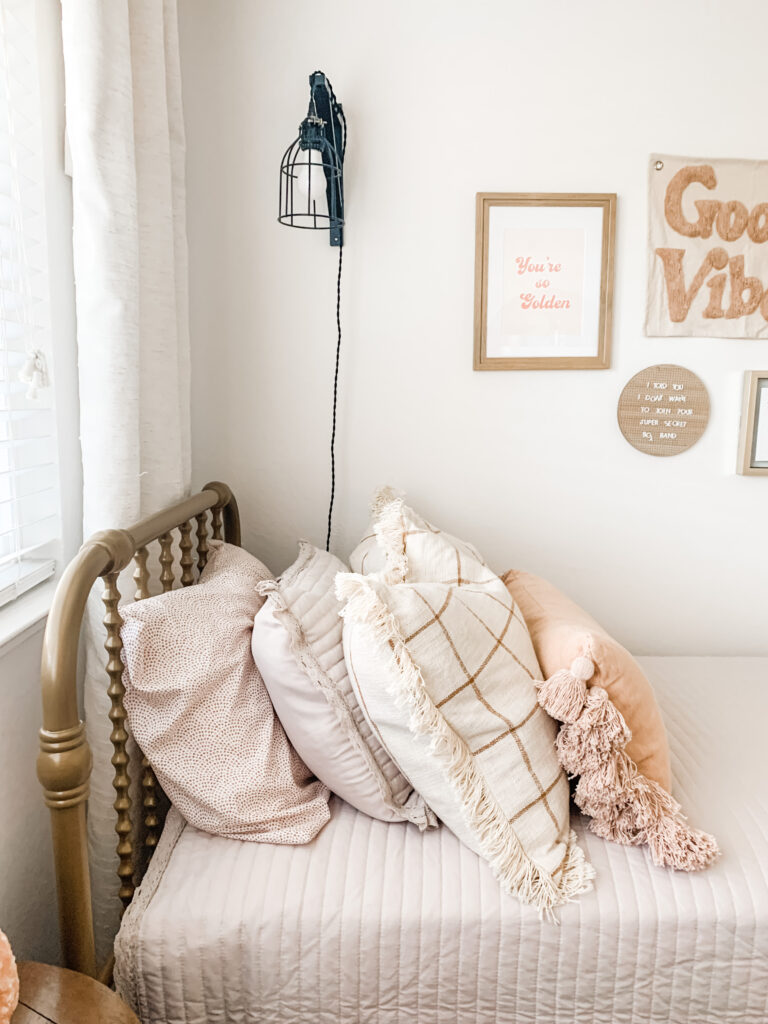 I snagged the quilt from HomeGoods, and sheets as well….and also the throw at the end of the bed!
The light on the wall I installed when I switched the room over to my craft room, and luckily it was in the perfect spot to keep for a reading light over the bed. That, combined with the light from the floor lamp, lights the room plenty!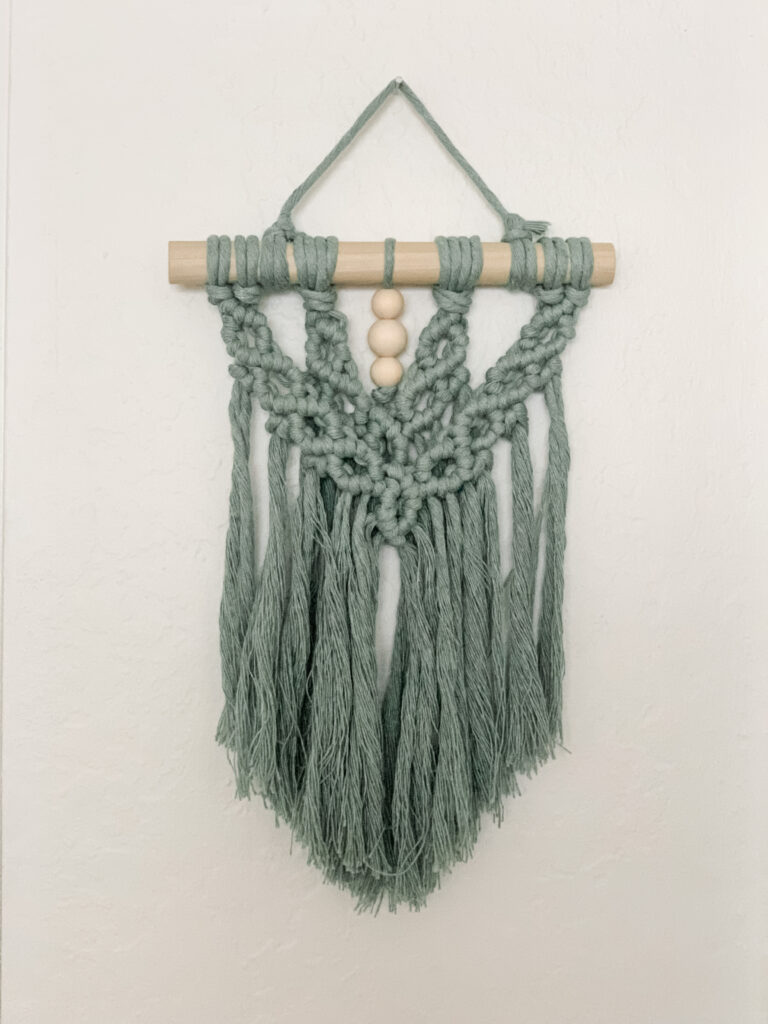 I snagged this adorable macrame hanging on Etsy too!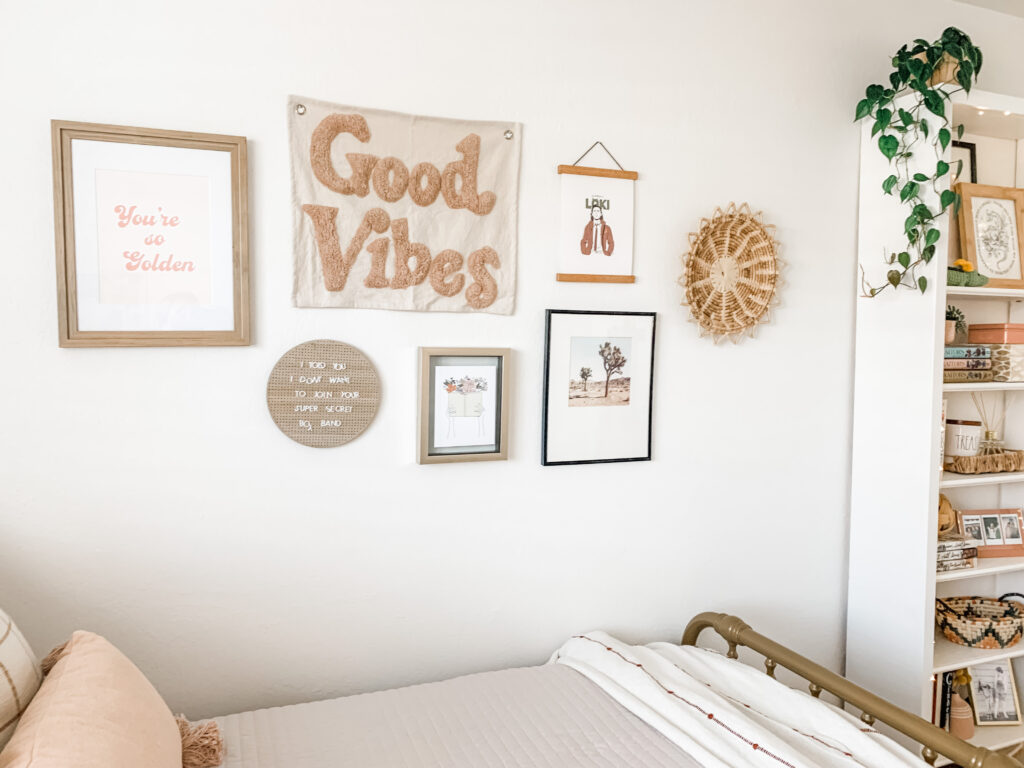 I snagged that bookshelf on the side of the road one morning after walking the kids to school, and it was sturdy, had plenty of shelves, and just needed a coat of paint and some of those little shelf things that you poke in the holes. (I know, I'm so helpful with product names)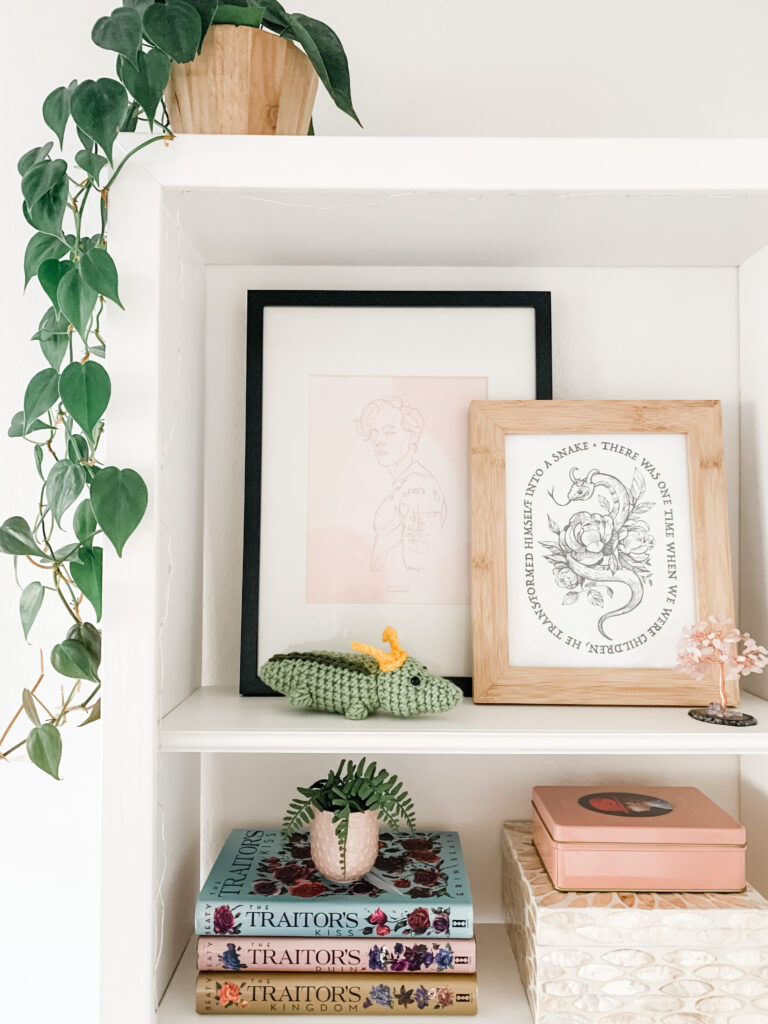 I, again had a blast finding unique prints and items to fill her shelves with, some thrifted (the wooden pot the philodendron is in, the straw ball, the little pink tin, and the pink and green basket), some found on Etsy (Harry Styles print, stuffed Alligator Loki, Loki snake story she sold it to me as a print luckily!), and some from Target (pink instax frame, which I painted to match the arch with the extra paint), little pink bud vase & faux plant in pink pot (dollar spot), along with some treasures from my beloved Home Goods and Marshalls. The basket on the bottom shelf and the woven container with her stuffies in it were from Home Goods too!
I lined the edges of the bookshelf with fairy lights and they look SO cute. I bought a set with a remote so it's super easy for her to turn them off/on.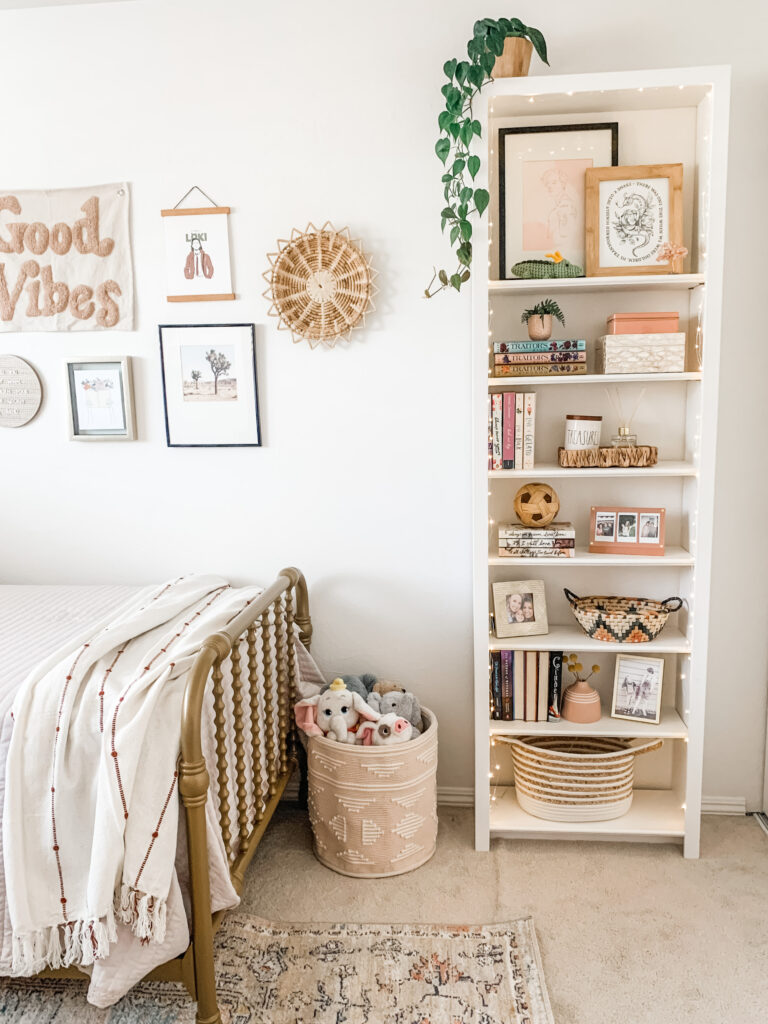 Well, if you made it to the end of this, kudos. You are probably my best friend and or family member. LOL.