If you know me at all, I get the itch for decor change around the house pretty often! I can't help it! I don't think I'm alone in this though, don't we all crave something new and fresh every so often? Last year I started on a revamp of the girls room, which began with a purchase of Beddy's bedding-it is the PERFECT bedding for bunk beds and seeing as we have a triple bunk bed, I figured these would solve my problem of the girls making their beds. As in, they never did, and I was irritated every time I walked past their bedroom door during the day. Now, I understand this is a dumb problem, but I think that if there are awesome people out there inventing things to make my life better, I should give them my monies and let them? Ok anyways…they were an investment but I bought them on sale (not sponsored!), and completely worth it.
If you want to see some of my inspiration, check out my Pinterest board!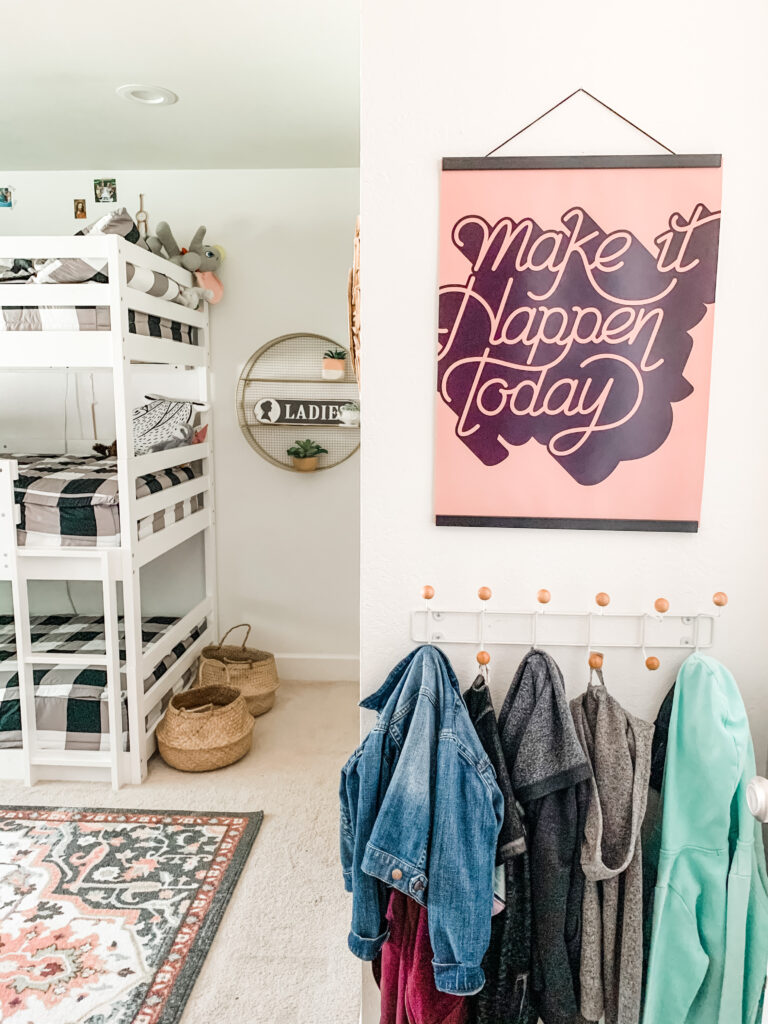 Here is the view in from the door-I hung up this poster that the girls chose, with this cool hanger. I got the baskets here, and they store their tsum tsums in them. They had too many throwing "battles" with them and it was getting annoying arranging them in the gold shelf every day. (again, I aim to make my life easier)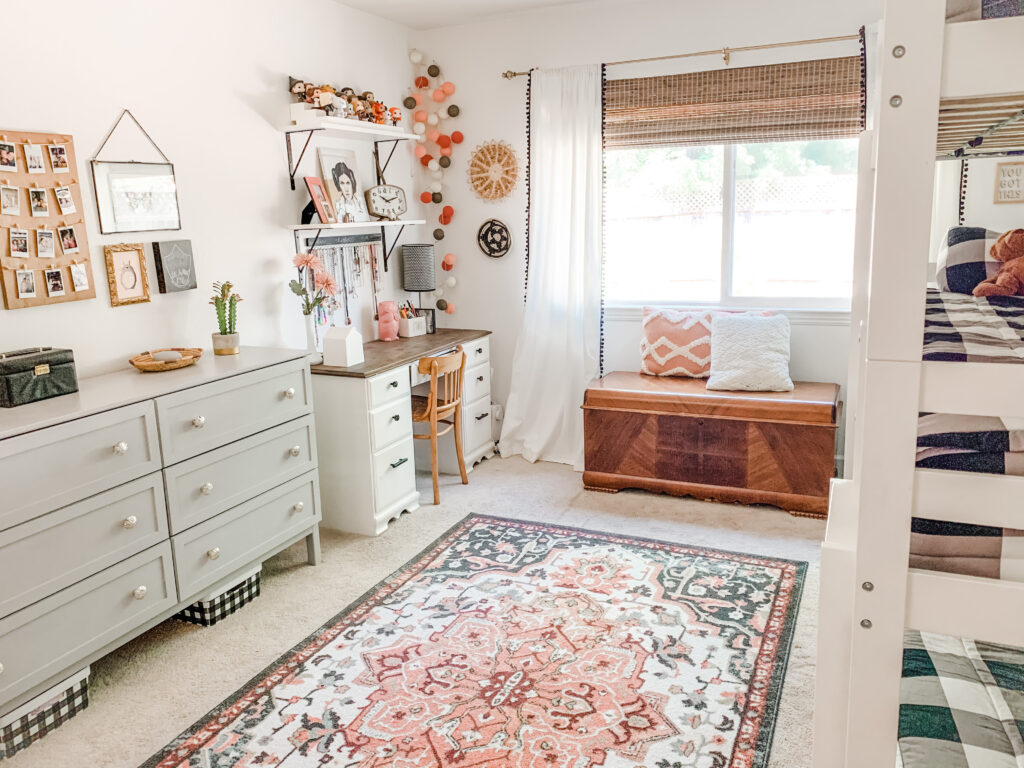 Here's a big picture view! I love how the color scheme turned out, and this rug really pulled it all together, as well as finishing the dresser! more on that later. You can also see the other versions of this room here and here! The most recent furniture addition was the cedar chest I found on Facebook marketplace and drove over an hour to pick up! I LOVE it. We use it to store their many extra blankets, stuffies, and slippers/sleeping masks. Also we installed new wooden blinds.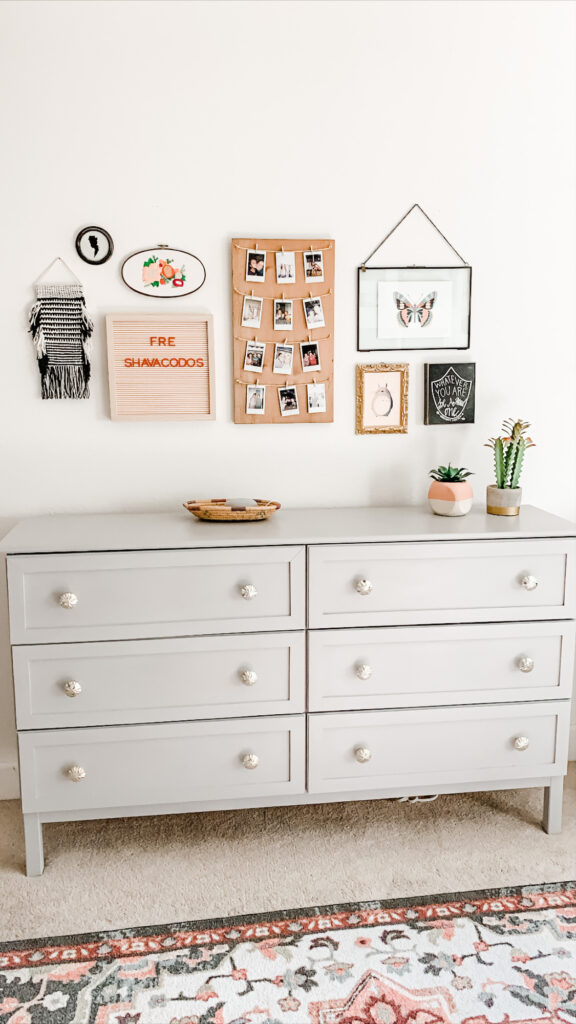 The dresser is something I had planned for a loong time but then never pulled the trigger on. I finally had some time on my hands (thanks no thanks, quarantine), and had already purchased the trim, and knobs (hobby lobby), so I ordered some chalk paint and went to town! Its not perfect, especially some angles on the trim, but I think it looks good if you squint.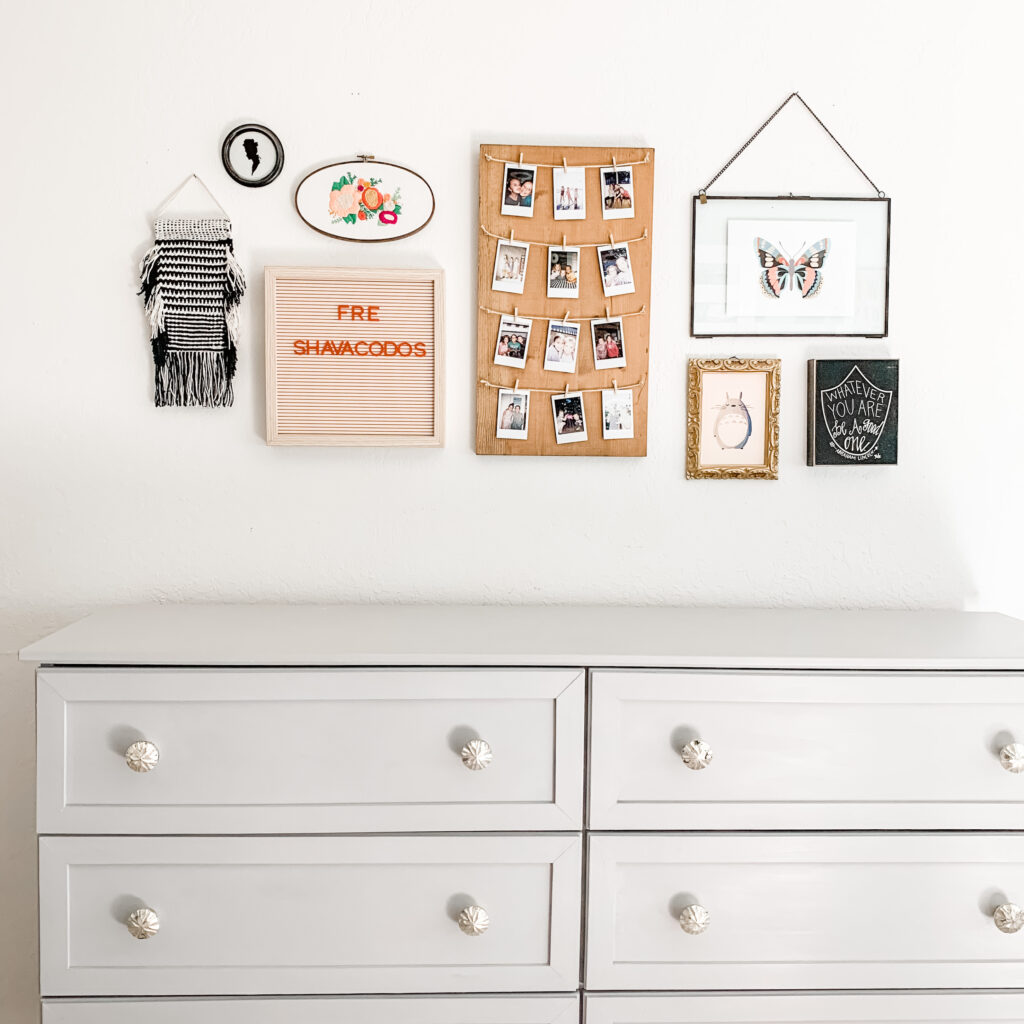 Above the dresser I stuck with a collage of items-a woven hanging and letter board from Target, a silhouette gifted to me by my Grandma, a handmade embroidered piece of art! (made by my sis Janae), an instax photo display board that I made, a butterfly printable, Totoro print, and thrifted wooden sign.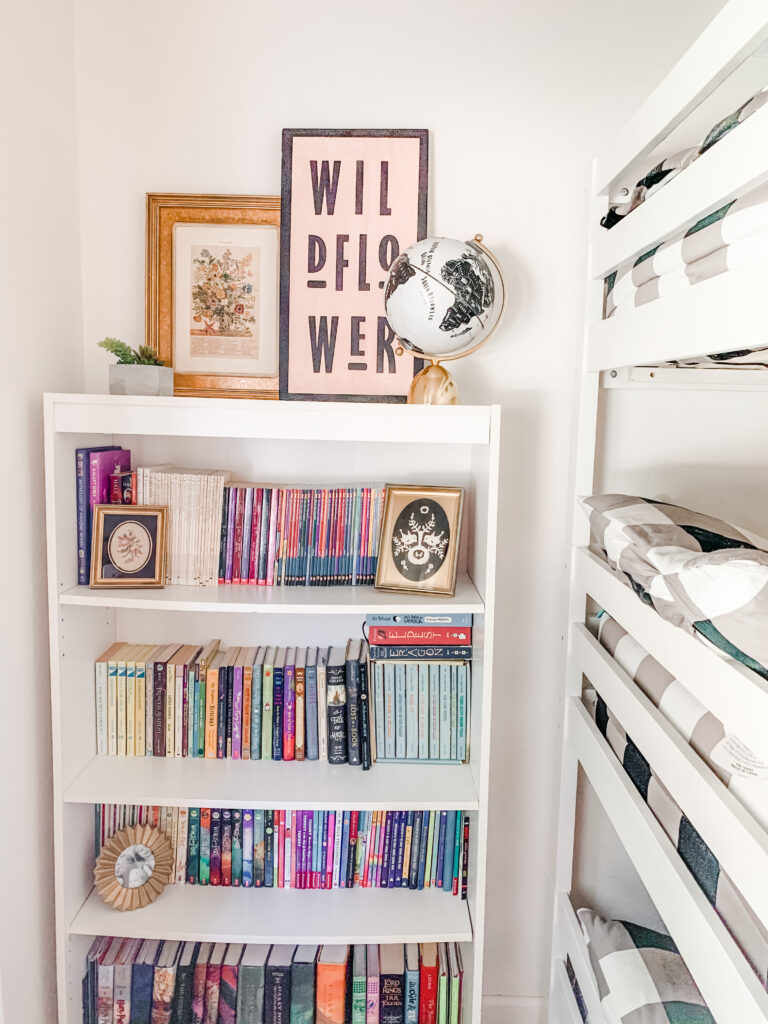 Over to the bookshelf! For the decor up on top, I was inspired by some artwork I found on Pinterest (never did find the original creator so if you know who it is let me know!) and then made my own version with some wood, paint, and vinyl.
I love my Silhouette for DIY projects like this! I found the floral print thrifting (it is a monthly print, and of November which is mine and Ava's month!), the B&W globe on clearance at Homegoods, and I believe the cement faker succulent was from Michaels.
The two framed pieces on the top shelf were made by my great grandma (the embroidery), and thrifted. (the cut paper piece)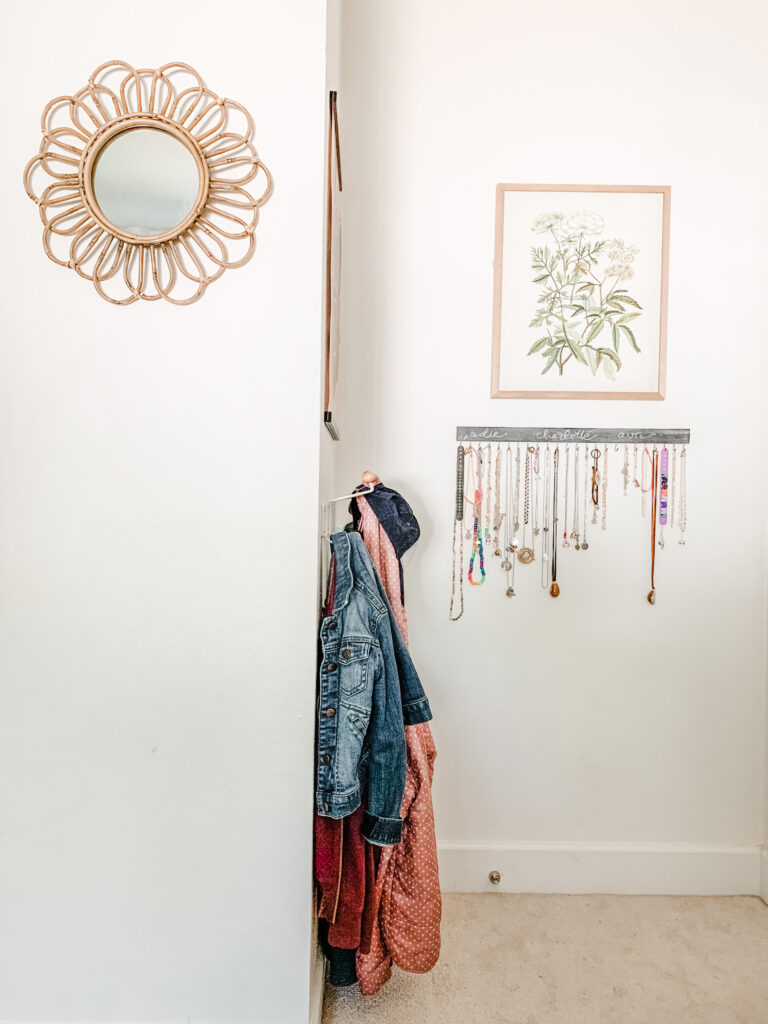 I also added a mirror from Hobby Lobby on the wall where the closet is, and after taking the other pictures, moved the girls jewelry hanger over to this wall as well as this floral piece I had hanging around in the house.
There you are! We're all quite happy with the refresh and I am glad I finally finished the dresser!