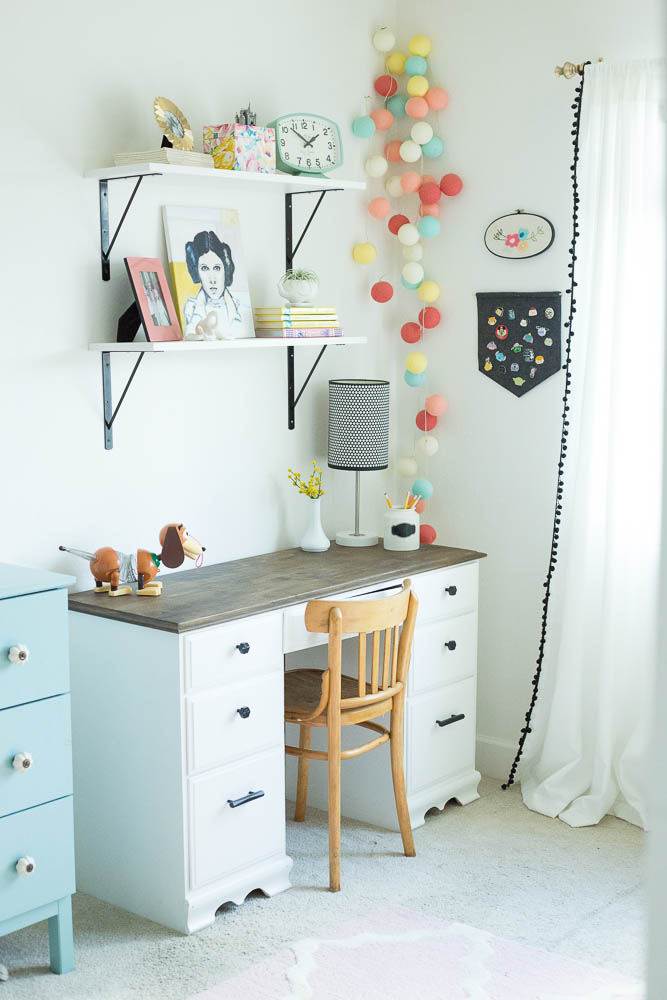 I thought I'd do a little update post on the girls room since we've had to make some changes since we redid it about 2 years ago.
The biggest change is the bed! Ava has always been our fastest growing girl, so we knew her toddler sized bed wouldn't last much longer.
We don't have space in the room for an extra twin size bed plus the low loft bunk bed we had before, so we upgraded to a triple bunk!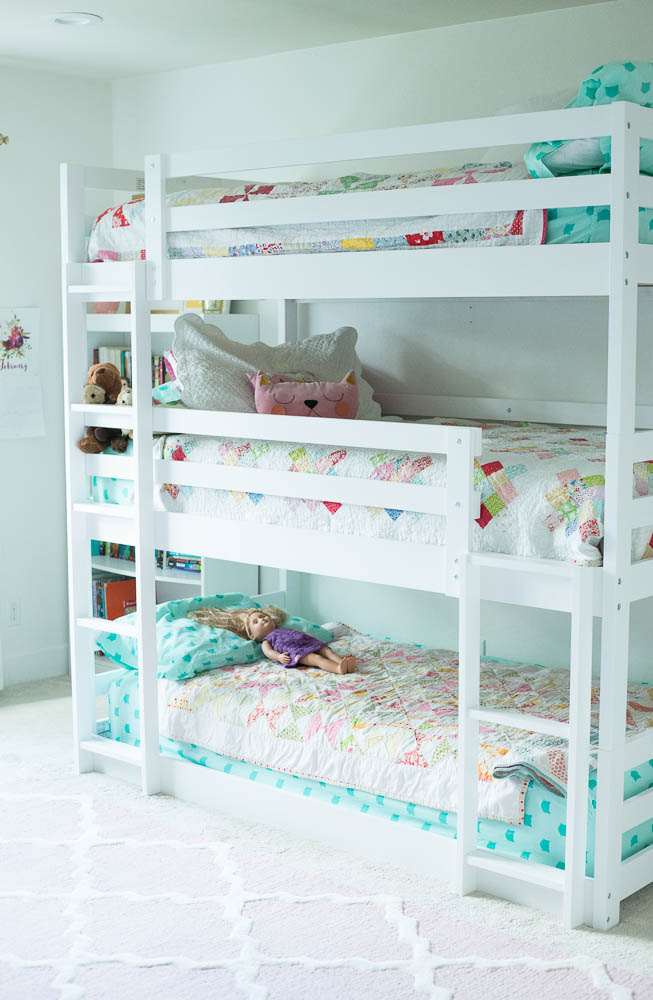 It's been amazing. The foot print in the room is just what we needed, and the girls have their own little spaces. (they can each sit up in bed, but only just…but that's a bridge we'll cross when we come to it!) As for the bed-we bought it from a California company, but they don't deliver everywhere so I'll link to the Amazon page. (affiliate links in this post, thanks!)
The sheets are from Target (only have purple I guess)-info on Sadie's quilt is here, Charlotte's here.
I've got the fabric for Ava's twin quilt, just need to decide on the pattern and get going!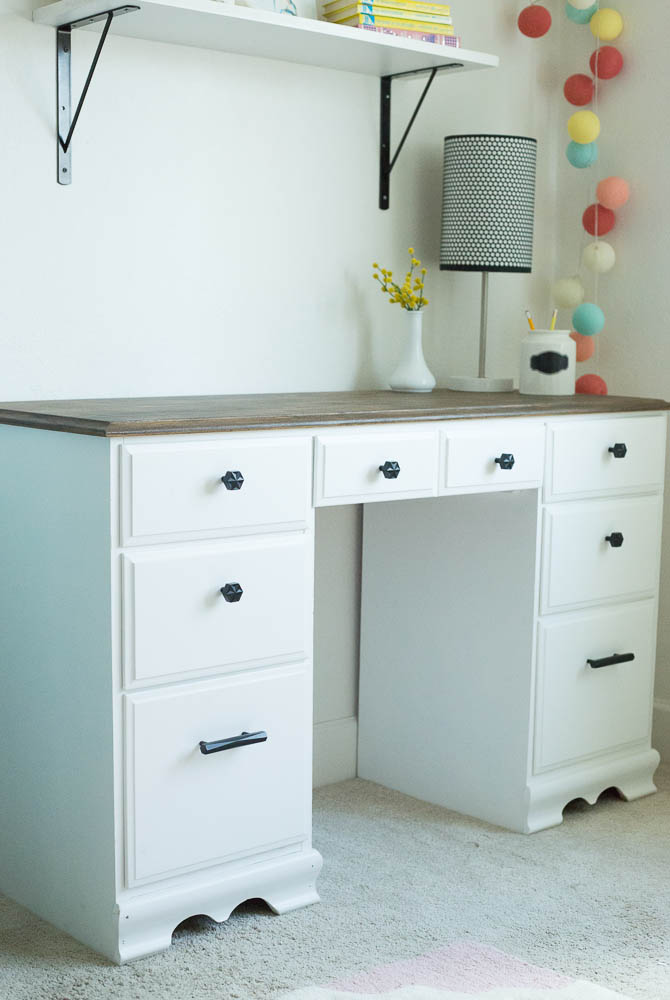 We had a space now where Ava's bed had been, and I had thrifted this desk for $28 a few months ago to be Sadie's sewing desk in the playroom, but now it had a spot in the girls room!
It was pretty rough before, but now is looking good! I sanded the whole thing down, removed the old hardware and filled in the holes.
I sanded down the top completely, removing the stain, re-stained it with Jacobean Minwax stain, then sealed it with wax.
After adding a few coats of my favorite white-swiss coffee by Kelly Moore-I added some black knobs and pulls from Home Depot.
Still need to fit the drawer (you can see it's off in the pic above), and fill in a few nail holes, but it's looking so much better now!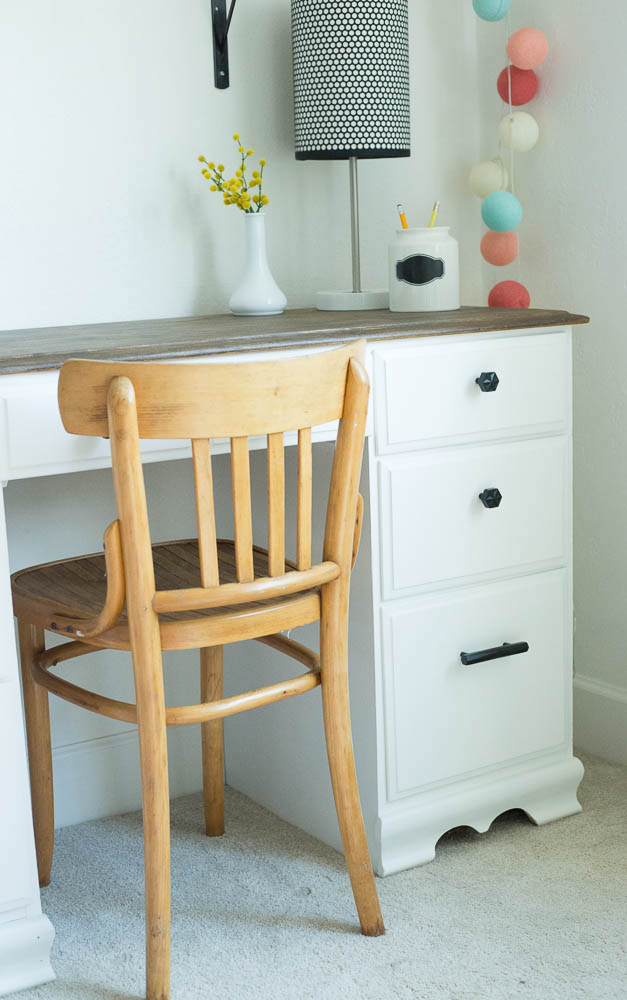 We grabbed the chair from a pile that our neighbors were getting rid of-sooo free thirty free! Debated on whether to paint it or not-decided to leave it for now out of laziness and the fact that there is a lot of color going on in the room already! (hence the white desk)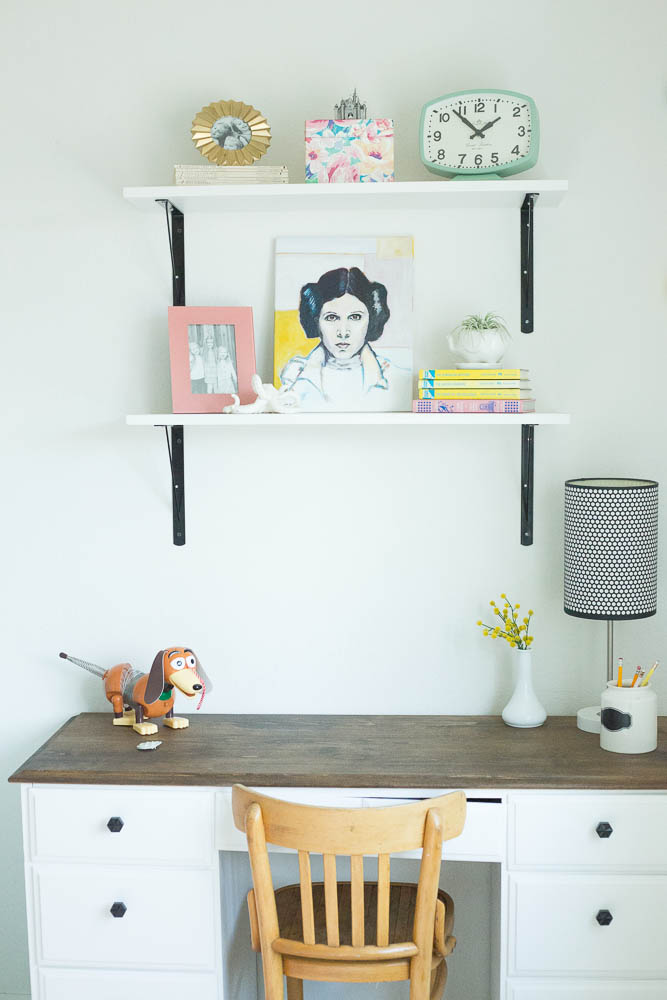 The best thing about the desk is that now the girls have specific drawers for their own things…we never had a dedicated spot for all the random little things girls collect that they want to stay private, or just be THEIRS, ya know mom? lol. So that's been seriously a blessing to get all that off the floor and beds, which is where it hung out for the most part before. I have high hopes that the room will stay cleaner now. HA HA. ha.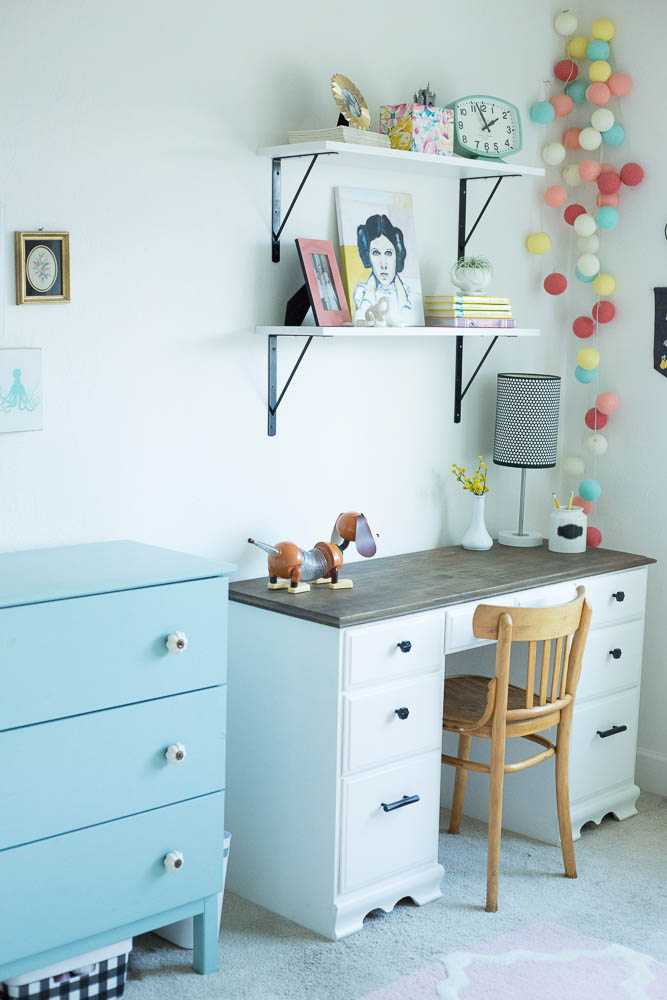 To fill the blank space above the desk, we added some shelves!
We grabbed these (cheap & cute) black shelf brackets from Home Depot, and I sawed a piece of wood in half, then painted them for the shelves! easy!
I love these, mostly because it lets me showcase this Leia painting I bought for the girls from my friend Tara! It's amazing and I love it, deeply. lol. It's also been fun to be able to display some of the other cute things the girls have around their room.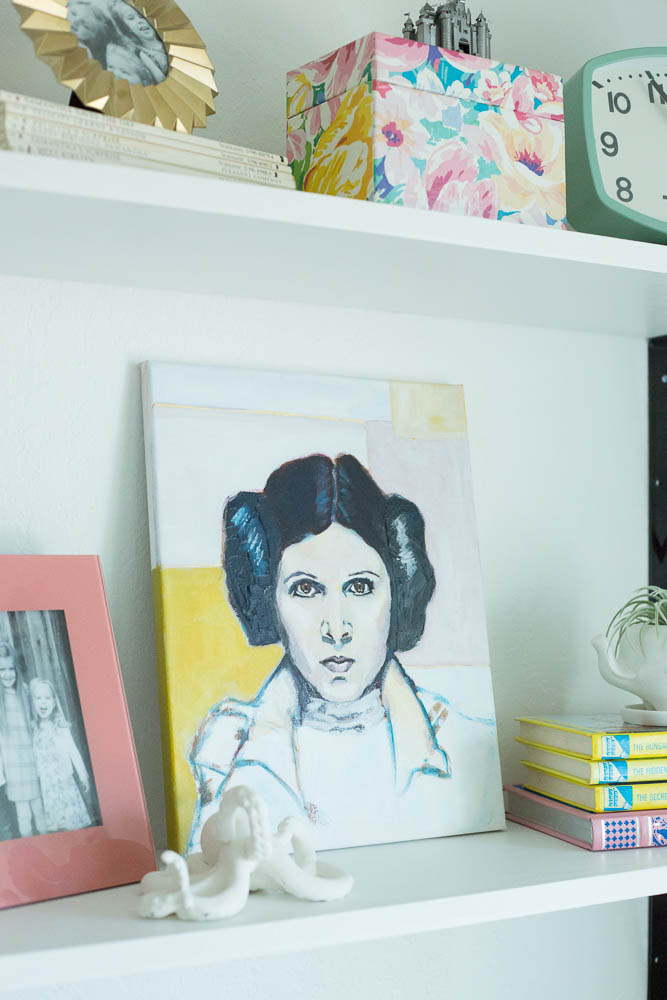 Like some cute pictures of the girls all together, some vintage Nancy Drews, a metal 3-d model of the Disneyland castle Rory put together, Ava's ceramic kraken, etc!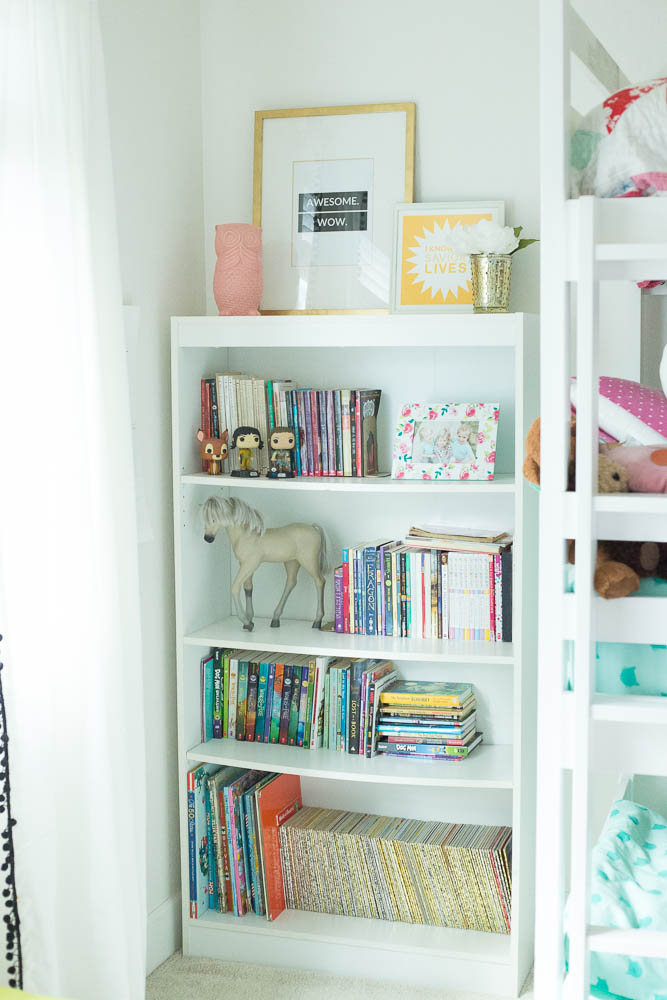 Over on the other side, I just rearranged the shelves a little (it was nice to have less stuff on the shelves!), and swapped some art around!
Never fear, the rest of our little golden book collection lives in the playroom now. 🙂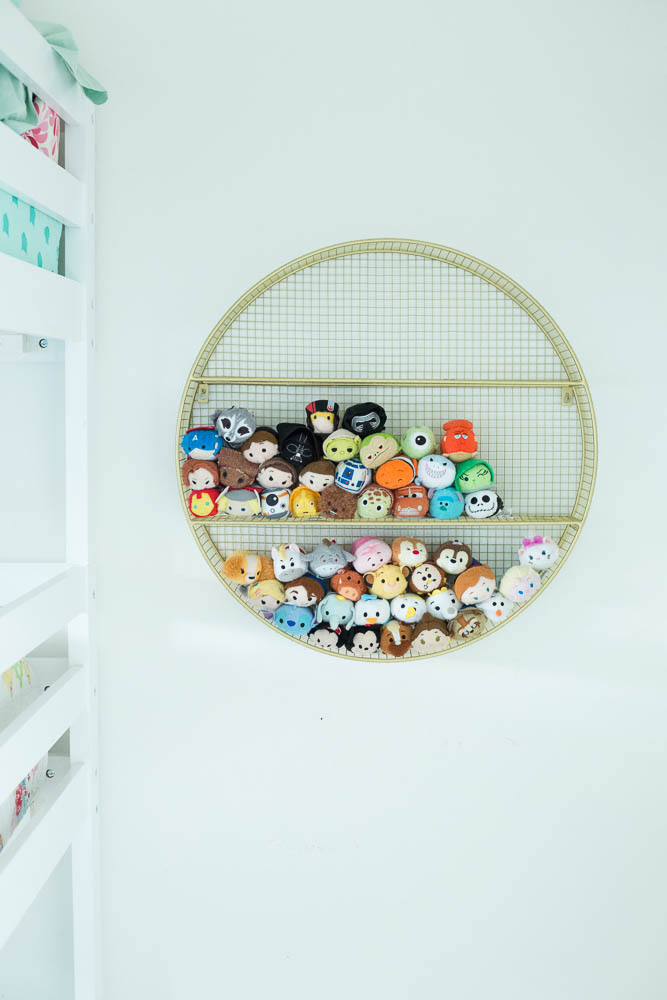 Another addition in this round of redecorate, was this gold circle shelf-which has been perfect for housing the growing tsum tsum collection!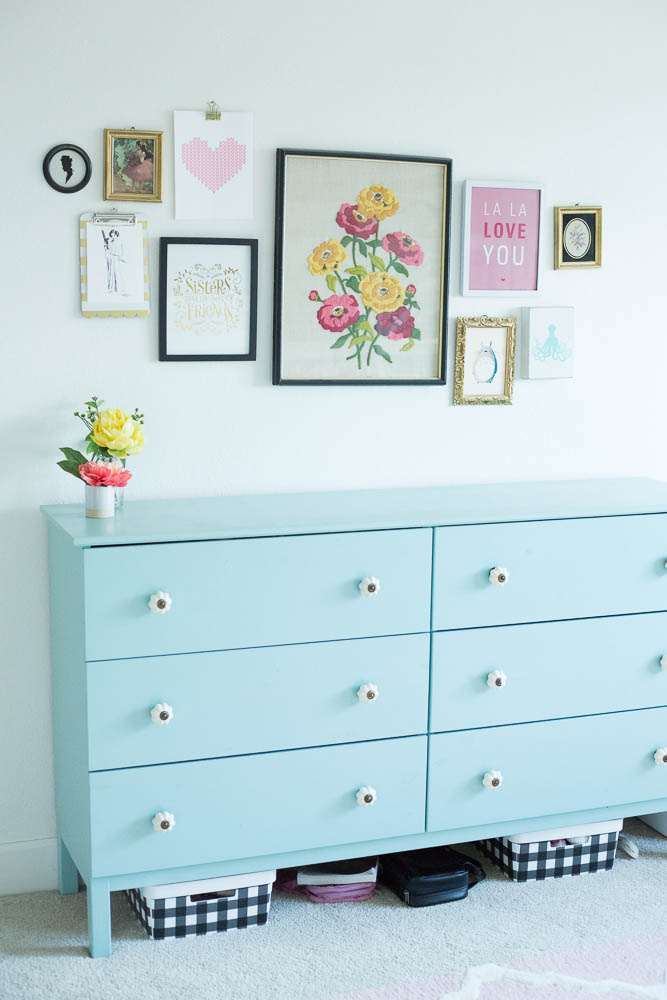 The dresser is about the same, just with a couple of plaid boxes shoved underneath to serve as extra drawers! Three girls have a lot of stuff!
If you'd like any more specific links, etc, see the original post here for more details!