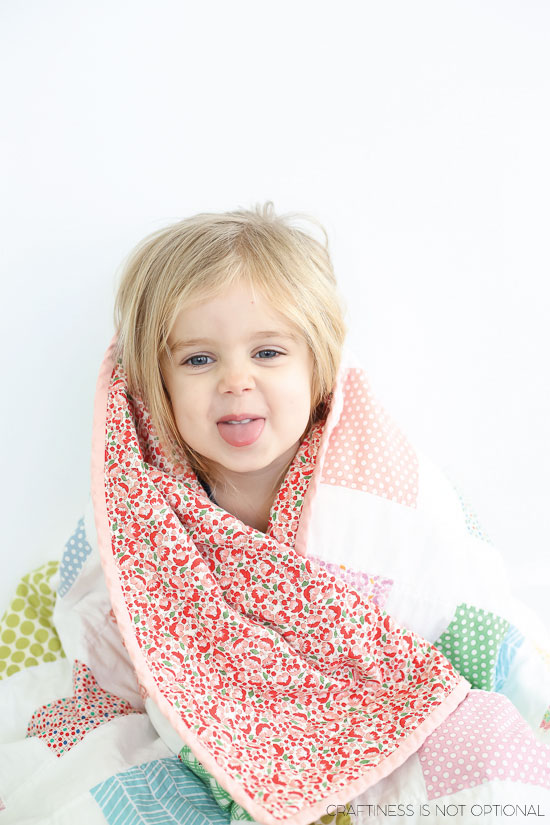 While I was working on the big room switcharoo, I realized Ava would need a new quilt for her toddler bed. Reasons being: her old quilt didn't quite match the vibe I was going for, and also it's her lovey and she drags it EVERYWHERE. So it's kinda dingy now. But well loved! I bought a bench with storage for all their smallish quilts and blankets, and that seems to work so far!
So: back to the quilt! I wanted a feedsack-y, vintage vibe with lots of bright colors like Sadie's and Charlotte's twin size quilt, and I wanted it to be EASY to make since…pregnant.
So I decided on a simple charm pack quilt-much like this one I made Charlotte a long time ago.
My awesome sponsor, The Fat Quarter Shop, was kind enough to send me the charm pack and backing fabric to make the quilt!
Quick & easy giveaway-they're giving away the same charm pack to a lucky reader!
scroll down to enter!
They have an amazing selection of adorable prints and TONS of awesome jelly rolls, charm packs, layer cakes, and quilting necessities!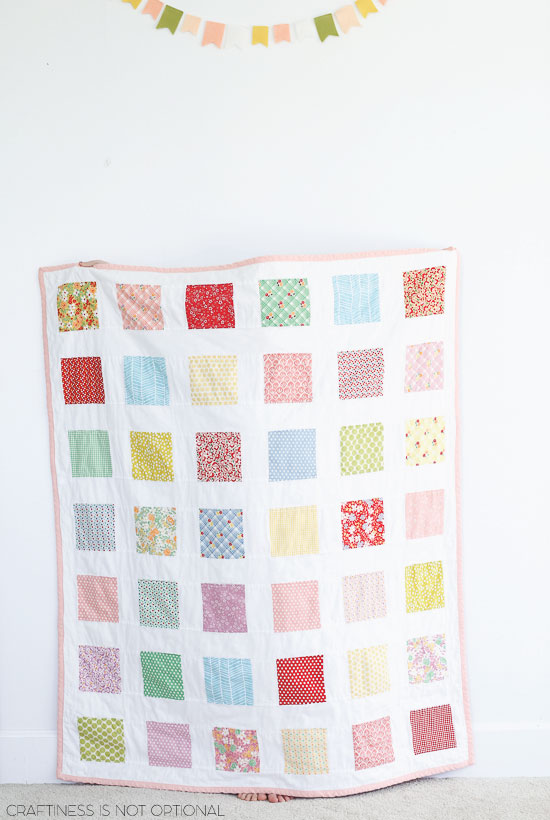 (little Sadie toes!)
The charm pack I used specifically was the 30's Playtime pack-Chloe's Closet for Moda Fabrics.
I did sub in some of my own scraps for the darker blues and browns sincesome of them didn't really "go".
I cut sashing that was I think 3″ wide and sewed it all up! Super quick and easy-it was literally pieced, quilted (simple lines across), and bound in less than 24 hours!
Just to be clear that's not normal. I must have had a huge nesting urge or somethin'.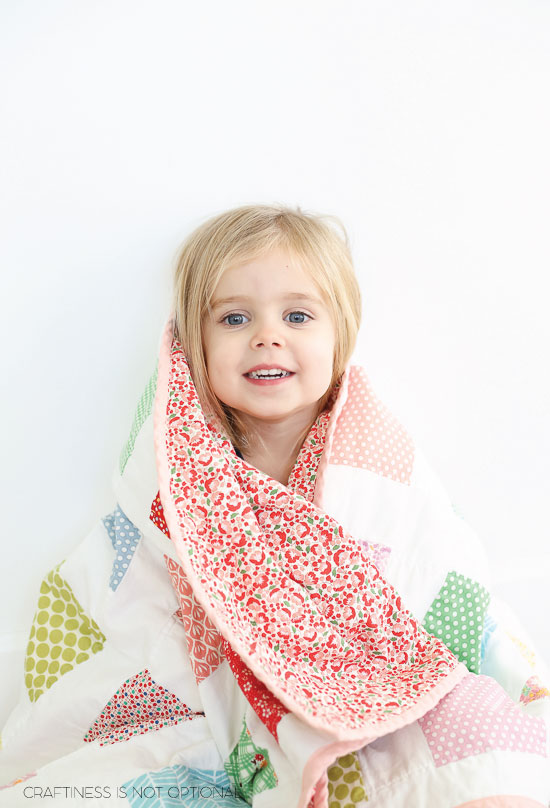 I backed it in my favorite print from the line-Scarlet Buttercup-I don't always love red, but when I do it's in a floral!!
I can't wait to show you the rest of their room!