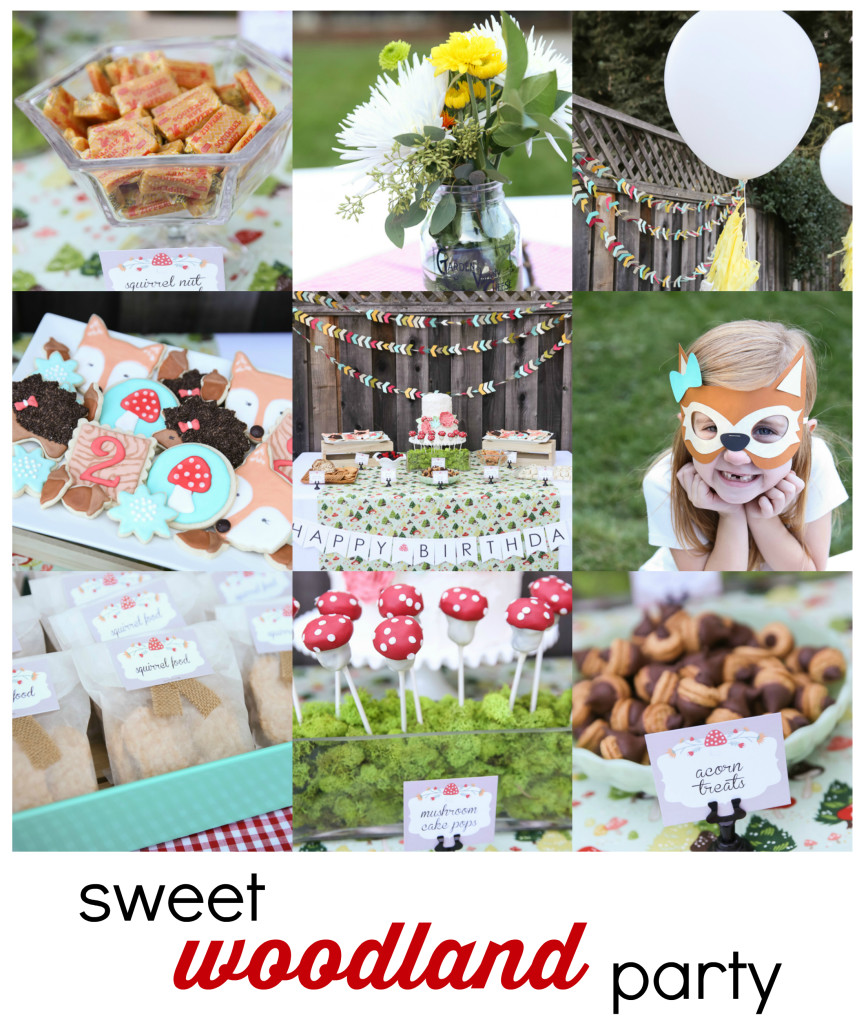 First off, a sweet Happy 2nd Birthday to my little Ava!
I've always wanted to do a woodland party theme, and I figured I'd better do it while Ava still has little to no say in her party! (She likes saying puh-ple so I could have done a puh-ple party I guess. but that's just this week)…so…anyways, woodland party it is! I also like how it kinda continues the theme from last year a little bit-or rather, puts a different spin on the forest friends theme. 😉 I have lots of info and links for you, some affiliate links (thanks for clicking!), and I can't wait to share it with you!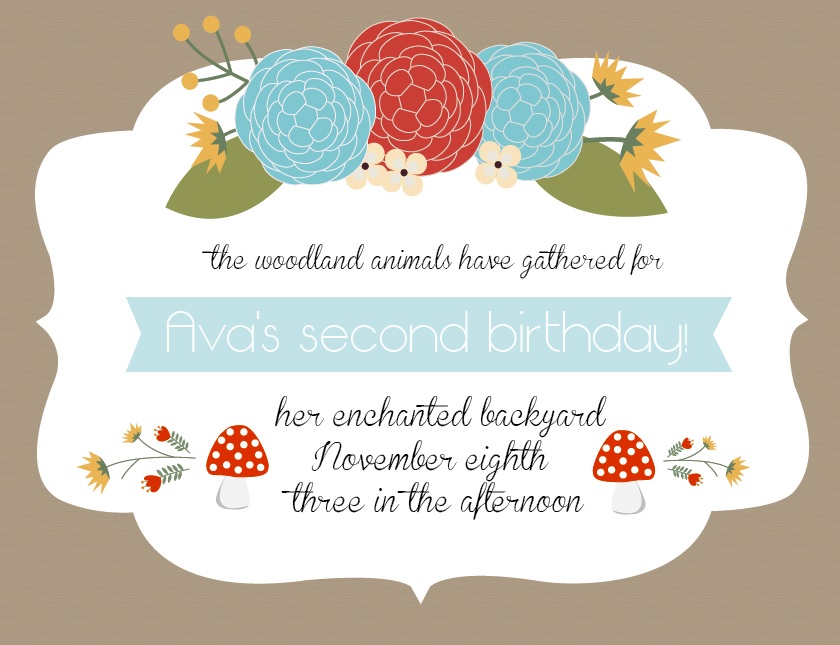 I designed the invite in Illustrator-the flowers were free files, but now I can't find where I got them. If you know, please leave a comment!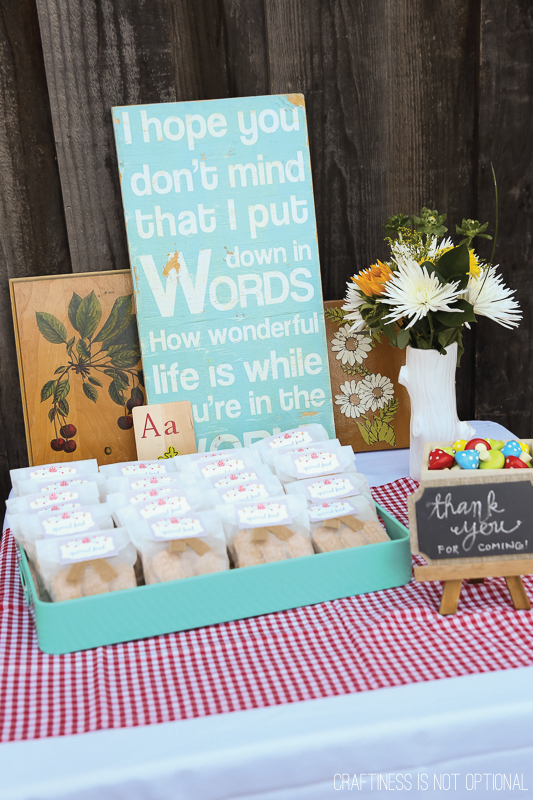 I raided our house for rustic decor-that little Aa sign is for acorn, I didn't get a shot of the acorn pic. (A for AVA too of course!)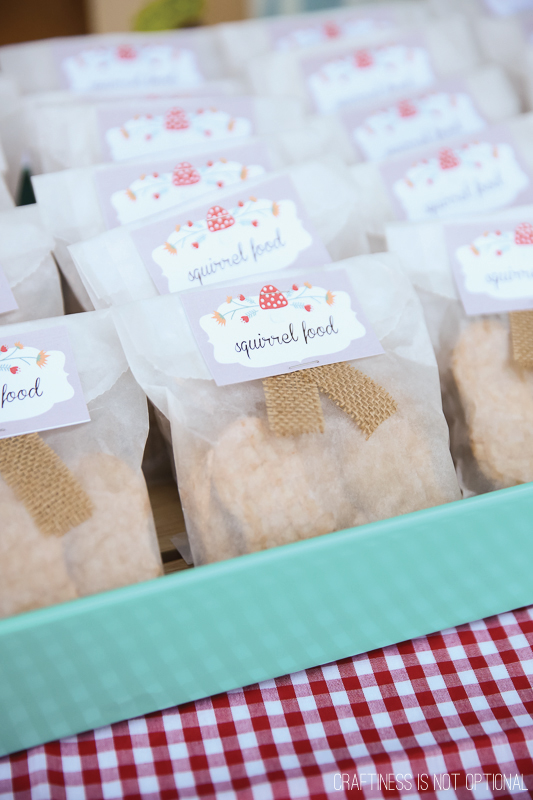 The favors were two parts-I packaged up some nutter butters into glassine bags (affiliate links in this post) and labeled them "squirrel food". lol. I get so cheesy with parties but I love it.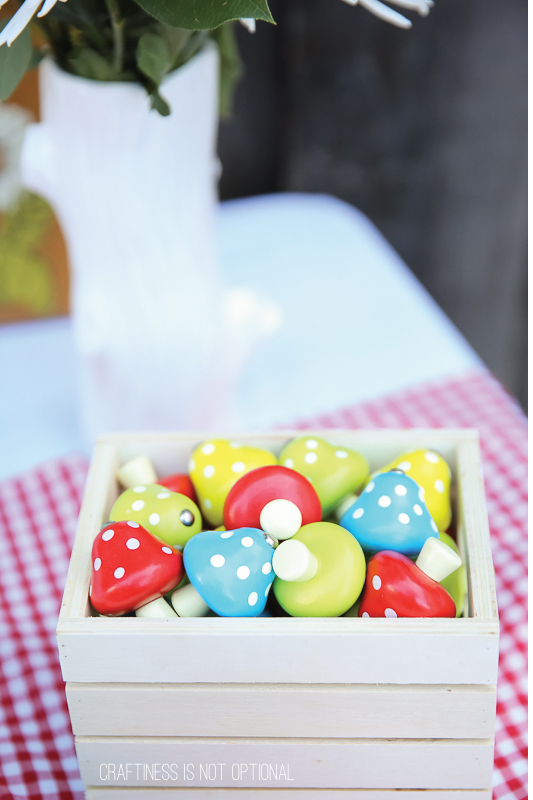 The other part were these ADORABLE little mushroom tops!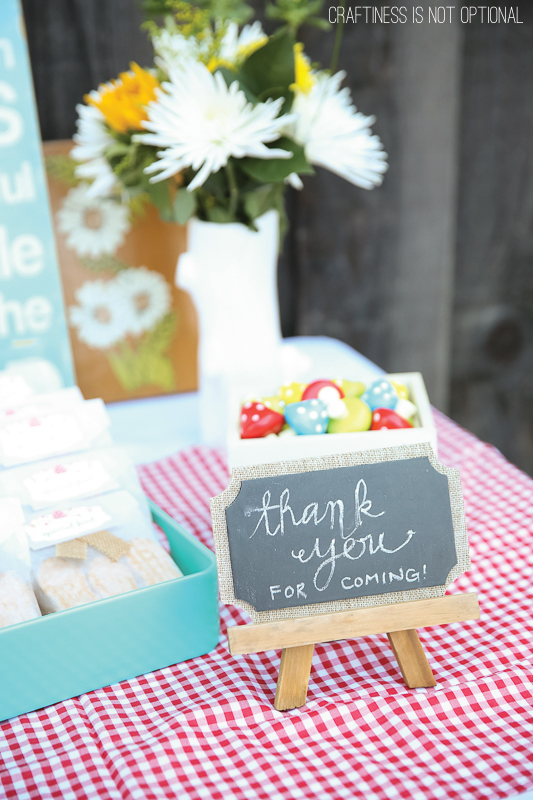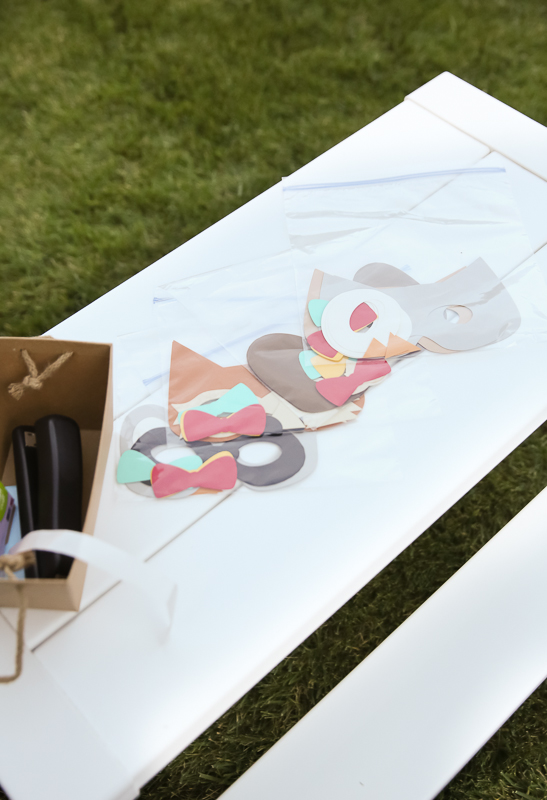 We bought a bounce house earlier in the year and it's been SO great for parties-I don't like planning party games since my kids aren't into them AT ALL and so it pretty much keeps all the kids entertained the whole time!
But this time I wanted to do a little craft 🙂 I used my Silhouette to cut out owl, fox, bear, and raccoon mask kits for the kids to put together!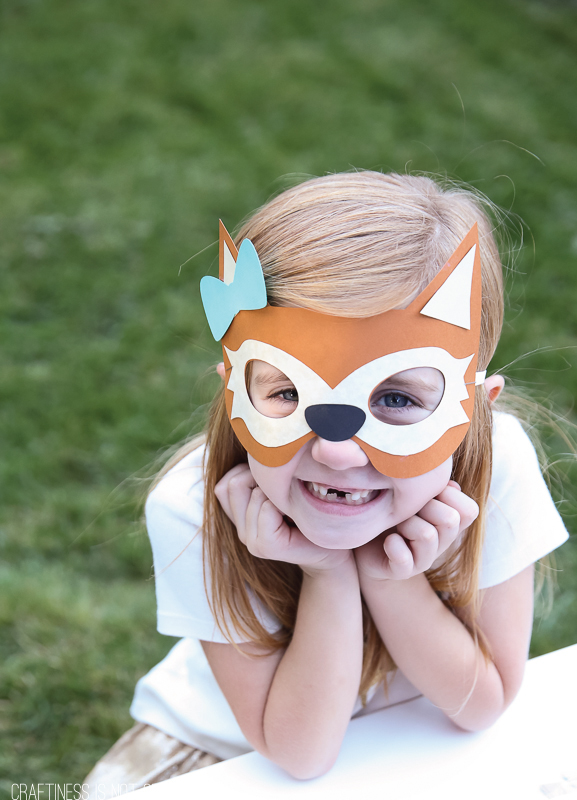 They were a hit! I got the idea here and created my own templates for the Silhouette to cut out.
Also cut out some bows for the girls in attendance to add to their animals!
(also check out Sadie's MISSING TEETH!! hehe)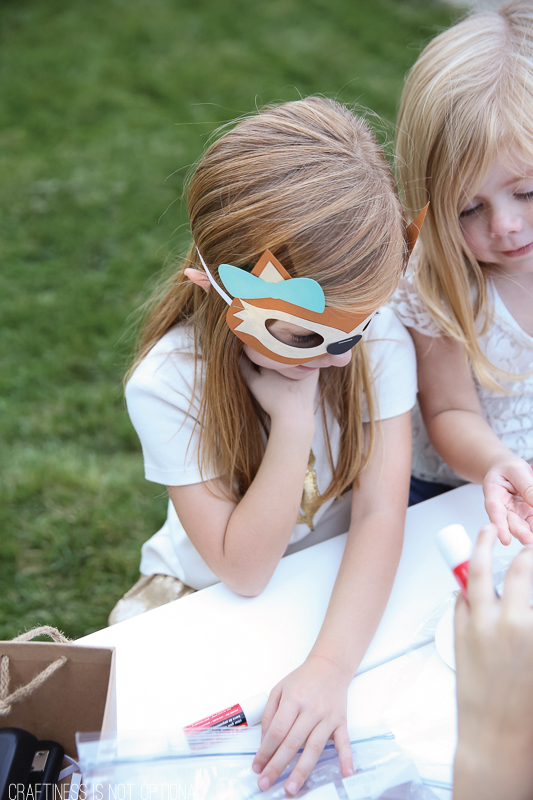 The kids loved wearing and making them!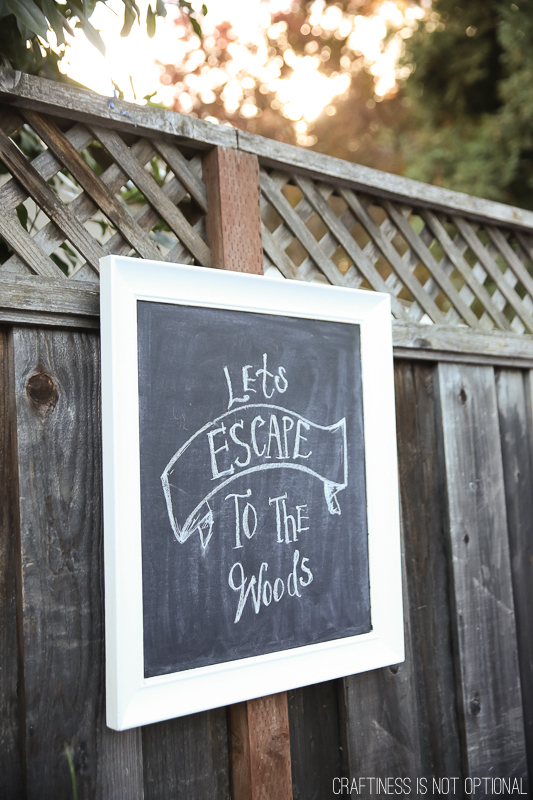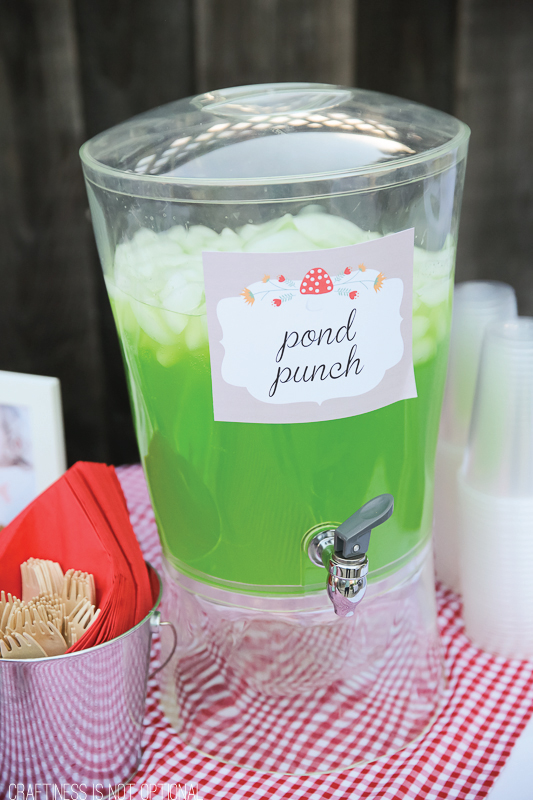 pond punch to drink…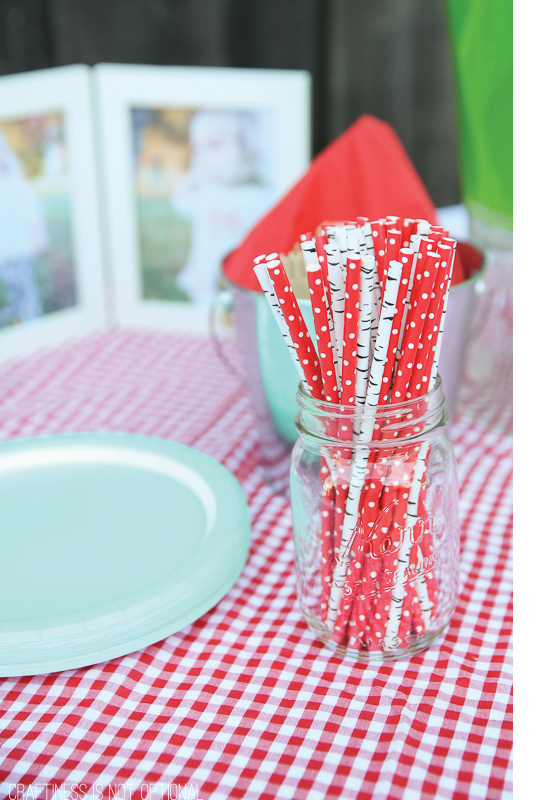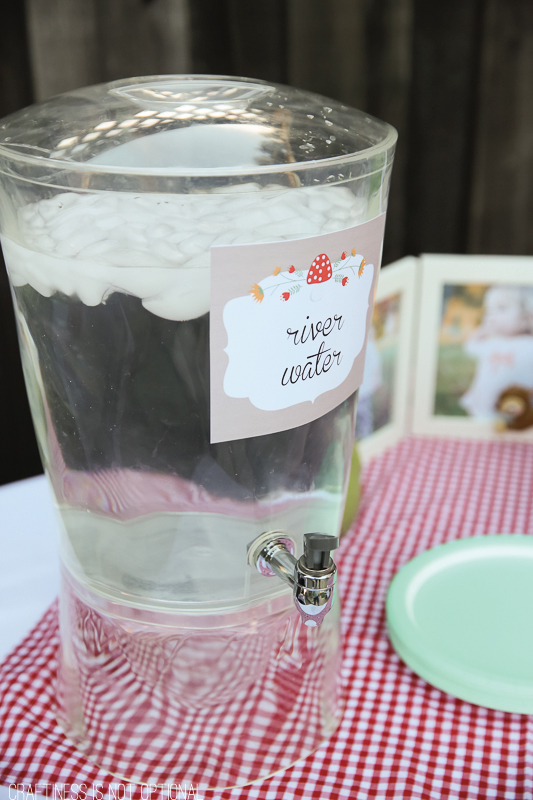 and some river water!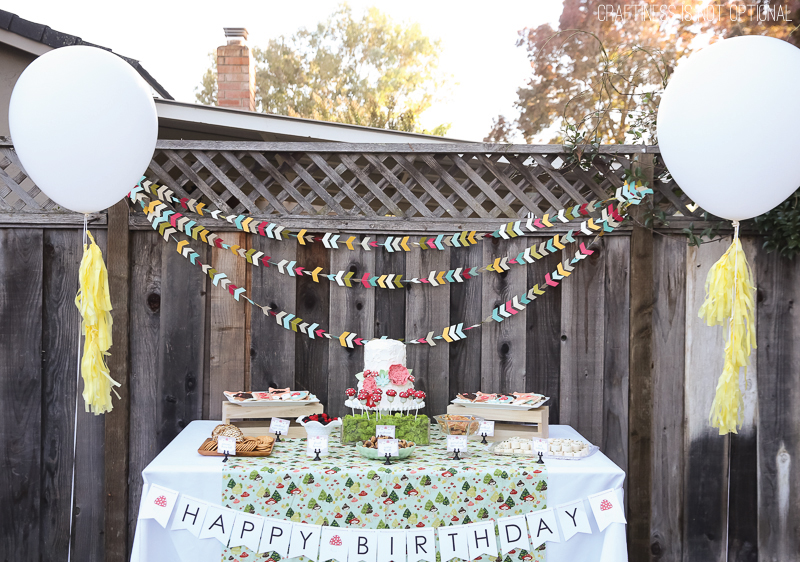 The tablescape was largely inspired by this one!
I just loved the simplicity of the garlands and large balloons! Bonus: it took me half the time to decorate than it normally does. yess!
The arrowhead pieces for the garlands were also cut out on my Silhouette and then sewn together!
I hung some tissue paper tassels I had already made on the balloons…fun!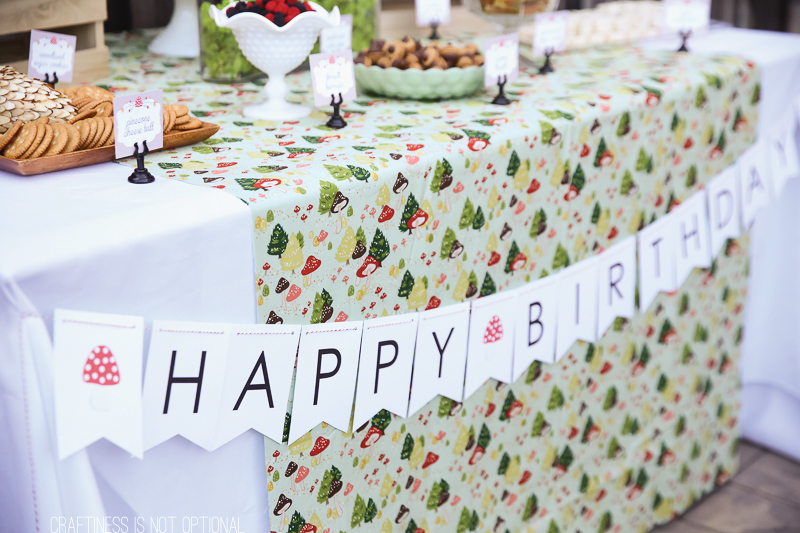 made a quick little banner in Illustrator-added some mushroom bits and threaded it together with baker's twine!
That cute fabric I got at a fun country store on a women's retreat a little while back, but of course I forgot to check the selvage before I tossed it. Oops!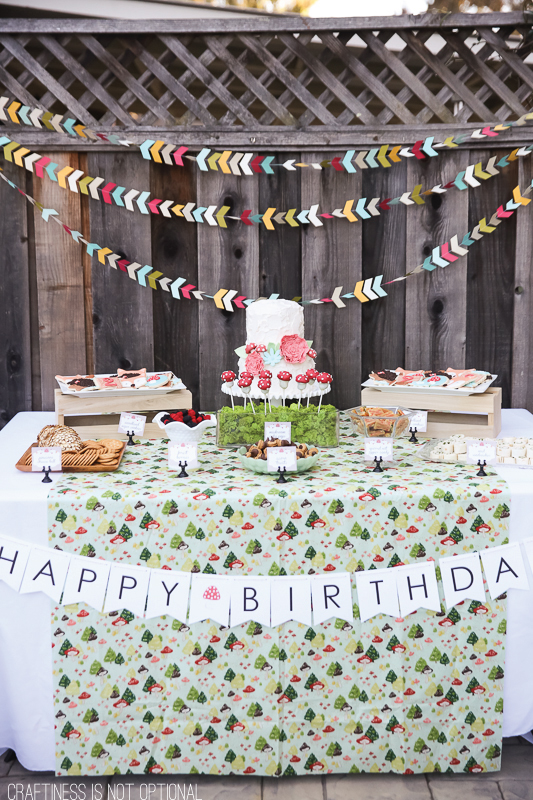 I made less food items than I usually do and it felt GREAT.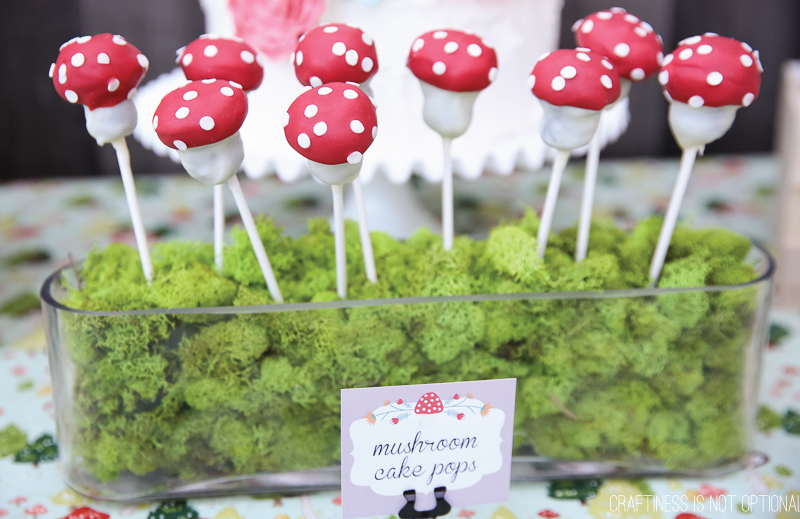 I made these mushroom cake pops because I adore cake pops and mushrooms are just so darn cute.
I do need to brush up on my dipping skillz, but they came out pretty cute! and yummy-I made them with nutella frosting!
Used these sprinkles for the spots!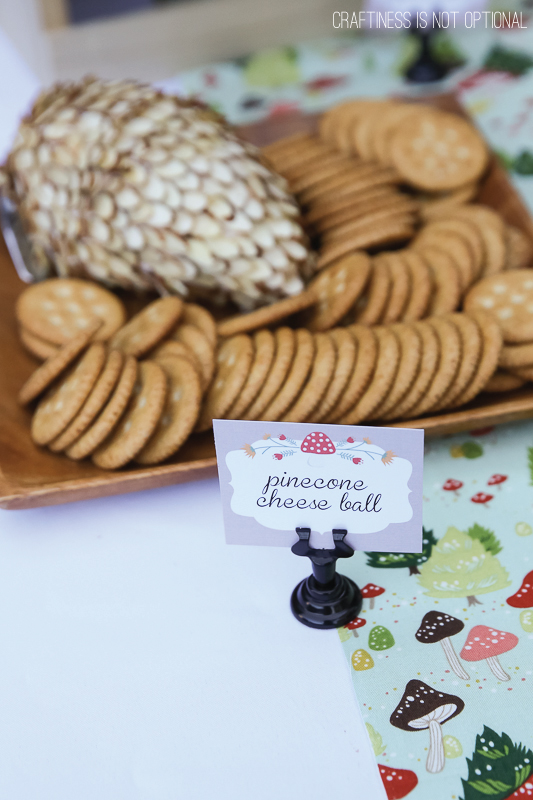 made a cheese ball and then covered it with almonds for a pinecone cheese ball!
I crack myself up.
Then obvs I gave up on presentation and tossed crackers on the platter.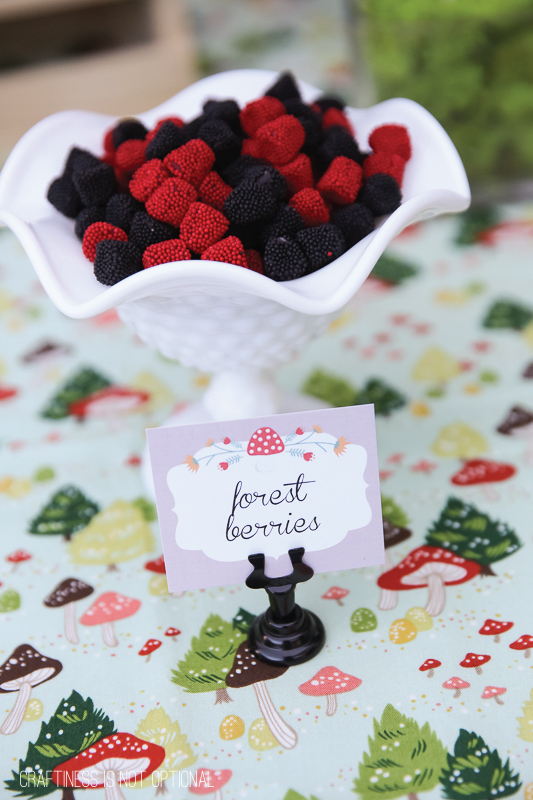 These "forest berries" were a HUGE hit with kids and adults a like!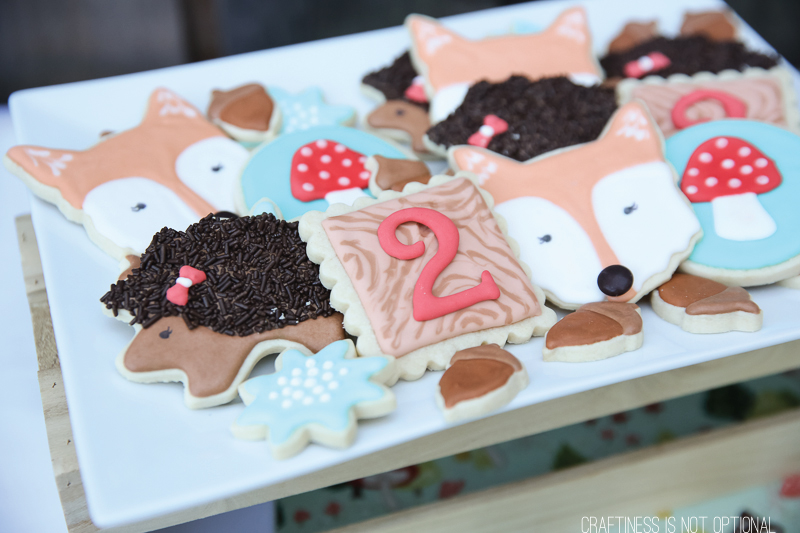 Oh the cookies! There were so many options for this party, I made a plethora of cookies!
Hedgehogs, wood grain "2" cookies, simple flowers, foxes, mushrooms, and acorns.
I made the hedgehogs so easily by using chocolate jimmies for the prickly part!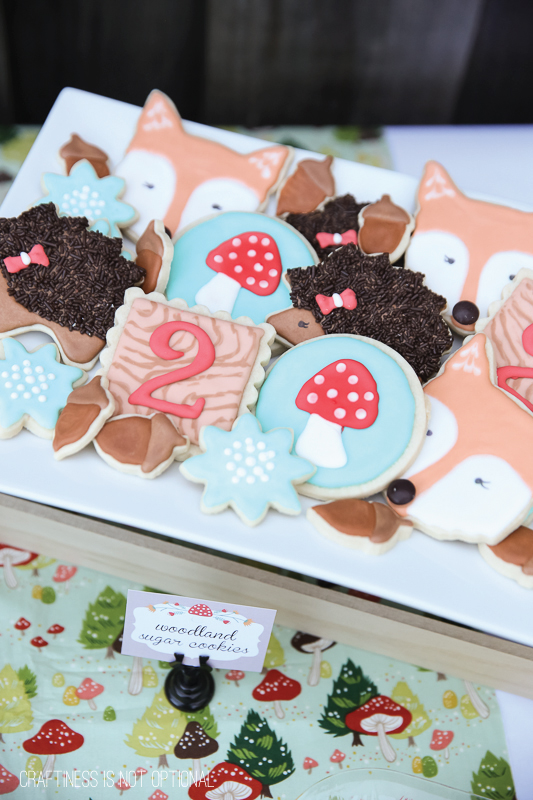 I ADORE how they turned out, and had a lot of fun making them. These were gone SO fast.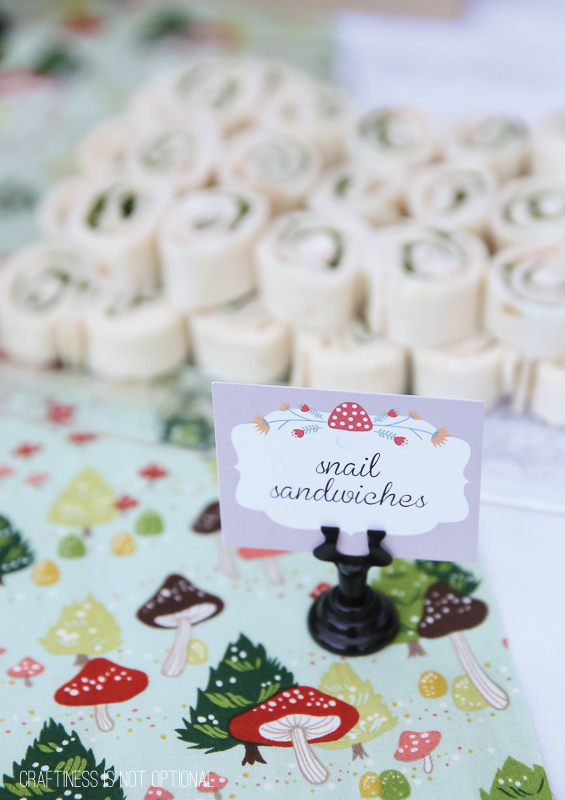 Made some spiral "snail sandwiches" har har har…
tortilla rolls up with garden veggie cream cheese, provolone, chicken, and spinach. yum!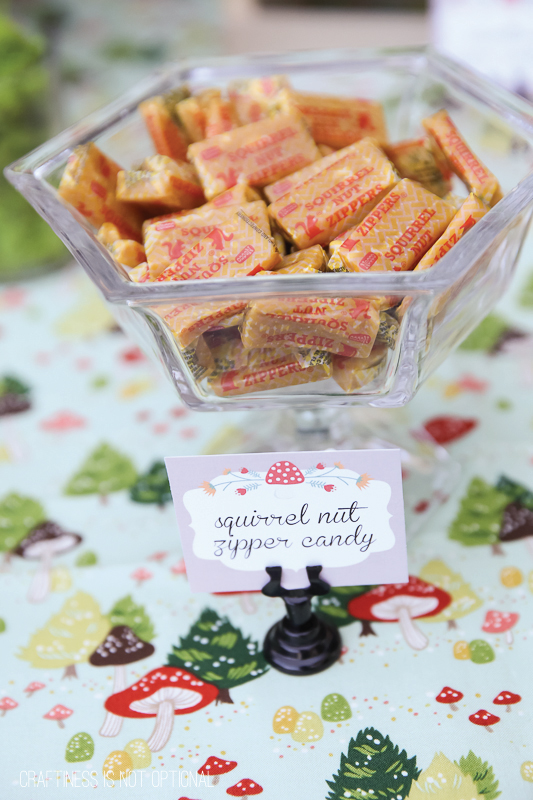 I've seen these candies on previous party candy searches, and so once I decided on this theme, I knew I had to buy some Squirrel Nut Zippers!
Such a quirky weird name, and perfect for this theme!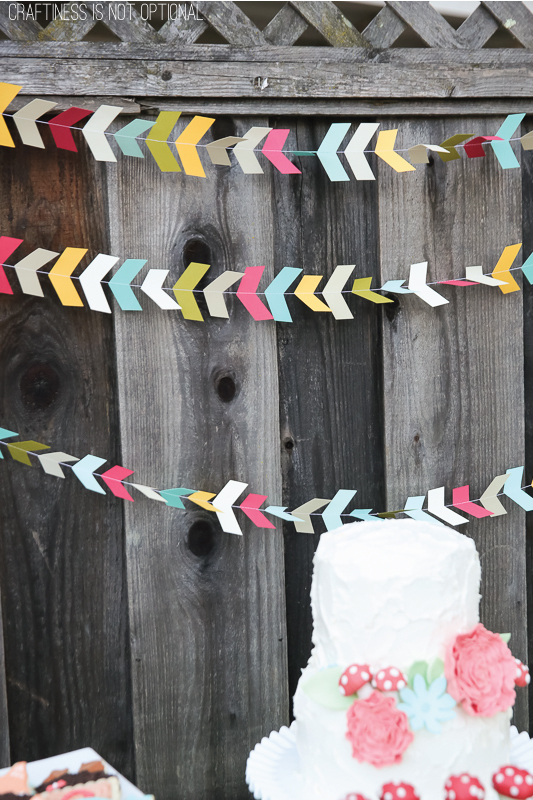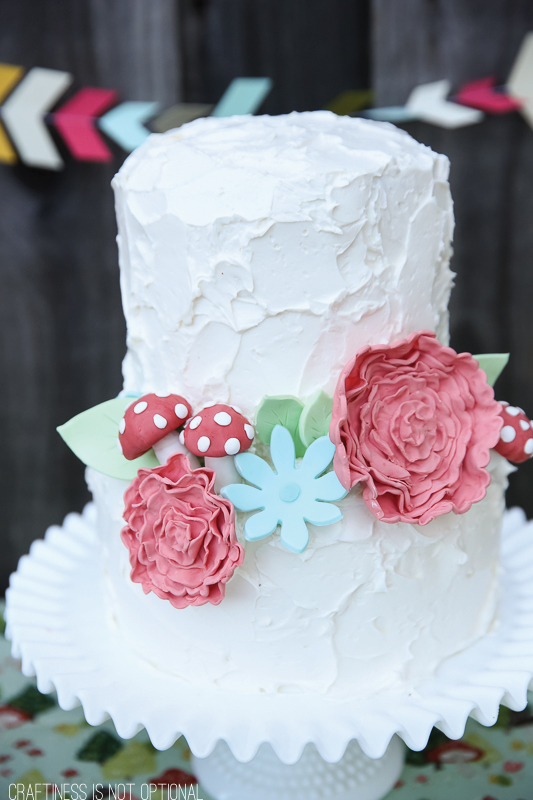 the cake! I was inspired by this one and set out to  make gum paste flowers for the first time.
the big flower was my first attempt, and not very good, the smaller one is a little better but I obviously need to learn how to do it properly! ha! I did have fun shaping the mushrooms! the leaves I cut out by hand and the blue flowers were cut using a cookie cutter and then drying it in a measuring cup to keep the petals curved.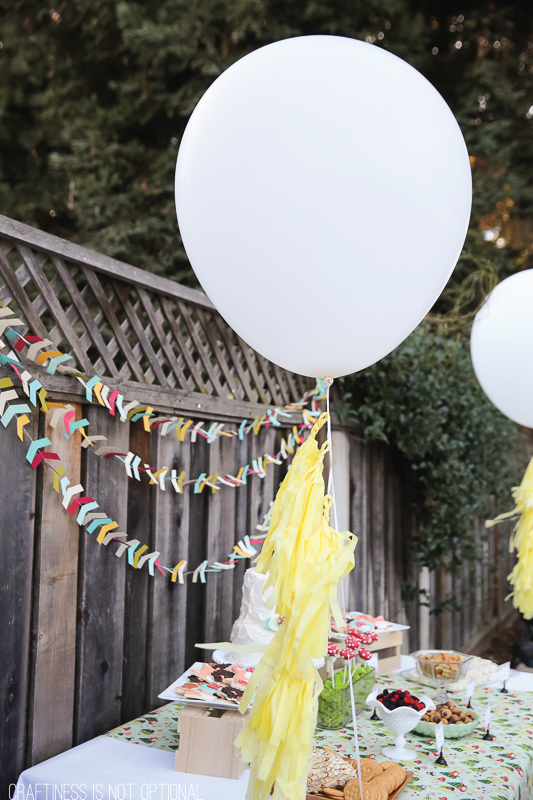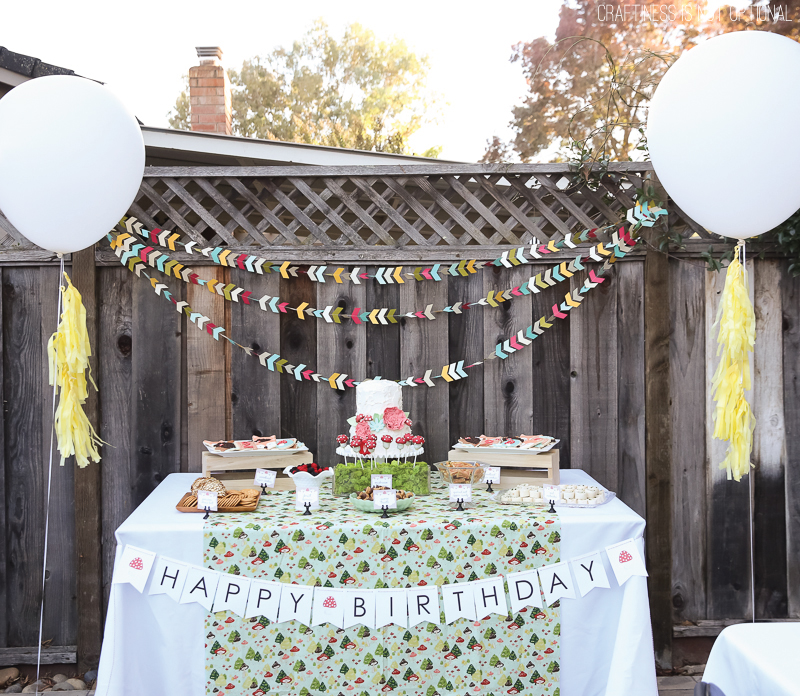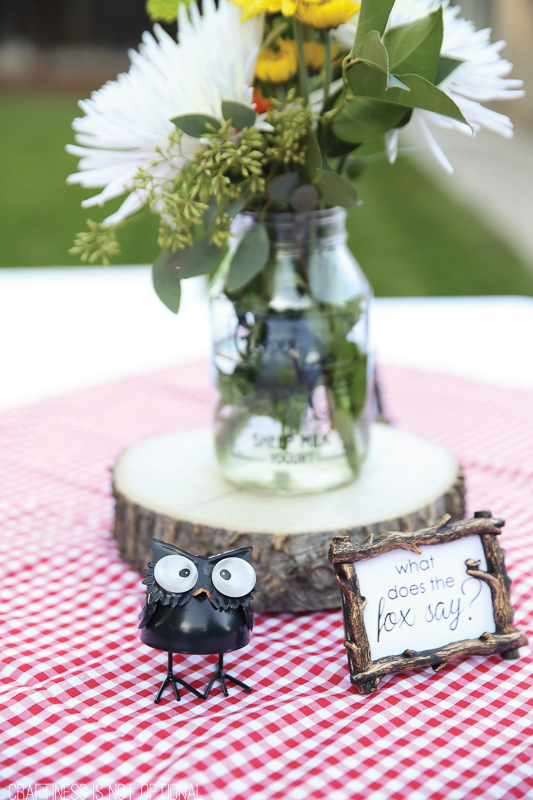 I found these cute little frames thrifting and filled them with little woodland sayings!
these gingham squares I made for my sister's bridal shower and they've been super useful!
red gingham goes with a lot of themes!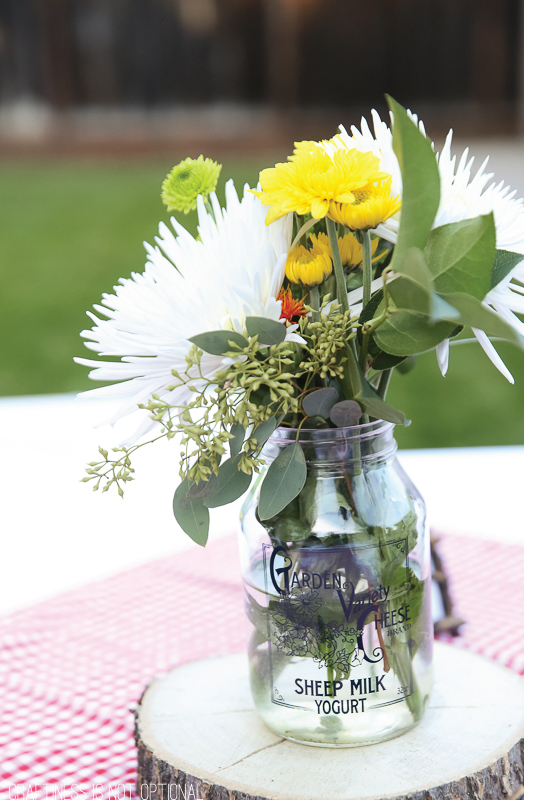 grabbed some flowers from Costco and made some haphazard flower arrangements for the tables-the wood slices I nabbed after my sister's wedding.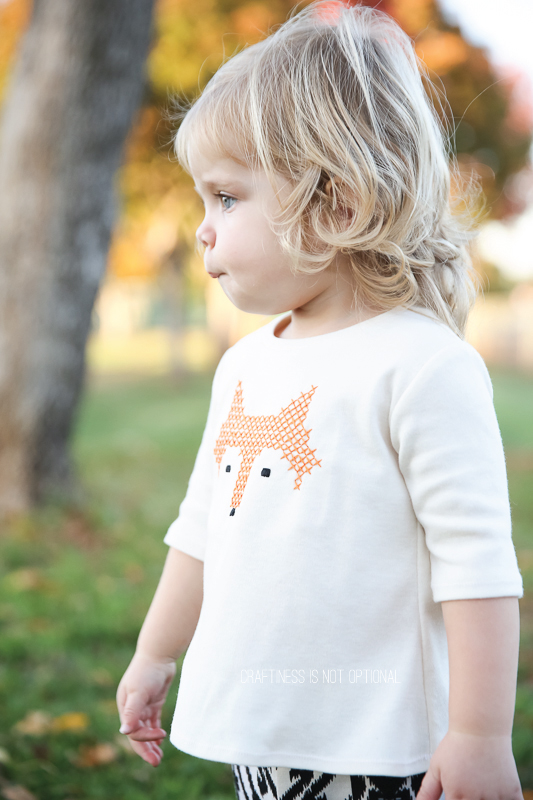 Here's a little sneak peek at Ava's foxy Nessie top I made her! More details next week, plus a FREE Pattern for the fox!