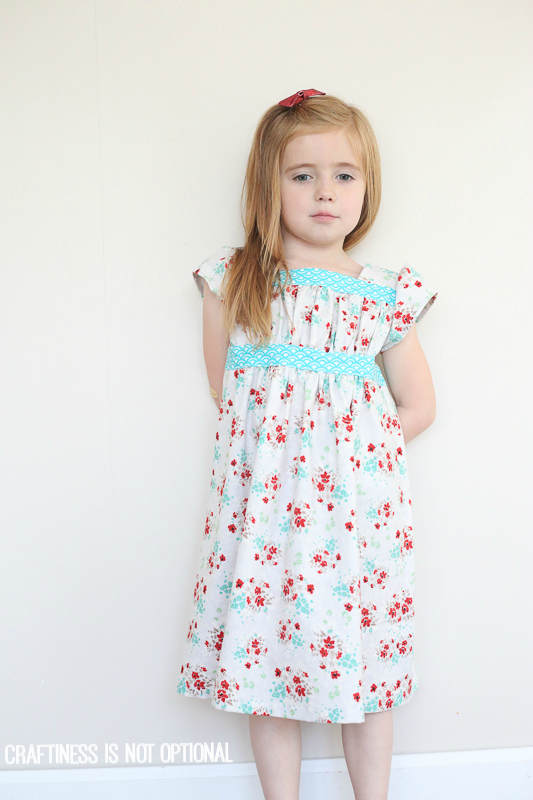 Have you guys seen the new spring patterns from Oliver and S? They're all adorable, and Liesl was nice enough to send me the Garden Party Dress pattern ahead of time to play around with! Of course, I was a bit of a slacker and just now sewed one up, but I wish I hadn't waited-it's FANTASTIC. I really loved this pattern. When I sew with Oliver and S patterns they really make me focus on the quality of my sewing-which in turn helps me become a better seamstress-geez I just love them. Anywho let's talk about the pattern and dress some more!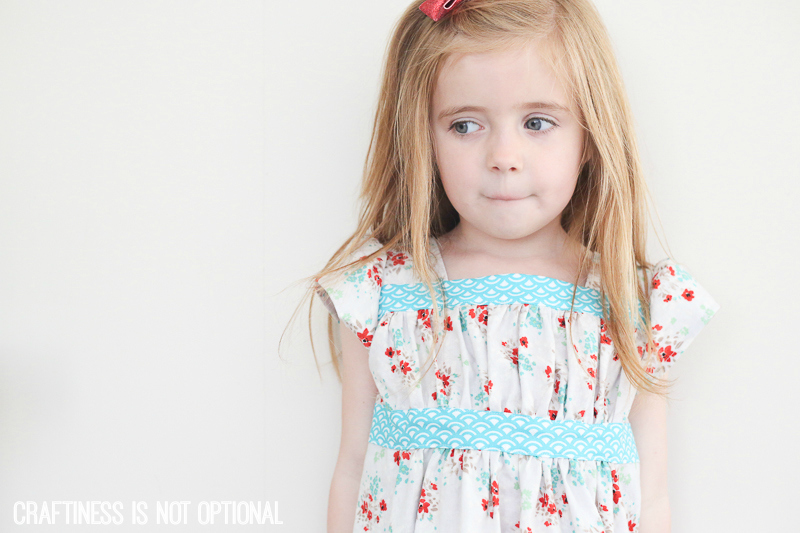 I love the details on this dress-the gathered bodice and contrast pieces are so feminine. (and perfect for Easter dresses! which…this might end up being hers. We'll see)
Of course, since I was SO careful to make sure the scallops were all going the right way…I er…didn't. Just one panel (front bottom in case you want to scrutinize)
We'll pretend it was on purpose.
It was a fairly quick (probably 2-3 hours spread out) and straightforward sew.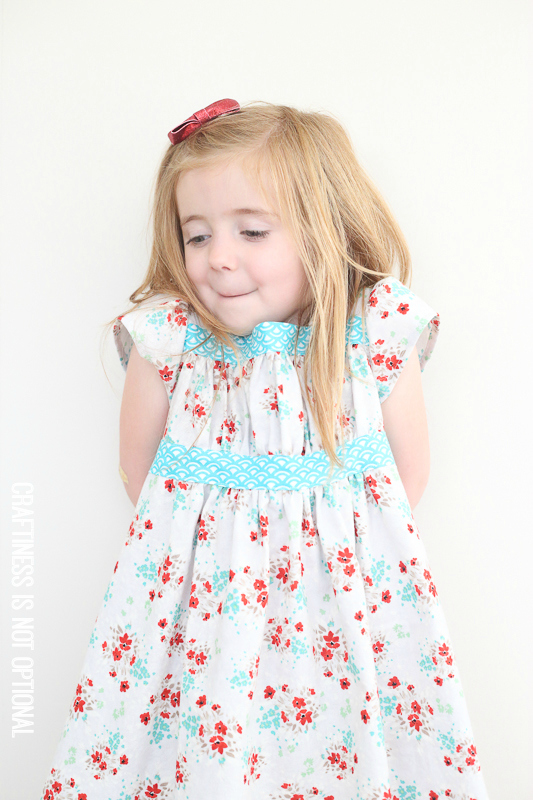 I love the closure in back-I used some ribbon and a square red button from my stash.
Oh yes the fabric…the both fabrics are by Joann-their store line I guess. No fabric line name on the selvage.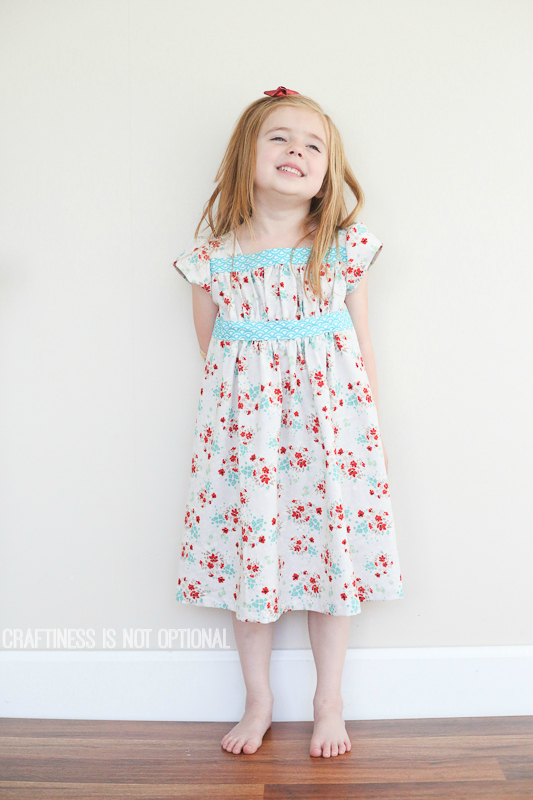 I adore red and aqua together-so fresh and springy! and this girl badly needed some new dresses, so hooray for that!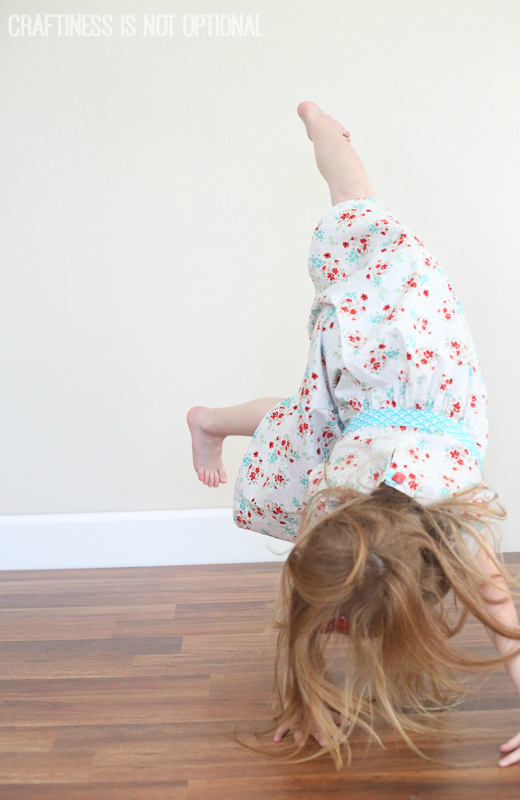 Spontaneous cartwheel! We had a lot of these this shoot. She has decided she wants to do gymnastics instead of ballet. Which is ok with me, since I did gymnastics for 10 years I am a fan-but I am constantly wincing when she crashes over after attempting a handstand. yikes. Makes me scared for her to try beam or something…lol. #nervousmomma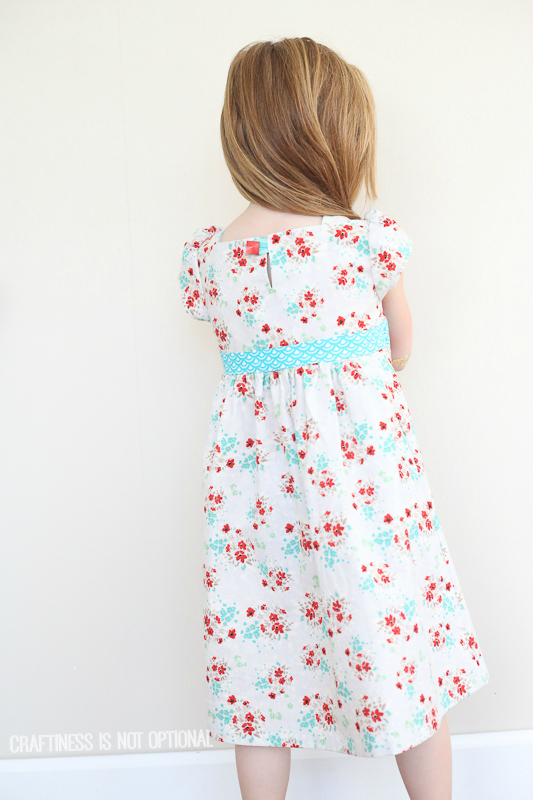 I sewed up a size 4T and added 2″ to the length, which will get her some good longevity out of this dress! I'm tired of her growing out of them in 2 months, lol.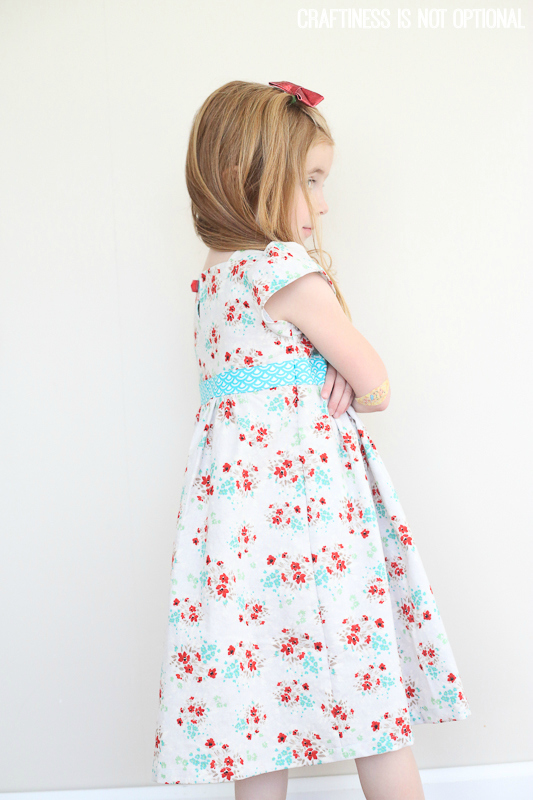 You can see the mismatched contrast bands here…WHOOPS!
She's still a fan-and wore it the rest of the day.