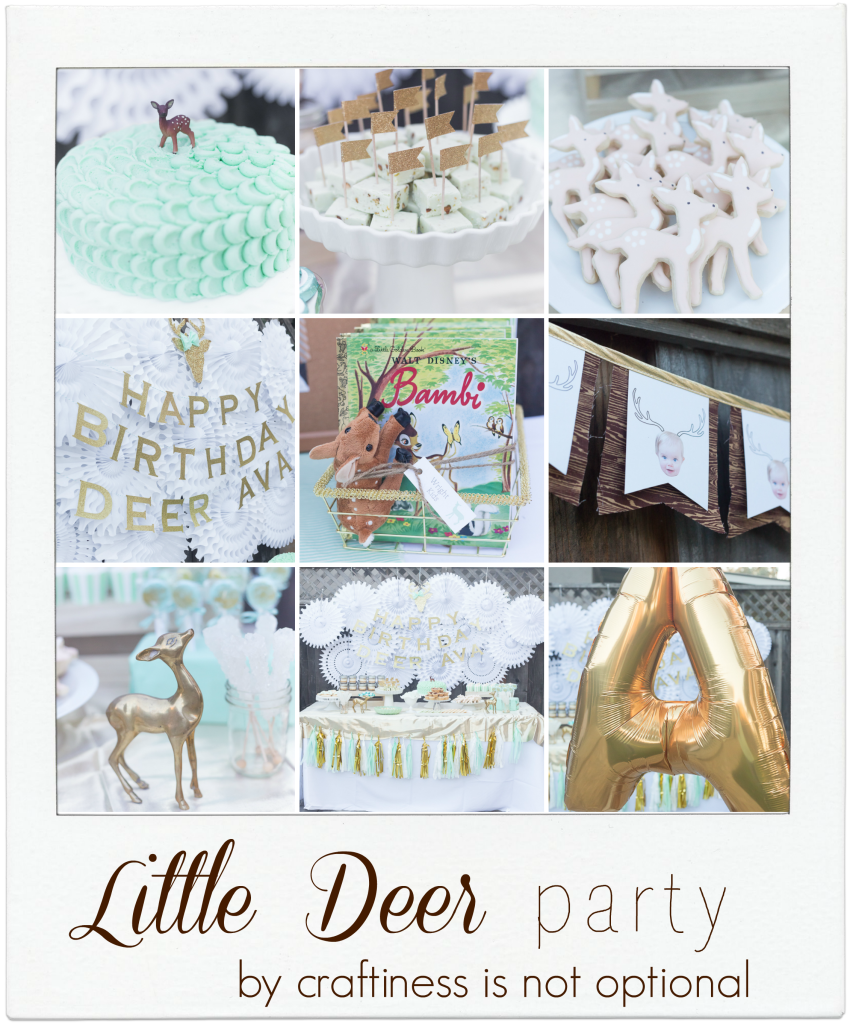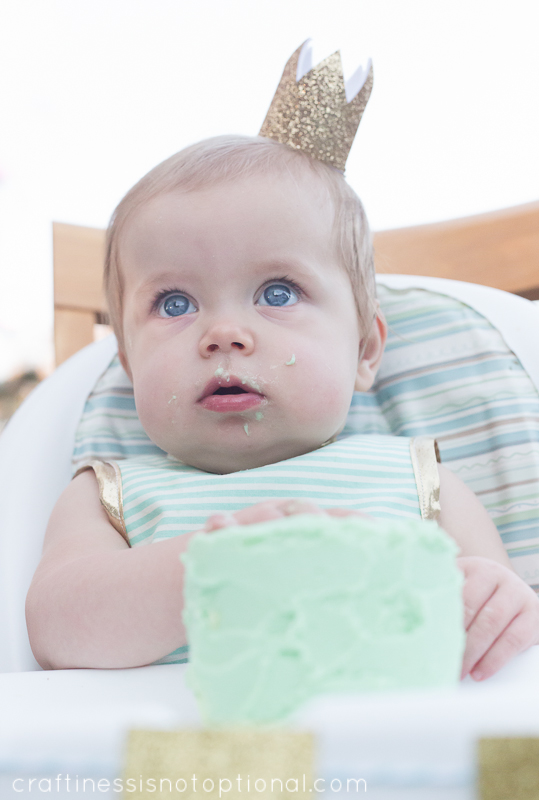 Our "deer" little Ava is turning one! Yikesabee. I cannot believe it. Literally. We love our little girl so, so much. She has been the sweetest, most agreeable baby yet…and loves to snuggle, EAT (she is our chubby baby and I LOVE it), play with her sisters, and climb all over us when we lay on the ground. hahahahaha. SOBSOB my baby is growing up! *sniff* But anyways, moving on from my obvious denial….I chose a deer theme for her party-I hadn't seen many deer parties and it just seemed cute and fun and perfect for a sweet first birthday. Mint, gold, and white were the colors. I pretty much hit up all the craft stores nearby and tossed anything gold and glittery in the cart. Just kidding. But only barely.  (by the way, this post contains affiliate links. Just a heads up!)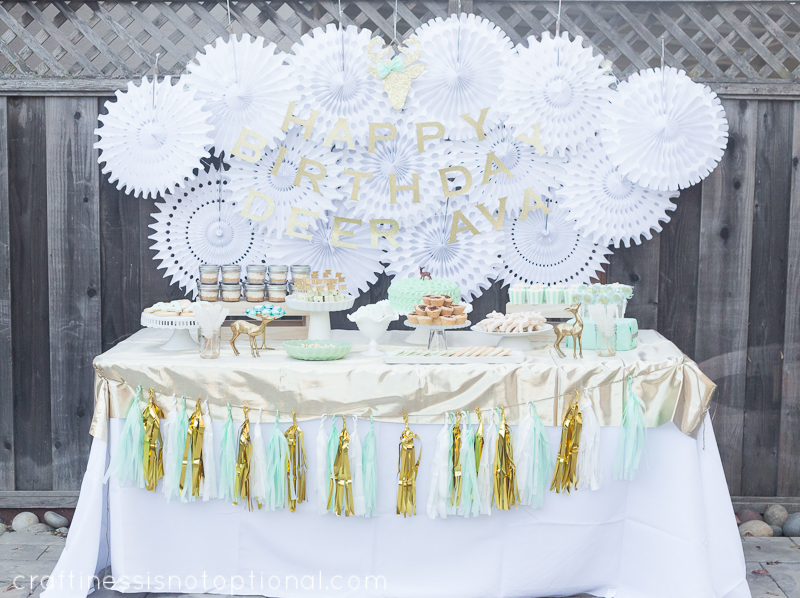 Let's start with the main attraction-the sweets table!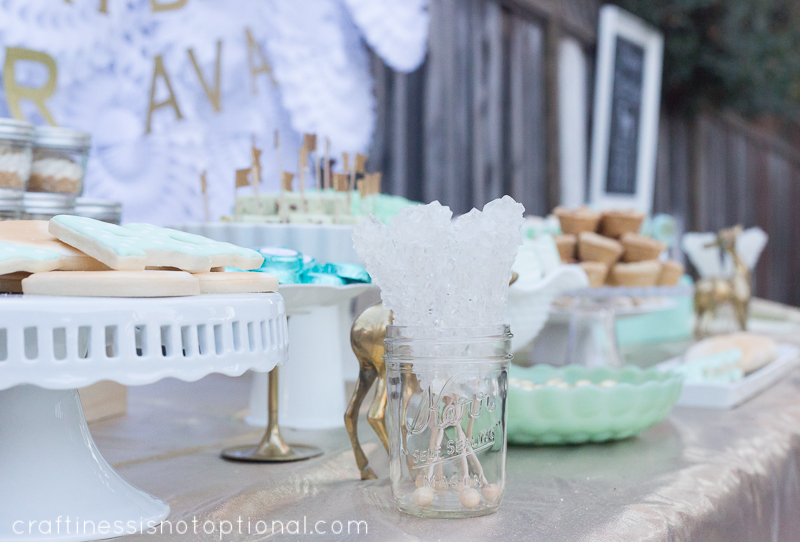 I loaded it up with all things sweet, gold,  and green.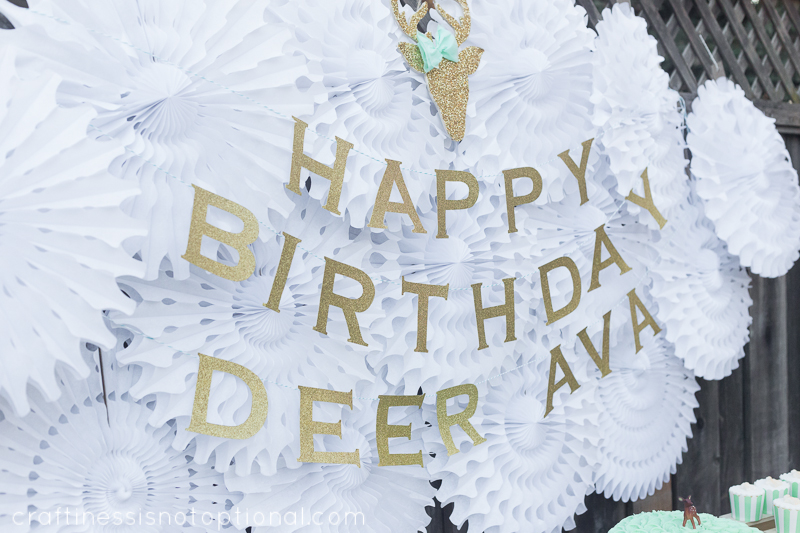 I hung up a backdrop of these paper fans on our fence, and layered over the top, some gold glittered letters that I hand cut out. Happy Birthday "DEER" Ava…har har har! I hope I'm not the only one who thinks that's funny….chirp chirp chirp…yeh. So on the top I grabbed an awesome wooden cutout deer head from Michaels and glittered it up and added a tissue paper bow. Cause it's a girly deer party, yo!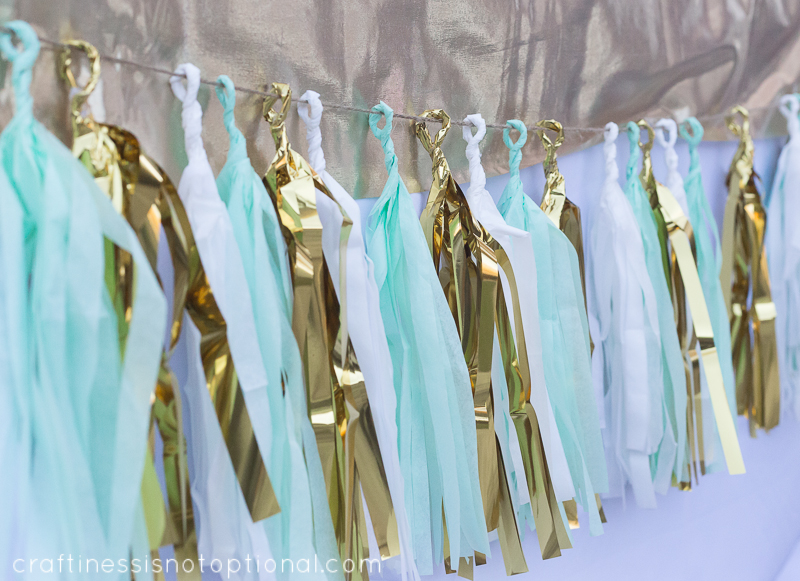 I had to make me some more of these tassels! I have a good collection of pastels now, after my sister's bridal shower. 🙂 Layered some gold metallic fabric I bought over my new white tablecloths.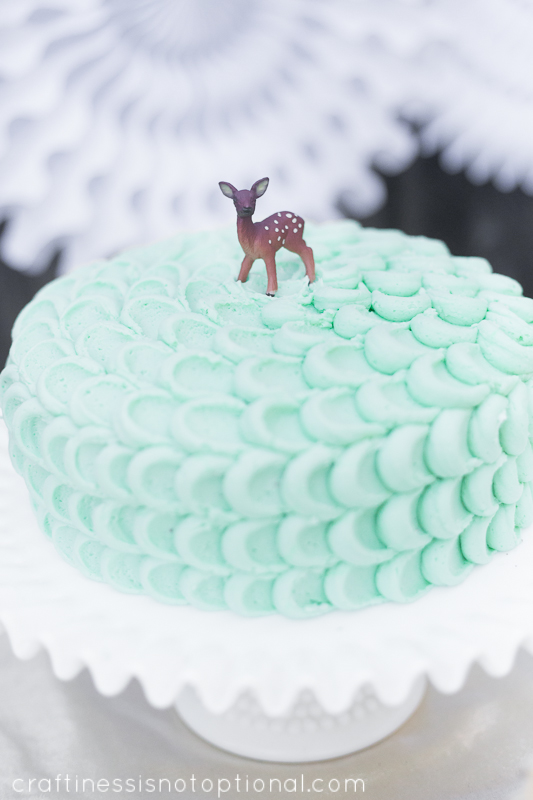 the big birthday cake was decorated using a dollop and smoosh technique. Very technical. haha. not. There are probably tutorials all over pinterest though. 🙂 I added a tiny deer on top, also from Michaels.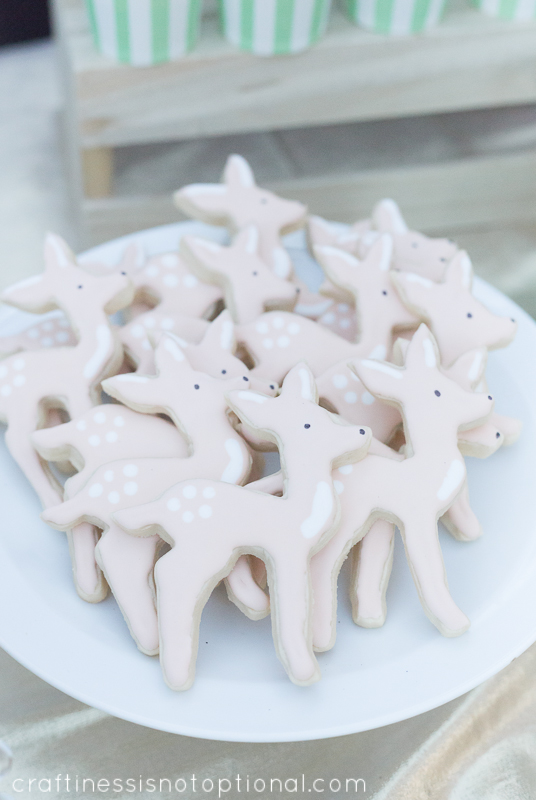 COOKIES! you know me and my cookies. Gotta have 'em. It's not a CINO party without them! I used this cookie cutter, only chopped their poor little heads off and flipped them around, pre-baking. It was a tense few minutes in the kitchen Operating Room , but they all survived.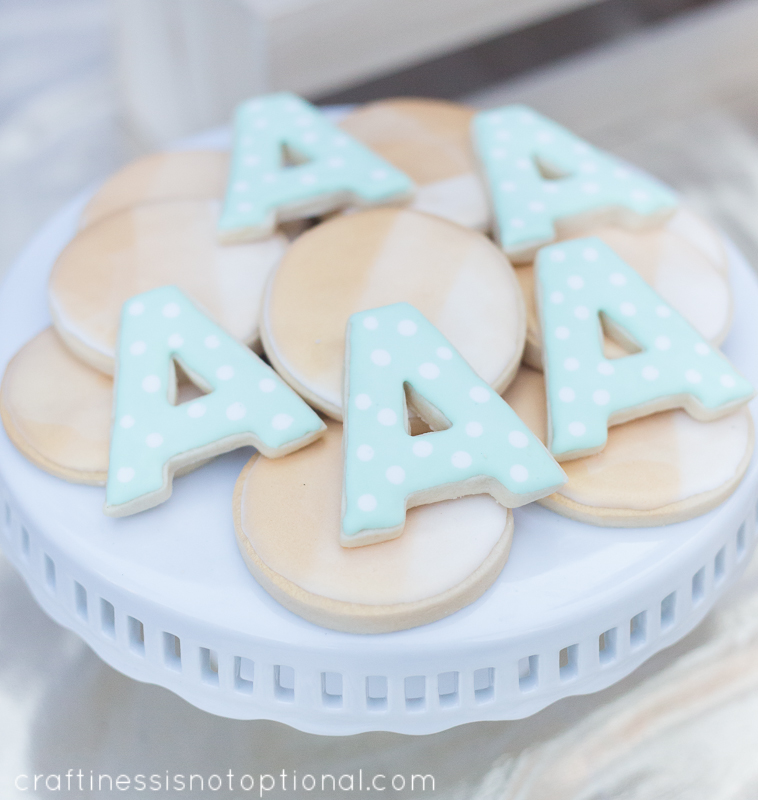 I also cut out some A cookies, decorated them with mint frosting and white polka dots, and then cut out some simple circles and frosted them with plain white…made ombre chic with some fun gold food spray! I got the idea here!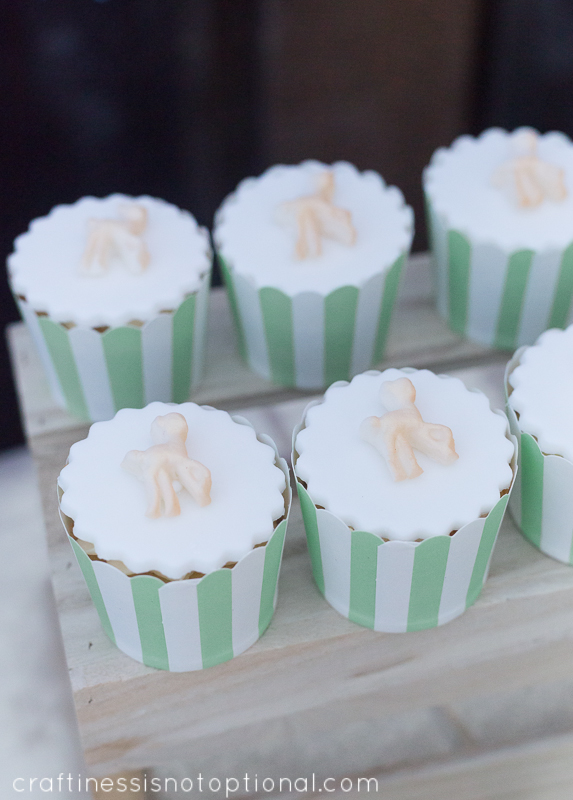 I made some vanilla cupcakes, then popped them in these cute mint striped cups and added some frosting and fondant toppers with some gold fondant deers on top-made with this cool mold.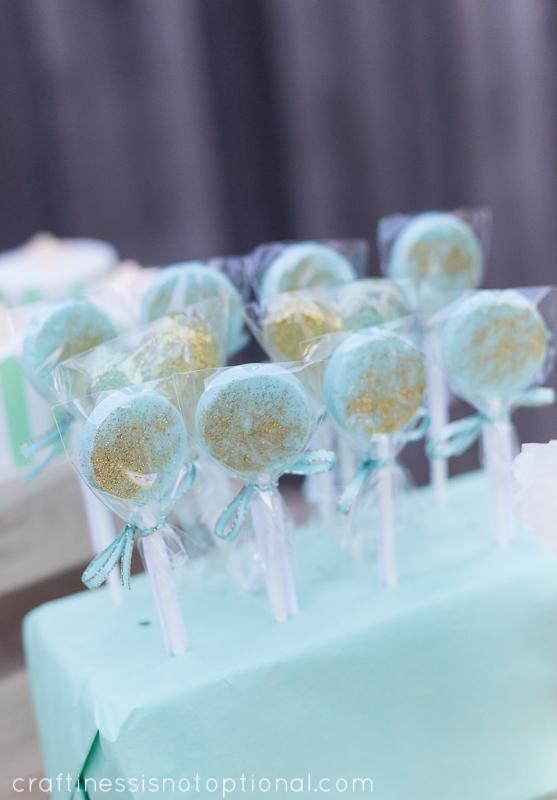 I also ordered some awesome lollipops with edible glitter inside! ahh! too cool. Green apple flavor, in case you were wondering. these were a HIT with the kids. Of course. I could serve a table full of lollipops and hear nary a complaint.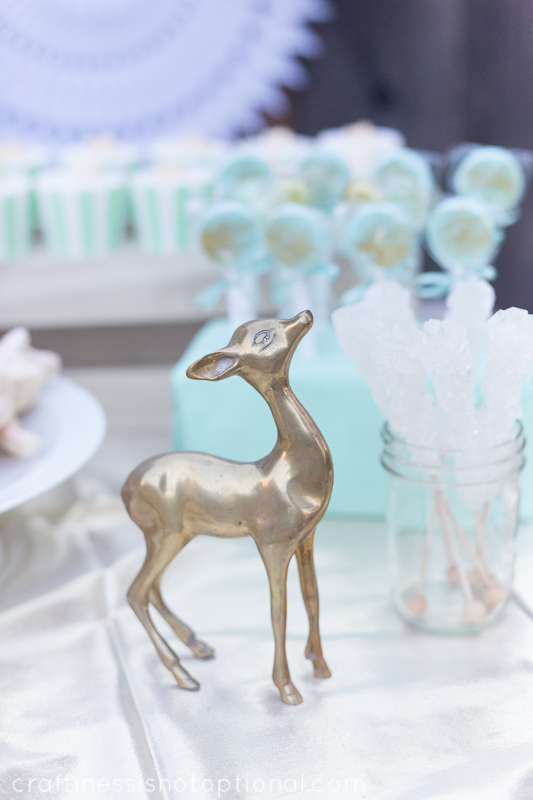 I nabbed these awesome vintage gold deers (got a pair) on Etsy and displayed them on the table. This one is named Snooty McDeer.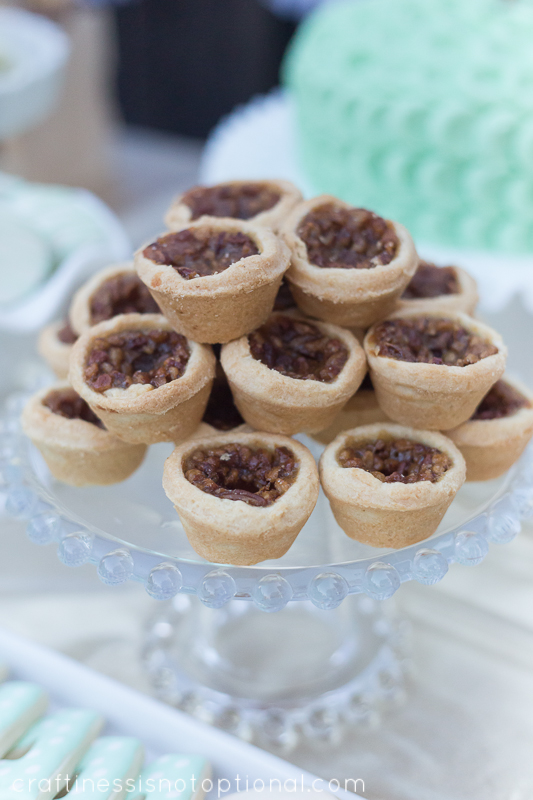 I grabbed these pecan pie tarts from Walmart of all places and they were a big hit. I tried one…really good!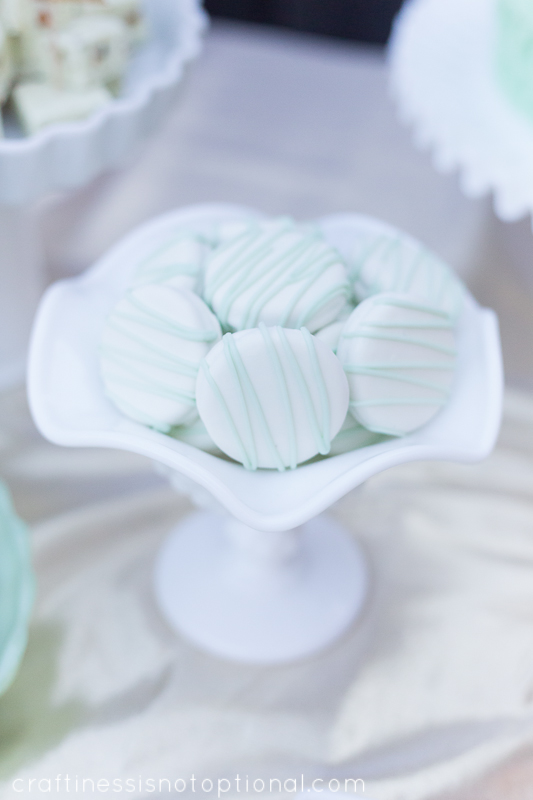 I got some of those white fudge covered oreos and drizzled some mint colored white chocolate over the top. Easy and also gone really fast, mostly thanks to my Dad.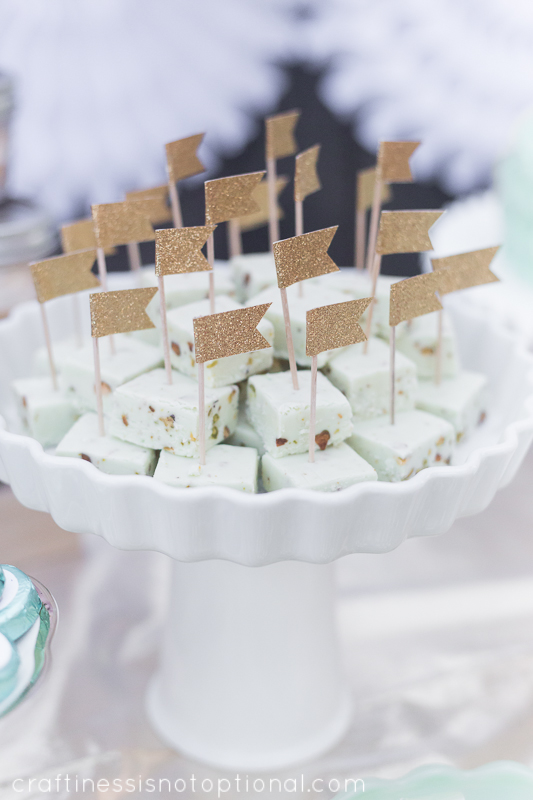 Made some DELISH (really it was my fave) pistachio fudge. Made some gold glitter washi tape flags and stuck them in, because ……gold glittered flags. hello. it's AWEsome.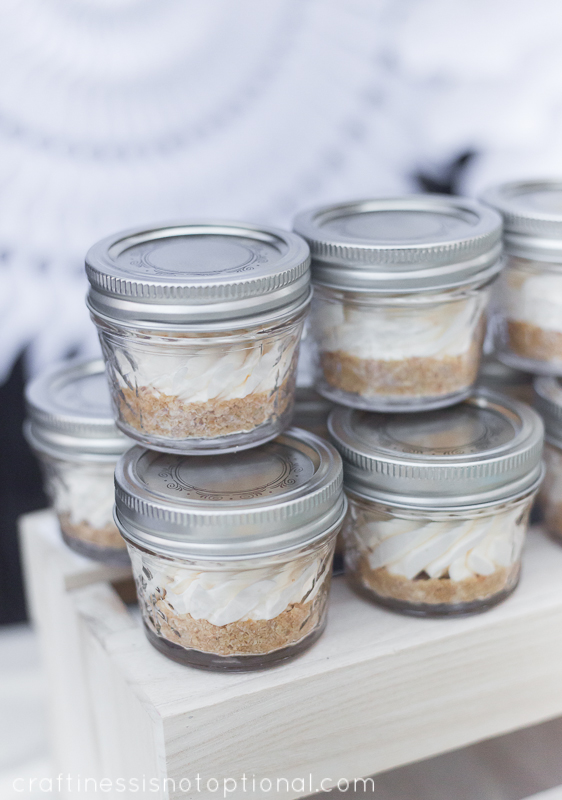 I made these easy peasy no bake mini cheesecakes and piped it into these tiny jars, because tiny jarred desserts are all the rage and I love raging cool desserts.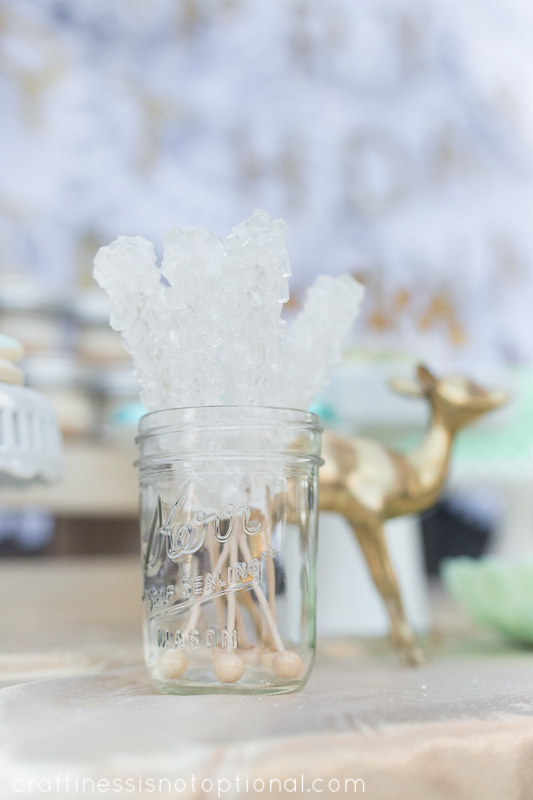 Rock candy pops! Literally, sugar on a stick.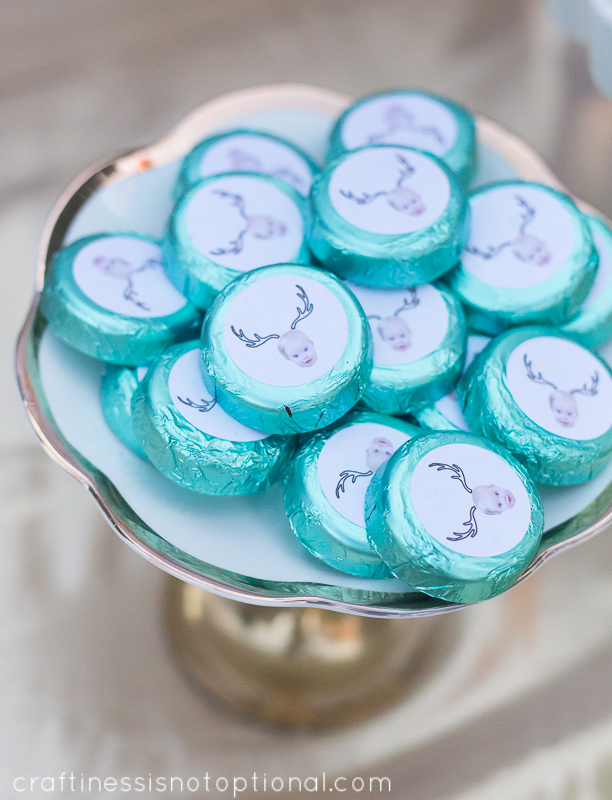 I found these chocolate honey mints at Trader Joe's and bought them for the color of the wrapper basically. I didn't get to try one so I don't know how they taste, but aren't they stinking cute with Ava deer on them? Yes, I worked some magic and made my daughter digitally sprout antlers. and I love it.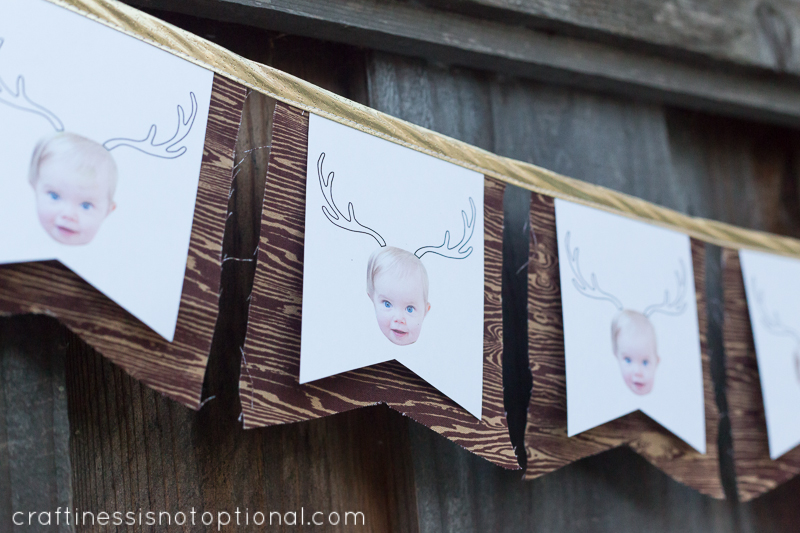 What's this? More antlers? Ohhh yes. I made a bunting with this ridiculous image on it and backed it in some wood grain fabric Kristin was nice enough to send me after I forced her to look at all the things I had stockpiled for Ava's party while she was here last month.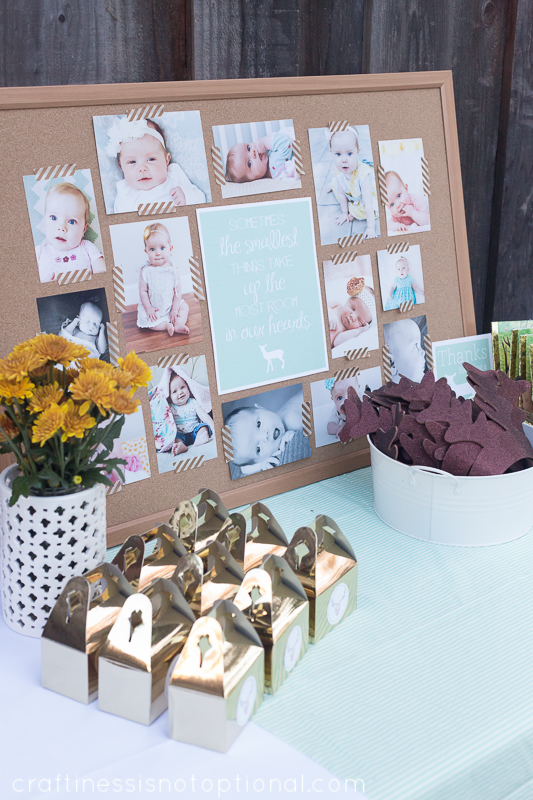 I loaded up a bulletin board with cute pics of the Ava meister, washi taped on (haha jk…I had to masking tape them on because the washi tape didn't stick well enough to keep the pics on. A+ for effort though,  right?)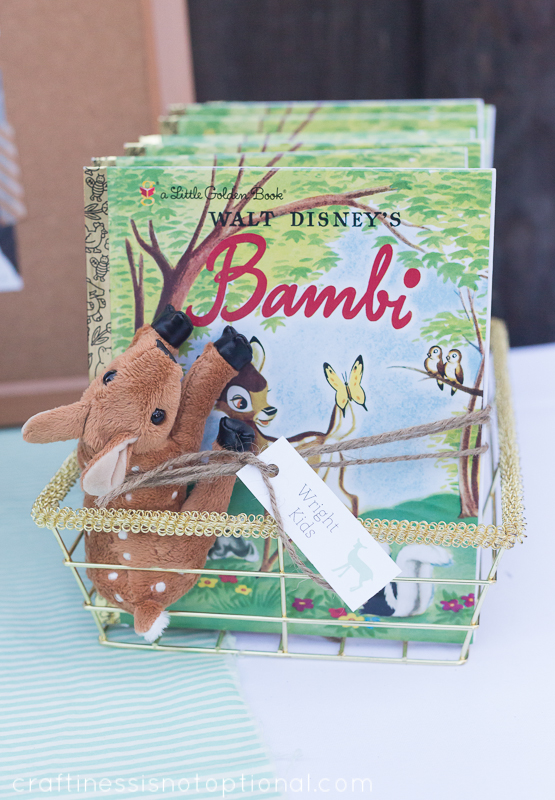 The favors are my favoritest of favors ever. You might know by now that I am obsessed with Little Golden Books…so when I saw they had a Bambi version that was all cute and vintage looking, I knew that had to be it. I also grabbed some adorable deer hand puppets, and then wrapped them together…I did family favors this time, since the book and puppet together was pricey for just one kid.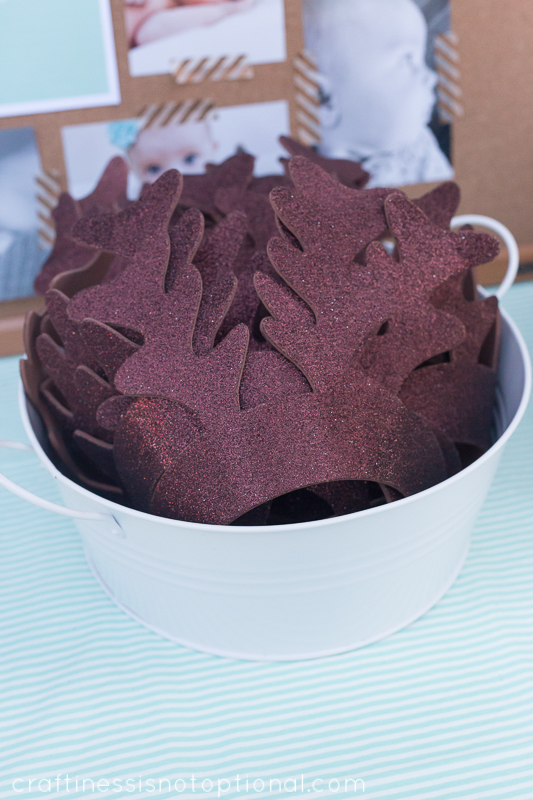 I also saw these antler headband thingys at Hobby Lobby and since they were on sale, I grabbed some…the kids loved them!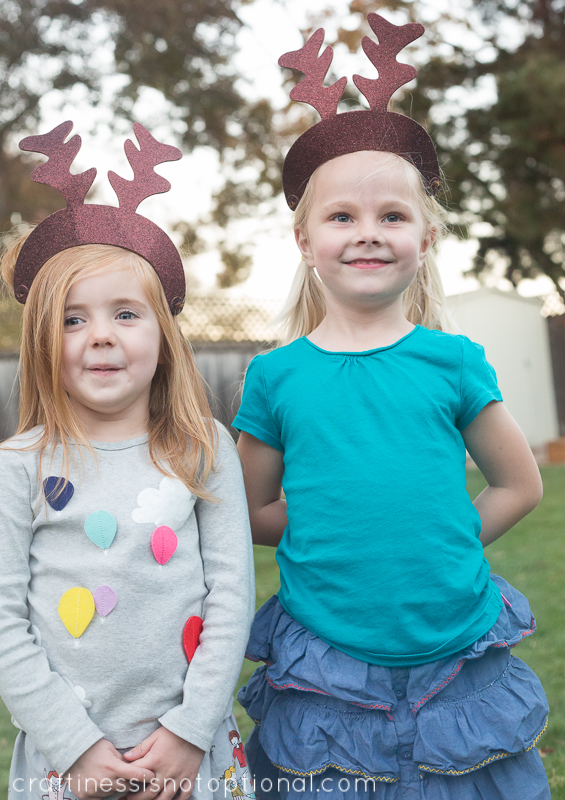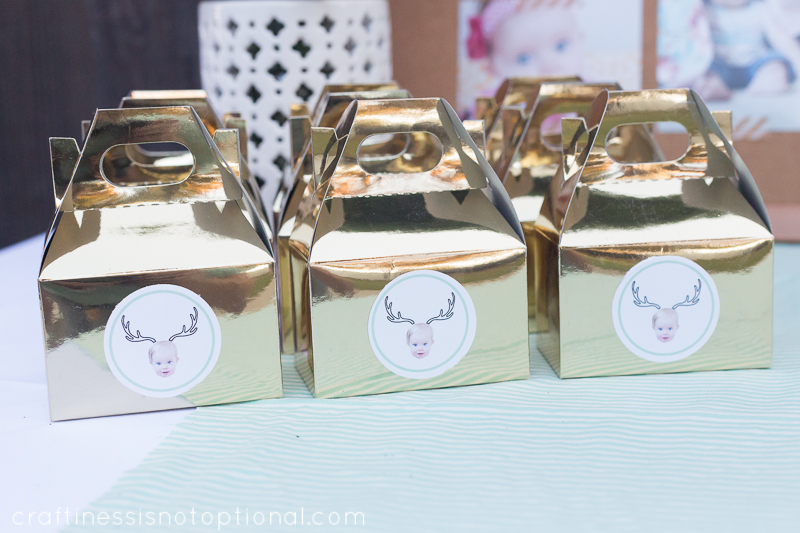 I bought some gold gable boxes (from this shop) for guests to take home leftover goodies-I did that for my sister's shower, and it was a huge success. Bonus for me: no leftover cake calling to me from the fridge. It's a great excuse to go even more overboard on the desserts…lol.
"it's like part of the favor! Of course I should buy more candy!"-My mind.
and of course, the insanity continues with the cray cray antler sticker for the front…HAHAHA that's gotta be my new screensaver for awhile…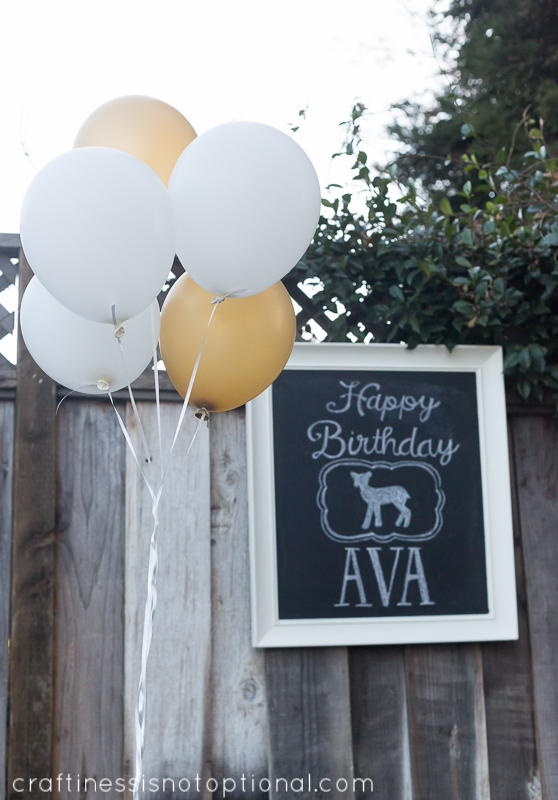 Balloons! and a chalkboard!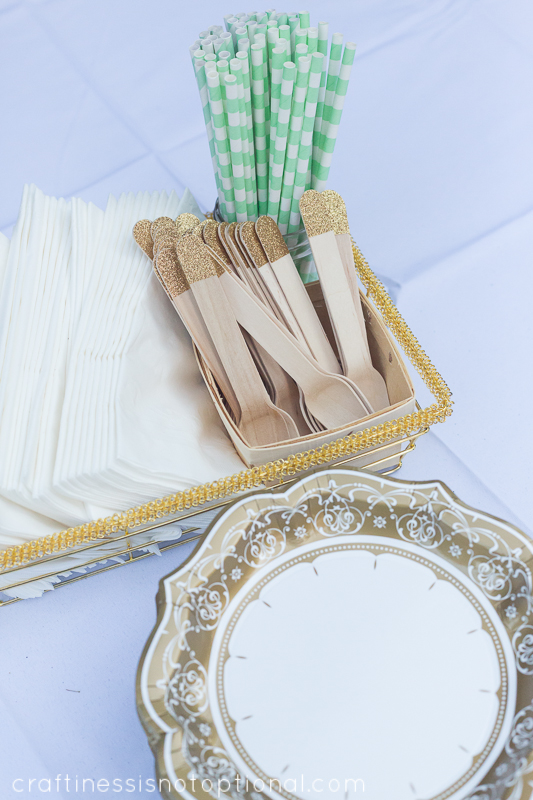 Glittered wooden forks! (with glitter tape, not actual loose glitter) Mint Straws! and fancy shmancy gold plates.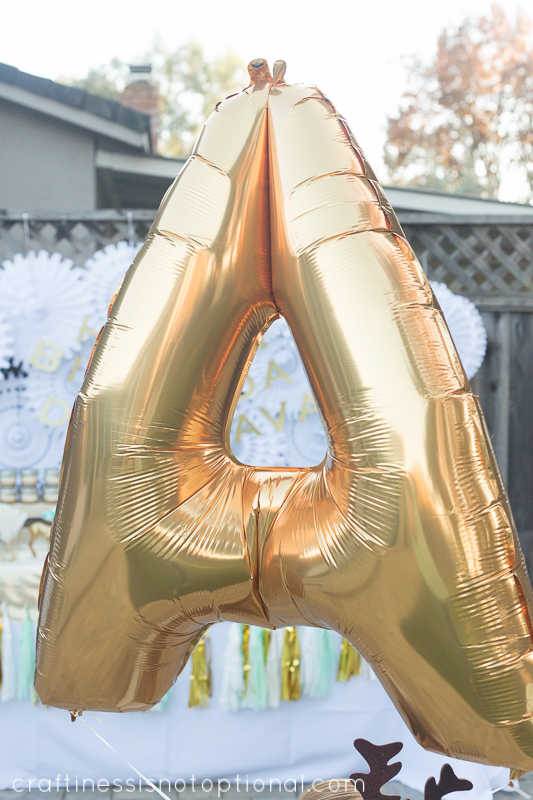 and a giant A balloon! Gosh I love this thing. I wanted to take pics of it with Ava, but alas that didn't happen. 🙁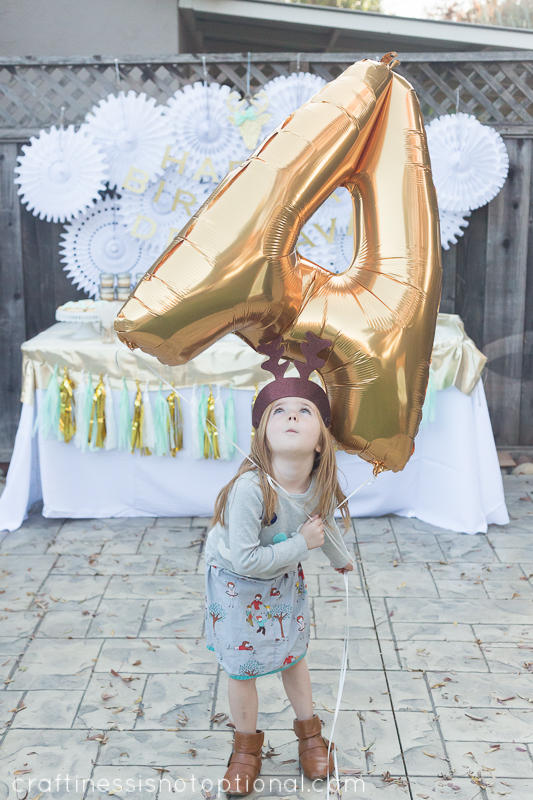 It did with Sadie though! She was my awesome helper all throughout the day. Such a helpful age, when she's in the right mood or there's candy involved.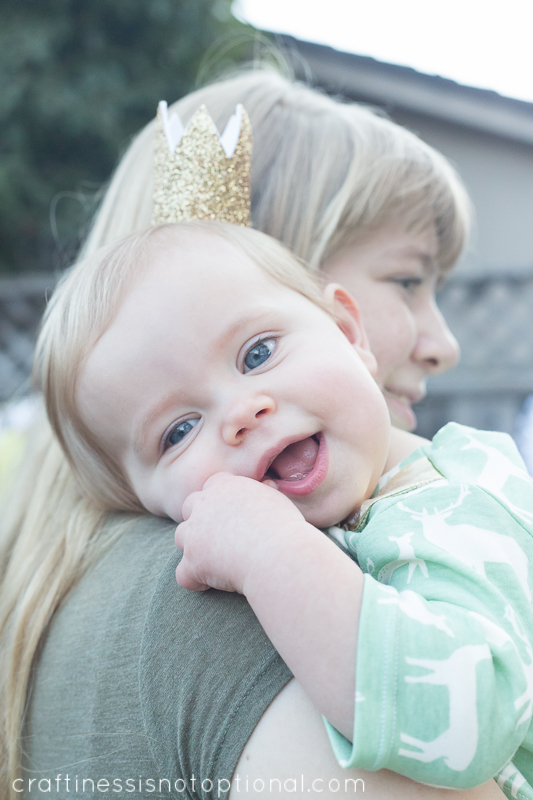 The birthday girl woke up from her nap just in time for the party, happy and snuggly, so she spent some time making the rounds with aunts and uncles who soaked up the baby snuggles. Her crown is from this shop-I looove it and want to wear it myself. srsly. I made her shirt using the Birch Fabric Elk Grove knit-and it's a new pattern coming soon!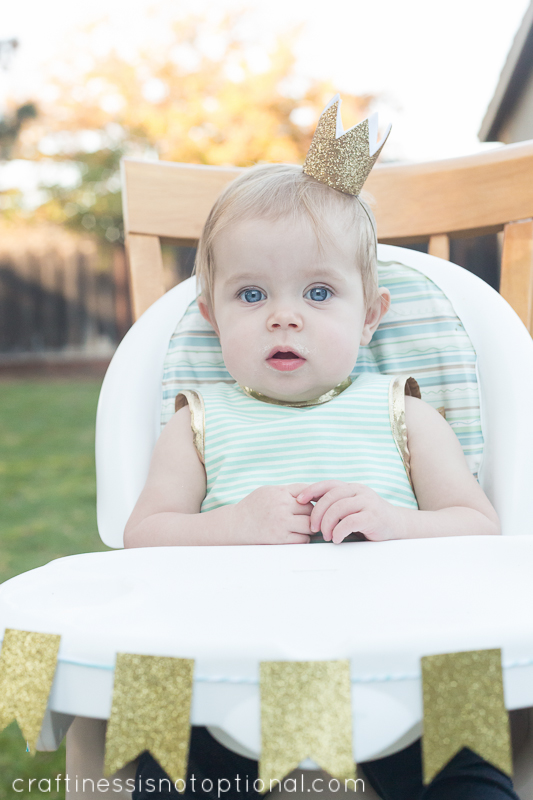 Of course, I had to make a sparkly gold and mint Bapron for her cake debut!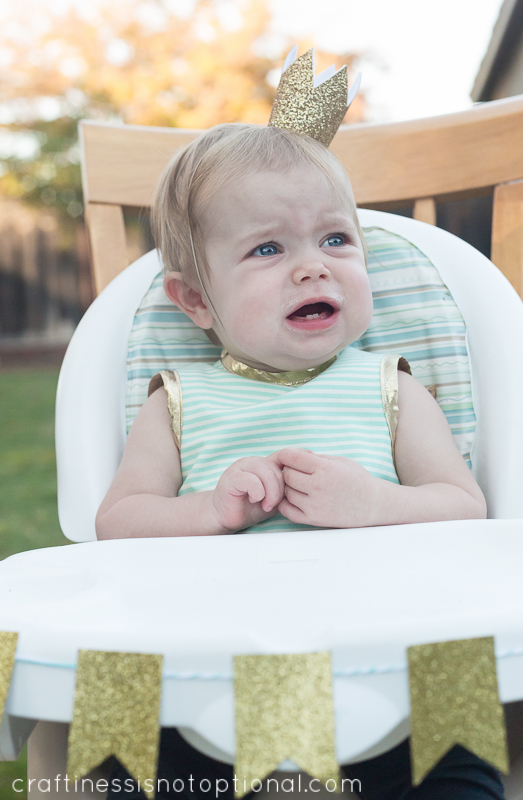 which was very traumatic.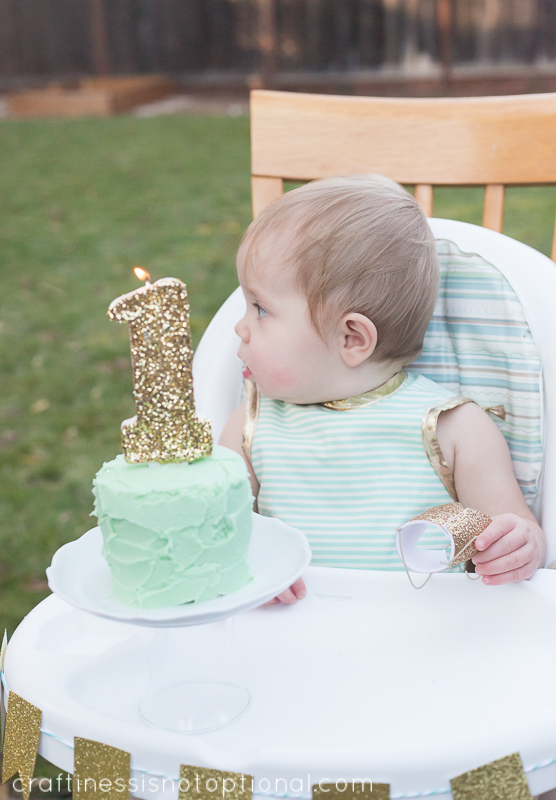 we brought over her cake and she FREAKED out.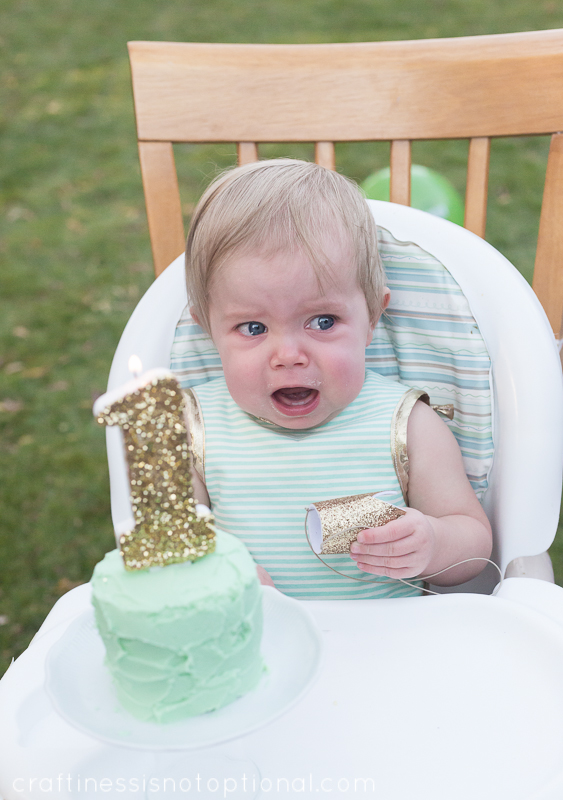 It might have been the lit candle? hmmm.
(which I glittered up because I just couldn't stop, folks. GLITTER ALL THE THINGS!)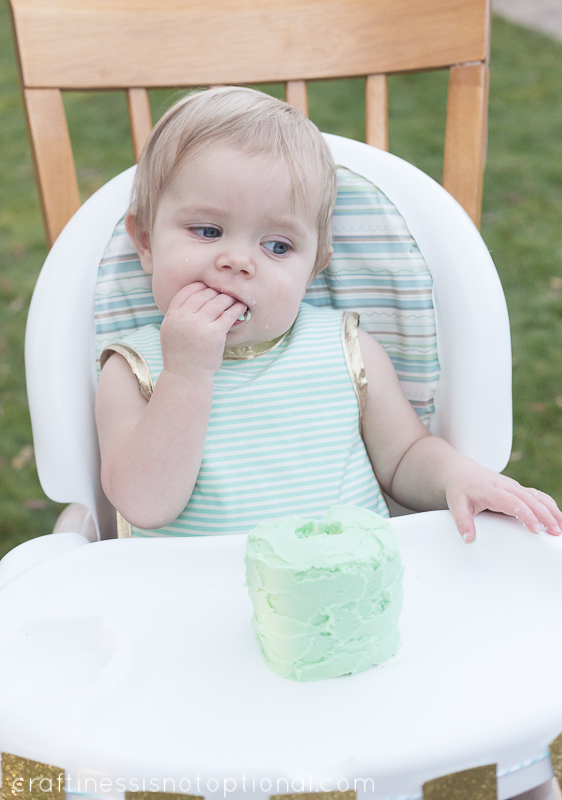 Once the candle was out and she had some cake, she was a peach again. But AGAIN no messy cake baby pics. All my kids are delicate cake eaters. sad face. I wanted some messy pics!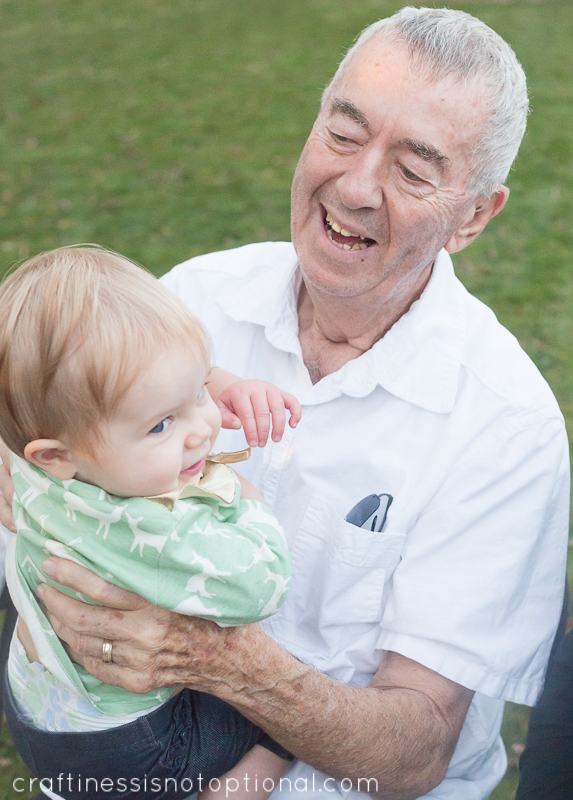 Ava with her Great Grandpa-she said her first word directed towards him the other week-Bampa! So exciting. Speaking of excitement, after the party while we were all playing with her toys, she took her first real steps!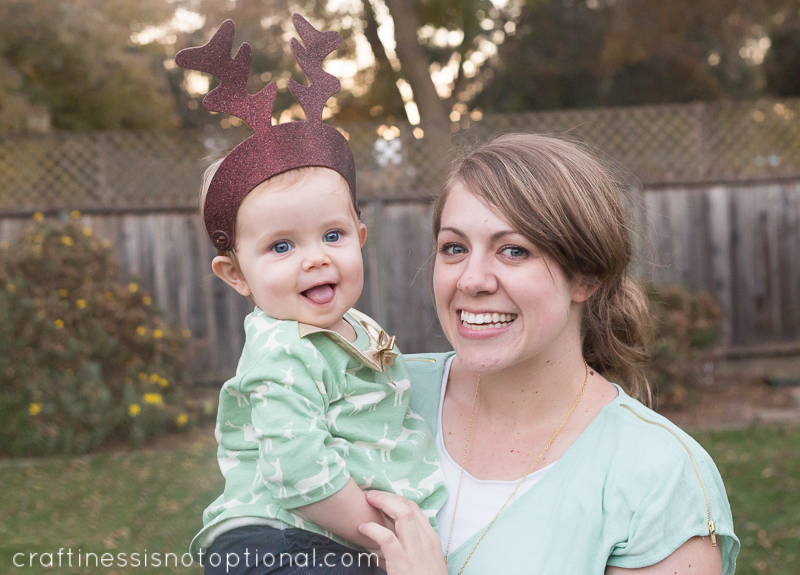 We are so blessed with this sweet little baby in our family. She is a joy! (stay nice, kid. None of this  tantrum or whiny stuff, ya hear?)