Well, I had some of that lovely fabric leftover from
Sadie's dress
, so of course I had to make a little matchy-matchy dress for little sis Charlotte! I made it slightly similar (the sleeves and buttons) but a different style at least.
I wanted to put some ric rac around the front at the waist, but I was out of the aqua and didn't want to wait to finish the dress.
I'm somewhat a speed seamstress-if it can't be done within a nap time or two, I lose interest. Seriously. Guess I should work on my patience. lol!
I love how the circle skirt hangs-so pretty!
And here are the sister dresses side by side. What cuteness. 
 Here's a quick shot I got before church yesterday.
Sadie was pretty much ecstatic that Charlotte was matching her. She loves matching colors and things lately-like she get super excited if the food she's eating matches her shirt. What a silly cookie! love it.
I'll be posting the ric rac dress tutorial tomorrow! see you then.
)
Oh but first, do go and check out this week's projects over on One Month to Win It! It's Spring Cleaning week and I can't wait to see the other projects!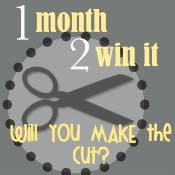 Go vote for your fav!