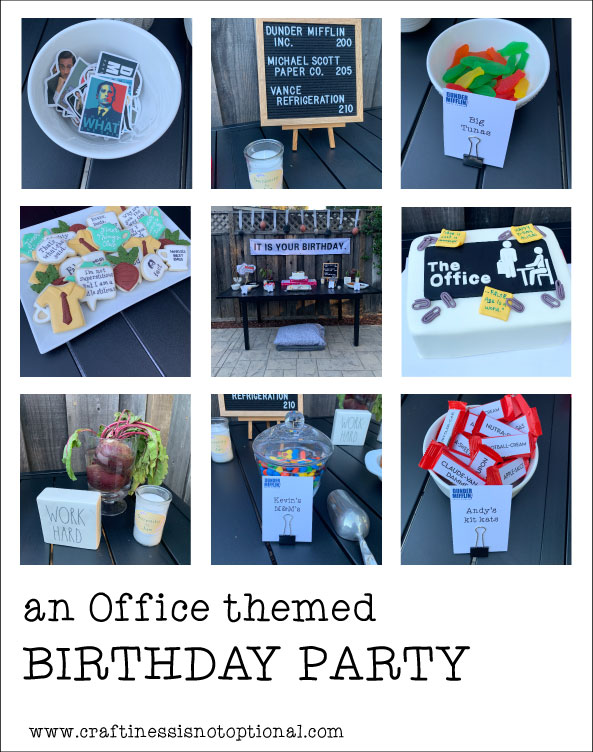 There's a lot going on in the world right now, and I don't know about you, but any reason to celebrate should be…celebrated.
I threw together a little birthday shindig for my good friend Alisa who is a fellow office fan, and with a few touches and purchases, put this outdoor, socially distanced party together!
First, let me make this clear…no TOBY'S ALLOWED.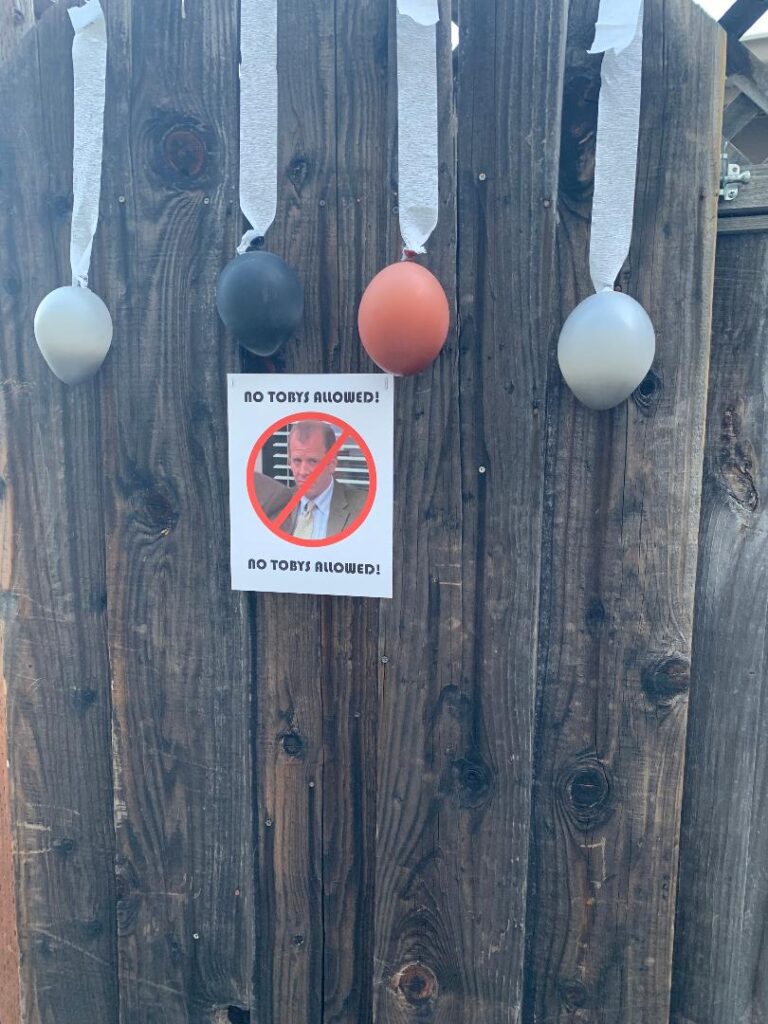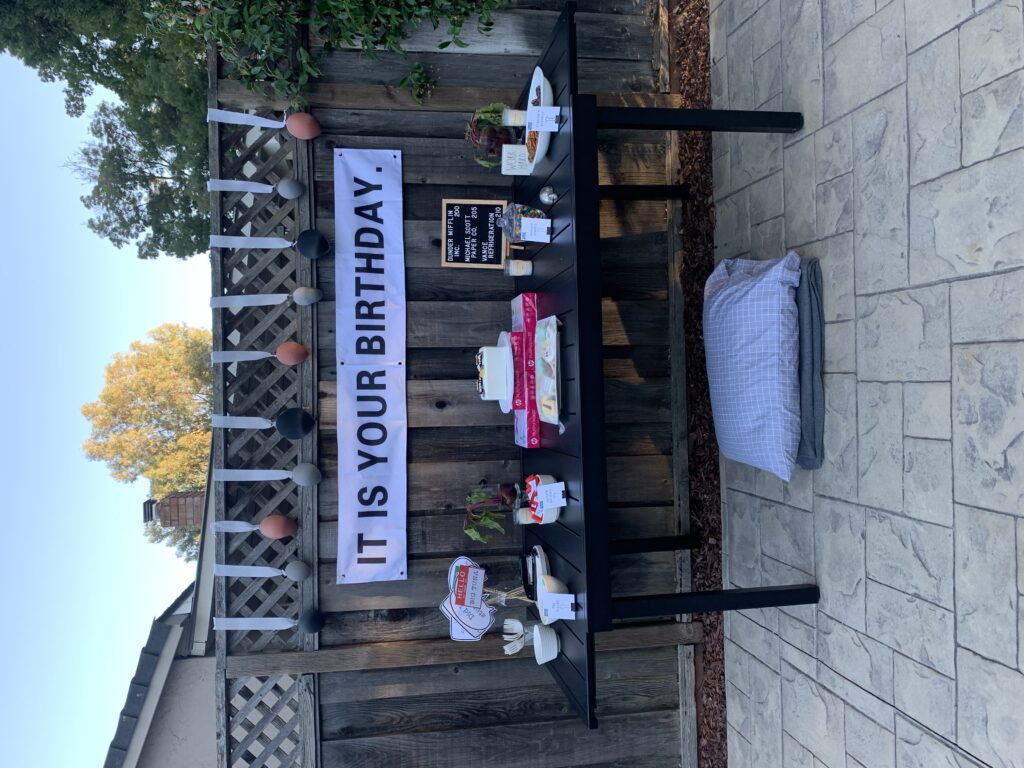 First off, the classic, iconic, IT IS YOUR BIRTHDAY sign. I bought this set on Amazon (affiliate links) and barely used any of the balloons so we may have another few uses out of it yet!
Ava was helping me blow them up and was so confused why we weren't blowing them up all the way! I explained the scene I was recreating to her and she was like OK mom…sure….LOL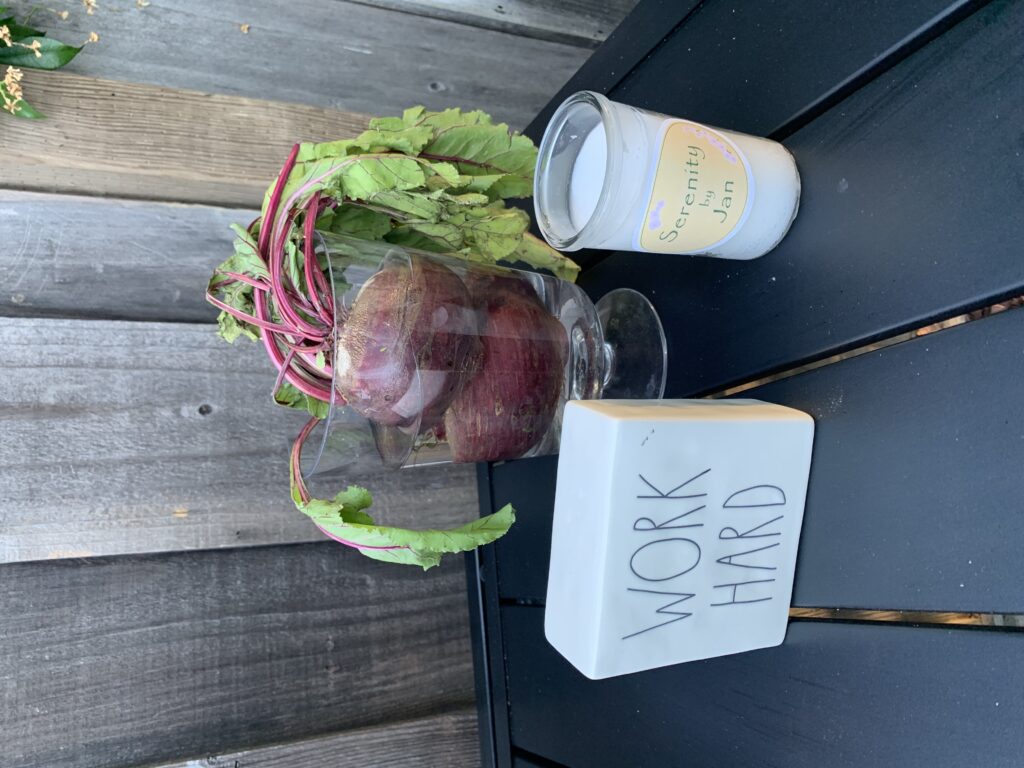 On the table I put out some beets in vases (LOL), and some candles from Serenity by Jan. hehe! I found it online and couldn't resist printing out labels to put on a few candles.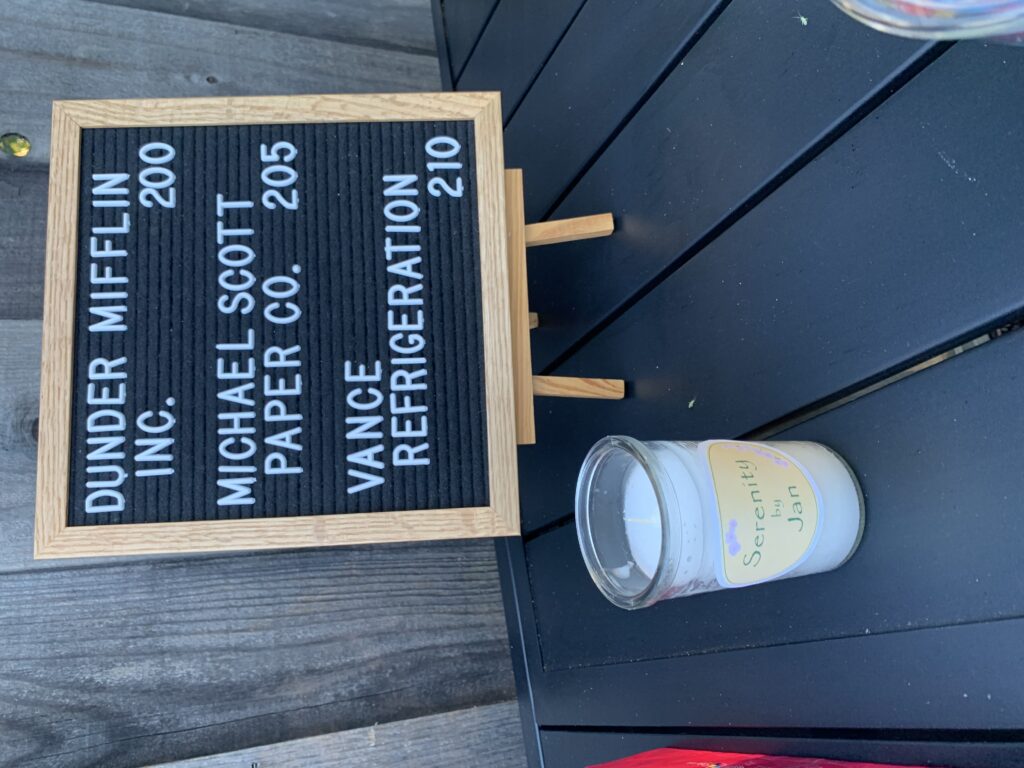 I also used my letter board to mimic the one in their office park!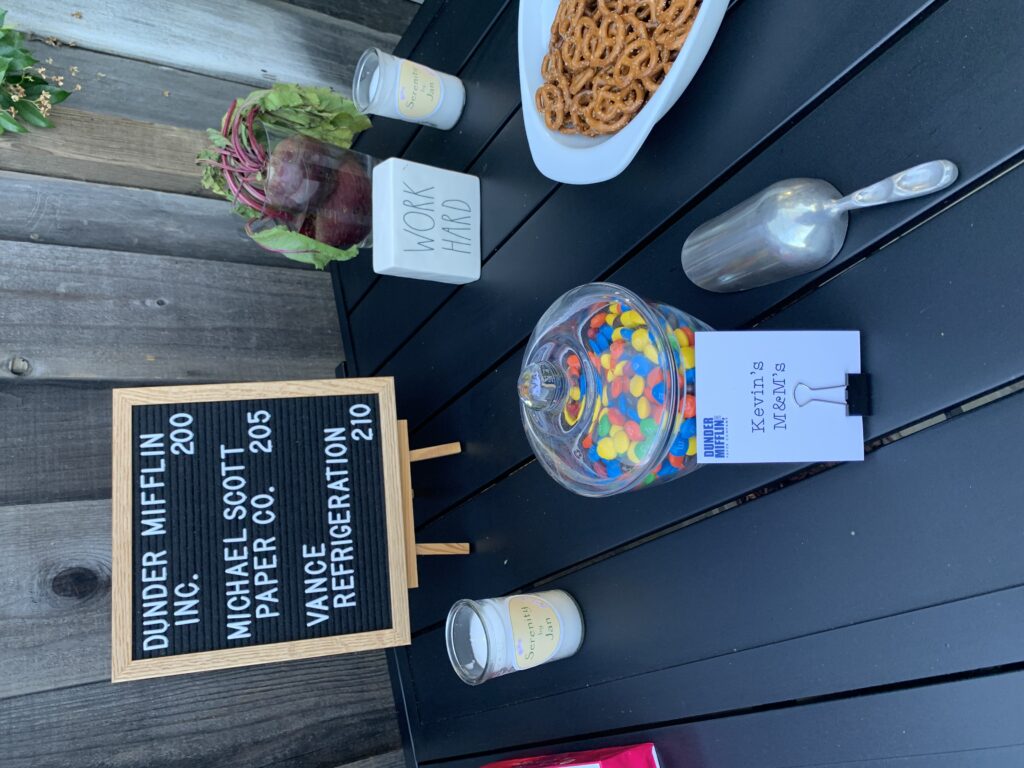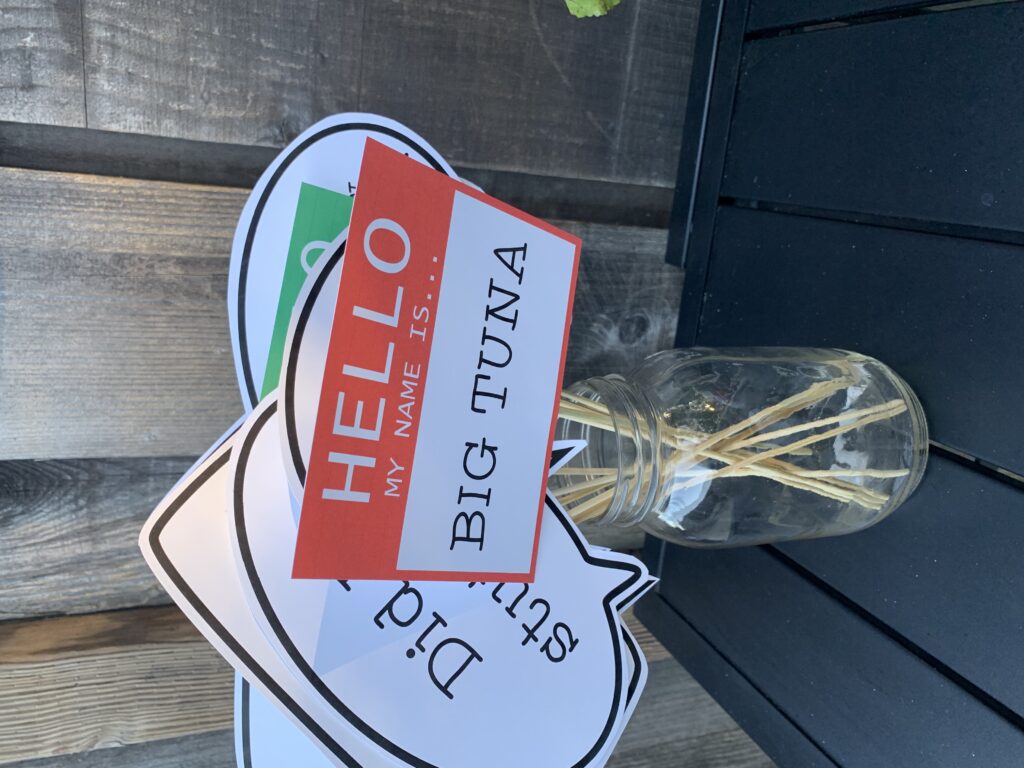 I made some photo prop signs but we didn't really use them.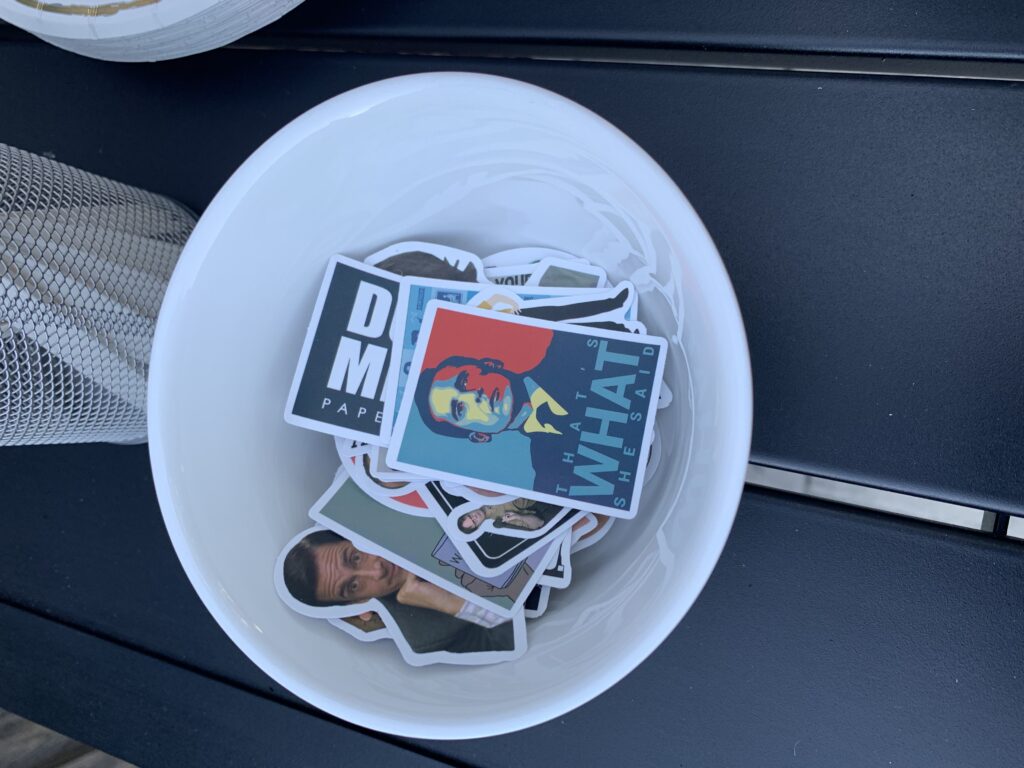 I bought this pack of stickers for favors! It was fun to look through them and find your fave character or quote!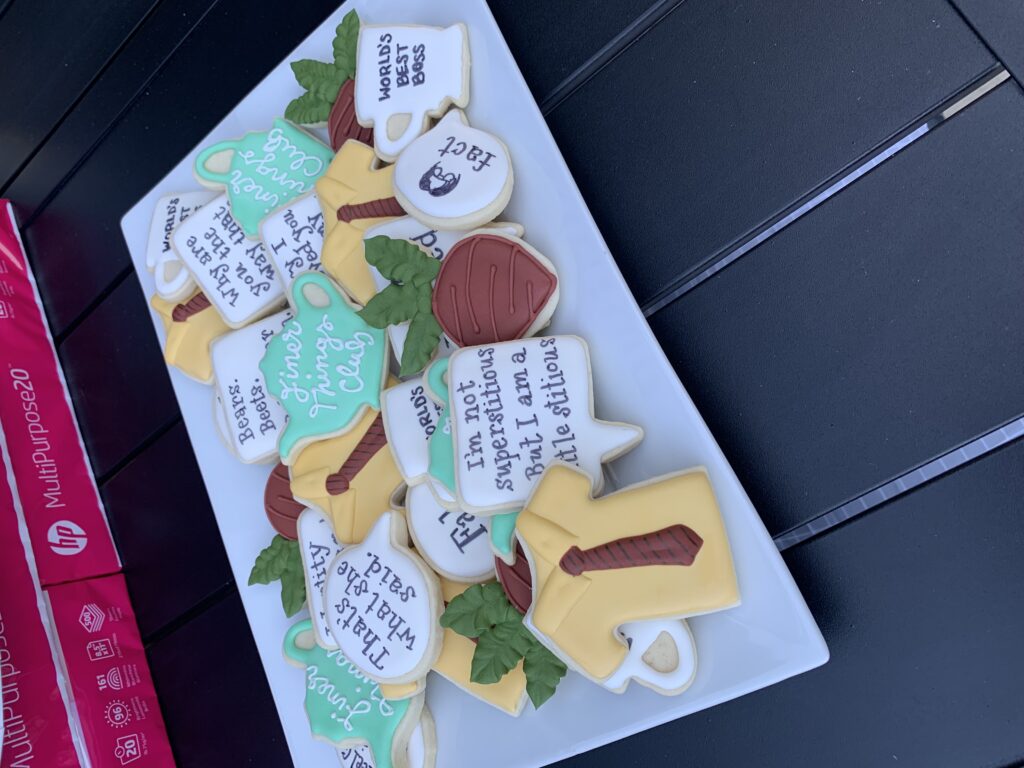 COOKIES! I hadn't made any for awhile but had the itch to, and had some cutters that worked for the theme, so it was meant to be!
I made "the finer things club" teapots, Dwight's shirt, beets, world's best boss mugs, and many speech bubbles with quotes! I used my favorite sugar cookie recipe!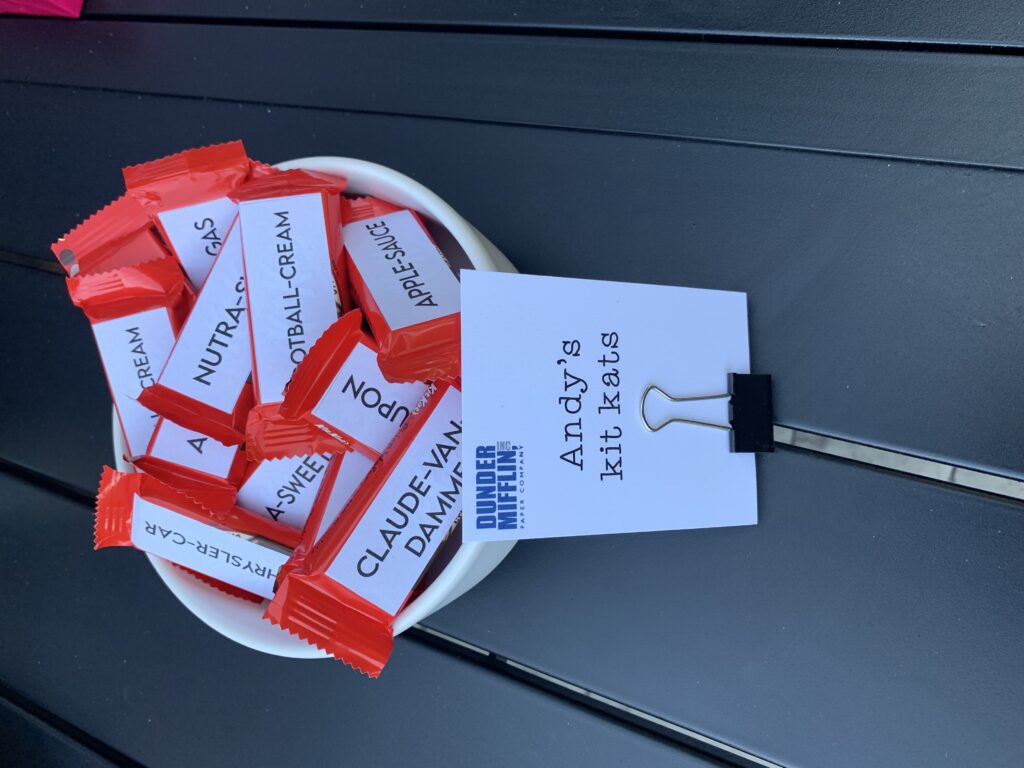 I love the running joke when Andy can't remember the end of the kit kat jingle-so I printed all of his attempts and stuck them to snack size kit kat bars!
I also used the Dunder Mifflin logo to make tiny letterhead labels and used binder clips to prop them up!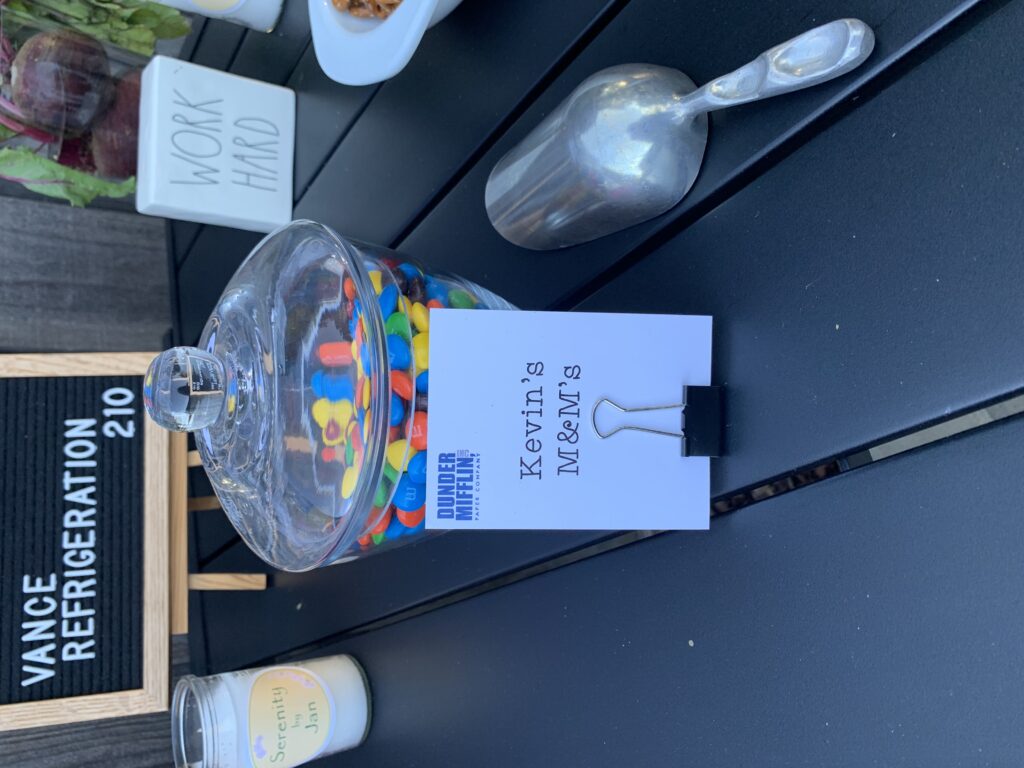 Gotta have a big jar of M&M's at an office party! Sadly, no one attempted "the Kevin" and tried to fit them all in their mouth. next time…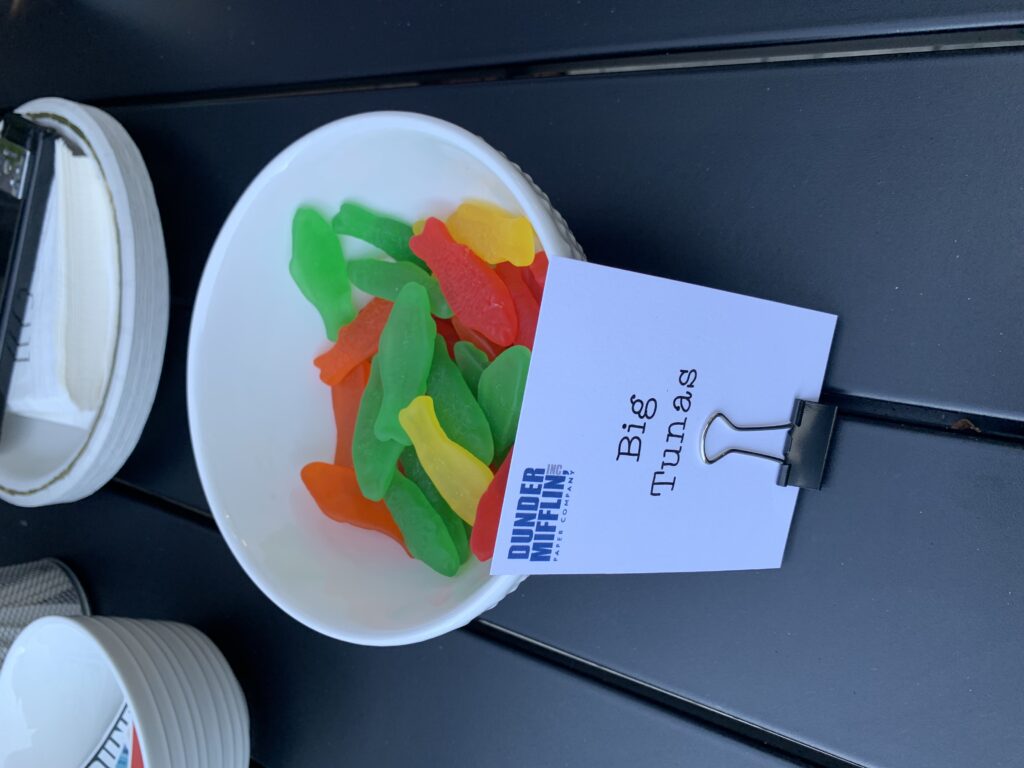 Also some swedish fish…or "big tunas"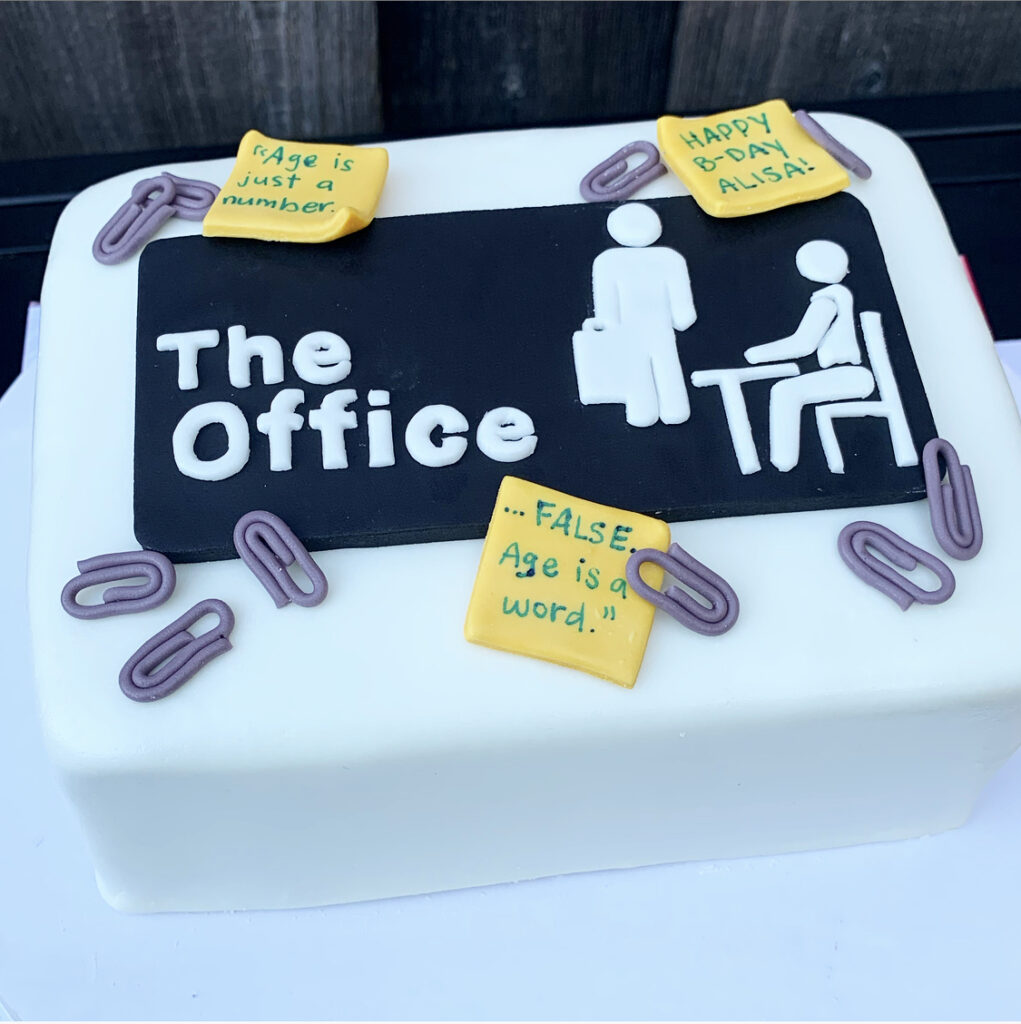 The cake! It was a simple rectangle white cake with chocolate frosting, and covered with white marshmallow fondant.
I created the office logo out of black fondant, and added the yellow post its and tiny silver fondant paper clips!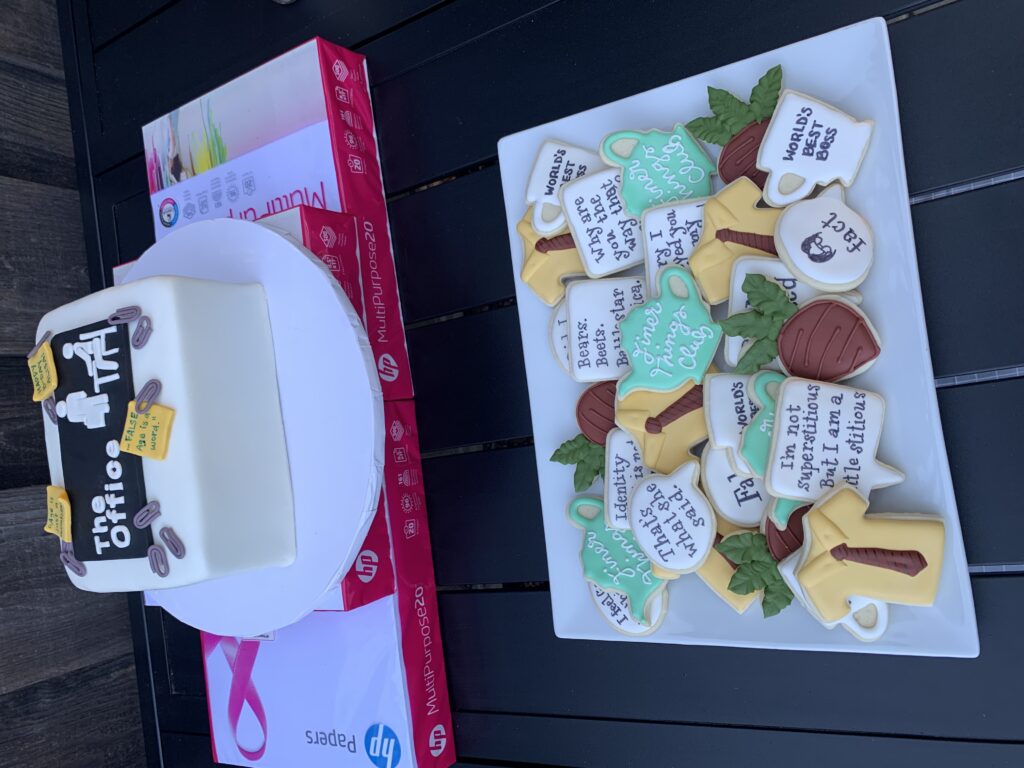 I stacked some reams of paper for the cake to sit on!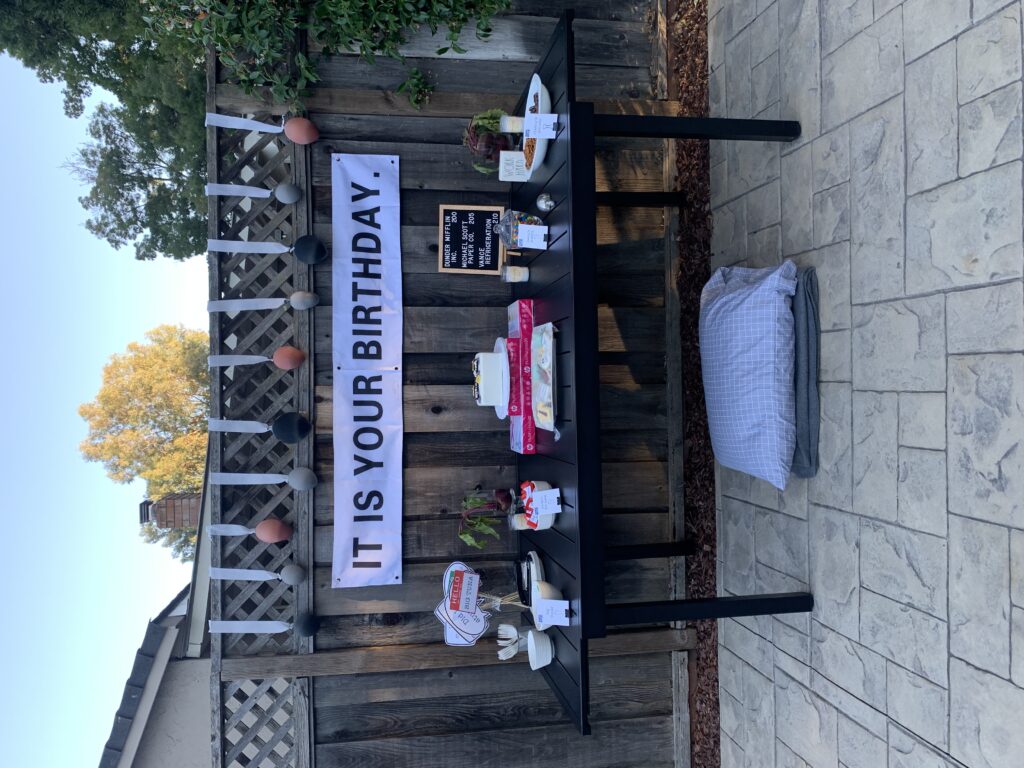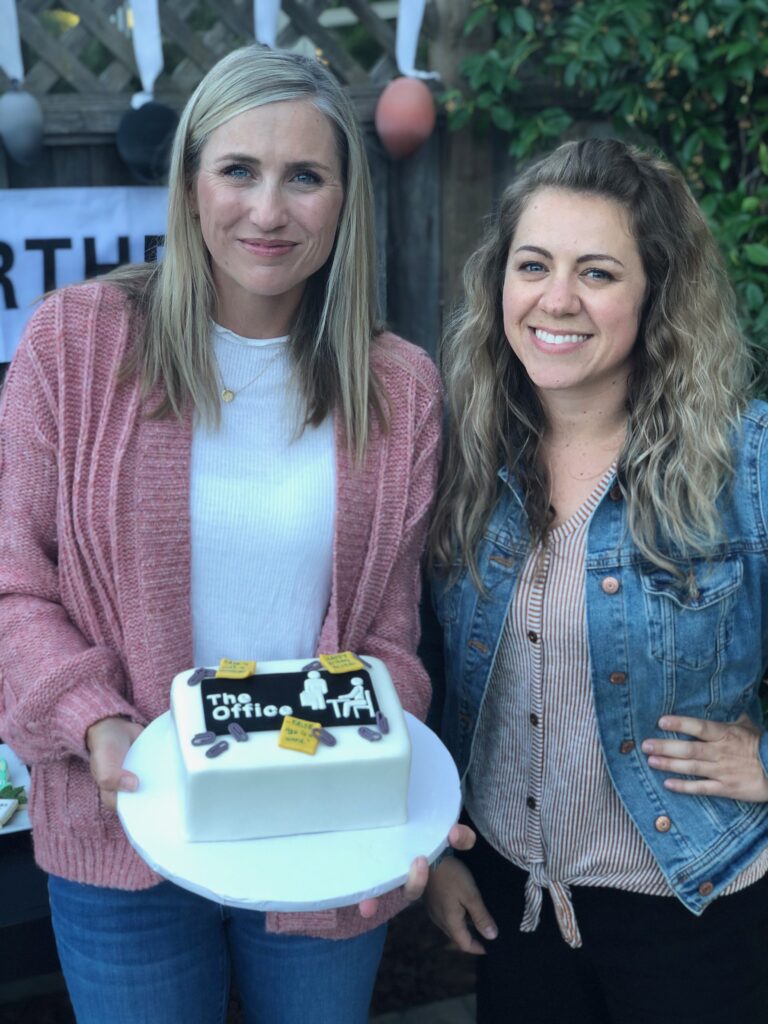 The birthday girl hadn't had a cake in too many years, so I was so happy to be able to make her one!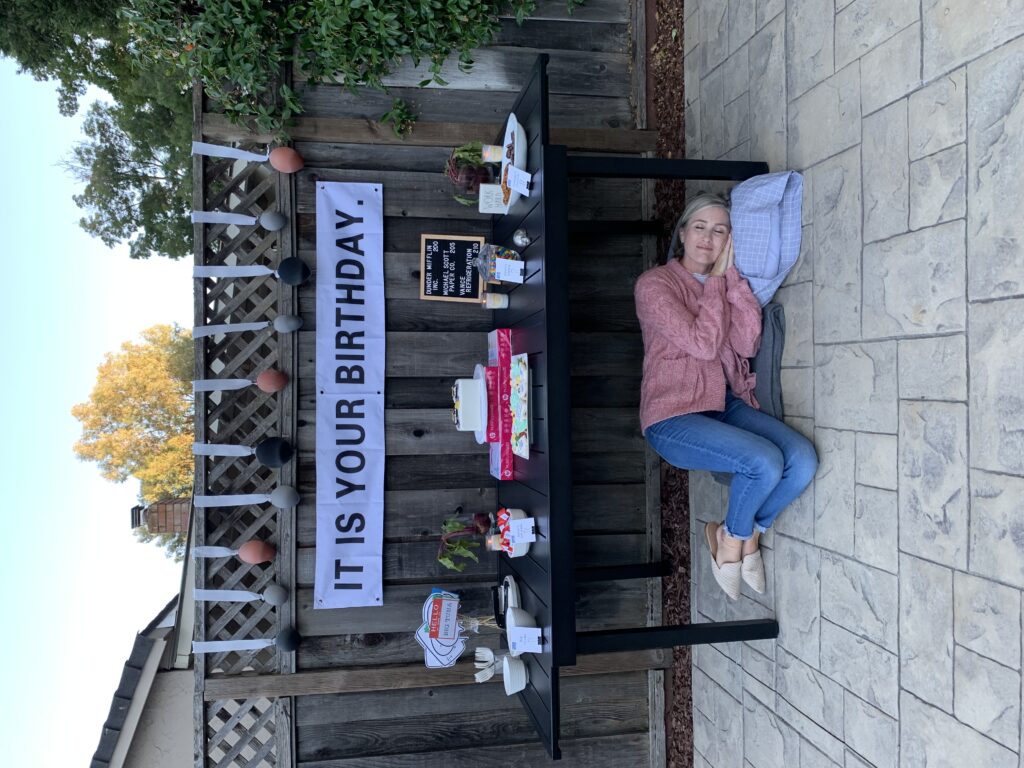 We let her choose between an hour of tv and an hour to nap.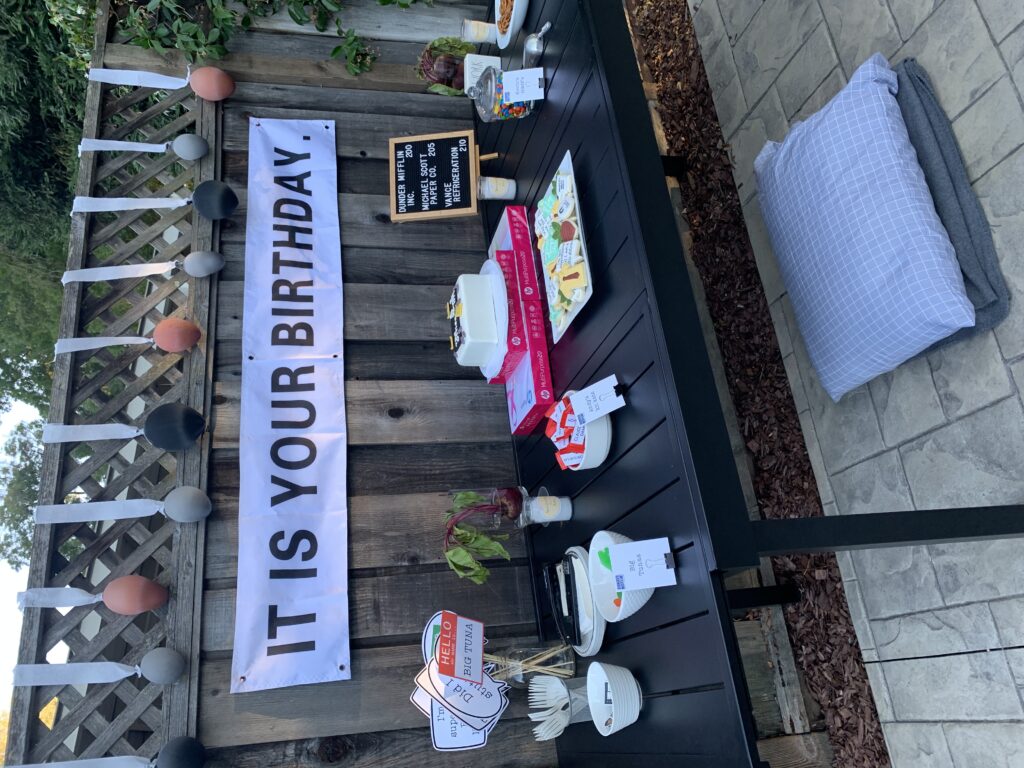 "Age is just a number…FALSE! Age is a word." Dwight Schrute