Almost the minute (ok, at least the same day) that I found out I was having a boy this time around, I started dreaming up his nursery…browsing Pinterest for ideas and themes, of course.
I pinned a bunch of random nurseries and realized there was a bit of a theme…I liked the colors grey & green, rustic wood accents, and adventure/woodsy themes.
I took it one step further and went with a Peter Pan theme! More of a lost boy, foresty theme than pirates and mermaids and fairies.
I had SO much fun finding & making all the little details for his room! I hope you enjoy it! I'll link to products I purchased as I go. 🙂
(also, I do not know the paint color name we used, sorry. I got a bunch of paint samples at the same time, all at 50% tint and they didn't label them for me so this one is sample #1. boo I know!)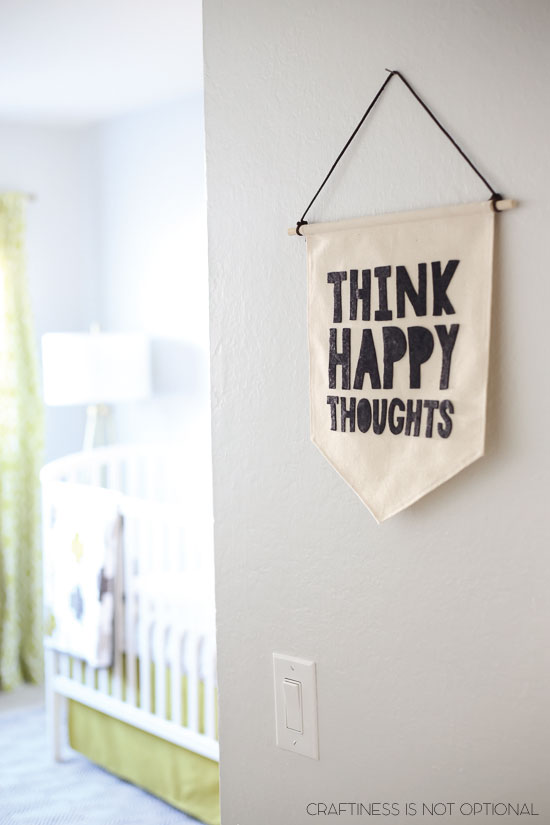 This canvas & felt wall hanging was one of the first things I made for the room, and I LOVE how it turned out!
Peter Pan has so many wonderful quotes about boys and childhood wonder!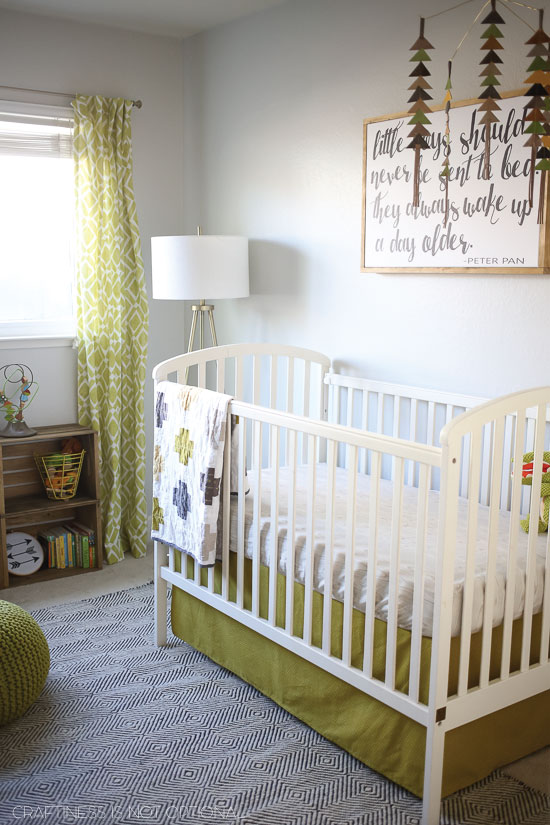 It's a pretty small room but I was able to squeeze our crib, some shelves, a chair, and dresser in!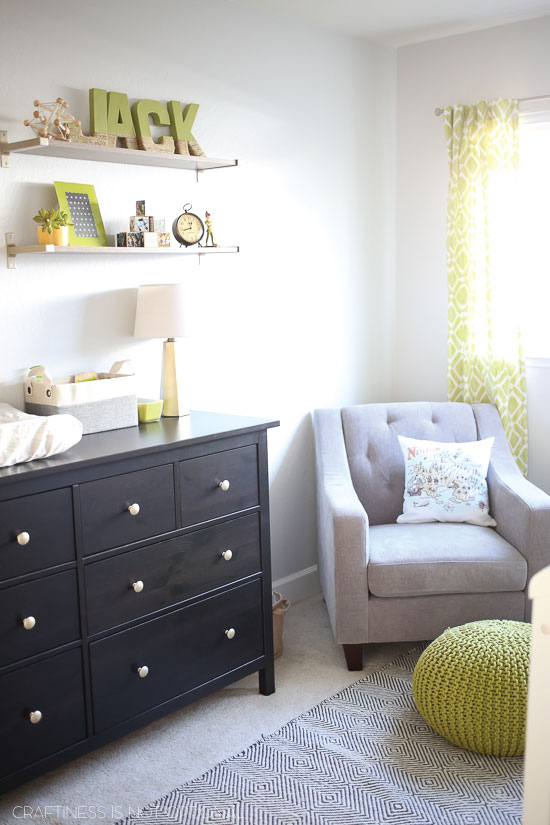 We knew we needed a new dresser for this little guy, so we went with this one from Ikea…it should last him for a long time! Tons of storage!
(spray painted the knobs to match the antique brass lamps and curtain rod, which was also spray painted)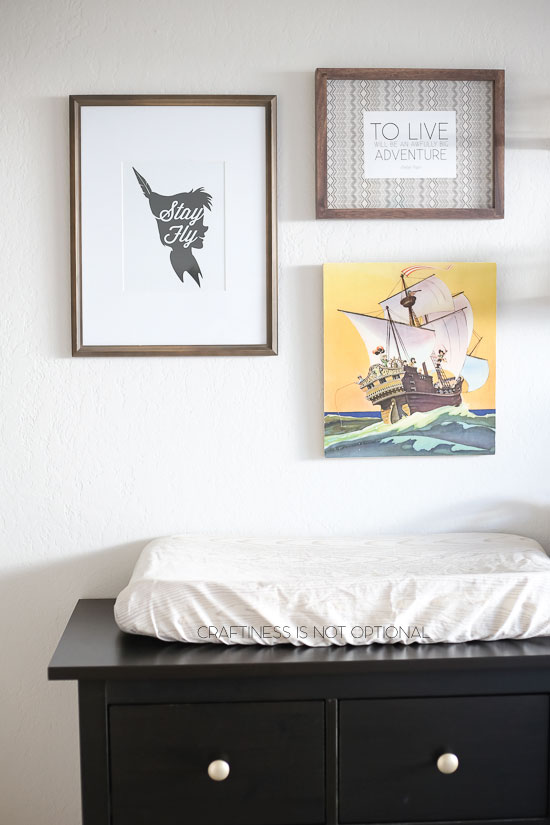 I had so much fun picking out art for the room…I didn't want to slam you in the face with Peter Pan-ness…tried to go for the more subtle theme. 😉 I created the "to live will be an awfully big adventure" print in illustrator and backed it with some scrapbook paper in a clearance frame from Home Goods.
Stay Fly print is from the shop I linked to-I had to request the print (found it on Pinterest originally) and & the weathered grey frame was from Target.
I made the changing pad cover using this tutorial and this fabric.
All the fabric I used was provided by my fabulous sponsor, Fabricworm!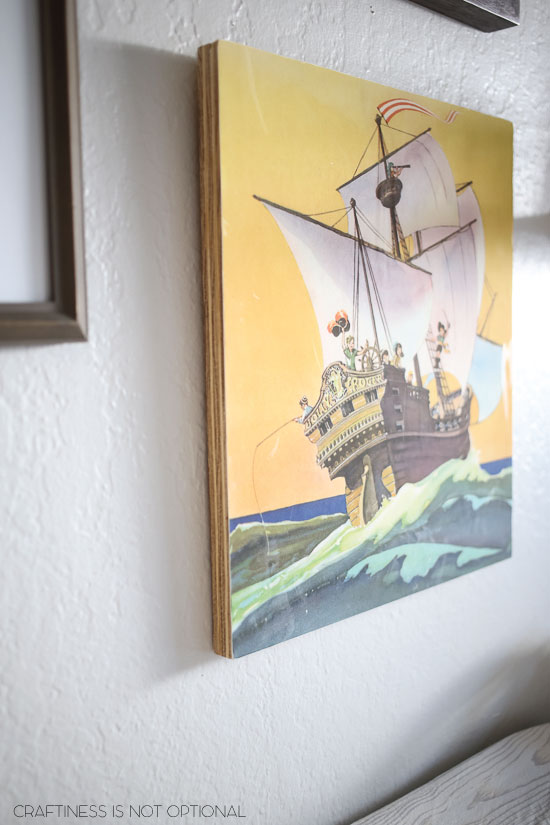 I ordered this print to bring in some mustard yellow (cause you know I love me some mustard yellow), and mod podged it onto a piece of plywood for a rustic piece of art!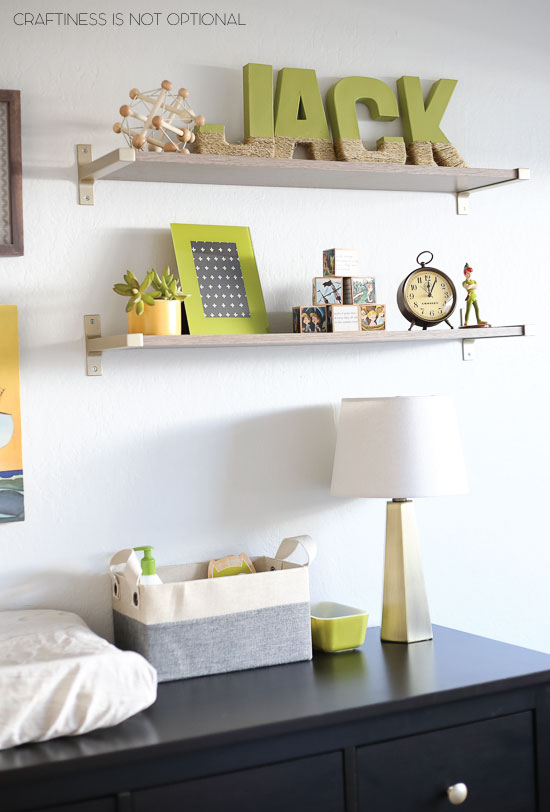 I had to have some shelves! I found these cool shelves and hardware from Home Depot and they were pretty inexpensive to boot!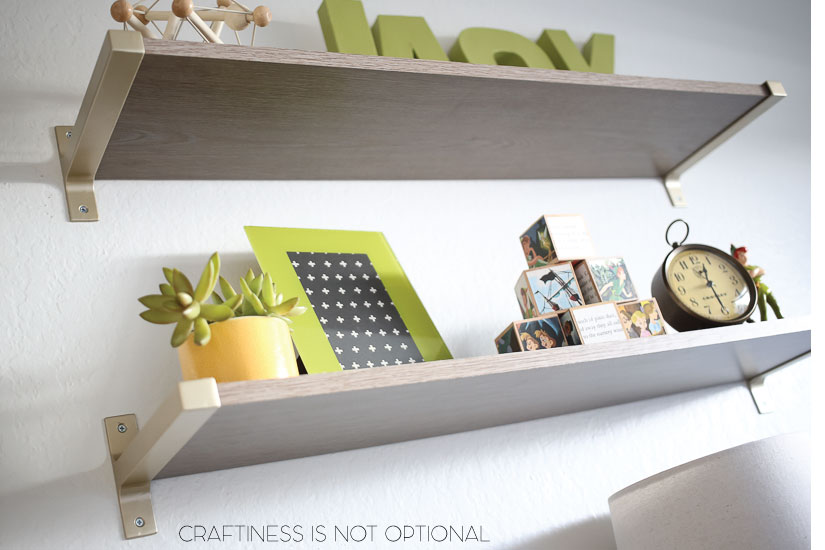 I also spray painted the hardware to match the lamps.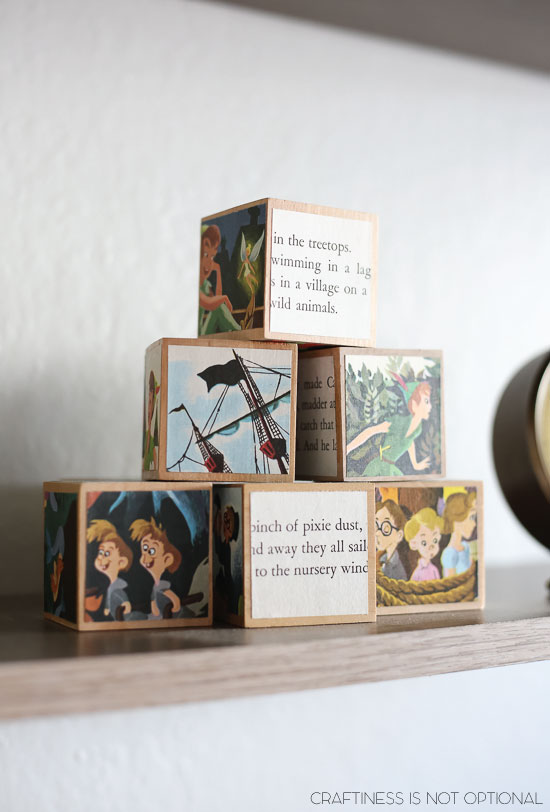 Also one of the first projects I worked on for the nursery-a book sacrificed itself to make these adorable blocks!
I know, I know…it was falling apart, in my defense.
Aren't they cute all stacked up?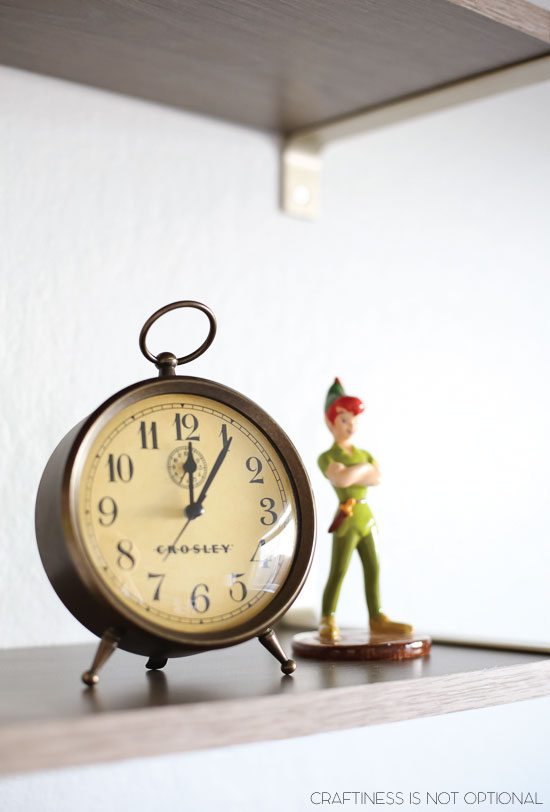 Had to have an old fashioned CLOCK right?! and found this adorable vintage Peter Pan figurine on Ebay.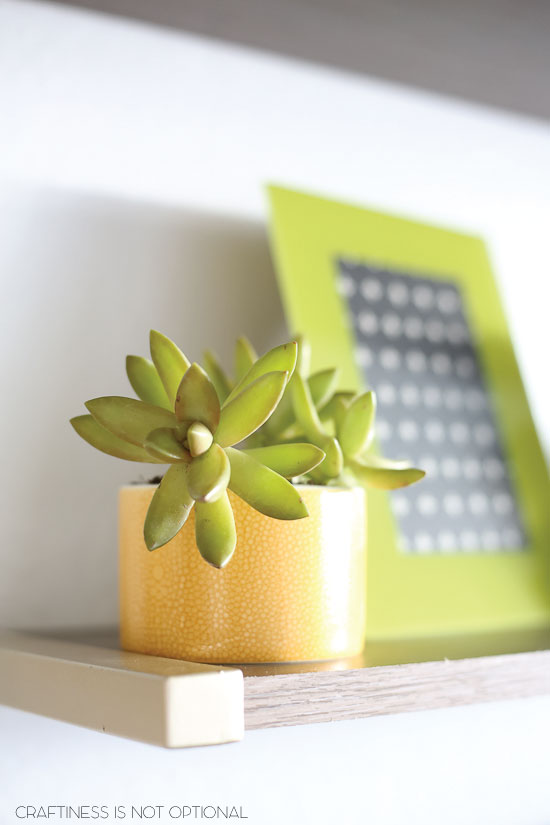 I added a succulent in an old container I had for some greenery, and thrifted that green picture frame…just waiting for a cute pic of Jack!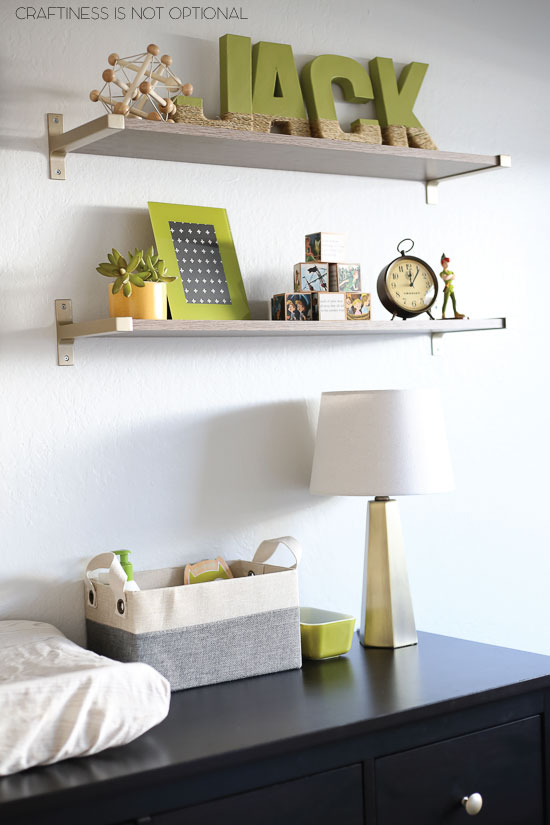 I made his name using paper mache letters, painted them a custom color, then wrapped the bottom with twine, gluing as I went. 🙂
The little toy next to his name I found on Zulily.
I found the grey and linen container at Ross I think, and it's filled with baby essentials, ie lotion, wipes, diaper cream etc…and the little green container next to that has binkies and binkie straps in it. (thrifted) Lamp is from Target!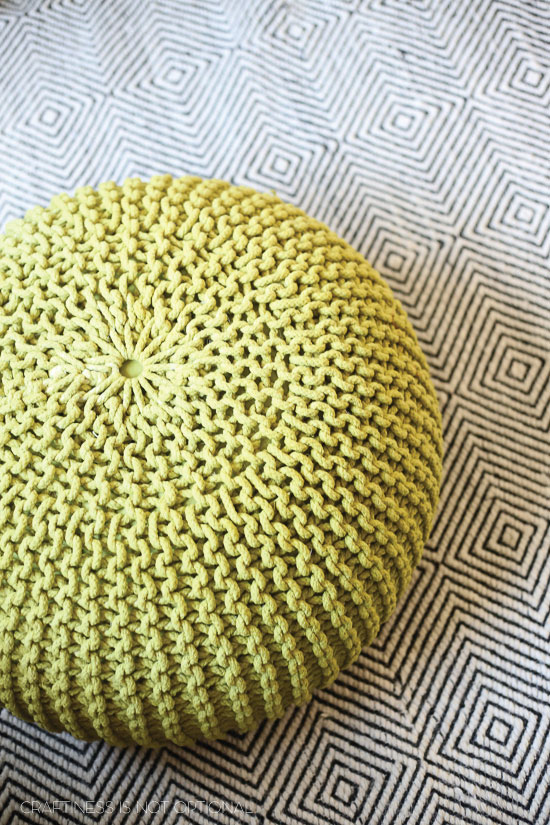 I LOOOVE this rug and pouf!
The rug is 5'x8′ (in ivory) and fits the room great. it sheds a little but not too bad.
Pouf is from target and the most perfect shade of green!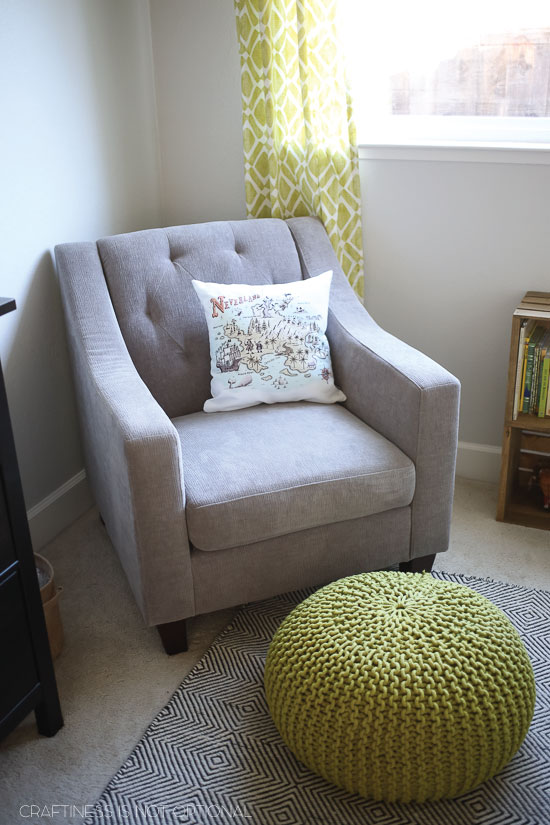 This chair ( in grey) is SOOO comfy. I think it'll be perfect for night time nursing sessions and reading books!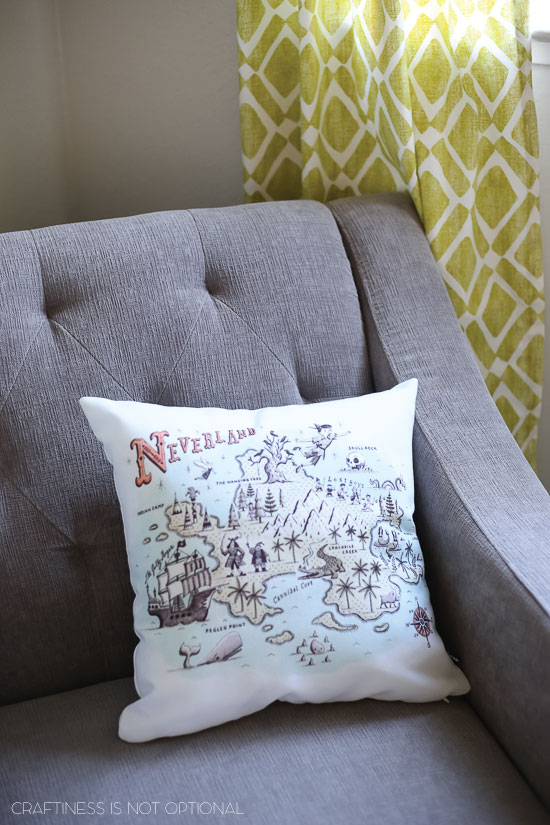 This pillow! sheesh it's so adorable. I was even lucky enough to grab it on sale!
Love the cute artwork and the map of Neverland!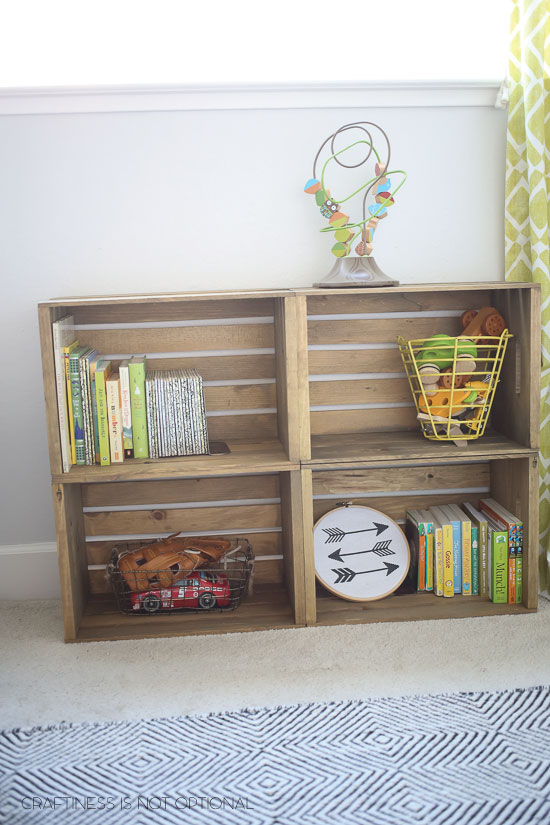 I wanted more shelves for books and toys at his level, so I purchased four wood crates from Joanns, and had Rory stain them and attach them together to make this cute set of storage shelves!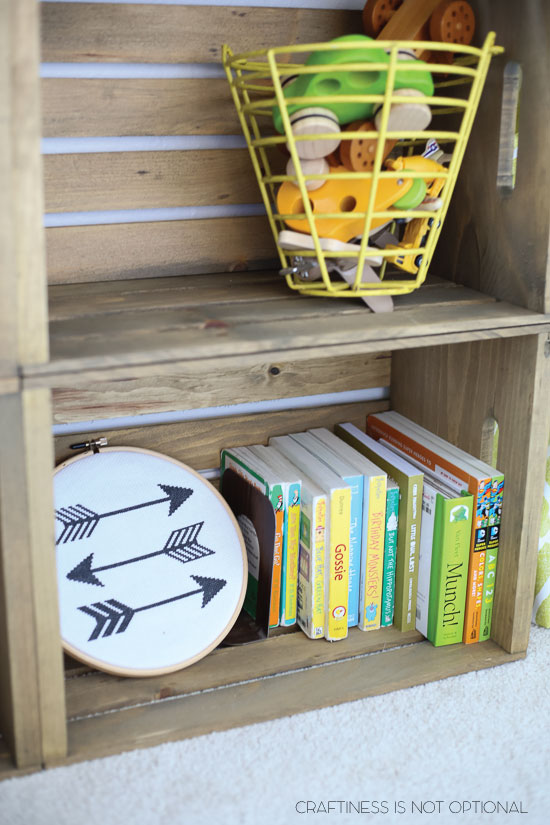 Thrifted the yellow metal basket and all the toys in it are hand-me-downs from my mom's stash, except the cute wooden orange helicopter and green car are from Amazon! (affiliate link)
I made the arrow cross stitch using this pattern. 🙂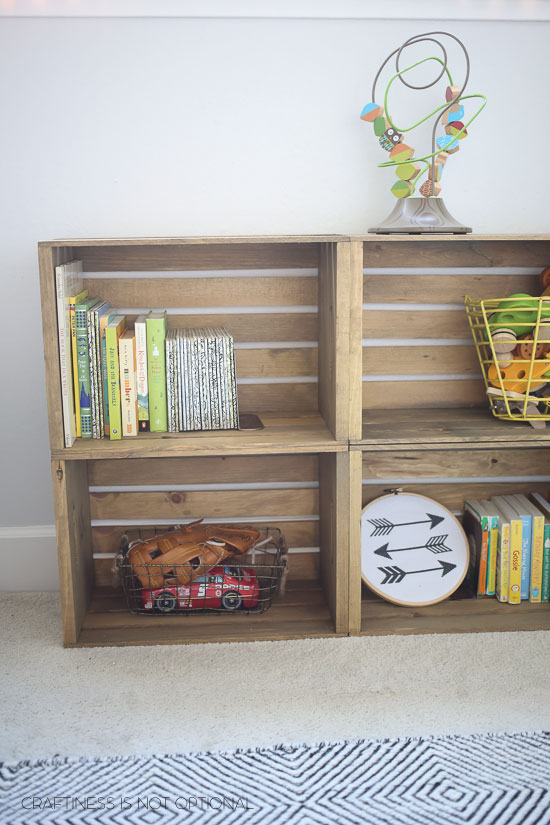 I grabbed the tree toy on top from Home Goods (it's Melissa & Doug), and grabbed some books from the girls' collections to add to the shelves.
The wire container on the bottom was a Target dollar spot find awhile back and the glove and car tin (containing…more Cars!) are from my parents house.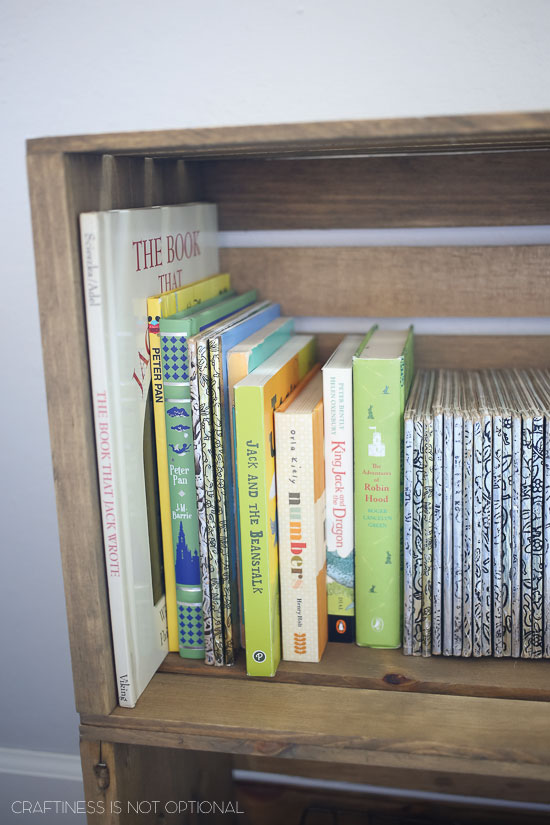 As well as a few copies of Peter Pan!
My BFF found all those Jack books for me, aren't they the greatest!?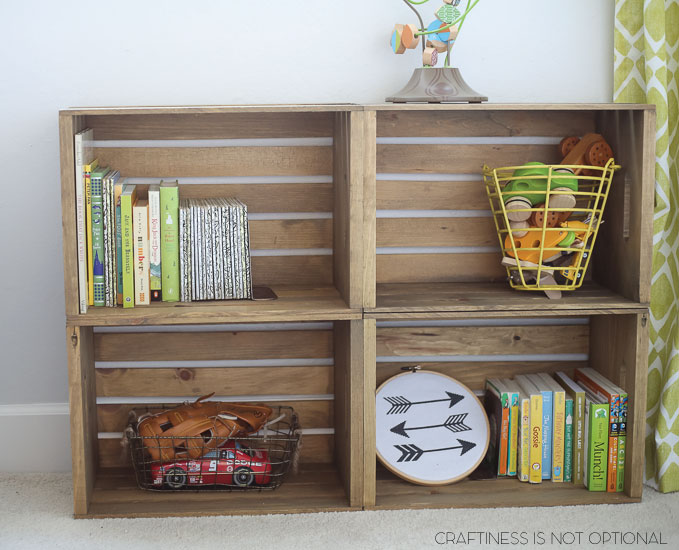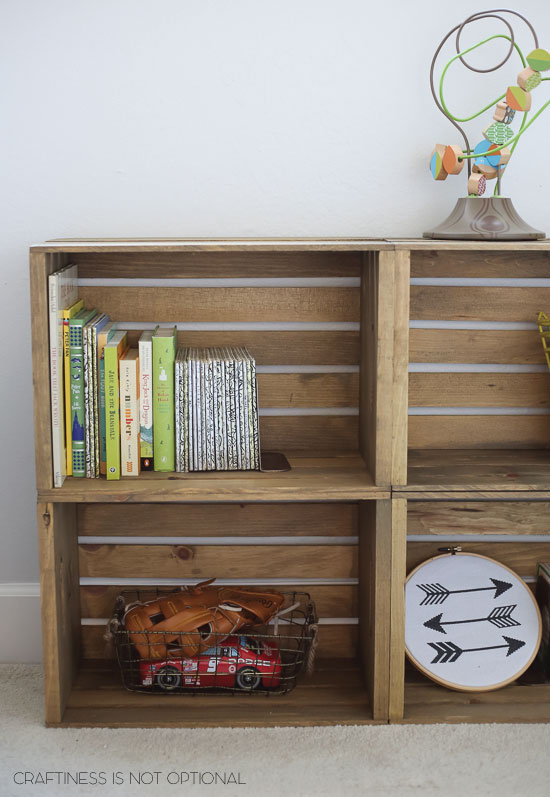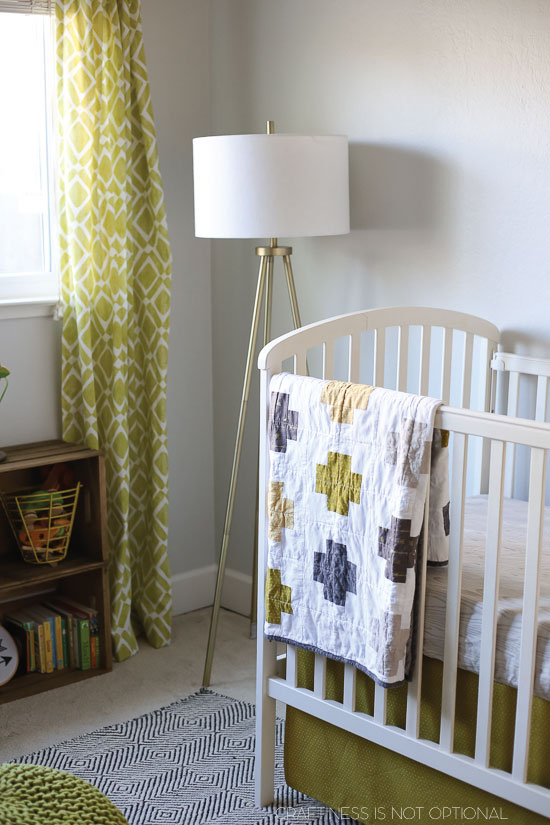 I got this fab antique brass lamp at Target, but of course. Curtains too!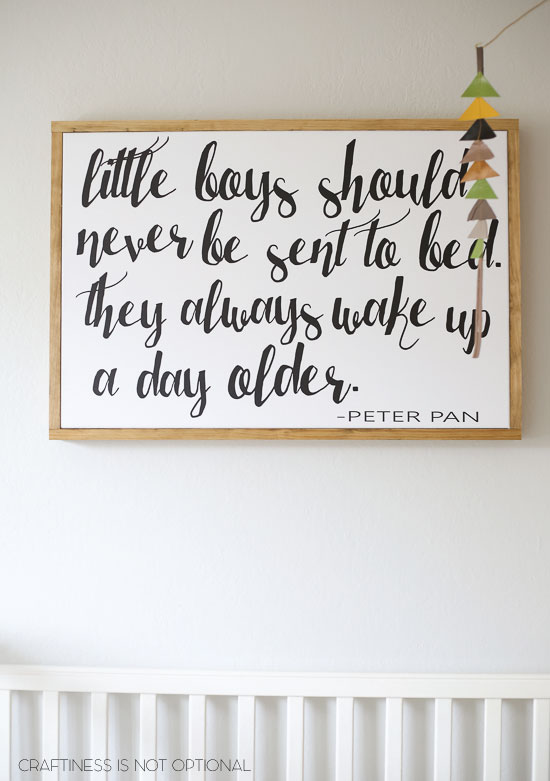 I really wanted to use this PP quote since it's pretty perfect for a boy's nursery! So I created the calligraphy quote in Illustrator (font is called Laser Metal, free on dafont I think), and ordered a 20×30″ canvas from MyPix2. They have a lot of sales and voucher coupon codes so I think I got this one for $25. Steal! However, the canvas didn't arrive for almost 2 months. YES 2 months. I've ordered from them before and it wasn't that long so hopefully this isn't normal for them. They gave me vague excuses every time I emailed them about it but did upgrade my shipping so when it finally did ship it came next day. Just FYI. 🙂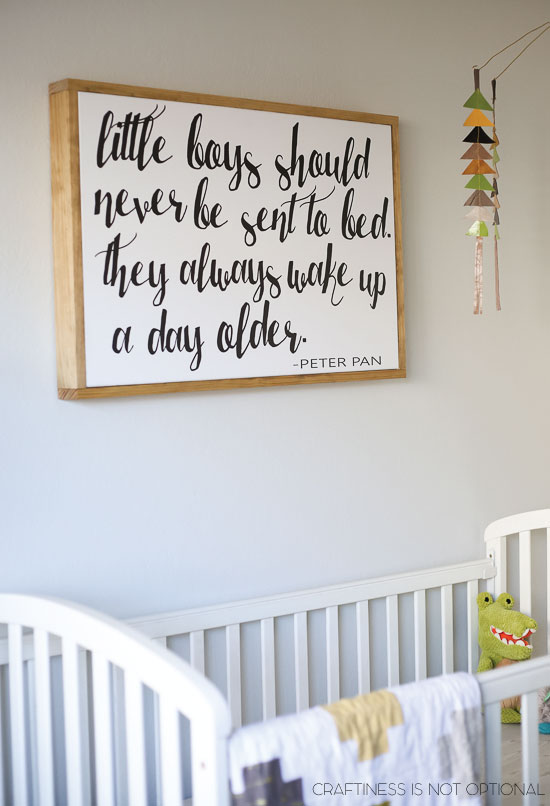 I bought some 1″x3″ pieces of wood and had Rory stain the sides and one edge, and then my dad helped me cut it to size and frame out the canvas.
I LOVE how it makes it pop on the wall and adds some dimension!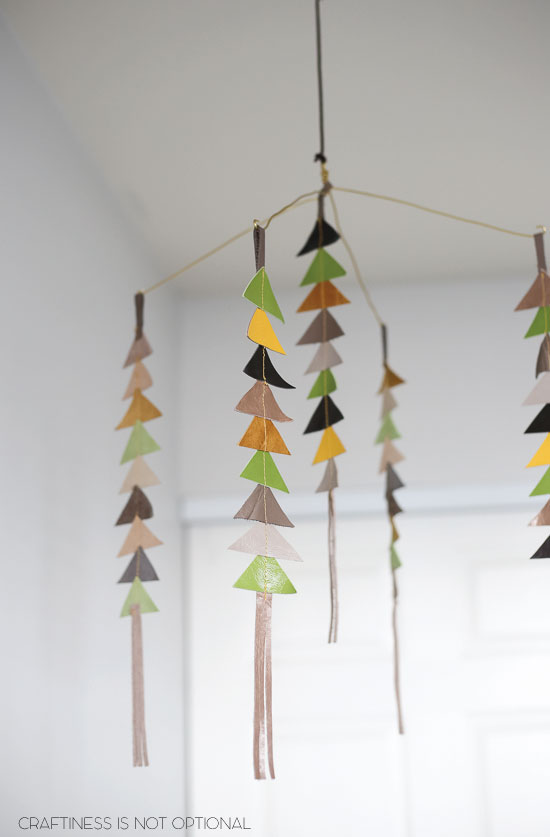 I spent hours (embarrassing but true) scoping out possible mobile ideas and ended up finding these amazing leather mobiles.
Alas, she did not quite have my color scheme, and you know I'm a DIYer at heart, so I ordered some leather scraps off of Etsy and made my own!
I love how it turned out!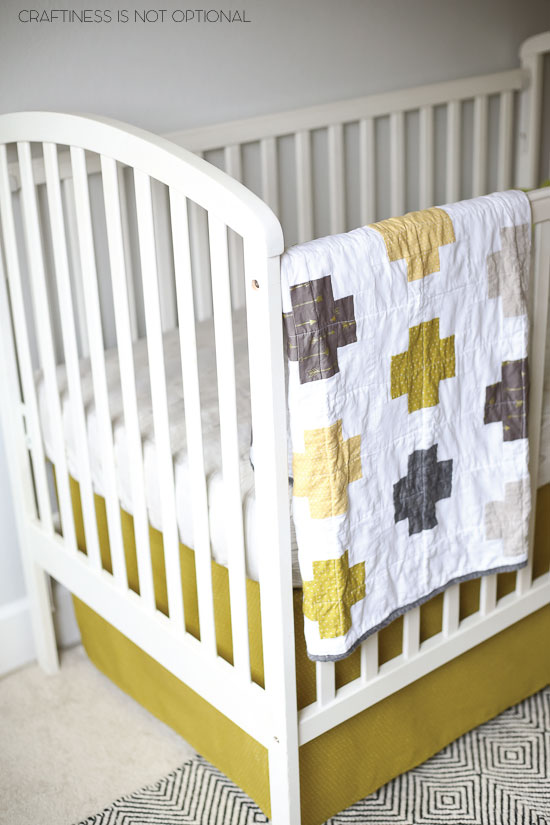 I also made a quick crib skirt. I mean literally took less than an hour.
I cut 3 pieces to size, (plus hemming inches), hemmed all size, and attached them to the crib.
WITH TAPE y'all. haha! Strong tape, but it was the easiest way to do it and I wanted to be done. lol.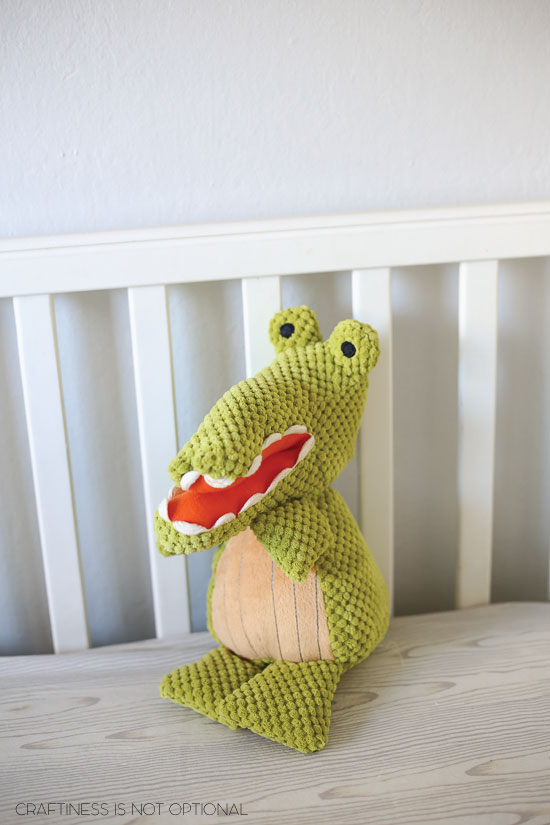 This little guy was one of the first things I found and purchased for the room!
I mean, you gotta have a stuffed crocodile in a Peter Pan room, amiright? (I'm right)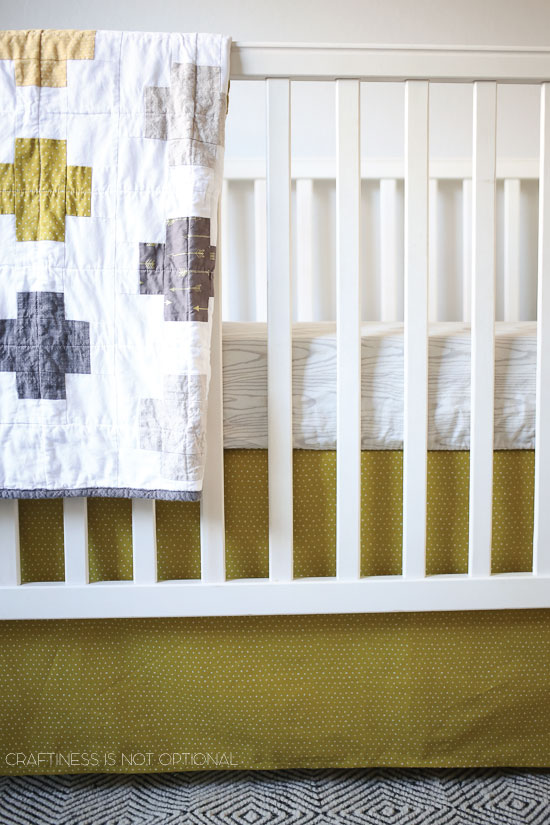 I made the crib sheet using Dana's tutorial, I forget how easy these are to make, seriously!
and more on the quilt here!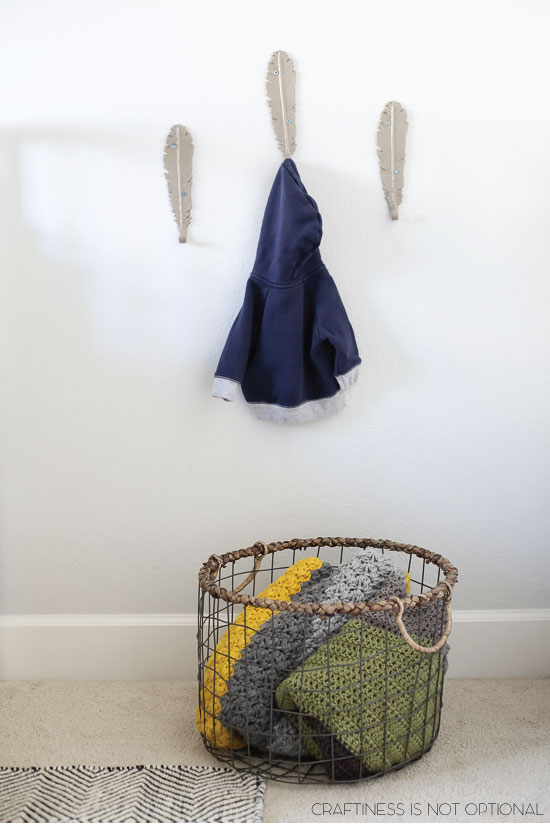 I found these adorable feather hooks at Land of Nod and had to have a few for hanging up his little sweaters or bags!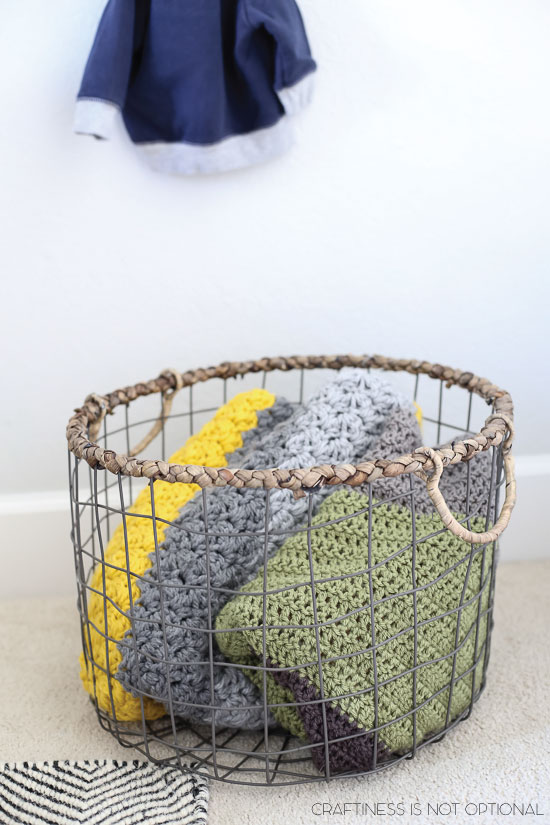 I snagged this wire basket at Home Goods to stash blankets in-these two were made by my sister and sister in law, and I LOVE THEM so much!
I can't crochet very well or fast so I appreciate and love when people who can make me things.
All the beautiful things. yay!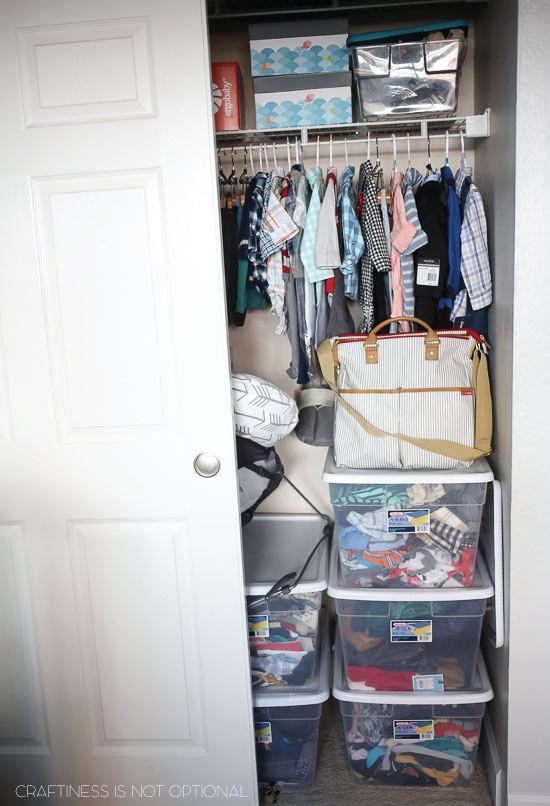 aaand because I'm nosy and love seeing how other people organize things, I'll show you part of the closet and his dresser drawers!
I've got his bins of clothes for all the different sizes…diaper bag…bouncer…boppy with arrow cover I made…and some of his Sunday clothes hanging up.
Up on the shelf is an Ergo carrier, a few storage boxes (toys, etc), and a bin of shoes.
On the other side is a hamper and diapers from my shower. very very exciting stuff.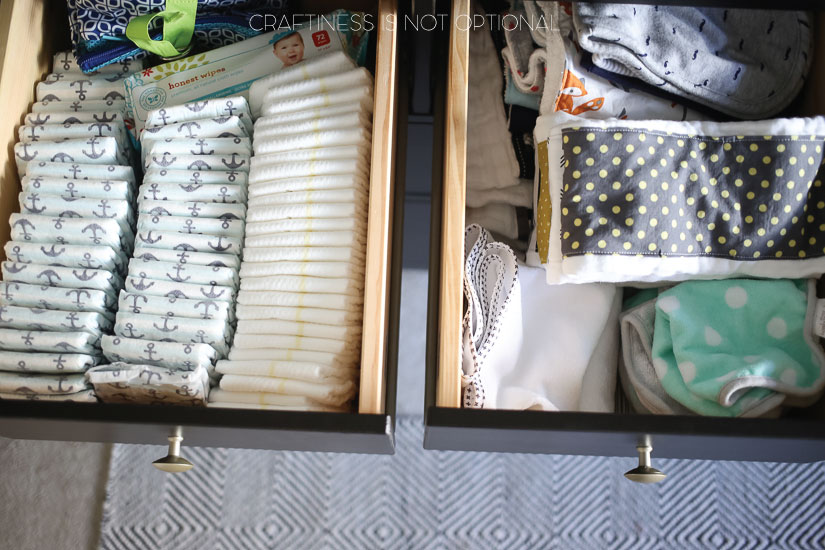 In the top drawers of the dresser, we have some diapers….wipes…baby care kit.
and in the other drawer, burp cloths that I made or was given, washcloths, and some changing pad liners.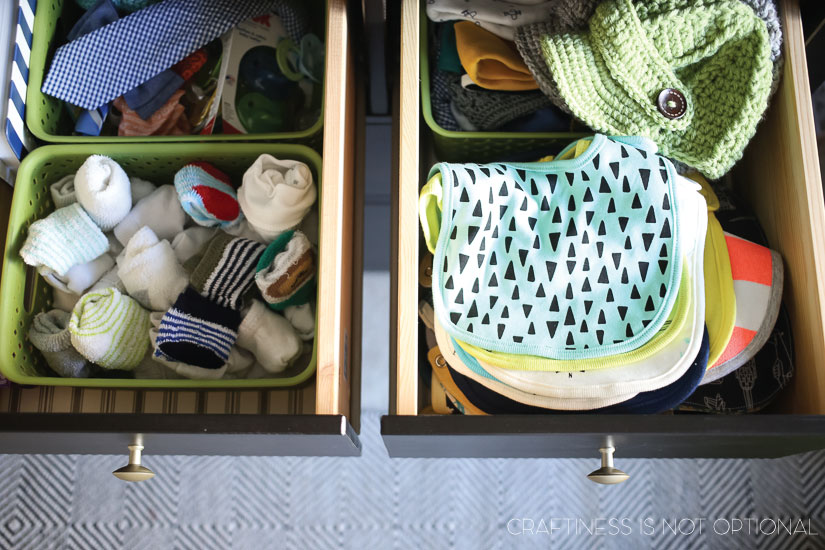 scooching over to the other top drawers, we have a bin of ties, bow ties, and binkies…plus socks galore!
I saved the girls plain white socks for him to use because those things get lost so easily! I hate buying new socks all the time, haha.
and in the other drawer, bibs and hats!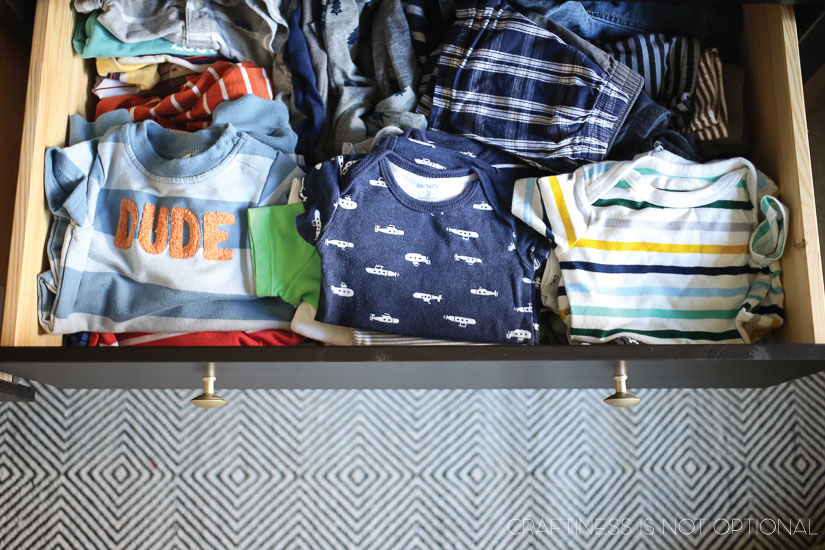 Some 0-3 mo clothes….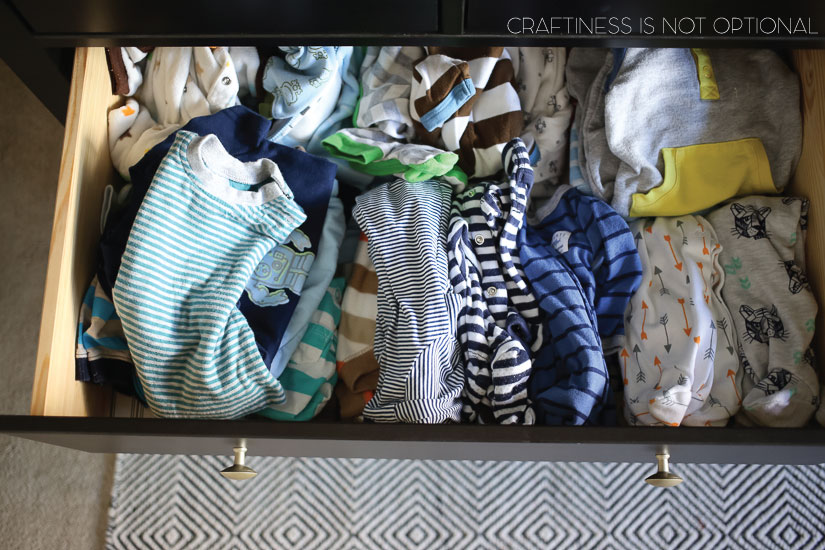 and newborn size clothes plus sleepers for 0-3 mo size.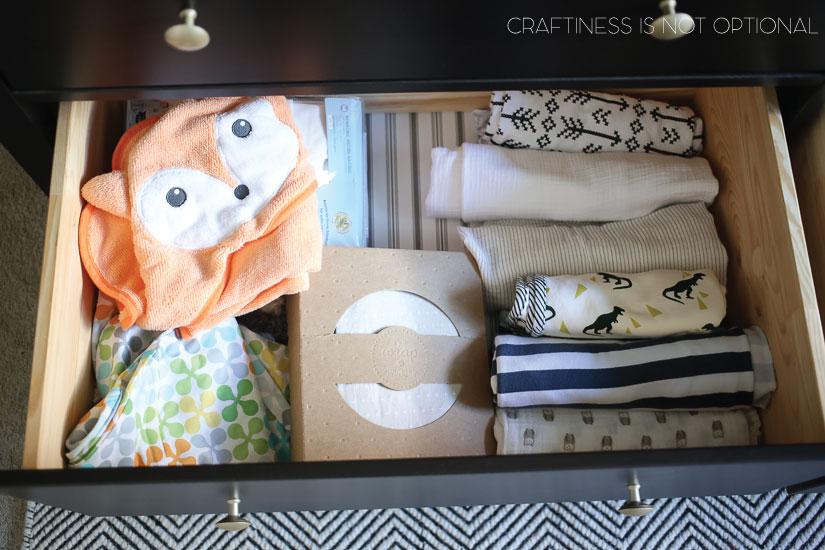 and in the bottom…an extra boppy cover, fox towel, our Solly wrap
 and a bunch of made or purchased swaddler blankets.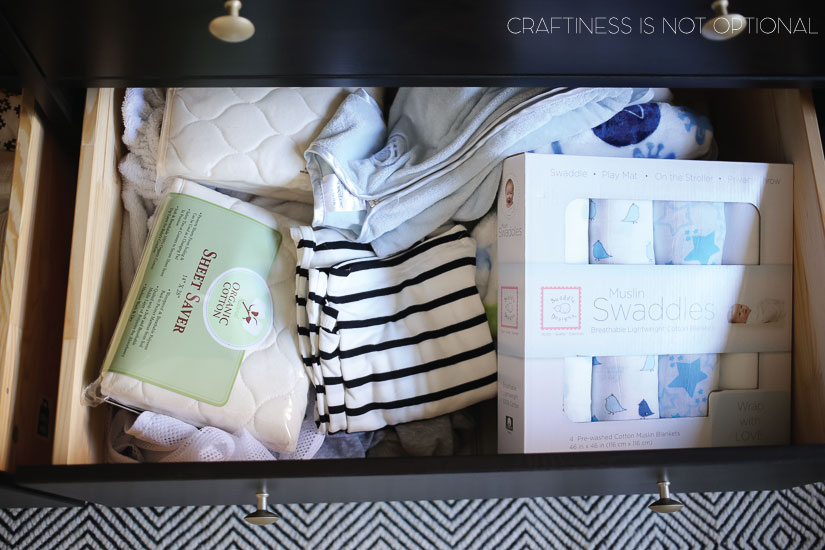 and some sheet savers, extra sheets & changing pad covers, our Copper Pearl nursing/carseat/shopping cart cover and more blankets!
well that's the end folks! We are so excited to welcome this little guy and share his nursery with you too!