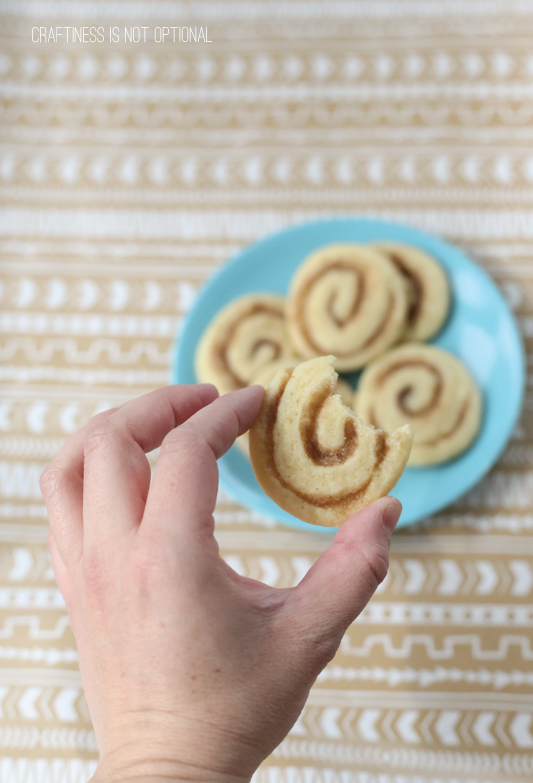 A friend of mine (hi Lauren!) brought over these cookies awhile ago and I just about fought off the kids and Rory so that I could eat the last one…they are THAT good.
And this is coming from a choco-holic.
They are delicious…perfectly cinnamon bun-esque!
They aren't quick cookies since you have to chill them a few times, but trust me, it's important, and it's worth it!
Cinnamon Swirl Cookies
adapted from Martha Stewart
Ingredients
For the Dough
2 1/2 cups all-purpose flour, plus more for surface
1 teaspoon salt
1/2 teaspoon baking soda
8 ounces (2 sticks) unsalted butter, softened
1 cup granulated sugar
2 large eggs
For the Filling
2 ounces (4 tablespoons) unsalted butter, softened
1/2 cup light-brown sugar
1/2 teaspoon ground cinnamon
Directions
Make the dough: Sift flour, salt, and baking soda into a large bowl. Beat butter & sugar with a mixer on medium speed until smooth, about 3 minutes. Beat in eggs. Reduce speed to low. Add flour mixture gradually, and beat until just combined. Divide dough in half, wrap each half in plastic, and refrigerate for 1 hour (or overnight).
Turn half the dough onto floured parchment. Roll into a 10-by-12-inch rectangle, then trim edges straight. Repeat with remaining half of dough. Transfer rectangles on parchment to a baking sheet, and refrigerate until firm but pliable, about 10 minutes.
Make the filling: Mix all the ingredients in a small bowl until well combined. Crumble mixture evenly over rectangles. Starting on a long side, roll 1 rectangle into a log, and wrap it in the parchment. Repeat with remaining rectangle. Refrigerate logs for 1 hour (or overnight).

Preheat oven to 350 degrees. Cut each log crosswise into 1/4-inch-thick slices. Transfer to parchment-lined baking sheets, and bake until edges are golden brown, about 19 minutes. Let cool on sheets on wire racks. Cookies will keep, covered, for up to 3 days.