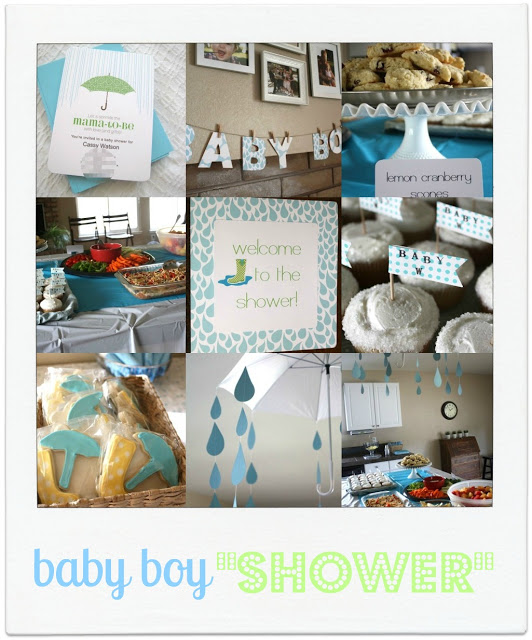 the baby shower was a success! at least as far as i could tell. i just loved planning it, obviously i took the "shower" and "umbrella" theme, and ran with it. too cute, huh?
of course, once the party actually started, i forgot to take pictures of actual people…but i promise you there were people there. so anyways, here are some party pics:
well, these are the invites, but they were too cute not to share! i downloaded them free off the web from a magazine website, but i cannot find the link anymore! grr. let me know if you know where they come from, please!
the favors: sugar cookies with royal icing. these were so fun to make! about 1.5 hours to ice, but worth it. love the polka dots on the boots. stephanie thought of doing that! she helped soo much today with taking care of sadie, etc. thanks, steph!
made some "clouds" from tissue paper, martha stewart style.
little baby boy garland…notice the raindrop paper. hehe.
i hung a few of these umbrellas from oriental trading, then cut out raindrop shapes from cardstock, sewed them together, and hung them from the edges. it looked so adorable!
sign out front.
totally used this lady's idea for the flags. rolled the edges in sugar crystals. sweet!
the food was amazing! fruit salad, amazing dip and veggies, and seven layer dip.
i had some wonderful ladies help me out with some of it, thanks aimee and robin!

i made my lemon cranberry scones
yum.

i set some cards out for people to write advice or a quality they admired of cassy's, and then slid them into a little photo album, wish i'd gotten a picture of the front, it was cute!
i love party planning.
love it.
(probably too much)
featured on Party Perfect!