This particular room and remodel has been a looong time coming! Our laundry room was the one room that had not been touched since we moved in 10 years ago-not even to add shelves or anything! There were more pressing projects to be done first, like the backyard and that took a long time too since we did most of it ourselves. I had this laundry room planned out and spent so many hours pouring over Pinterest and making mock ups in Illustrator-it was so much fun! When it was finally go time-my Dad helped me so much! With the plumbing, shiplap, painting, wiring, the waterfall countertop-installing the cabinets and sink-he was my go to guy! THANK YOU so much Dad! Ok let's jump into it-I have some in process pics that I want to share so I'll try and intersperse them throughout the post.
Sorry for the pics this room is soo dark so my tripod and I did our best to take some pictures but they aren't my best. 🙂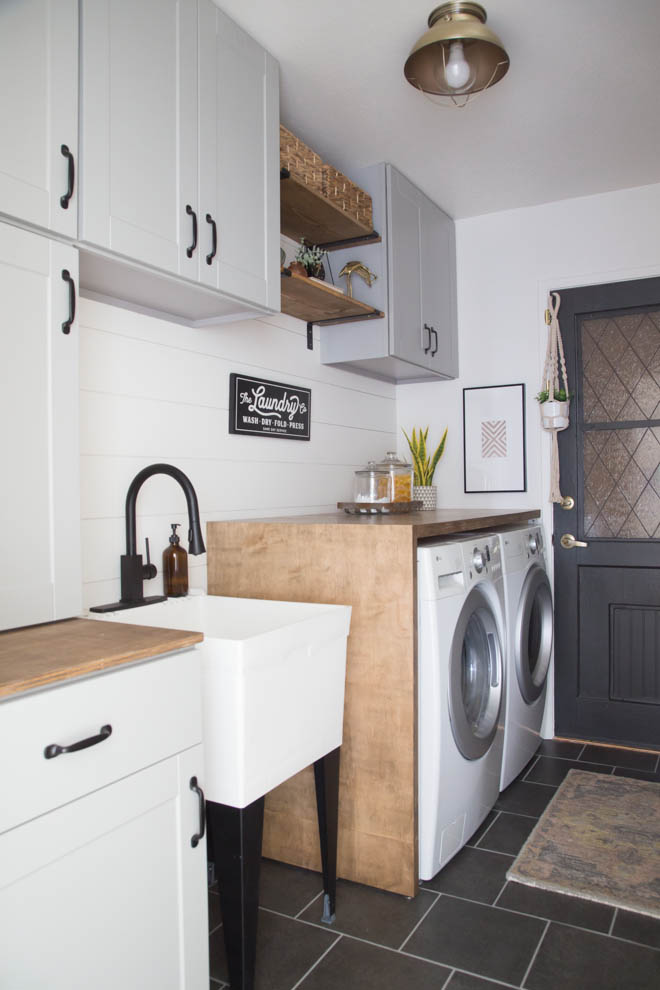 Hero shot! I actually don't mind doing laundry as much when it's in this room-true story.
It's crazy what an update to a utilitarian space can do for morale-just check out my pantry makeover!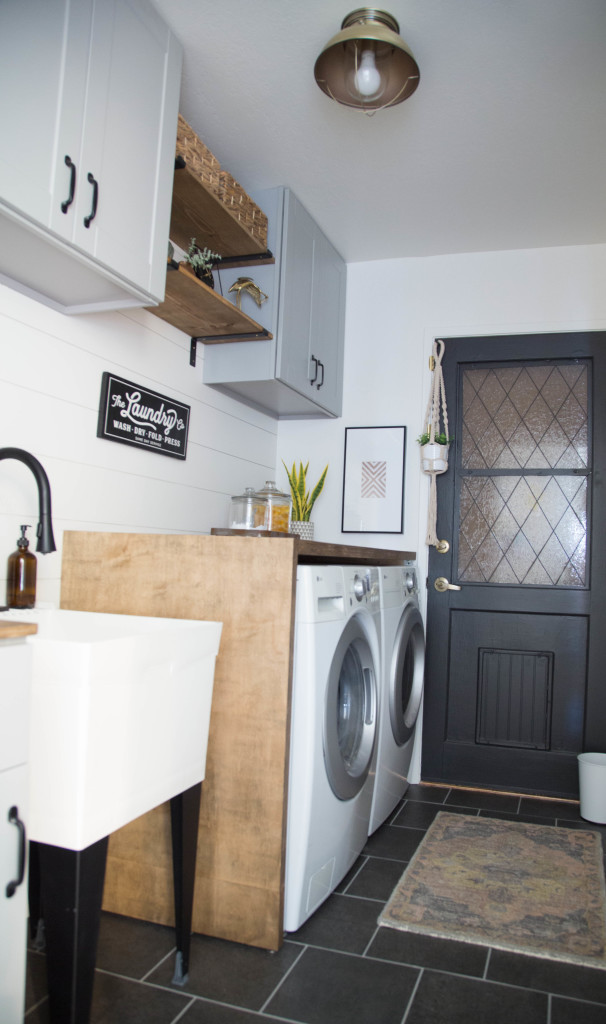 I'll have some in-progress shots throughout the post, and links at the bottom! (some affiliate, just FYI)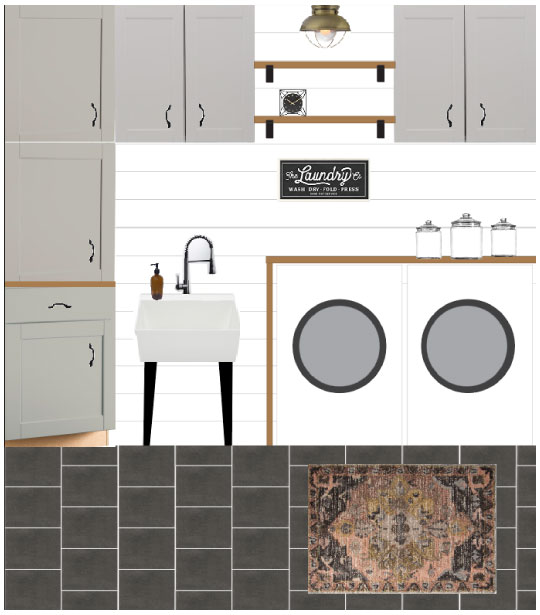 Forgive the rough mock up, but this is where I ended up after quite a bit of thinking and planning. I wanted A LOT of storage since we had none to begin with. I also wanted tile floors. I wanted a wood countertop, and shelves for decor if not useful things (LOL). I wanted a new sink since our old one was awesome for rinsing out stains and paint brushes. I wanted a hidden spot for Luna's litter box that wasn't…the floor. I am happy to say I fit it all in there and with some elbow grease, lots of thought and planning, and the help of my Dad (I cannot overstate how much he helped. THANK YOU DAD!), we got it done!
First, the BEFORE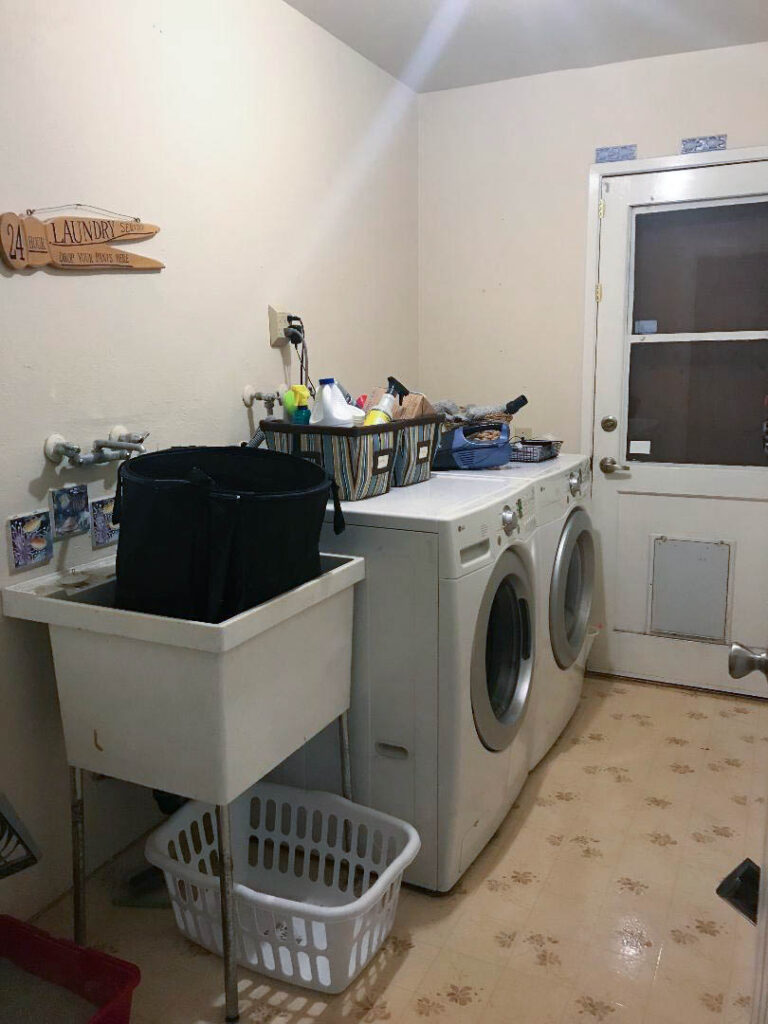 Man this room was ROUGH. We had it this way for 10 years people. 10 years! We had tons of other projects that kept taking precedence. The backyard mostly. That took like 5/6 years since we did it mostly ourselves. Anyways. It was bad. No shelves, old sink, and Luna's litter box on the floor. That was about it. Plus the awful coved floors and rando tiles everywhere. YIKES. That door opens to the playroom, you can see how we covered that up from the outside in this post. We had a break in once and they got in through the cat door of this door, so we closed that baby up!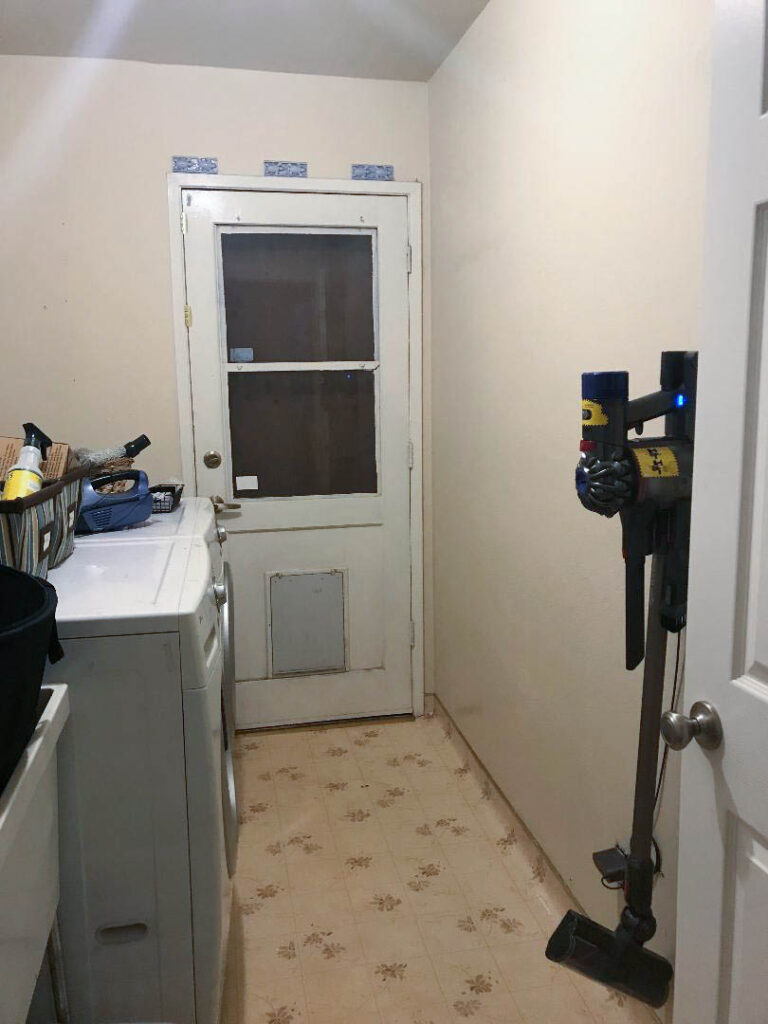 We (my Dad) started by moving the electrical and water down so they would be below the countertop level. This sounds a lot easier than it was, but my Dad is basically like handyman MacGyver, so he owned it.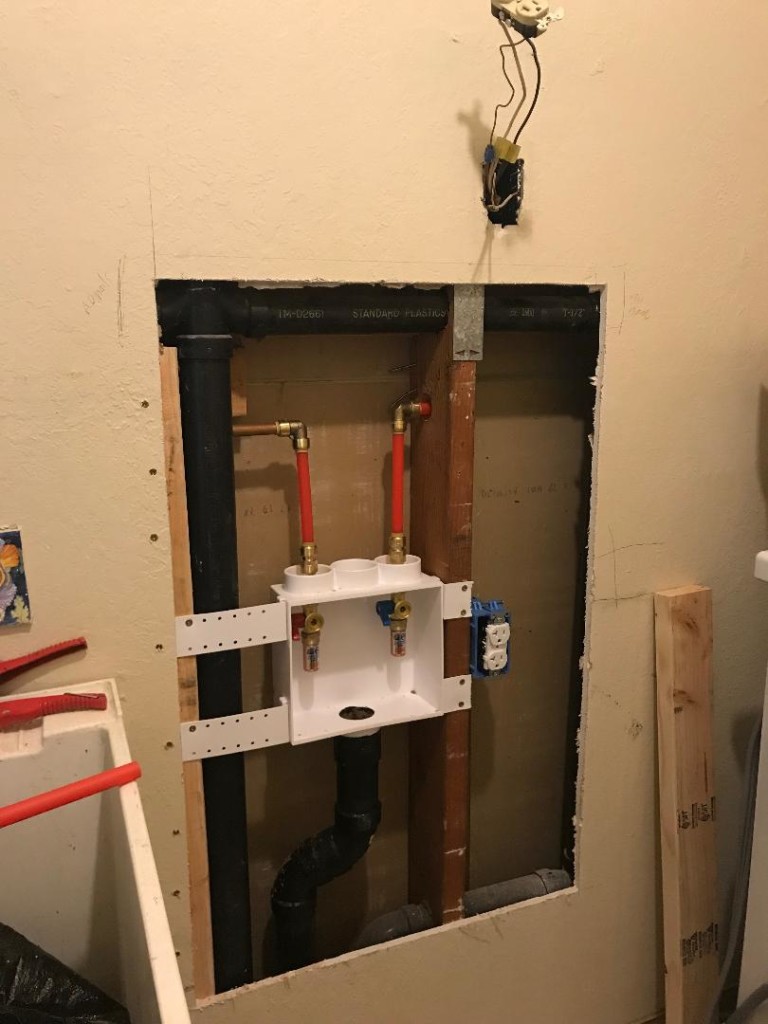 He also lowered the pipes/water for the tub hook up.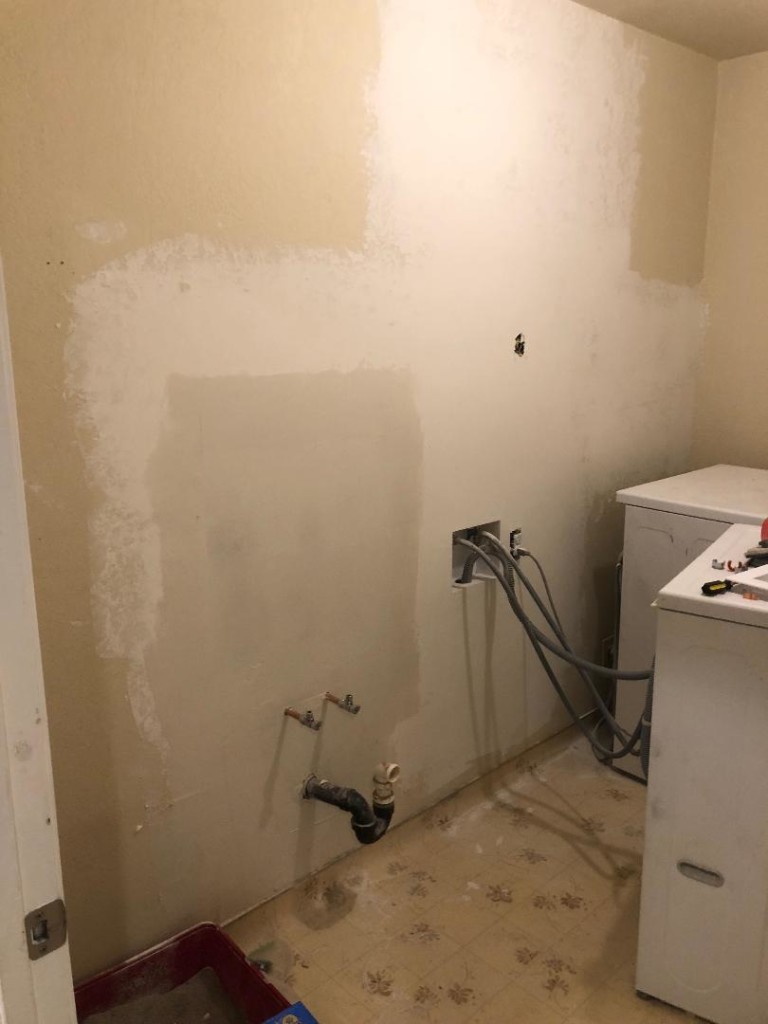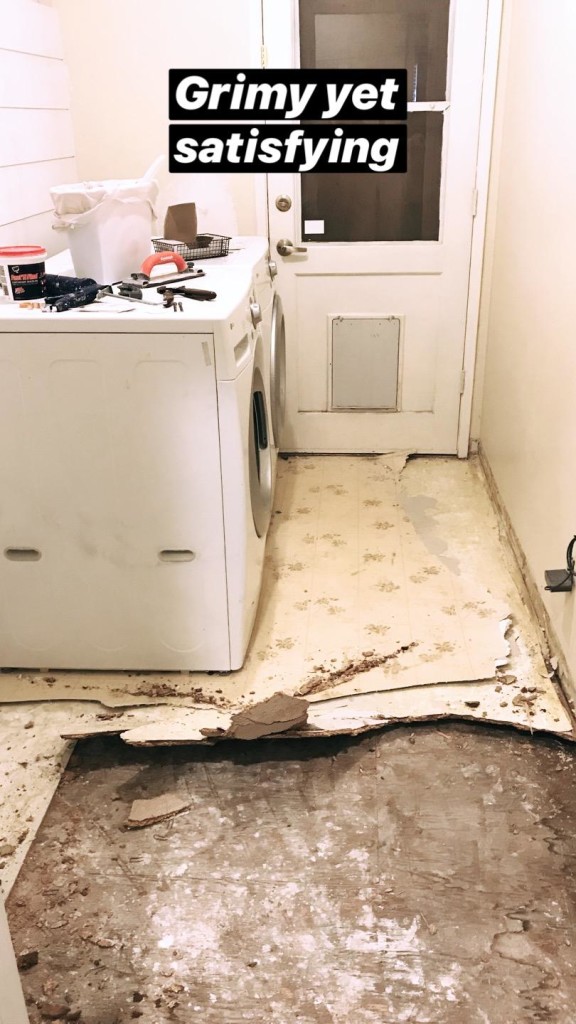 Then we ripped out the floors (EW), and my Dad installed shiplap on the wall where the cabinets would be, and painted the whole thing, ceiling and all! Light got installed as well, and I painted the door frame dark charcoal gray. (Iron Ore by Sherwin Williams)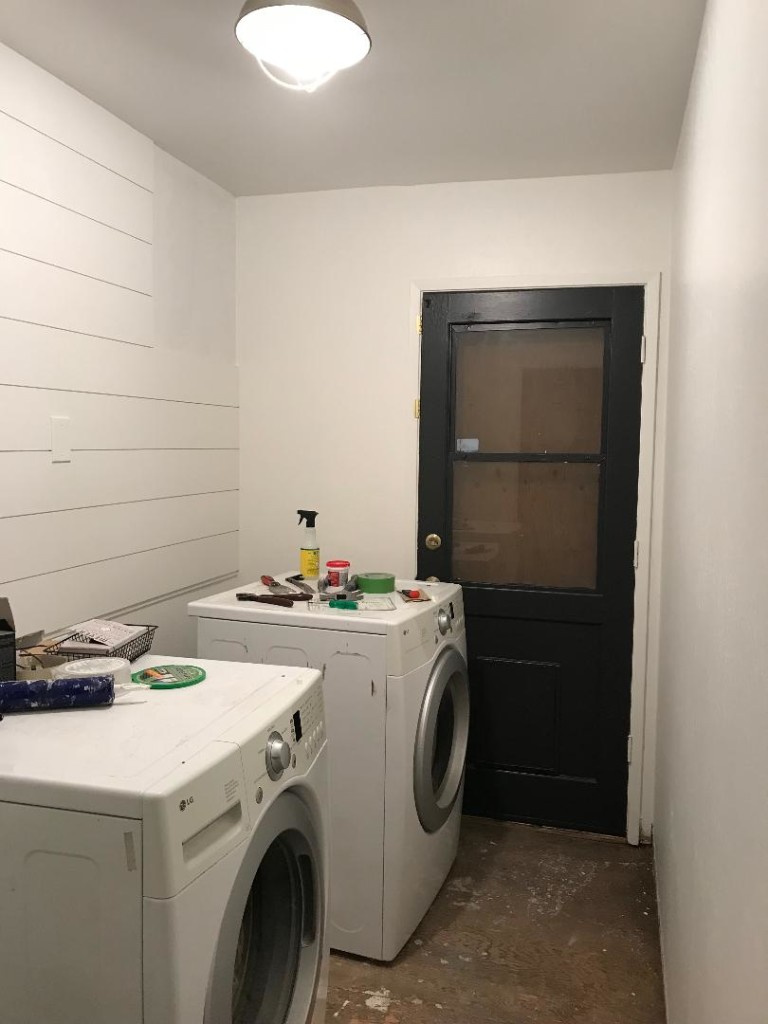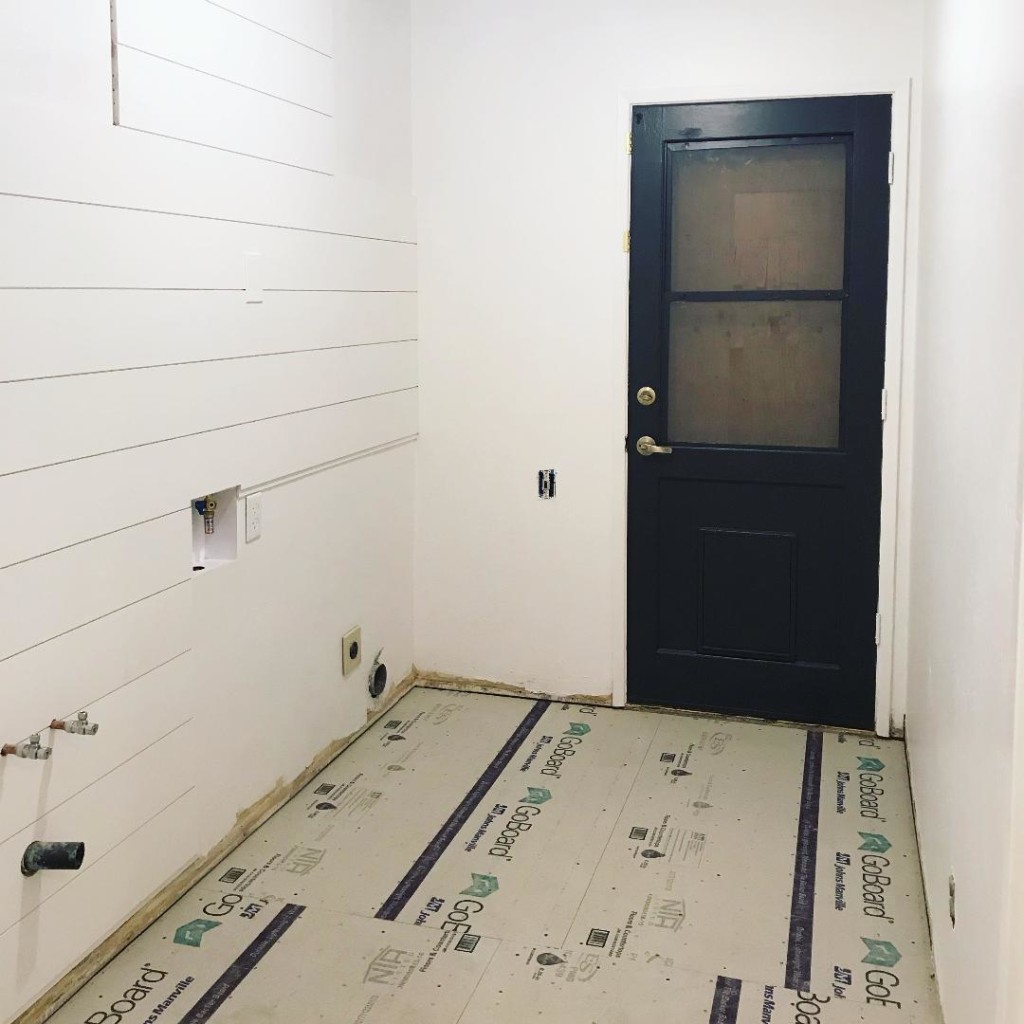 next we installed the boards for the tile…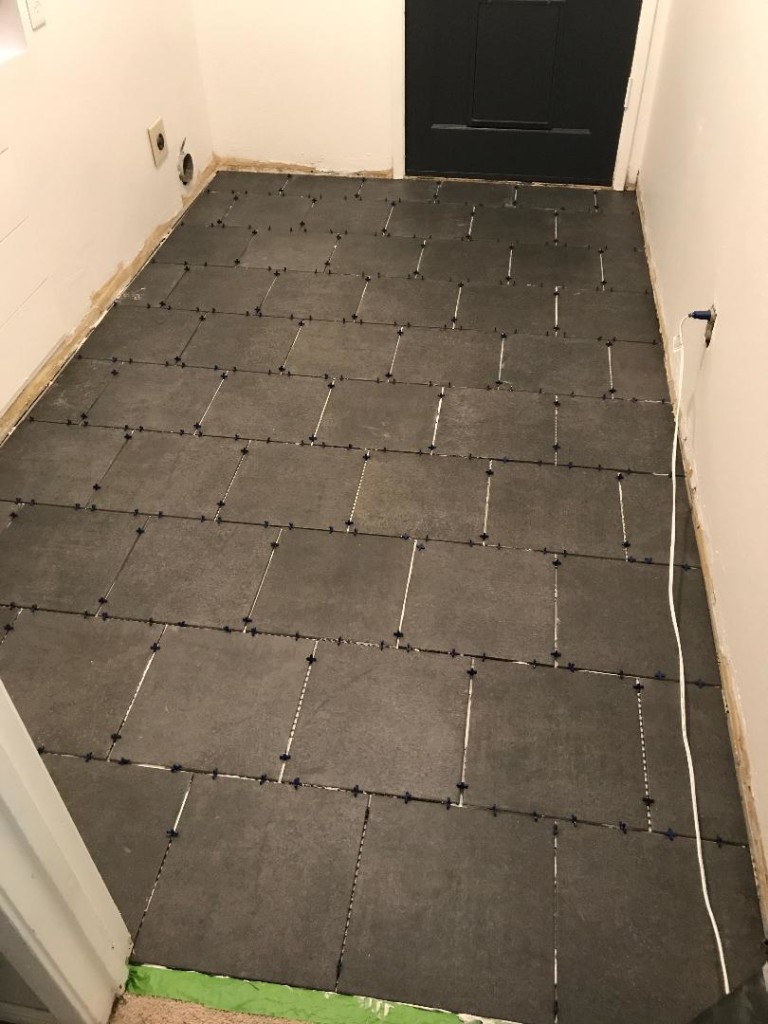 Then the tile! I tiled it all myself! It was a learning experience and definitely not perfect, but I was very proud of myself when I finished! I watched a lot of tiling videos on YouTube and read tutorials as well!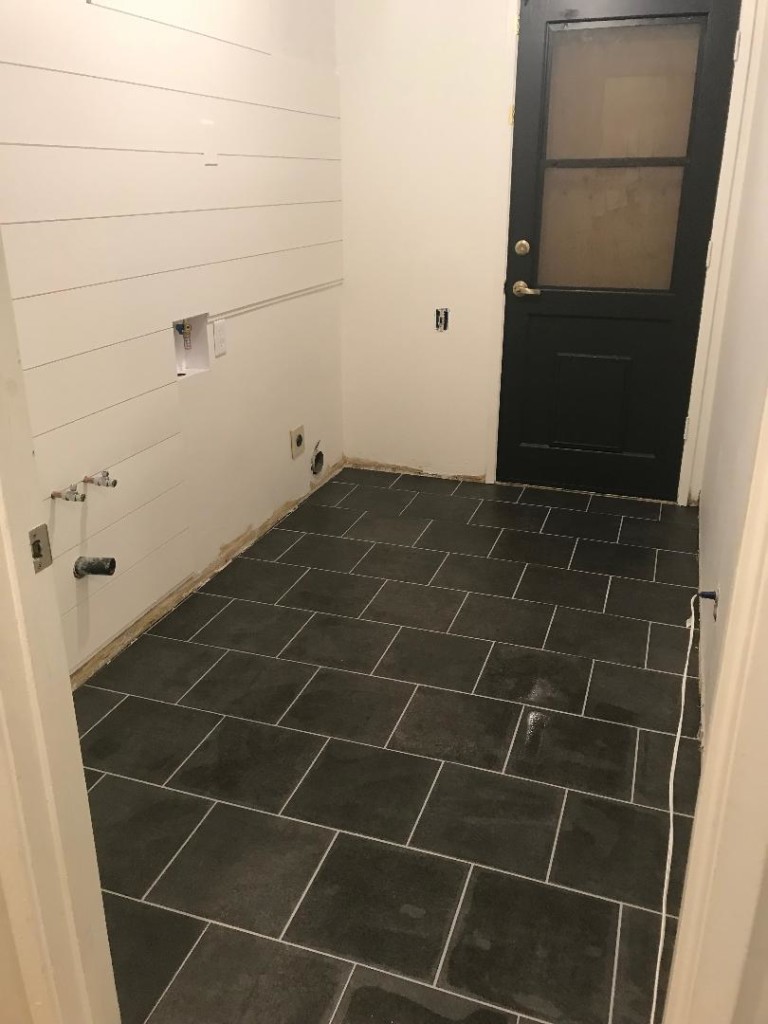 grouted!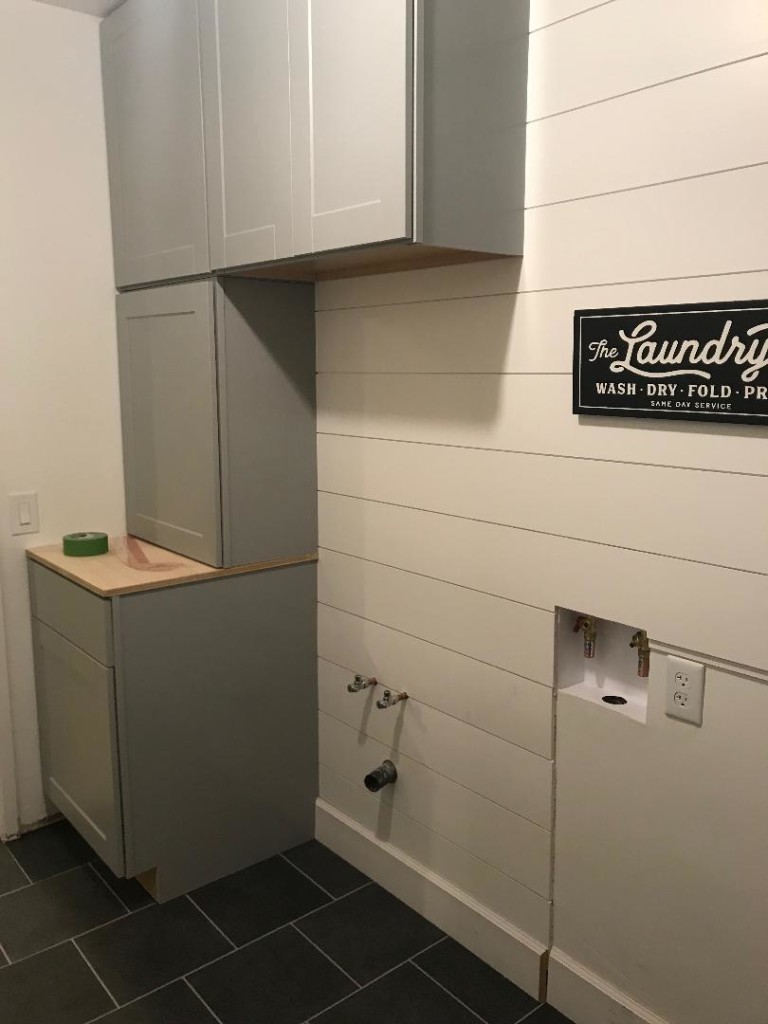 Next we installed baseboards and started putting the cabinets in.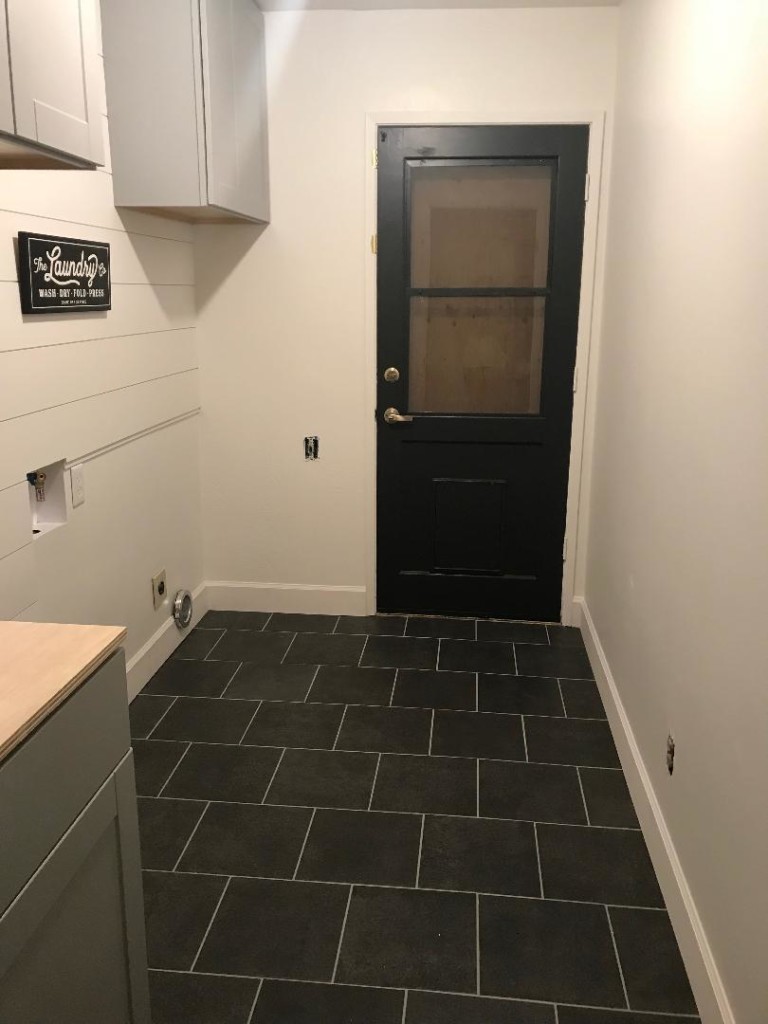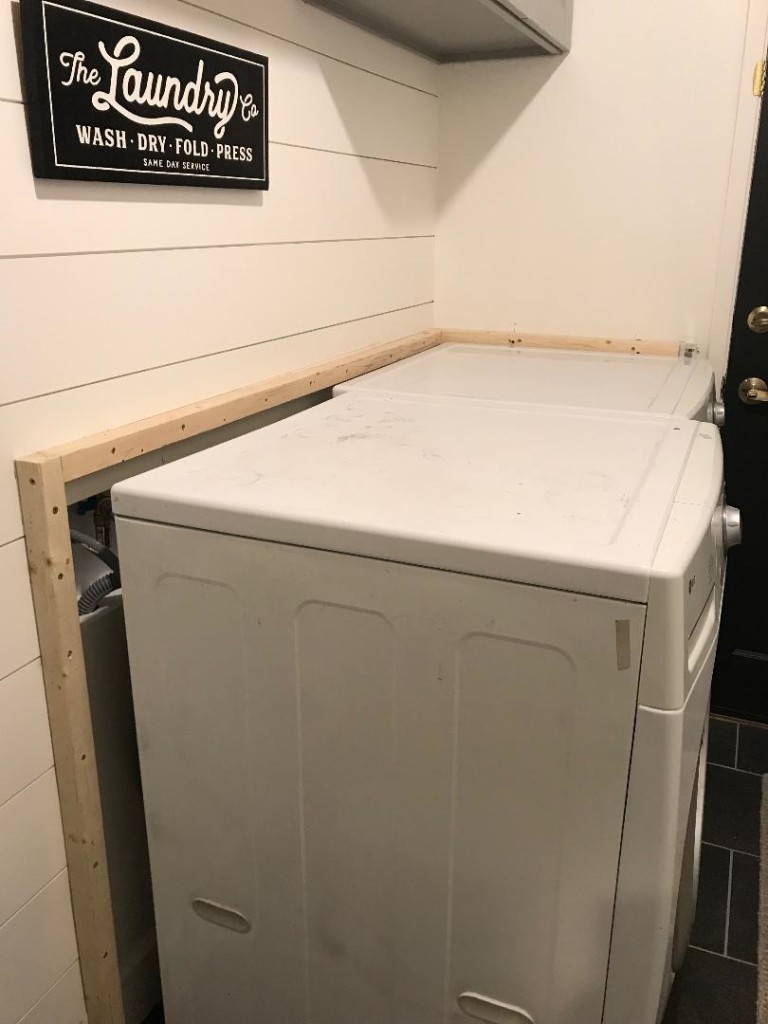 Then my dad and I figured out how to install and make the countertop-we used this tutorial with some differences, but it ended up really nice!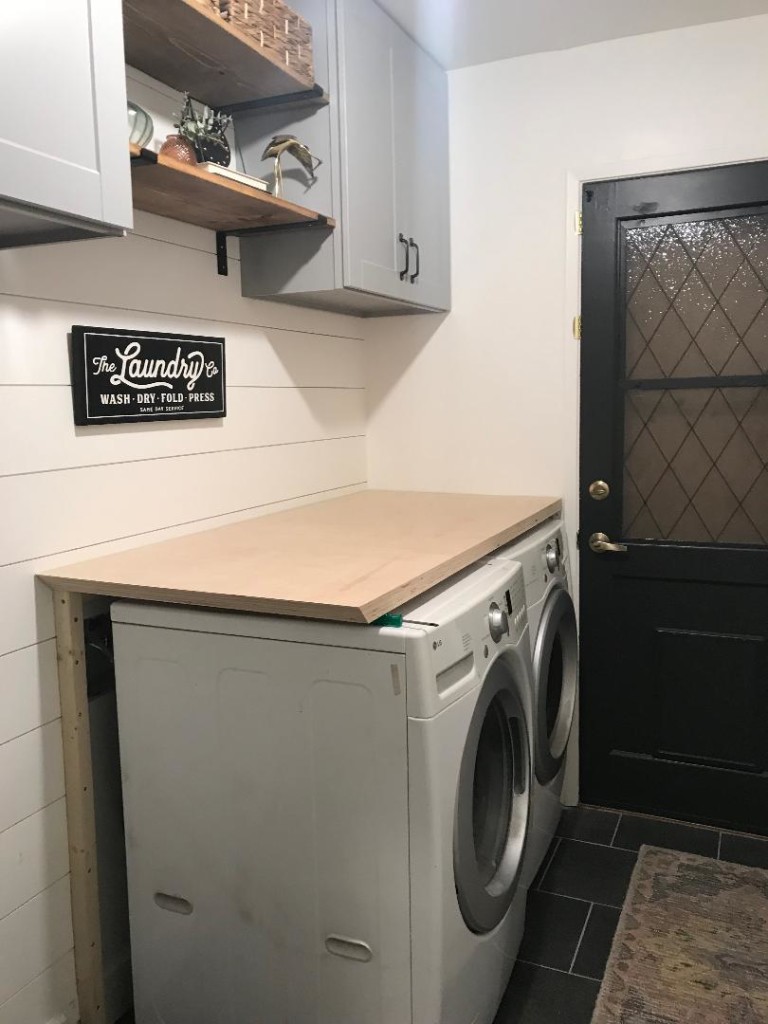 Also installed the shelves and then stained the countertop and installed the sink.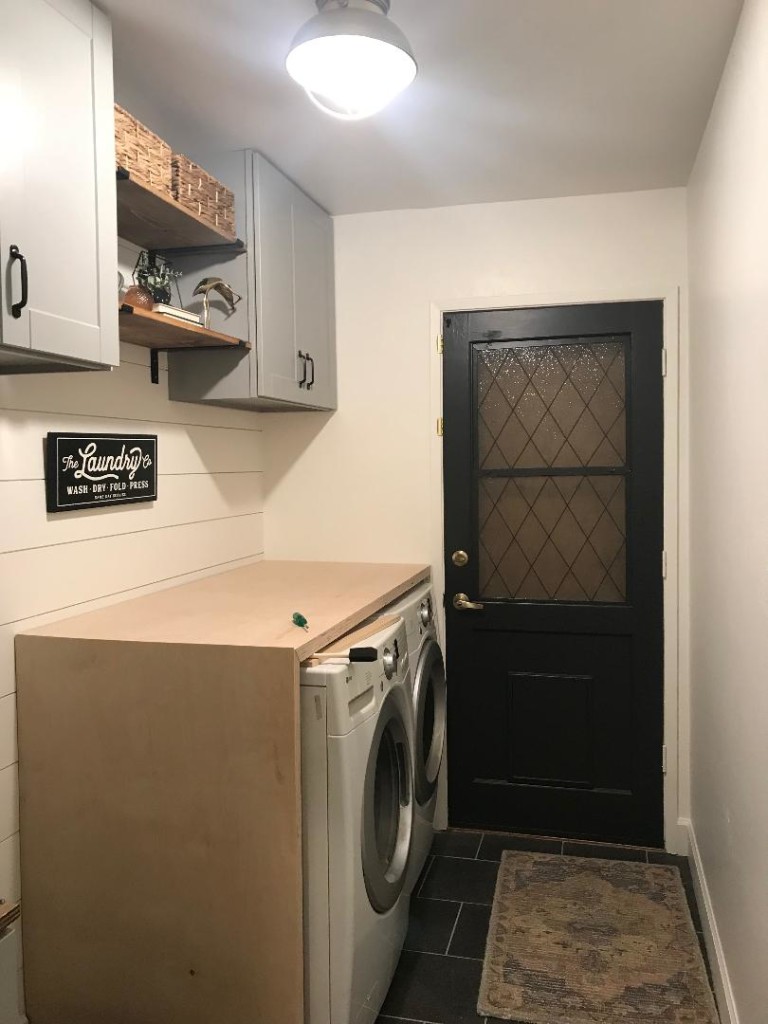 That totally oversimplified the whole process but if I went into more detail it would have been a suuuper long post, and it's already getting long! Ok, back to the pretty pictures!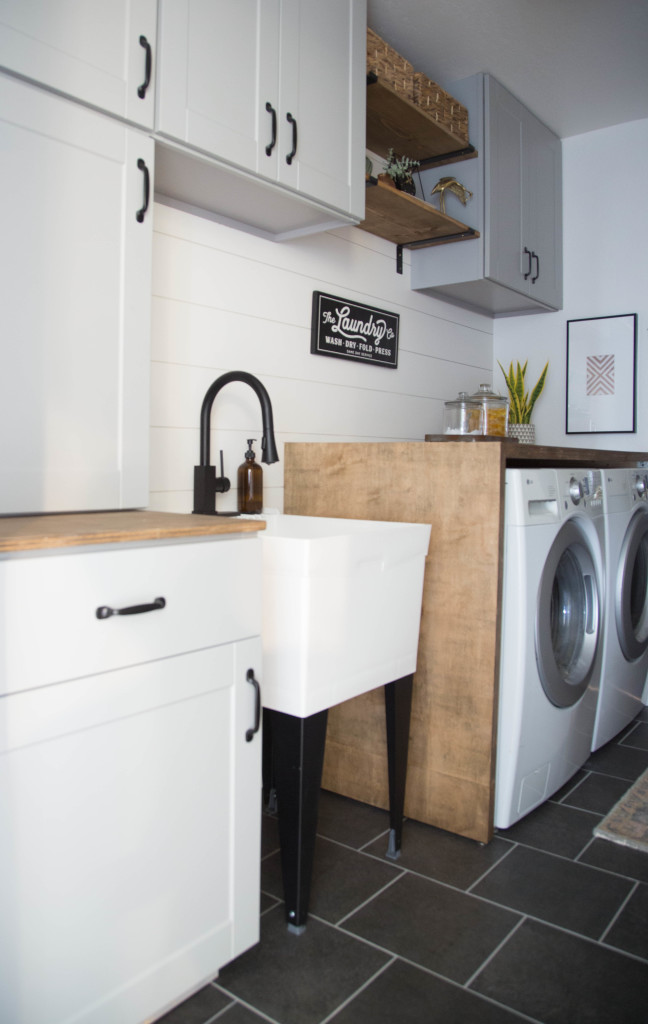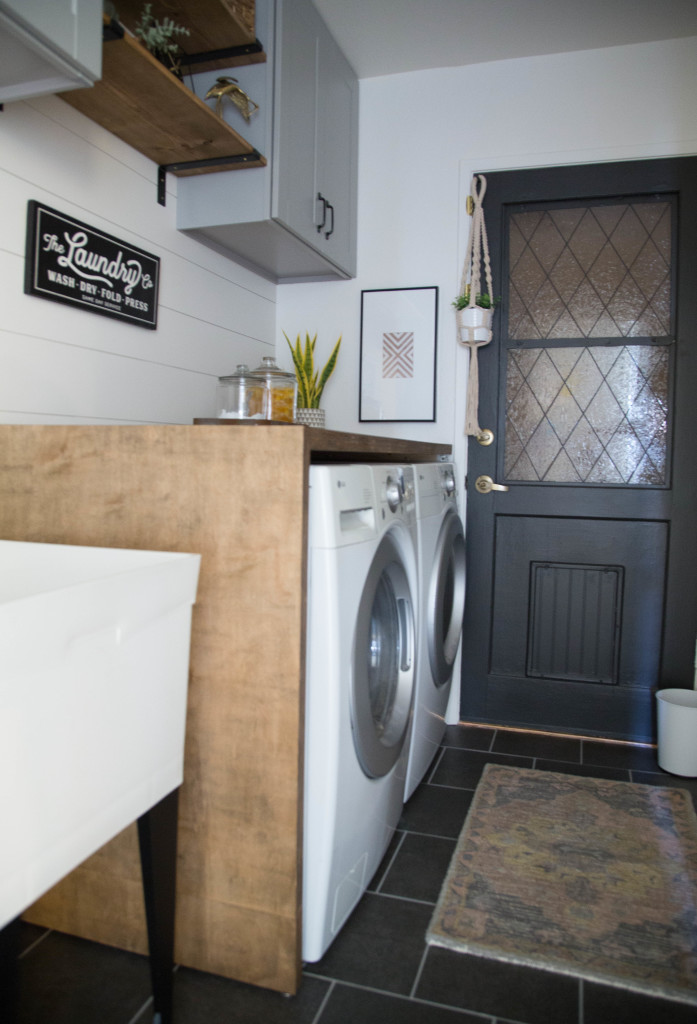 For the window, I wanted to paint the other side of the chalkboard that we nailed over the opening (from the playroom side), but we could NOT get the door open! No matter how we tried, or who tried! It was stuck. So to try and conceal it I added some lead window detail using the Gallery Glass products-link at the bottom of the post! It was really cool to use and ended up making a fun detail out of the door!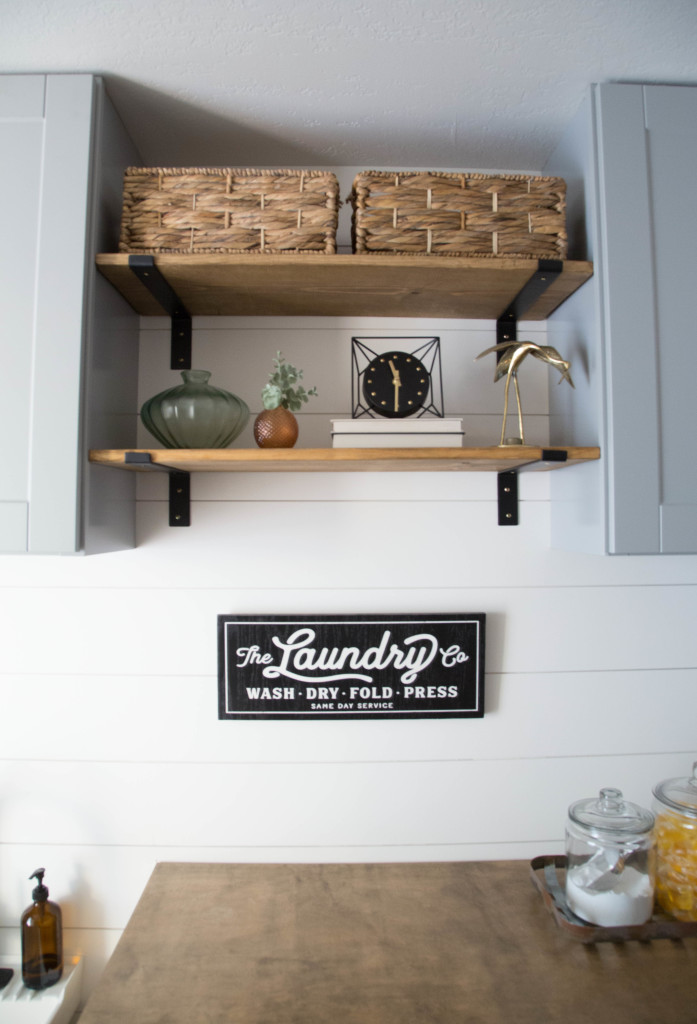 I love how the shelves turned out! I styled them with mostly thrifted items!
The reason for the larger cabinet on the bottom was to hide Luna's litter box. It ended up working perfectly!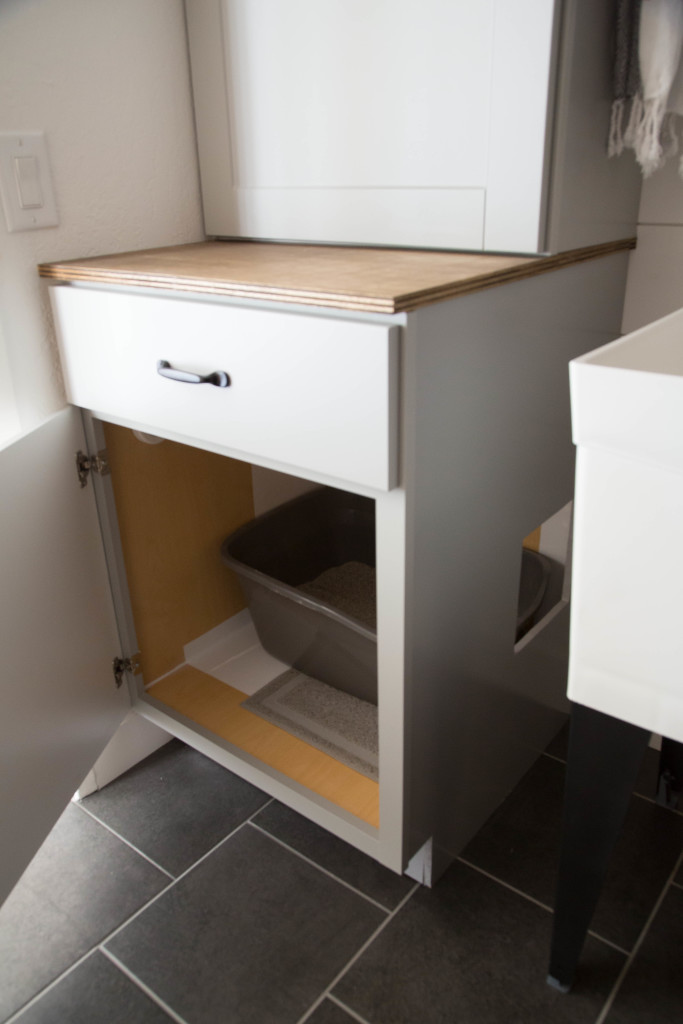 We cut a hole in the side and I sealed the raw edges with caulk and then painted them with color matched paint.
I sealed all the holes on the inside with caulk as well and added a layer of waterproof shelf liner to protect it more. (she misses sometimes lol thx cat)
We added one of these motion detecting lights and it works perfectly! She was an old pro the first day!
I also painted the bottoms of the wall cabinets with the same paint so they'd blend in. The original color was the same as the inside of this cabinet.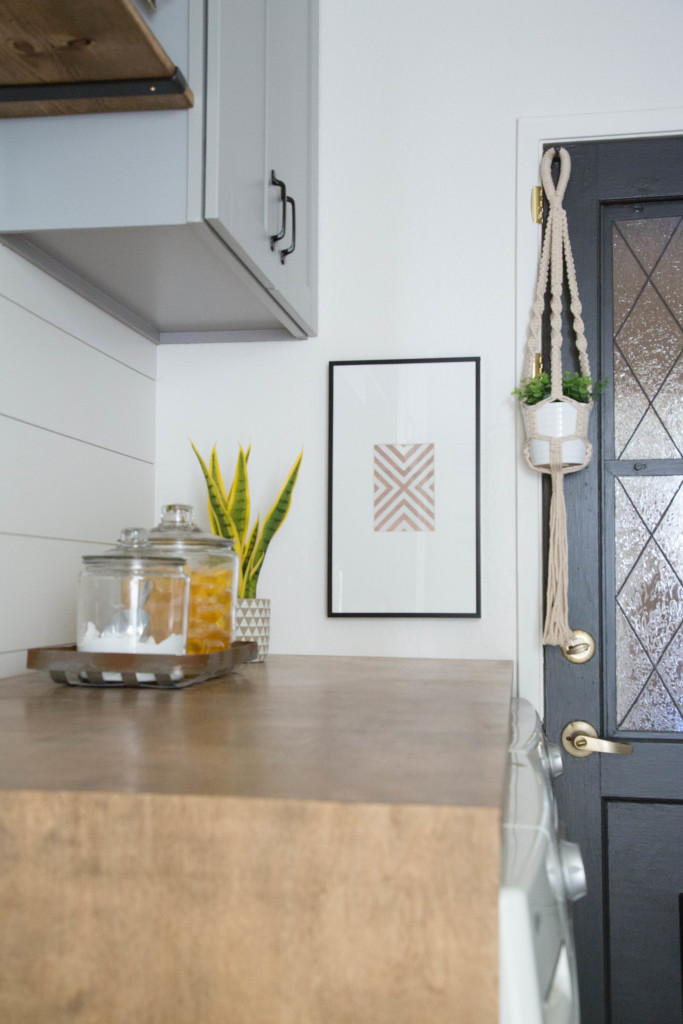 Cabinets : Home Depot
Tile: Home Depot
Faucet: Amazon
Sink: Home Depot (spray painted the legs black)
Ceiling Light: Amazon
Paint: Kelley Moore Swiss Coffee
Cabinet Hardware: Amazon
Rug: Target
Stool: Amazon
Wood for Countertop/shelves: Lowes
Shiplap: Home Depot
Glass Jars: Walmart
Trash Can: TJ Maxx
Laundry sign: Handmade, original available on Amazon
Soap Bottle: TJ Maxx
Hand towel ring: Hobby Lobby
Hanging rod: Amazon
Plant: Target
Metal shelf brackets: Hobby Lobby
Wall Decor: Target, Thrifted, Antique soap ad
Baskets on shelf: TJ Maxx
Clock: Target
Hangers: TJ Maxx
Window Supplies: Amazon/ Lead lines/ Liquid Lead / Clear frost