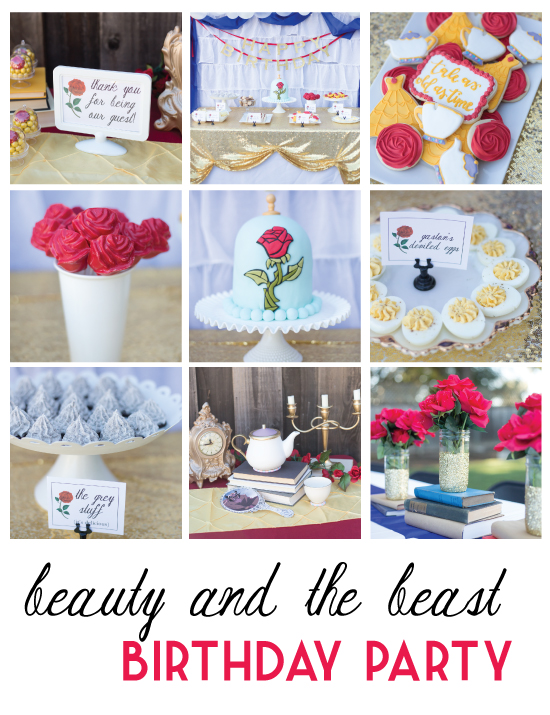 I honestly had SO much fun planning this party for Ava. She had this theme picked out ever since the live action Beauty and the Beast was released, and was thinking up ideas with me and planning the goodies since then! Let's start with the invitation!
(also, some affiliate links in this post-as per usual with my party posts! Thanks!)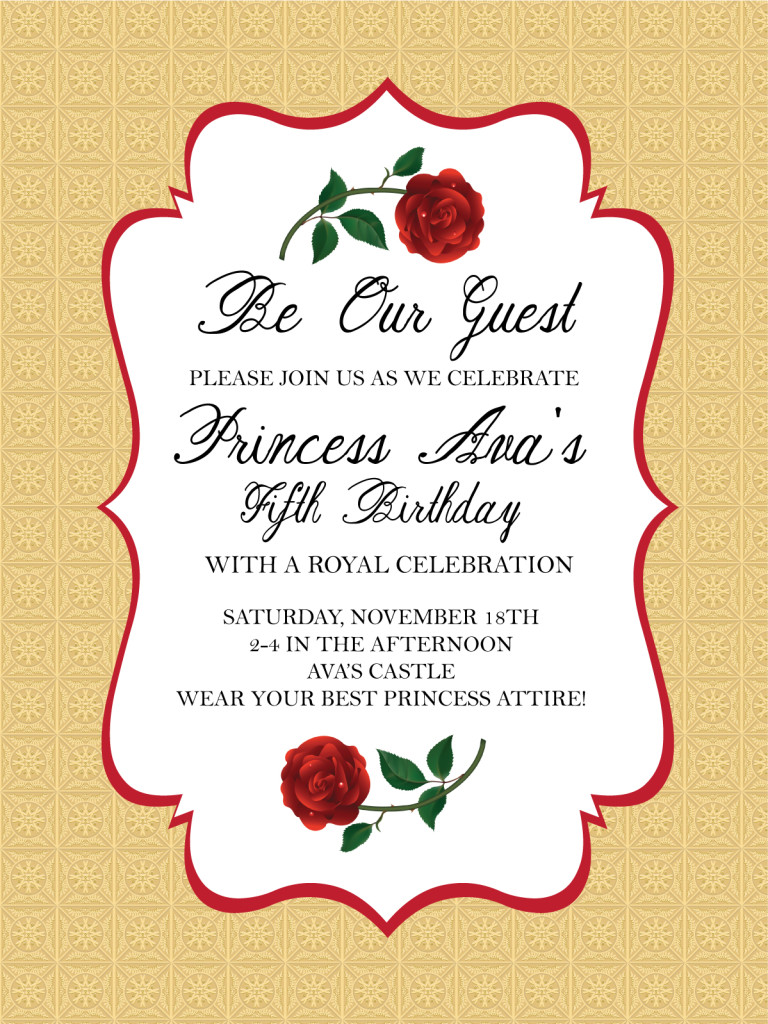 I threw this invitation together in Illustrator and kinda was digging how simple it is!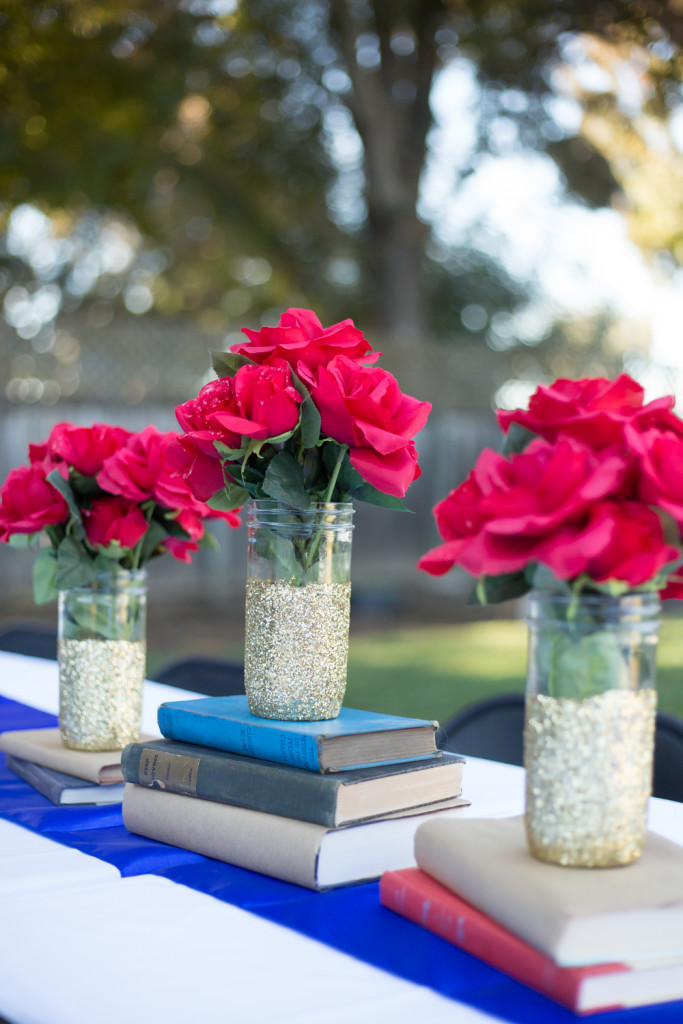 We lined up a few tables and laid a few royal blue (beast color!) table runners, topped with some books and glittered vases with roses, but of course!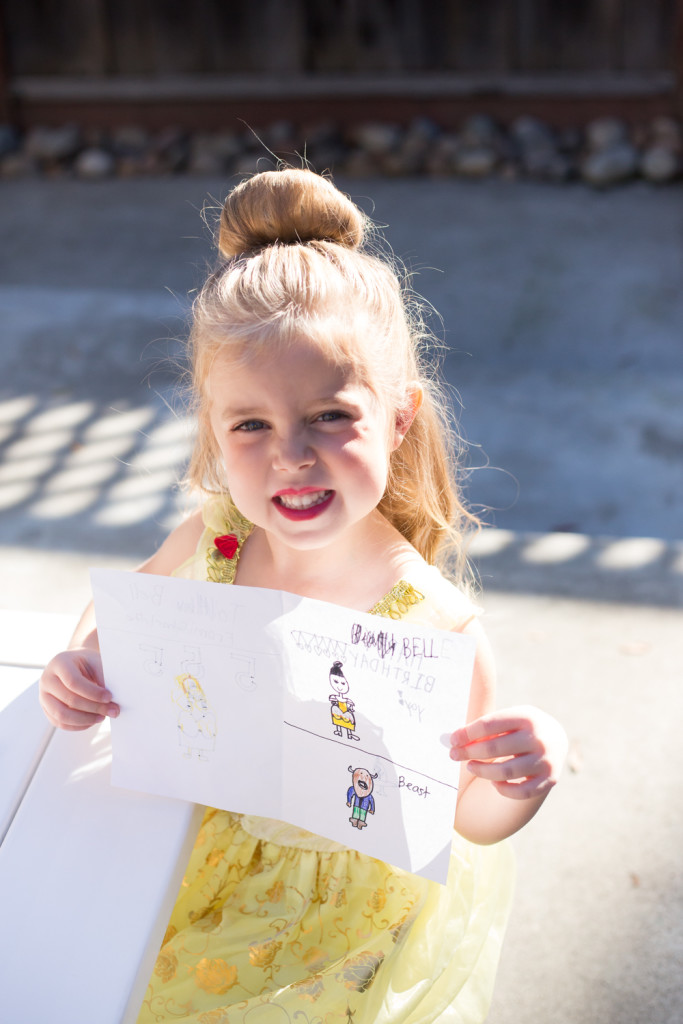 Ava got dressed up in her new Belle dress we got her for her birthday, and she was loving the red lipstick she got to wear!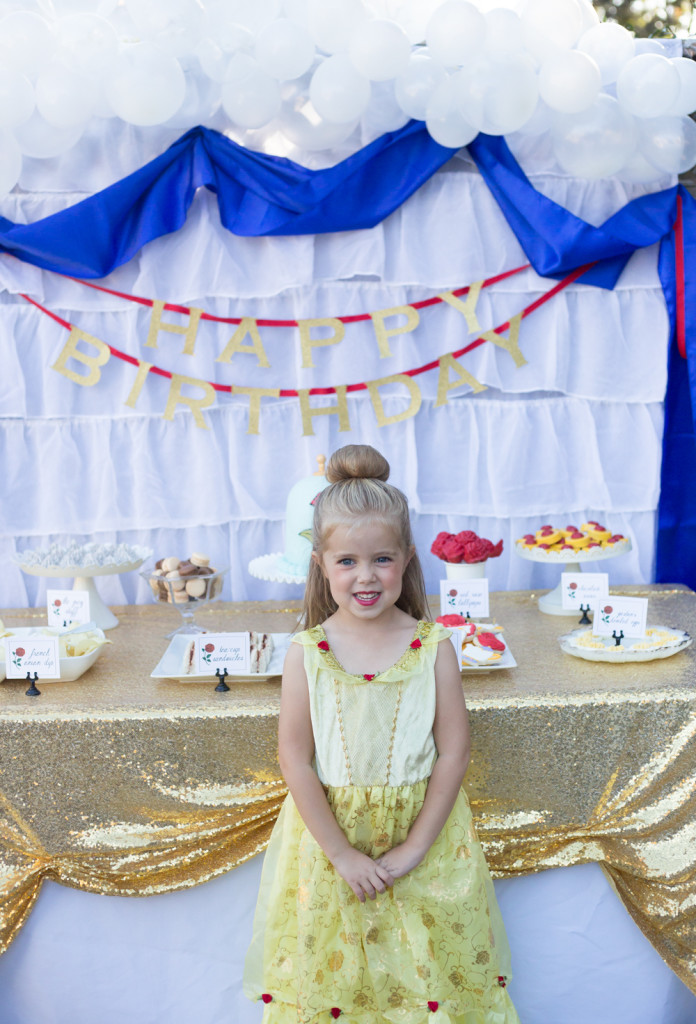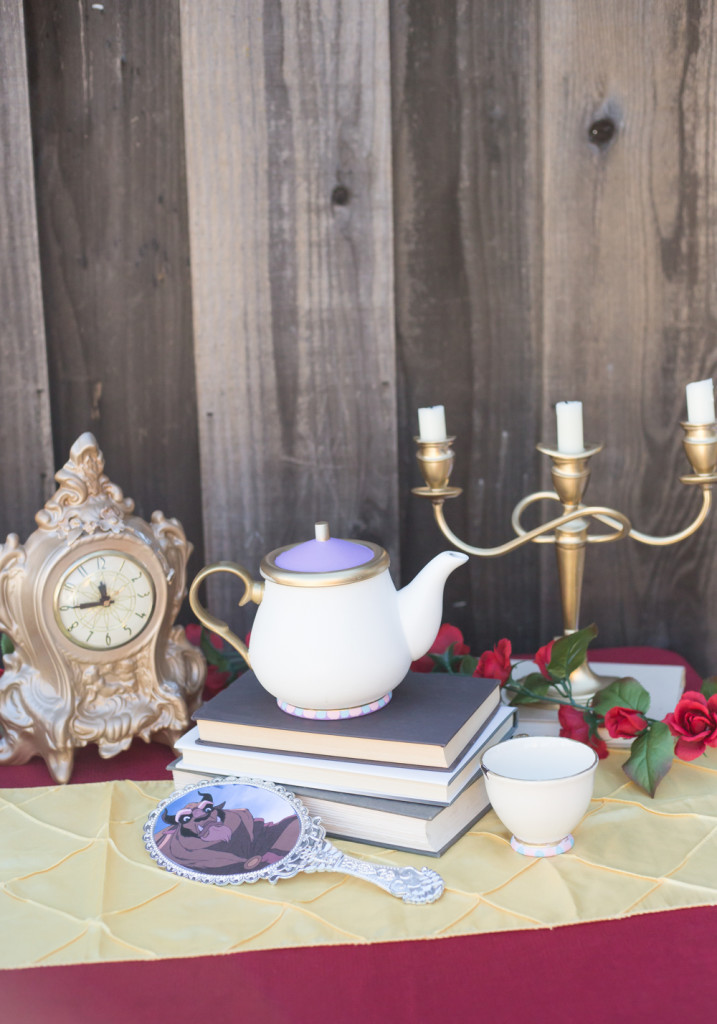 I spent the months prior to the party hunting down these items (and had help from my friend!), to paint and makeover into all the palace servants!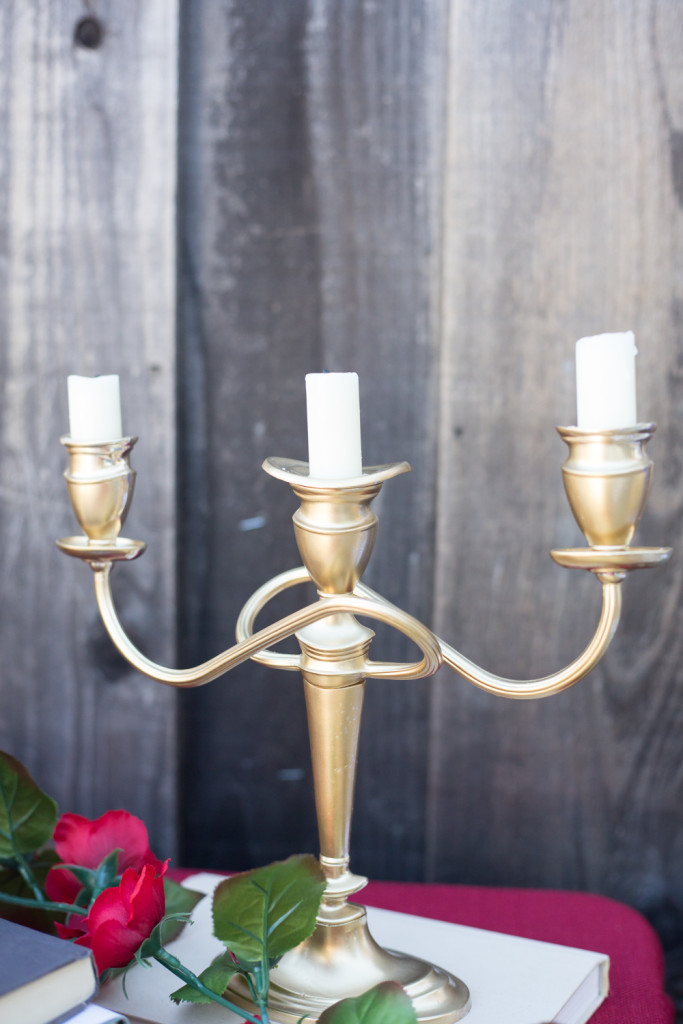 Lumiere! He just needed a coat of gold paint and some half melted candles…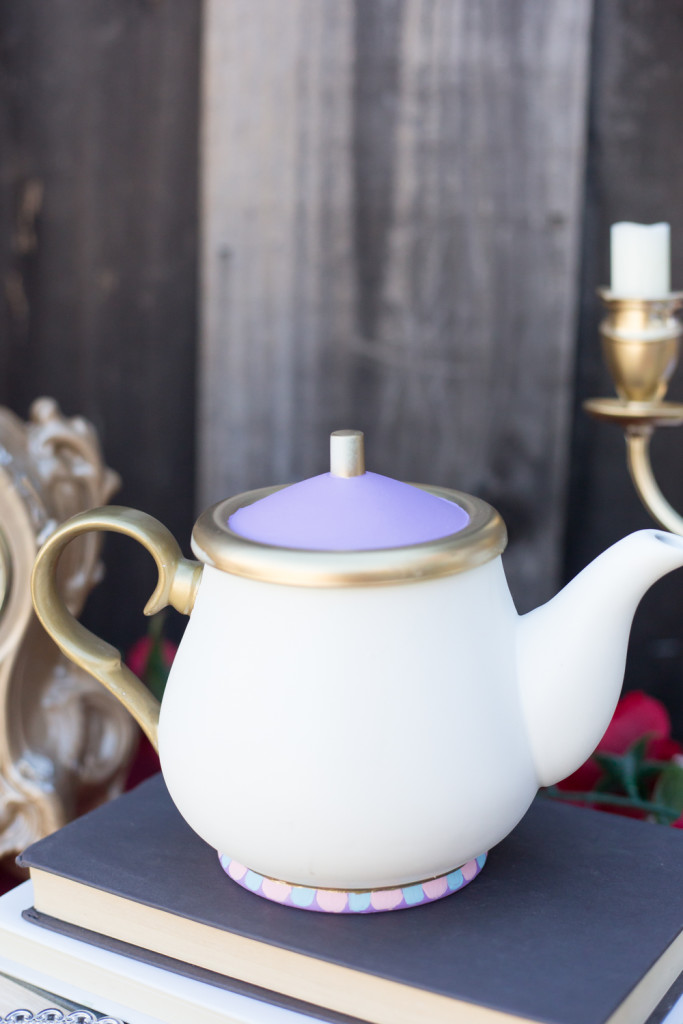 Mrs. Potts was probably the most work! I found the perfect shaped teapot and then set to work painting it with craft and spray paint. She turned out really cute!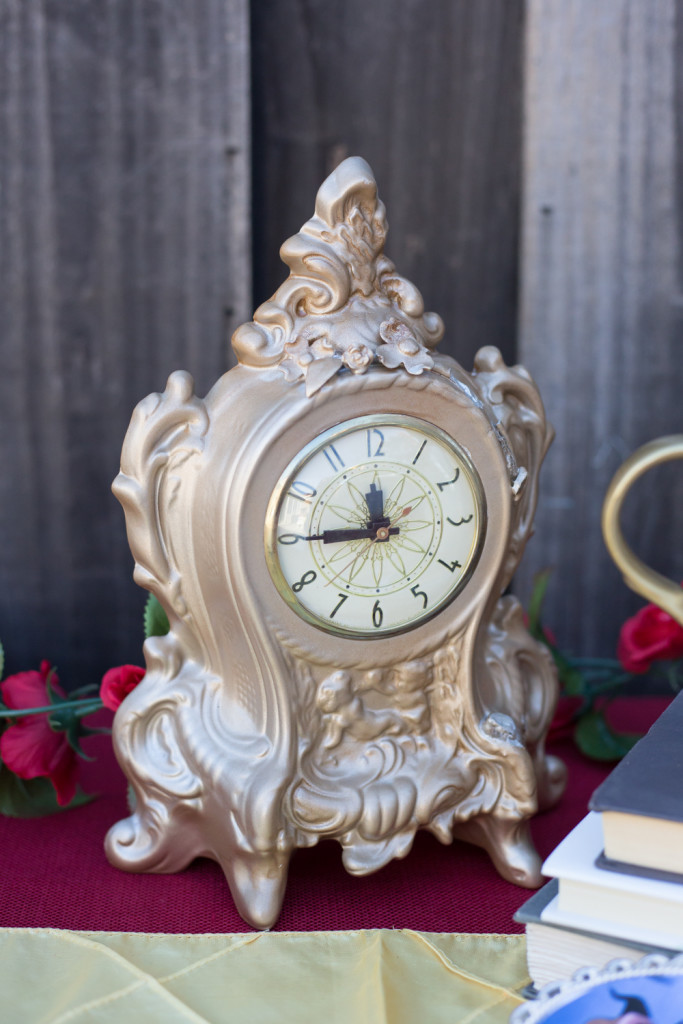 Cogsworth needed some paint and was ready!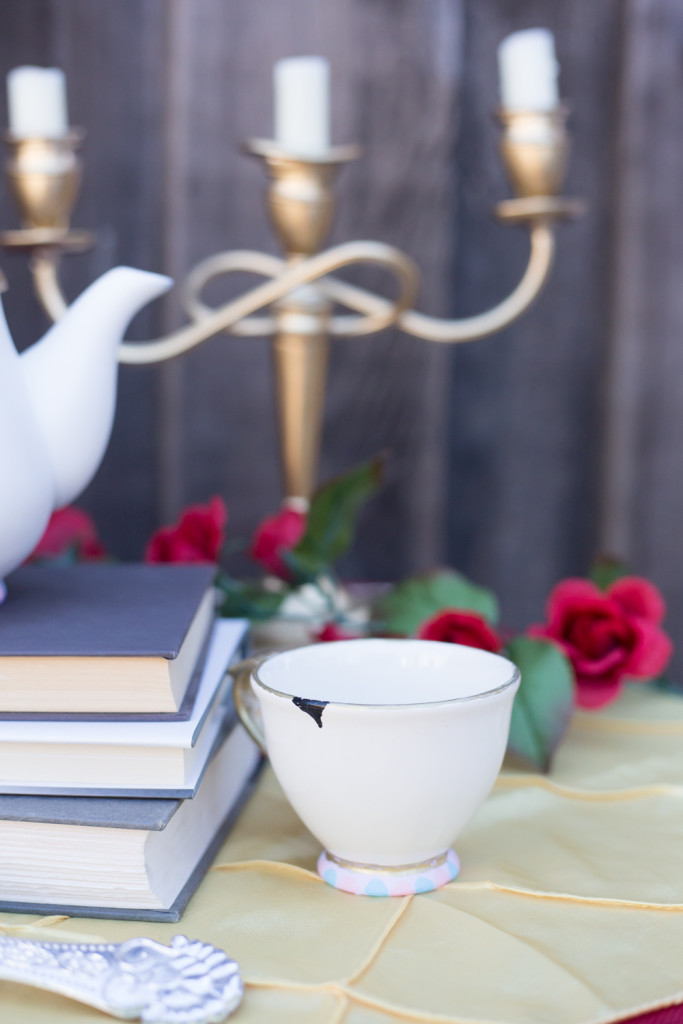 Chip was painted the DAY of the party, lol! I had forgotten to find a teacup and just couldn't do the party without him.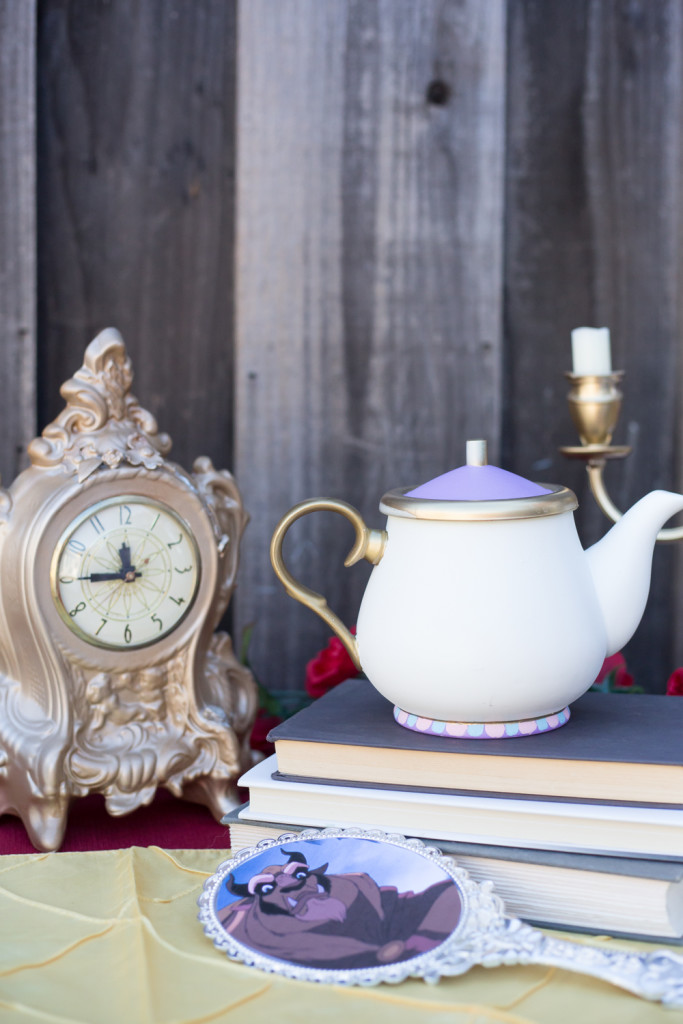 I also found the little plastic hand mirror and added the photo of the beast. lol!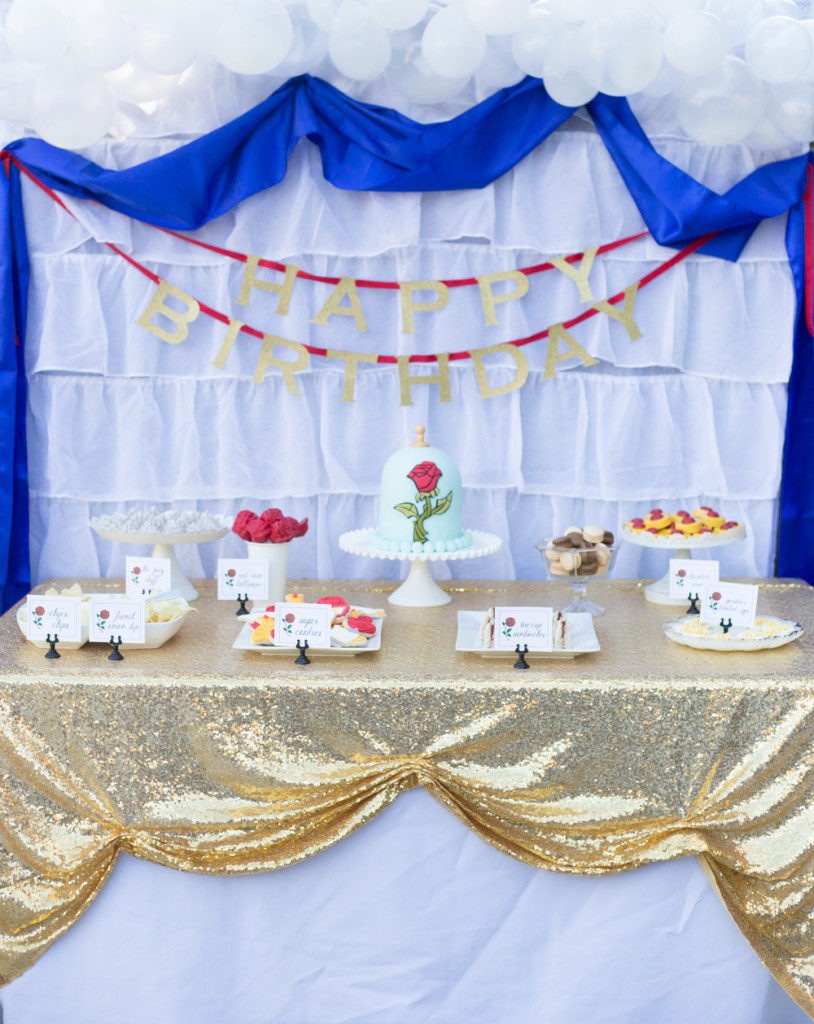 On to the table and backdrop! I used my trusty white ruffled shower curtain, then layered a gold happy birthday banner, and a few more of those table runners, along with some clear balloons in garland form. In hindsight, I would have left those out-just much simpler and they didn't add much.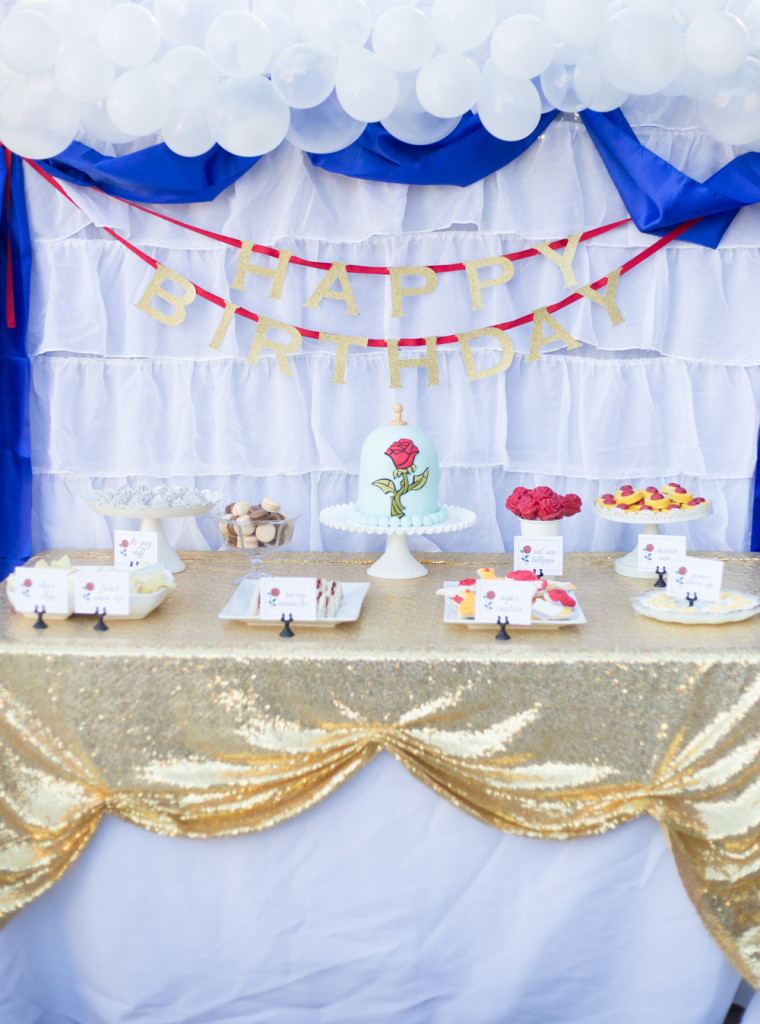 I absolutely LOVE how the gold sequined tablecloth worked out-I gathered it up to look like Belle's skirt, and safety pinned it where it needed to be.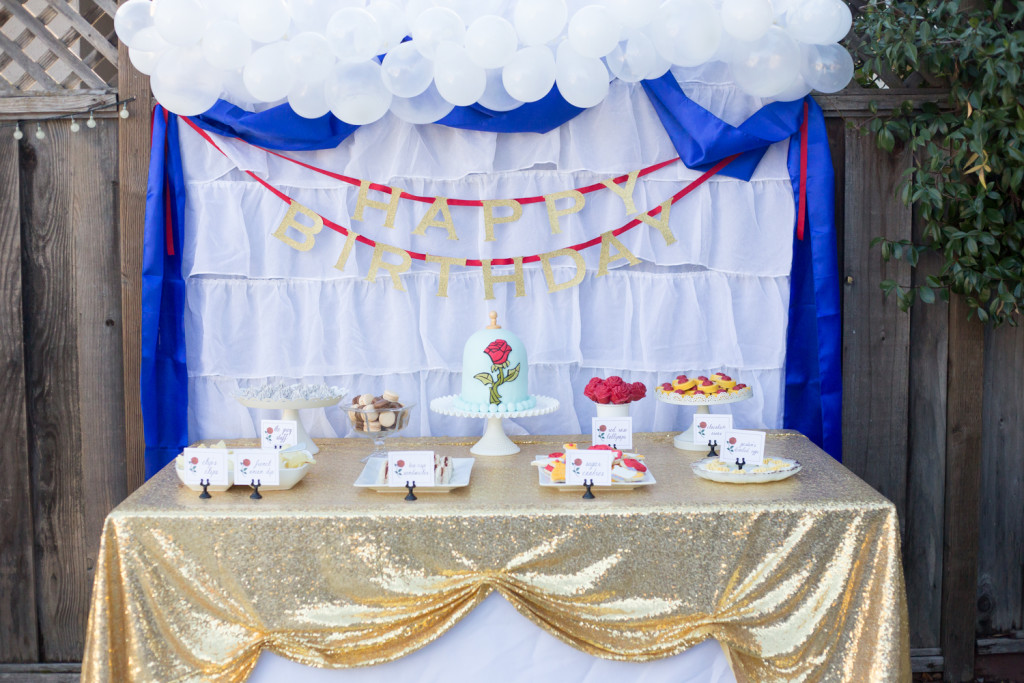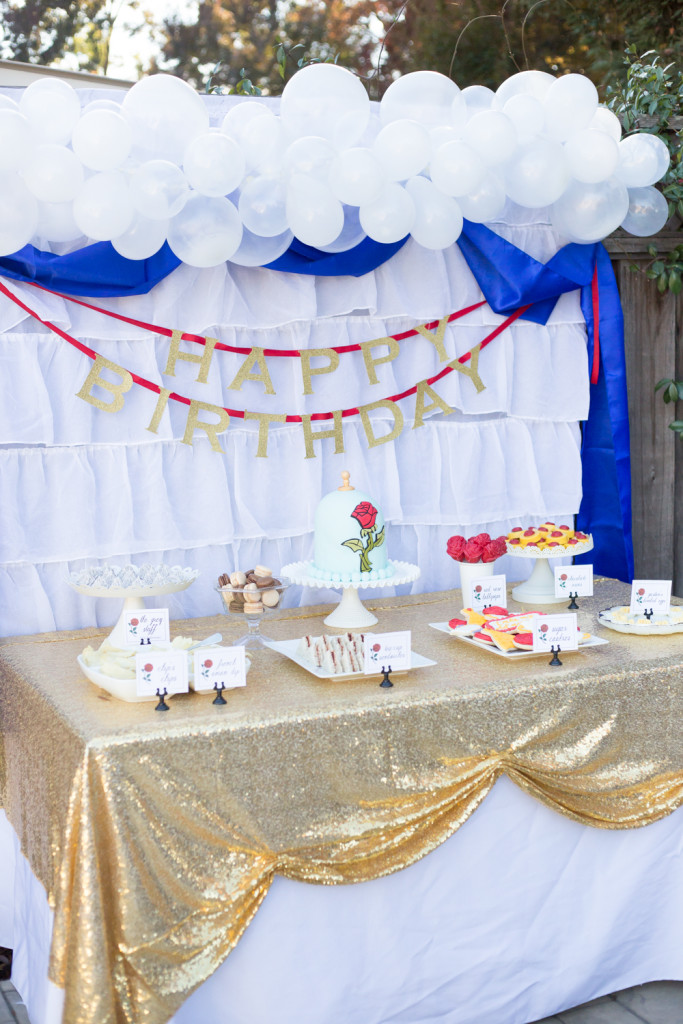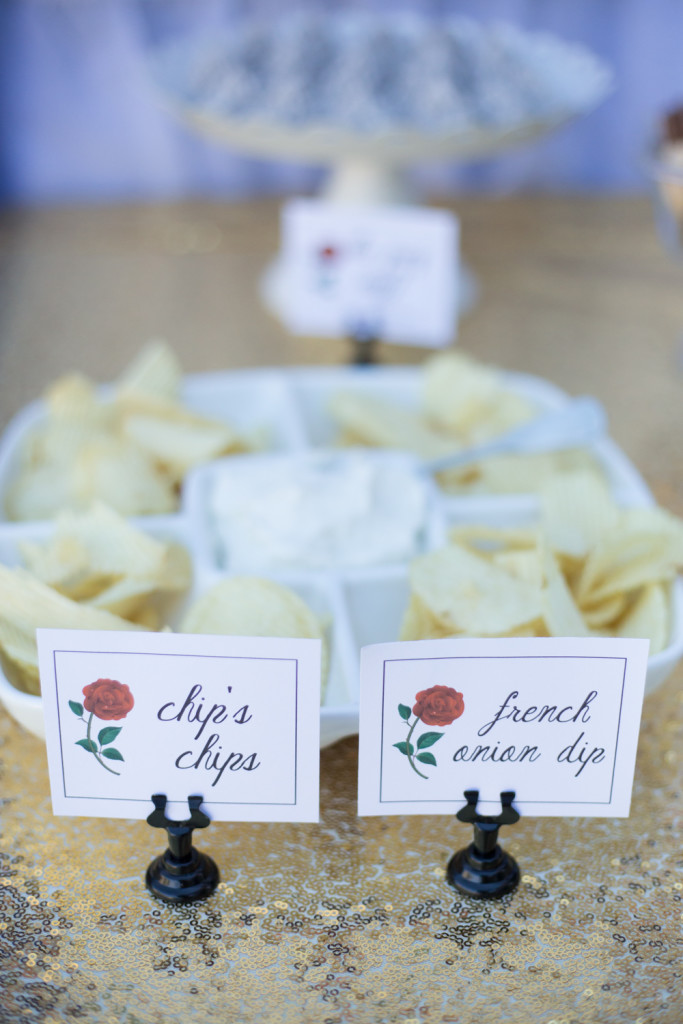 Now on to the food and my puns. Can't stop, won't stop.
Simple chips and dip-hilarious labels. RIGHT? haha…ha.
my favorite placecard holders.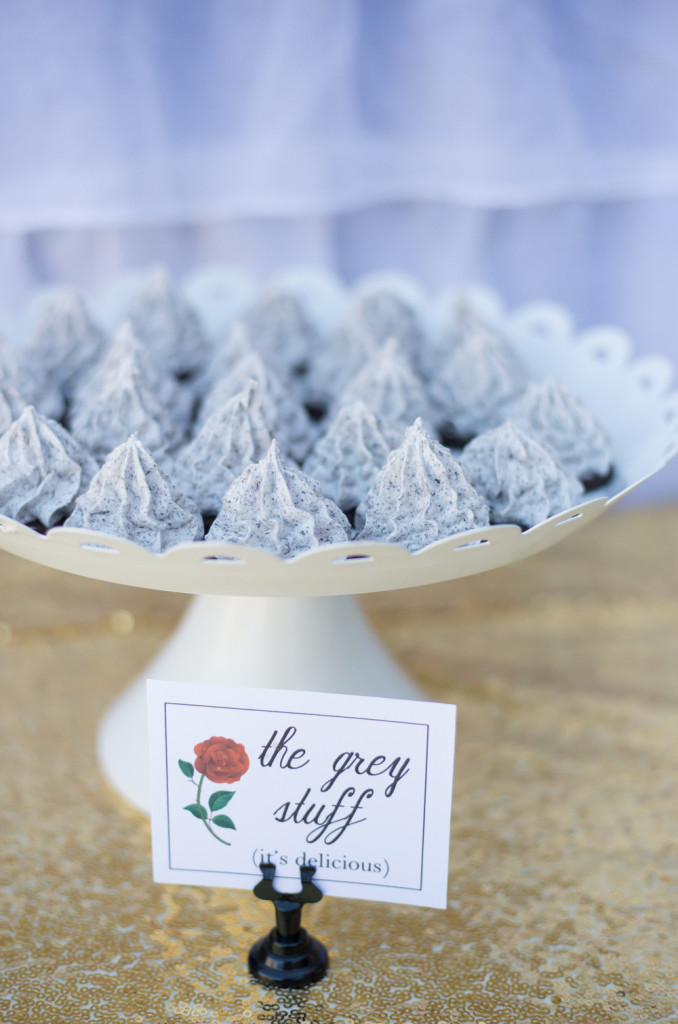 The grey stuff! but of course!
I found quite a few recipes for this online, but I chose to simplify it even more. I crushed oreos in my food processor, folded that into cool whip, and then piped them onto halved oreo cookies. Done and done! and delish!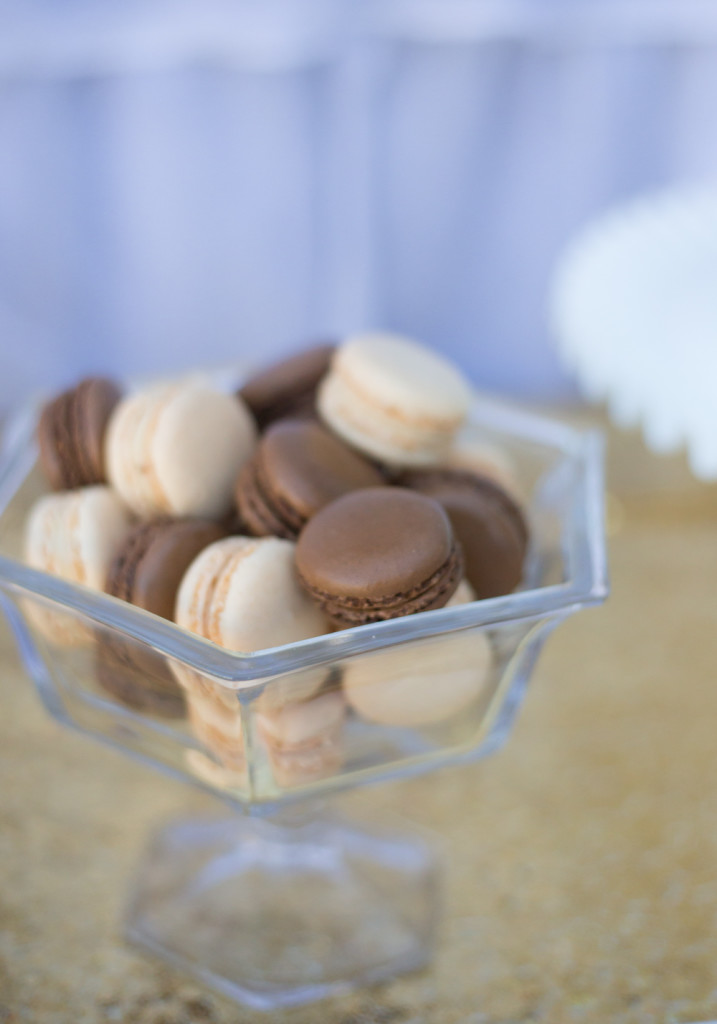 Macarons from Trader Joe's fit the french theme perfectly!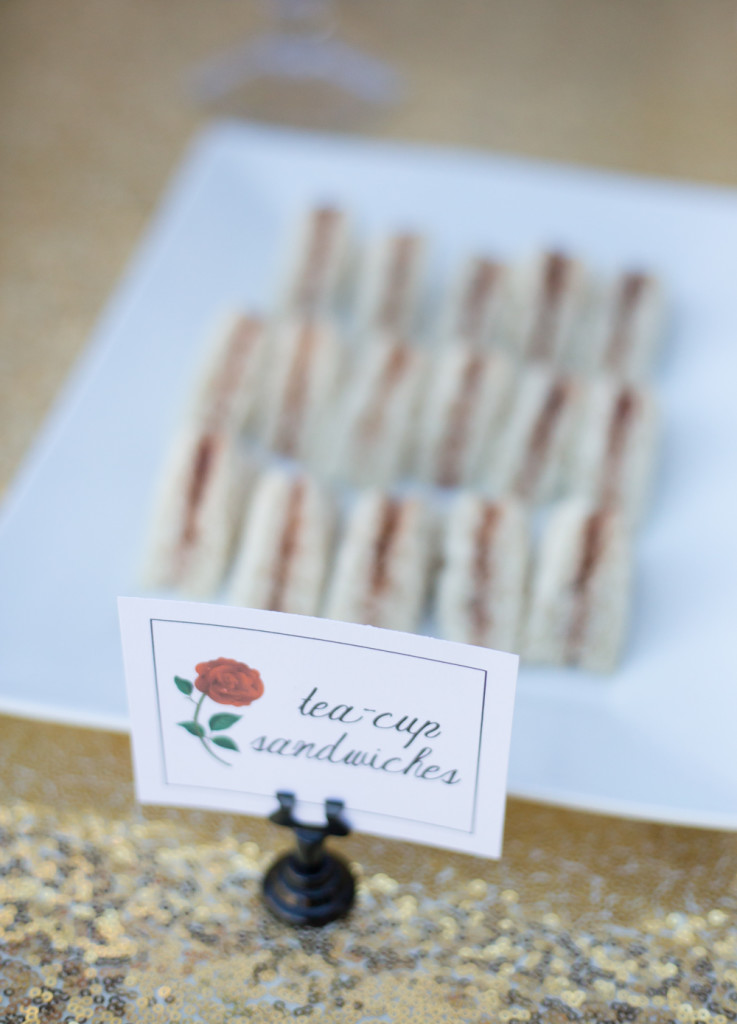 These were supposed to be tea cup shaped, but I have issues with wasting bread, lol, so they were cut into triangles instead!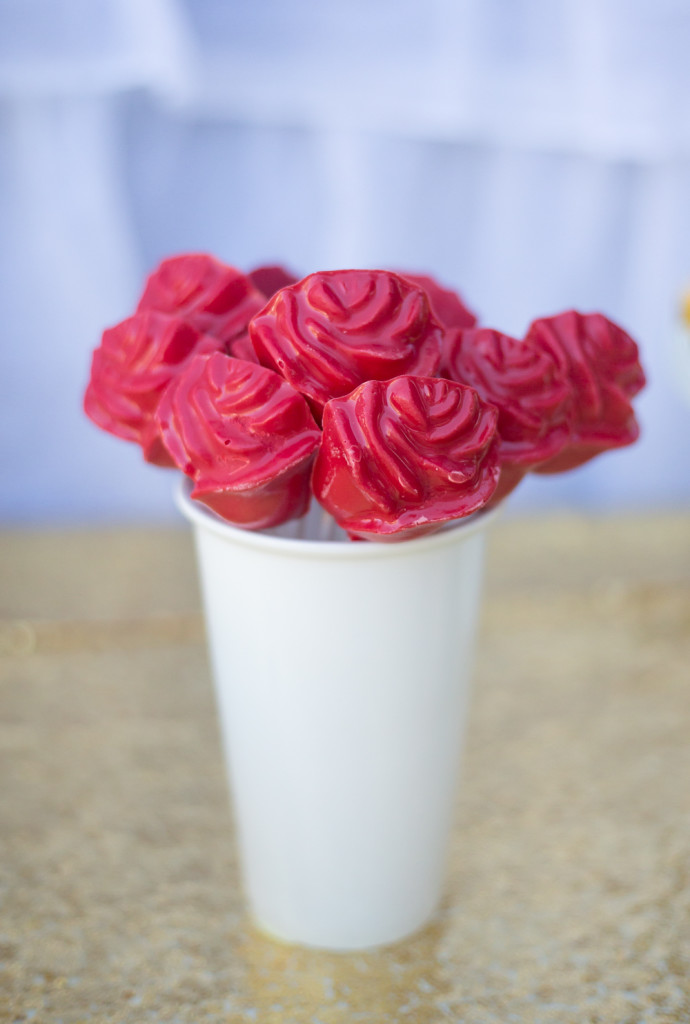 I made some adorable red chocolate rose lollipops with this mold. I absolutely adore making lollipops for parties because they can be made in advance and usually can coordinate with a theme easily!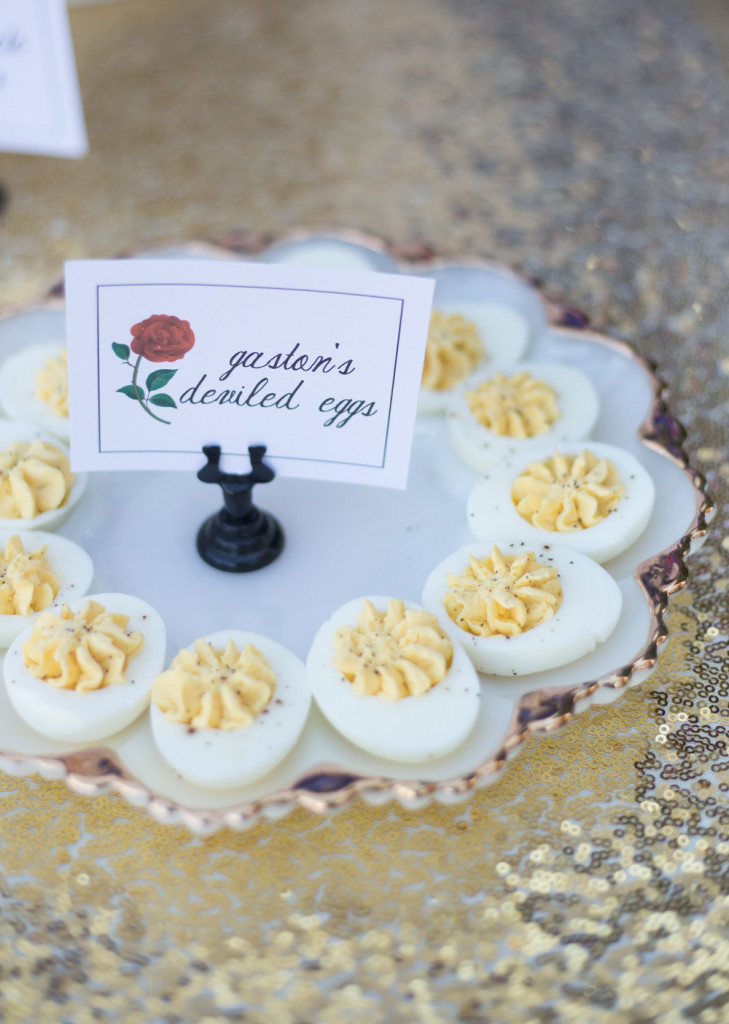 "when I was a lad I ate four dozen eggs every morning to help me get large!" had to include eggs in there to represent the villain we all love to hate, Gaston!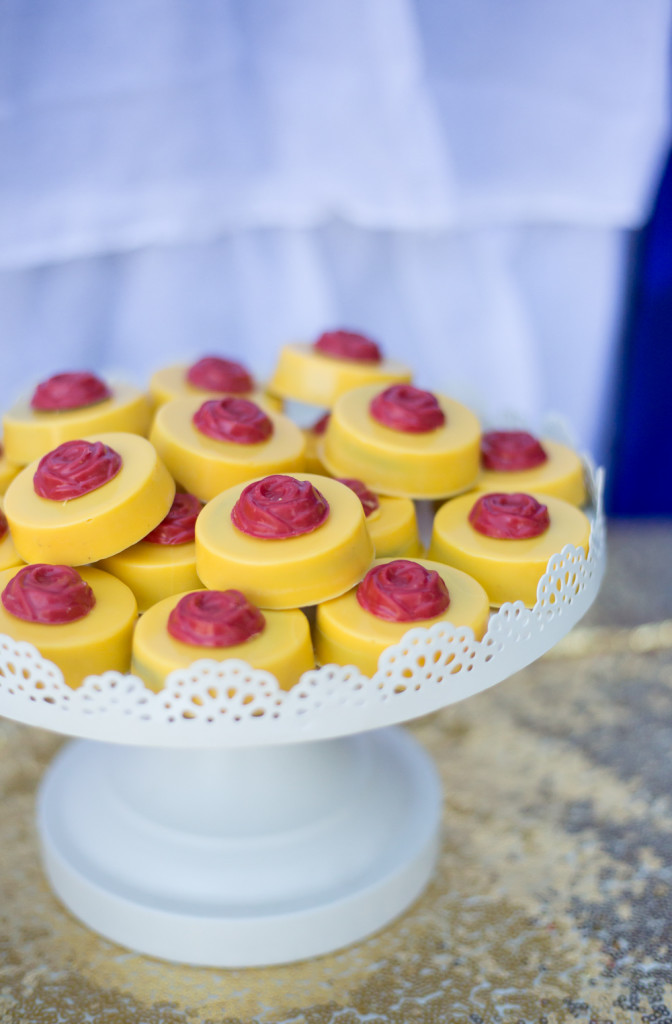 I also have come to love making chocolate covered oreos! (made with this mold) You can also coordinate them to fit all sorts of themes (ie hearts of te fiti), and they are easy to make ahead. These I dipped into yellow melting chocolate, and then added small roses on top. (made with this mold.)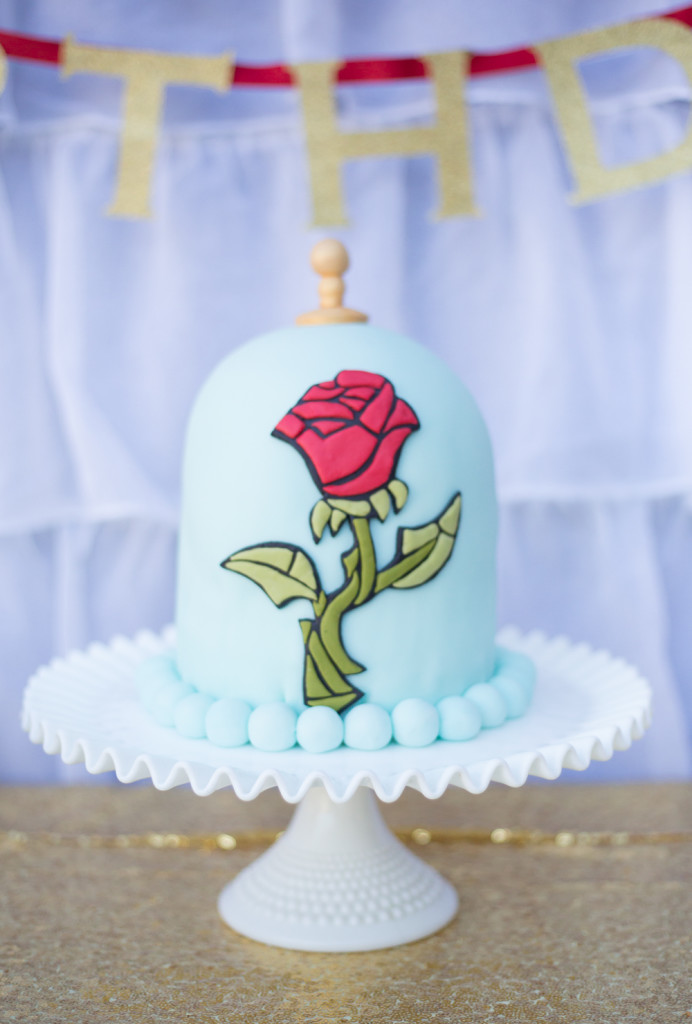 Now for the cake! Oh, how I love this cake! I wavered on whether to do a Belle dress cake, or the rose, but I just had to take a swipe at that stained glass window effect! I baked up four cake layers in these pans, then stacked them up and trimmed the top with a knife until it was a dome shape. Added a crumb coat, and blue fondant (I did attempt to make it a marbled blue and white look, but forgot to add enough powdered sugar, so it stuck to itself while I was trying to roll it out).
I had made the rose the day before so it could firm up a bit, and the gold handle on top was made out of some gum paste I had hanging around from the last birthday party. I found a pic of the rose, printed it out, and then cut out every piece separately, and used them as a guide for the fondant pieces. I didn't follow the guide exactly since I wasn't perfect in my cutting but I LOVE how it came out, so in the end it all worked out! I added some glass balls at the base to cover up any wrinkles from the fondant!
et voila!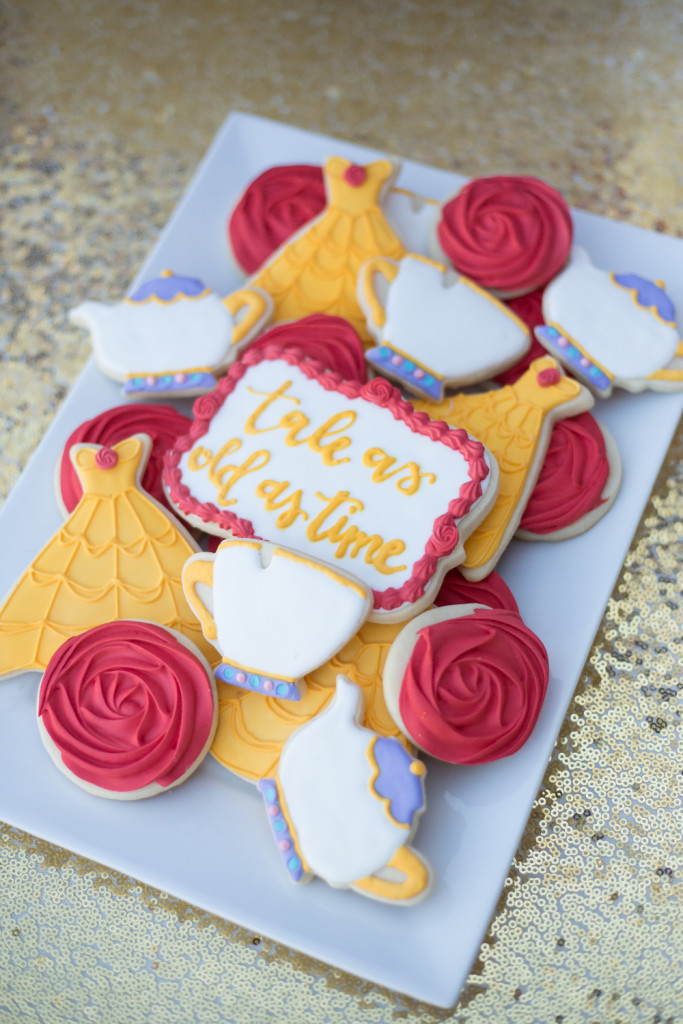 It wouldn't be a CINO party without some sugar cookies! I chose to make some Belle dresses, swirled rose cookies, and Mrs. Potts teapots and Chip teacups!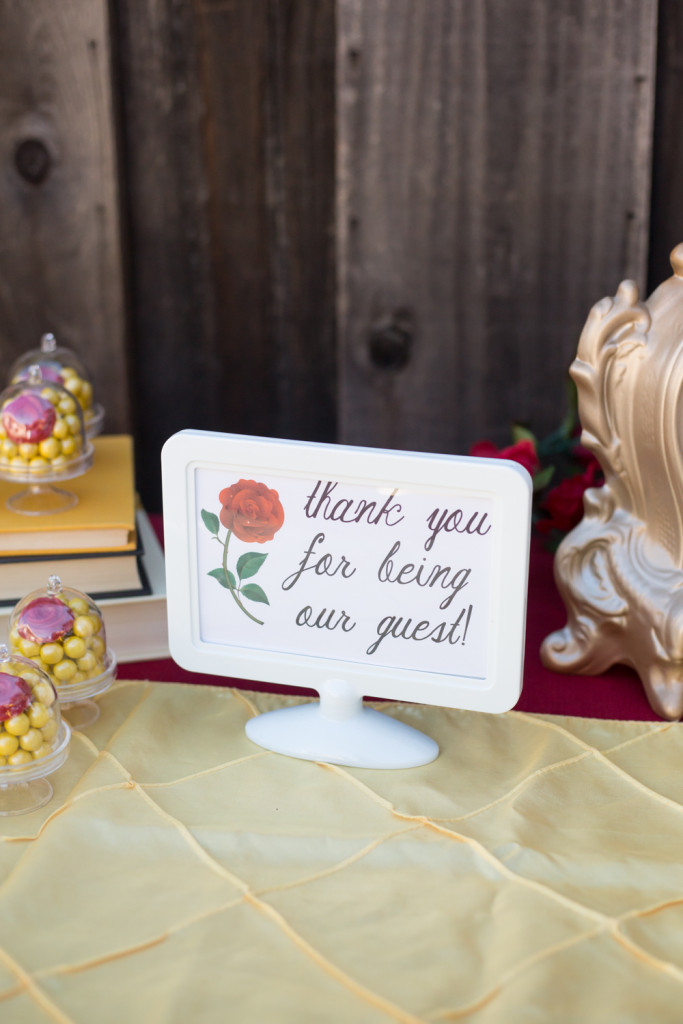 For the favors, I found these cute plastic domed mini cake plates, and filled them with yellow candies and a red rose!