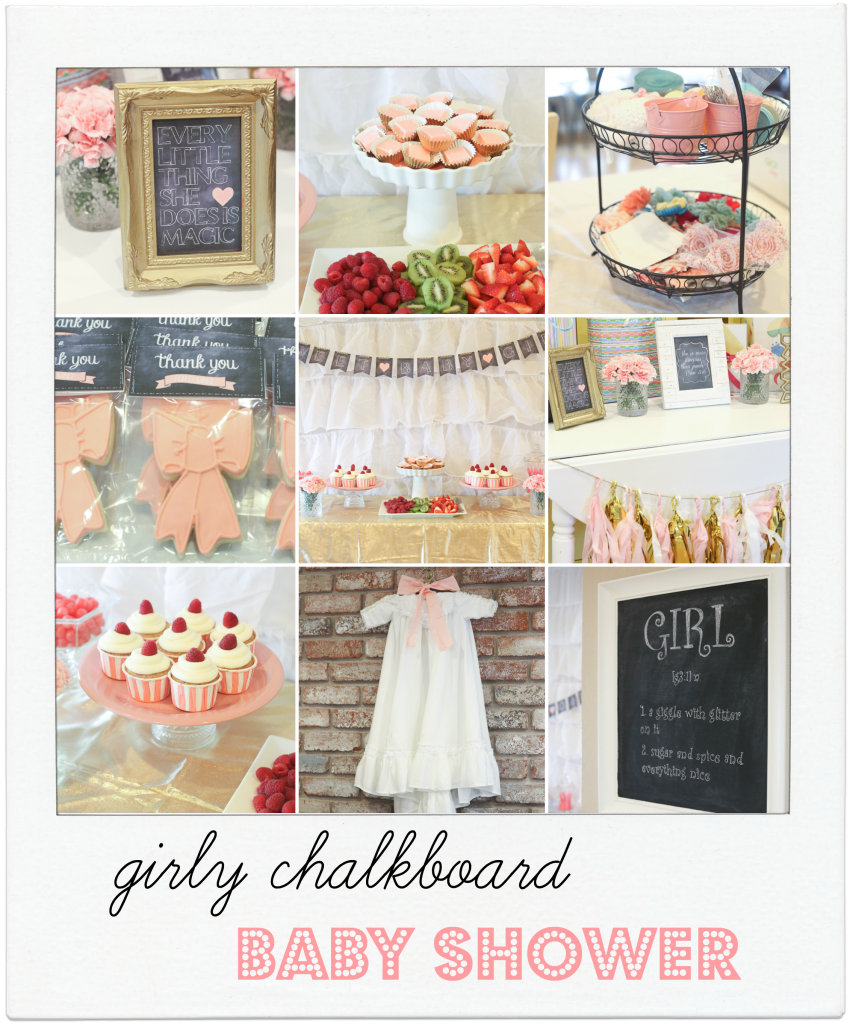 I successfully threw another surprise baby shower last weekend! This time it was for my sister in law, Anna. She's due with her second baby, a girl, in the middle of March. She is PSYCHED to have a girl after having a boy for her first child and having many boys in her family. So I knew I had to go pink for her shower. I mixed in some gold accents and chalkboard printables which I loved the look of! It took some finagling between me and my brother to get her to our house, but it worked out and she was so shocked! Her mom had come down from Oregon and didn't let on! Her Grandma was able to come down too and they loved surprising her-it was so fun!
Ok, on with the show!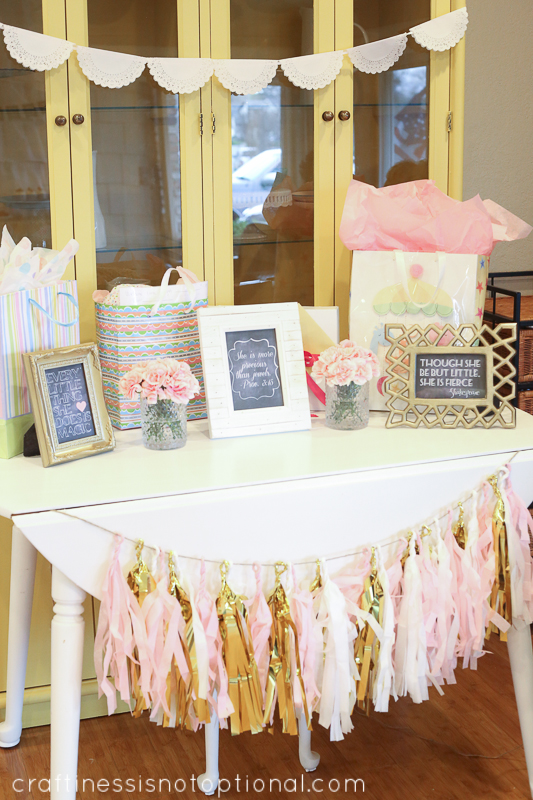 I decorated our gift central/kitchen table (leaves removed and sides folded down-so handy!) with some tassels, mini carnations in some awesome bubble glass vases/cups and some printable in frames I already had in my house.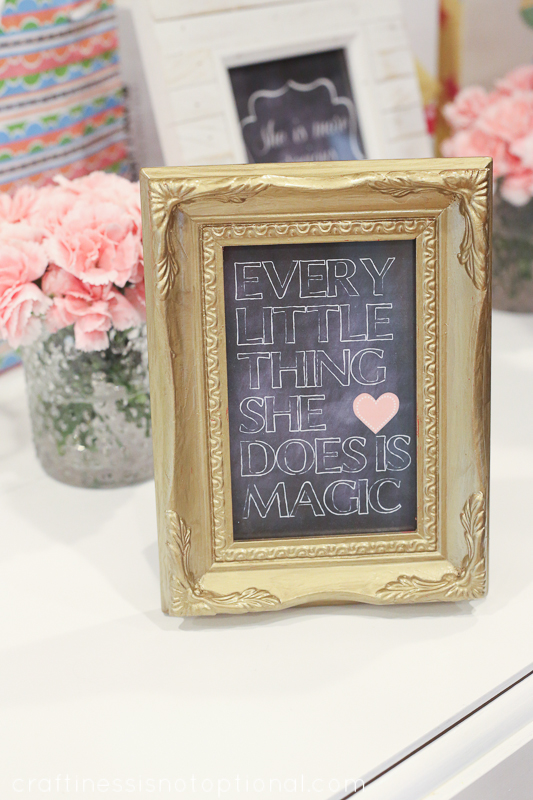 I found some cute girly quotes and made up a few printables-which I have for you to download FREE here.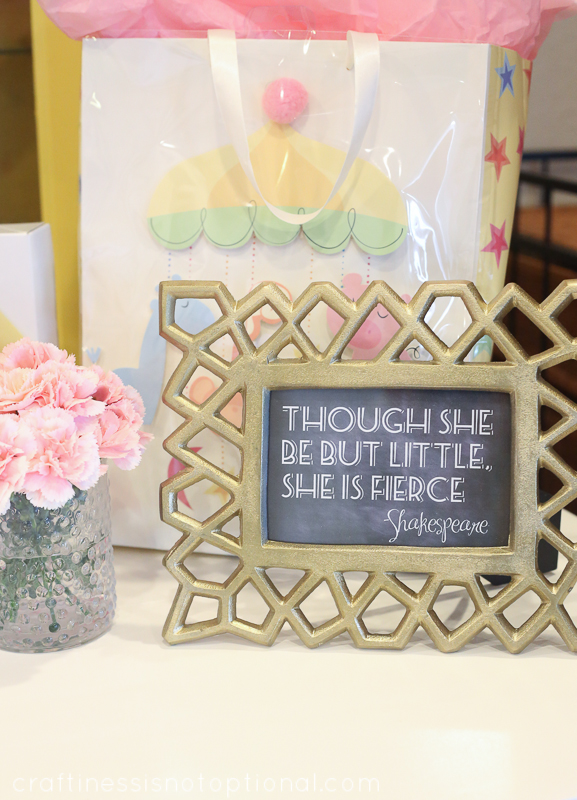 This one's my favorite. It reminds me of all my girls-but especially Charlotte.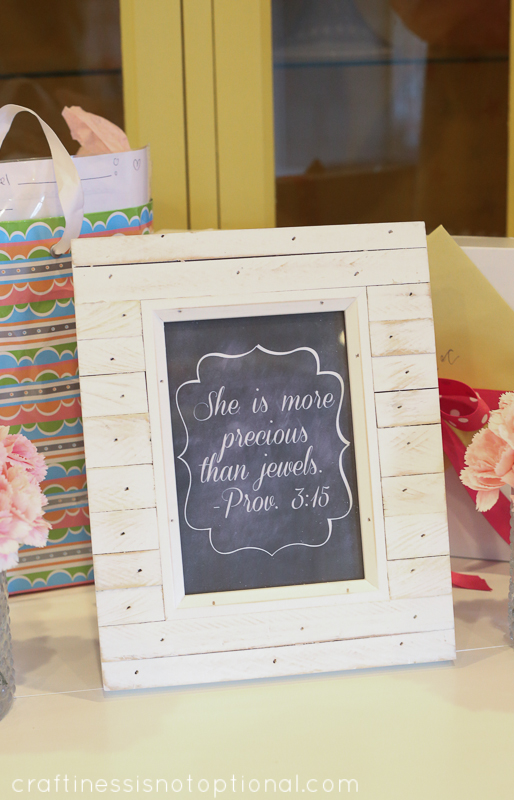 awwww…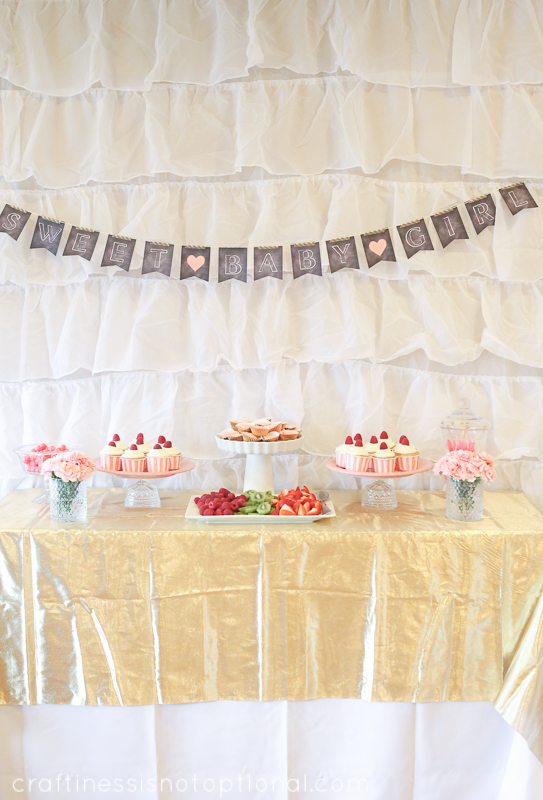 I kept the desserts simple since it was a small party-about 12 of us I think?
I hung up a ruffled shower curtain (affiliate link) for the backdrop and layered a white tablecloth (affiliate link) and gold fabric over my buffet table.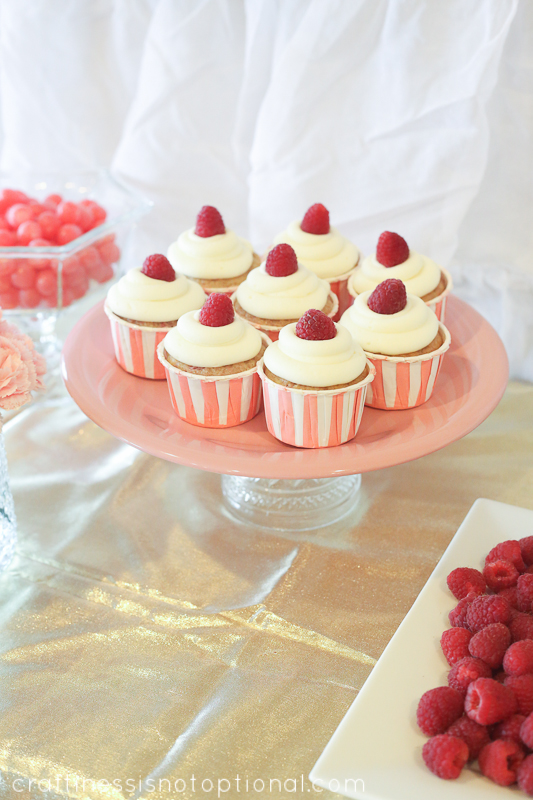 I made some delish raspberry swirl cupcakes (my second time making them already!) from the One Sweet Cupcake recipe book. (affiliate link) Which my sister Joanna edited-woot woot! shout out-she's a big time book editor ya'll! well, for a few more months until she has her baby.
(planning her baby shower already…. lol! I bribed her to come out to Cali for a visit with a baby shower)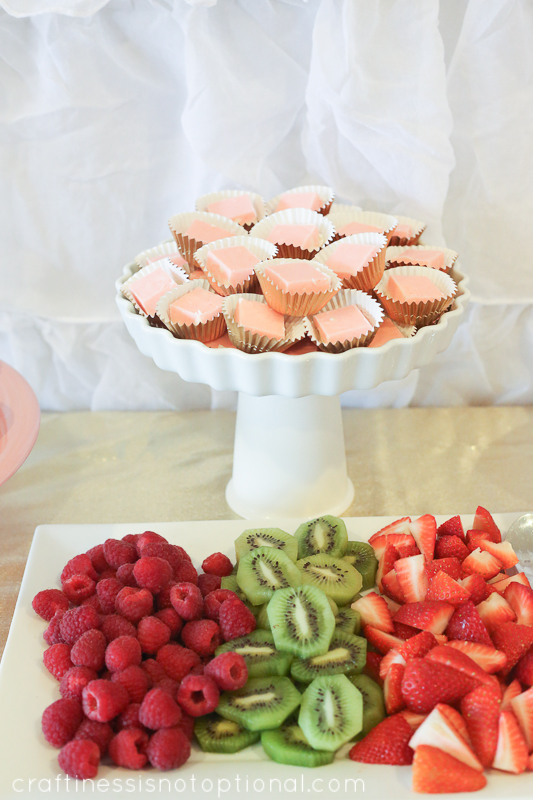 I also made some strawberry swirl fudge…which…you can't see the swirl part of. You'll just have to trust me guys. FRUIT because some peoples are healthy.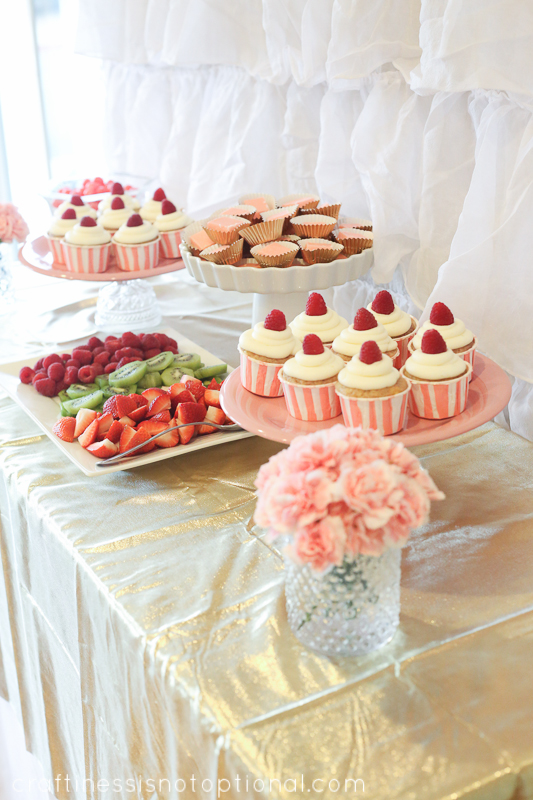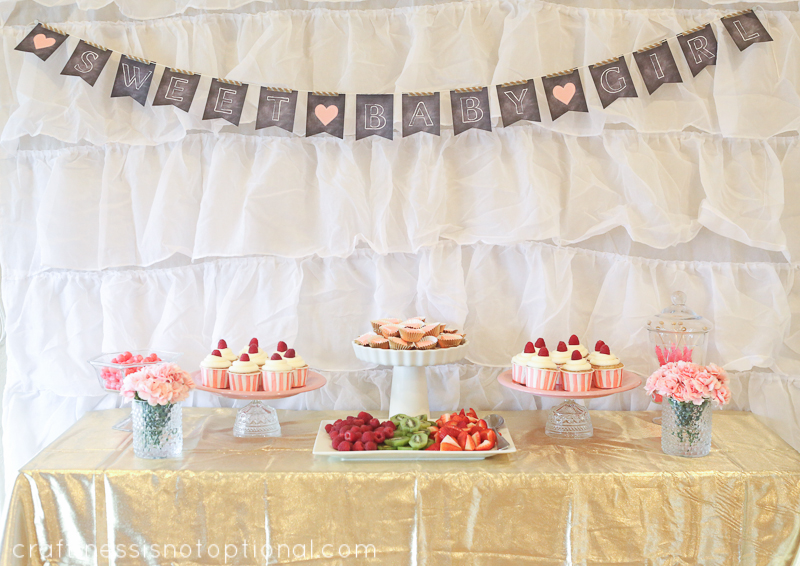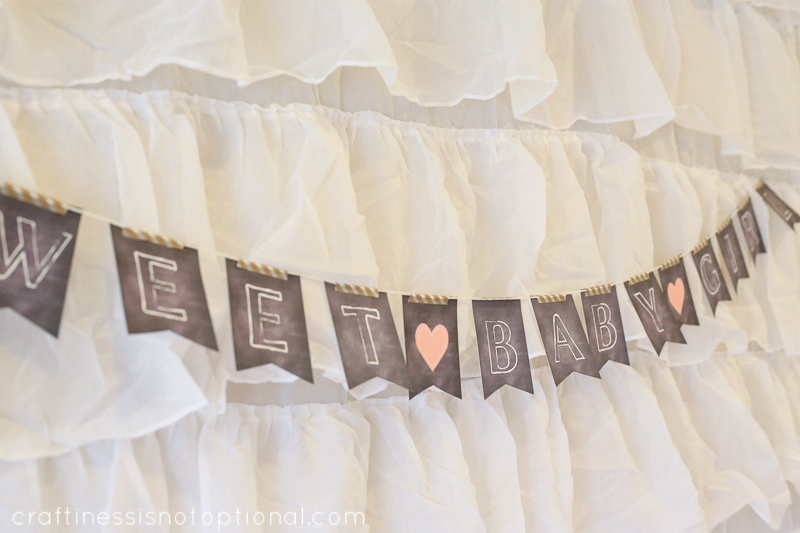 Made up a matching banner (also available to download for FREE!!) yay! Just cut them out-then I used some gold washi tape to tape them to some white yarn.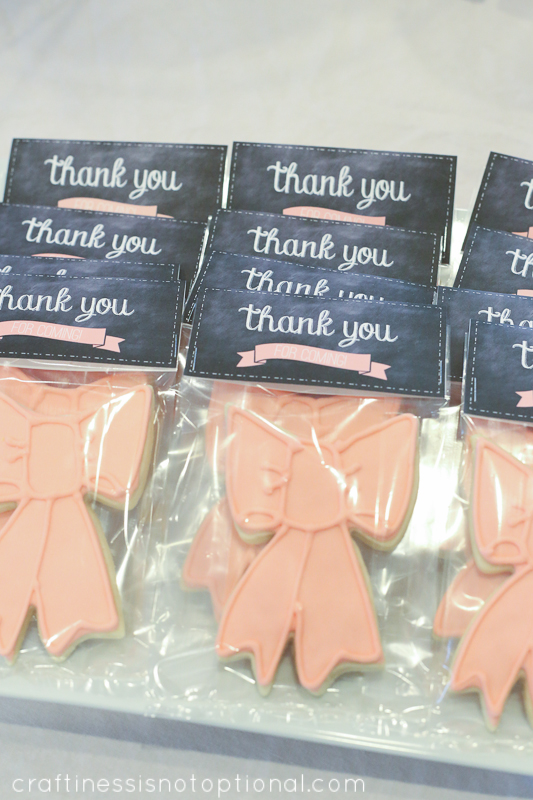 and MORE downloads-some favor bag toppers! I made some super cute and easy bow shaped sugar cookies and packaged them up in cellophane bags (affiliate link) for favors.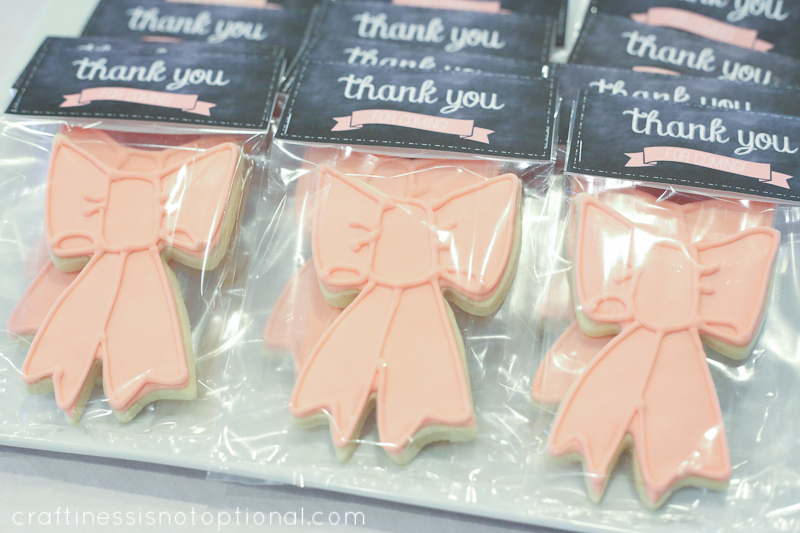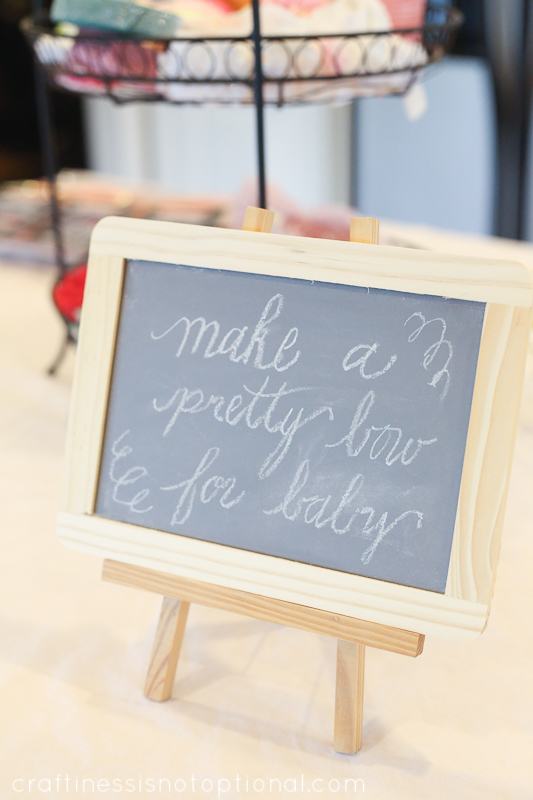 For our party activity, I created a table with tons of bows, flowers, felt, ribbon, buttons, clips, elastic ETC for some baby bow making! grey chalkboard found here (affiliate link)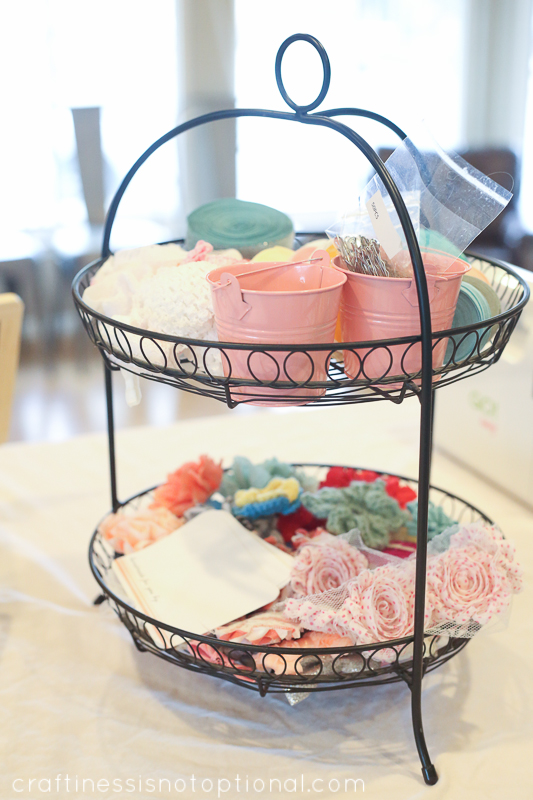 Most of the materials came from my fabulous sponsor, The Ribbon Retreat! They outfitted me with bows, ribbon, flowers, headbands, elastic-you name it they had it for bow making.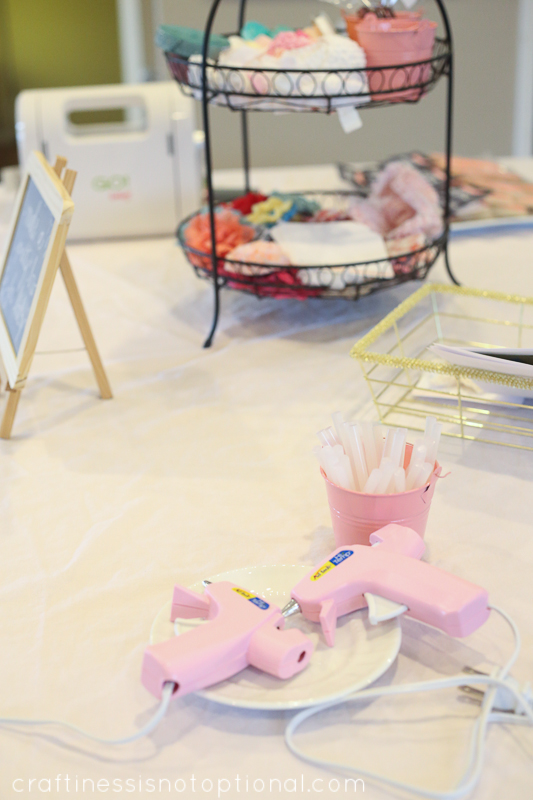 I had a few glue guns warmed up and we went crazy! You can see some of the finished headbands etc in the gold basket below-cute huh?
I also had my Go baby cutter (affiliate link) out and some instructions for my felt flowers printed out.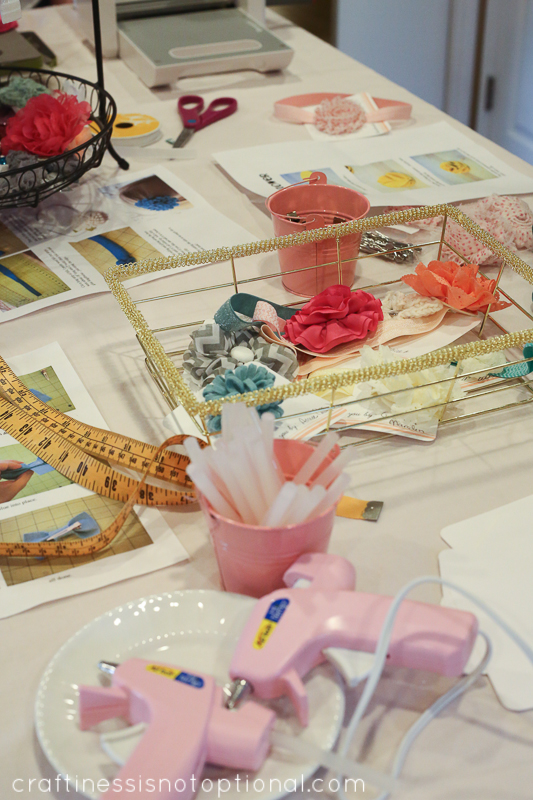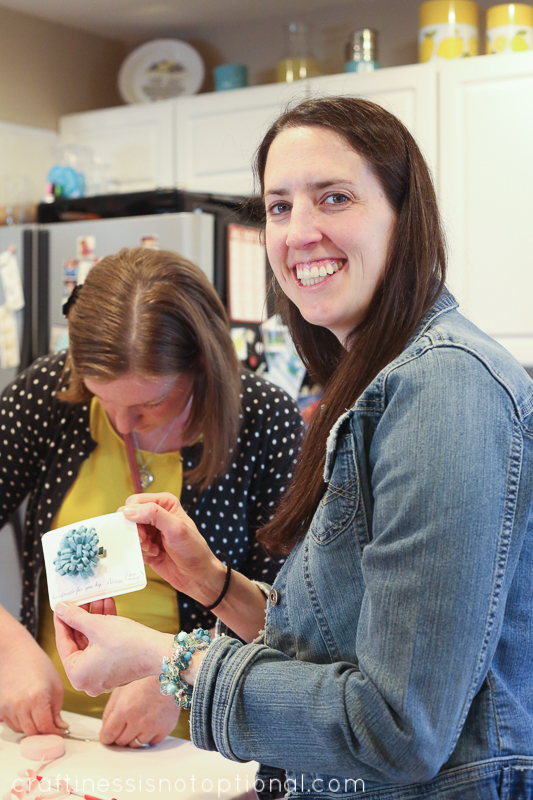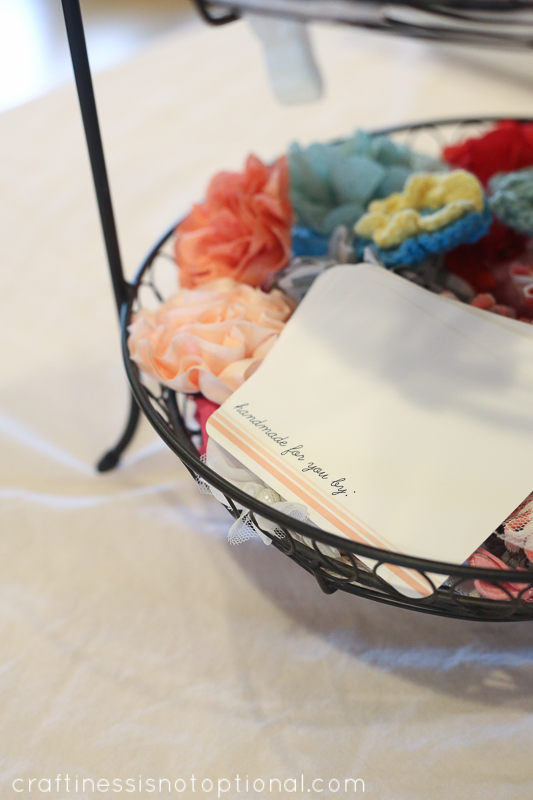 I made these "handmade for you by:" cards for people to clip their clips to-just made two slits in the middle. I didn't think about tags for the headbands but we got creative and tied or clipped the cards to them.
And of course-I have those for you to download in a few color ways here!
I found a fun game to play where you write down baby (girl or boy) names for each letter of the alphabet. I was just going to have it be a race and whoever got the most won, but my friend Cassy suggested we filled in the names, untimed, and then called out our names and if we had the same name as another person, we both  crossed it off-and the one with the most names won! It was really fun and gave Anna some ideas for names as well!
FREE printable for that game-BOY and GIRL versions, here!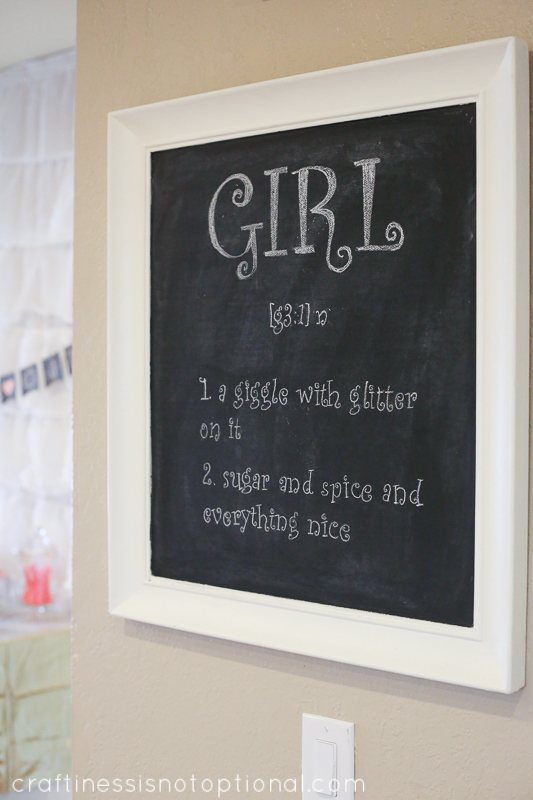 A few more pieces of decor-I made this chalkboard art with a fun definition of girl on it. The font I used is CURLZ and this method works the best for me!
Rory and my dad noted that it was missing a few definitions like "you never know what they really mean" and  "wee bit crazy".
thanks, guys.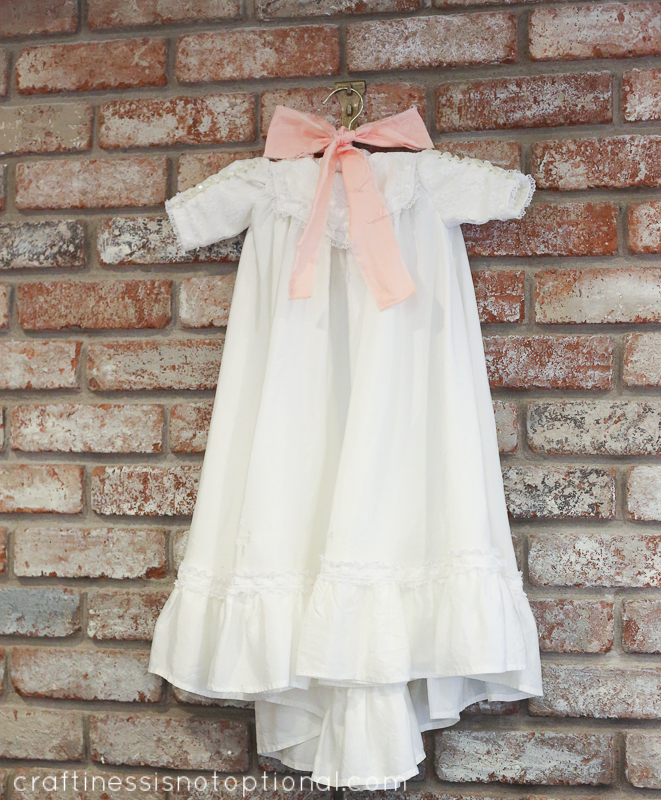 My mom brought over the blessing gown that she made for her granddaughters to use if they choose and it made the perfect display item for over the fireplace. All of my girls have worn it and my mom embroiders their names on the lining after their wear it. She made it from her wedding dress…..!
Anyways there you have it! We all had a great time I think, especially surprising Anna! I love giving (and getting for that matter) a good surprise!!