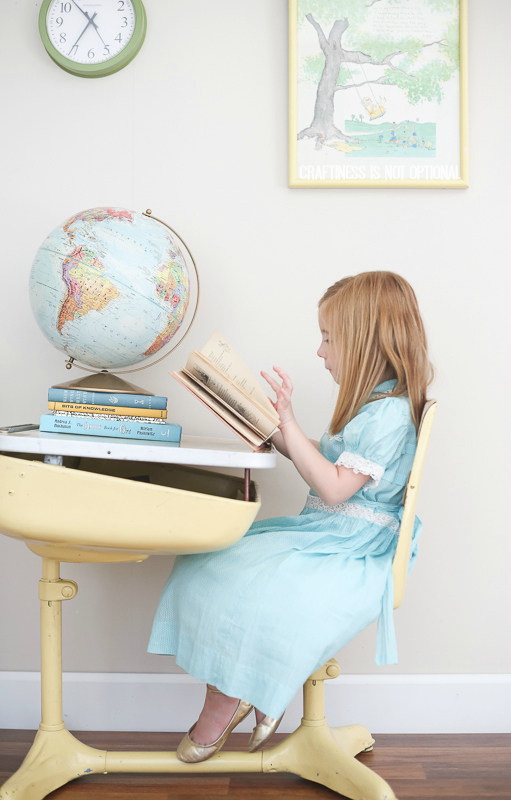 Since I have a last-minute spot open today on the vintage may tour, I thought I'd share with you all this dress.
I spotted it while thrifting with my sister last week. The color was the first thing that jumped out at me. (you know my love affair with teal) Then I noticed the tiny polka dots. Then the beautiful lace, and sweet collar and tie in back. Then, I flipped it inside out…my suspicions were confirmed. It was handmade.
Not just handmade, hand-SEWN. Every single stitch of this dress was sewn by hand. And it is exquisite. Tiny, perfect stitches, pristine hand bound buttonholes…a work of art.
I think I literally couldn't breathe for a second or two.
I am enamored by vintage sewing for many reasons. I love history, and finding something like this forms a link to the past. It makes me wonder about who made it? who wore it? What is the story behind this little dress? Was it for school? church? a special birthday dress? It also makes me wonder when it was made…what was going on at that time? what did the seamstress think about while she was sewing?
Maybe I have too many questions about a simple dress, but since I'm a sewing dork, so be it. All I know is, finding this gem made my day/week.
It was $2. I almost felt ashamed to buy it for that little. But I loves me a good deal…and I knew it would be treasured in this home.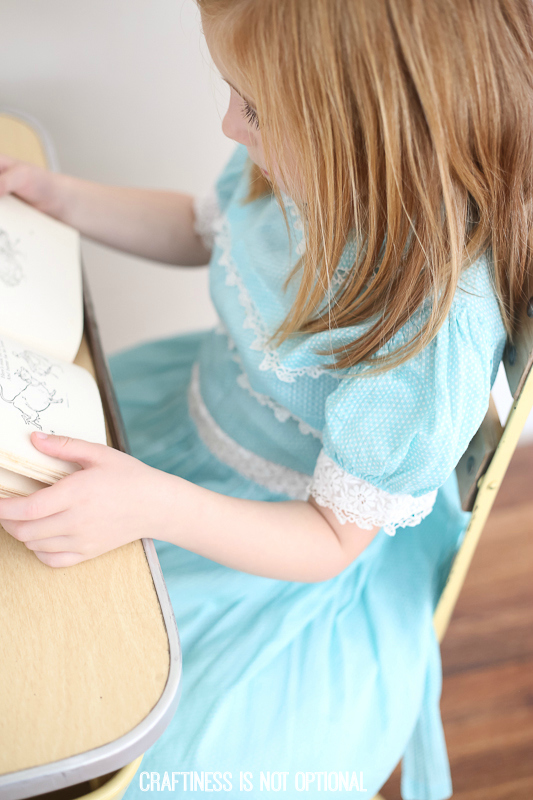 It did need some work-was missing a button, and the hem had come undone a bit in the back. (which I still need to fix, found that while taking photos)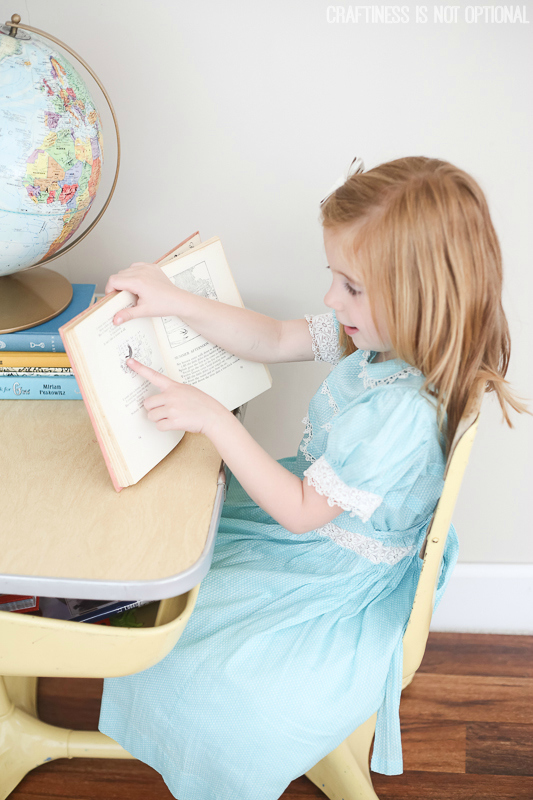 Since the torso was too long for Sadie, I also removed the bodice from the skirt, and took off about 2.5″, then sewed it back together.
Of course, with my best hand-stitching.
No way was my machine going to touch this one.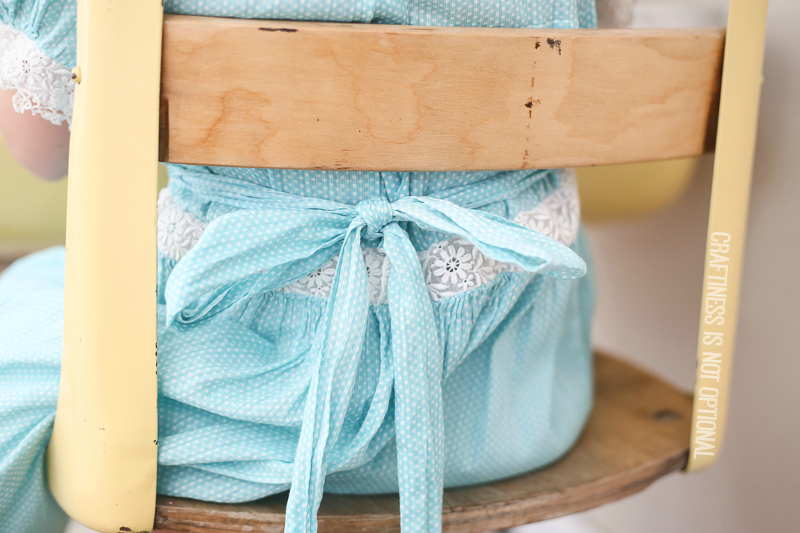 Even the hemming on the tie was hand sewn.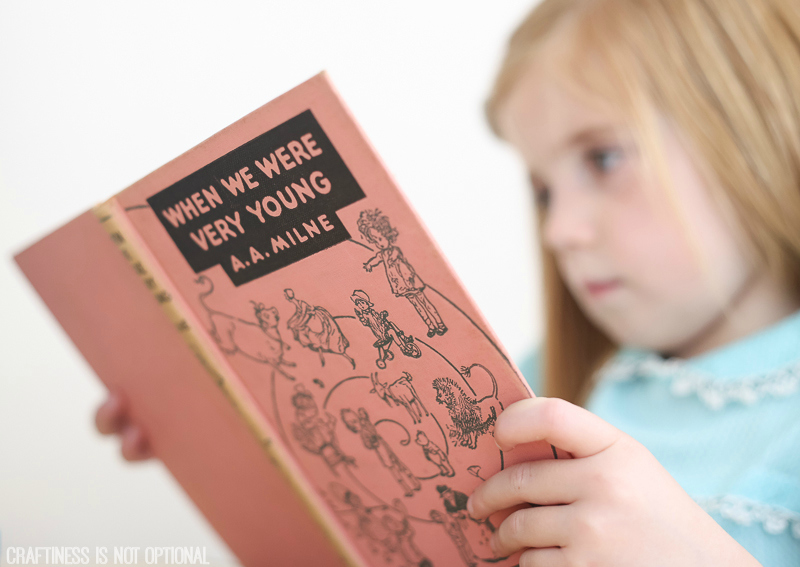 A little vintage may fun fact-this book was given to me by my co-host, Kristin!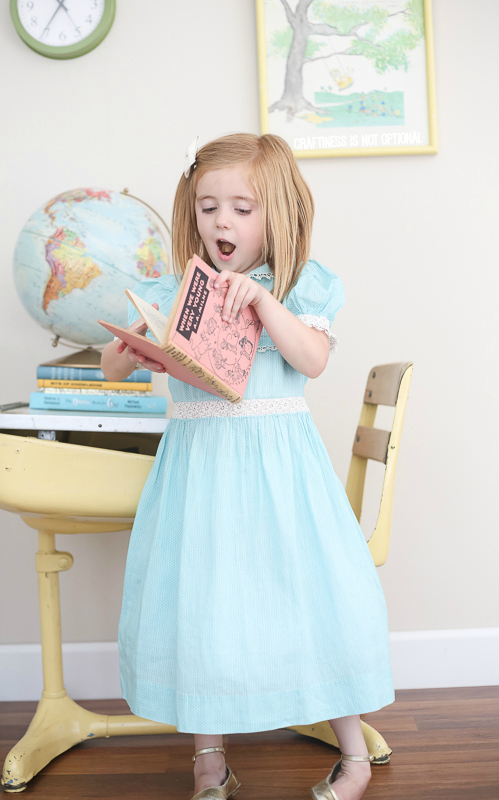 It should fit her for a good while, since the skirt is quite long.
I am totally going to be a food/dirt crazy person when she wears it though. ha!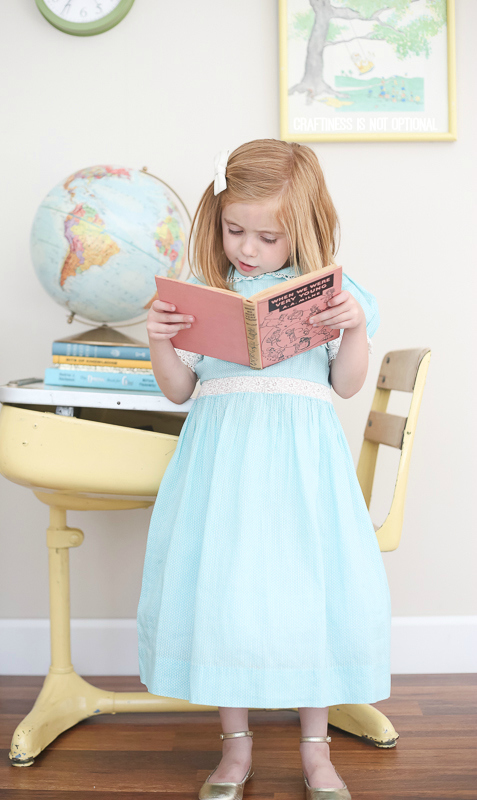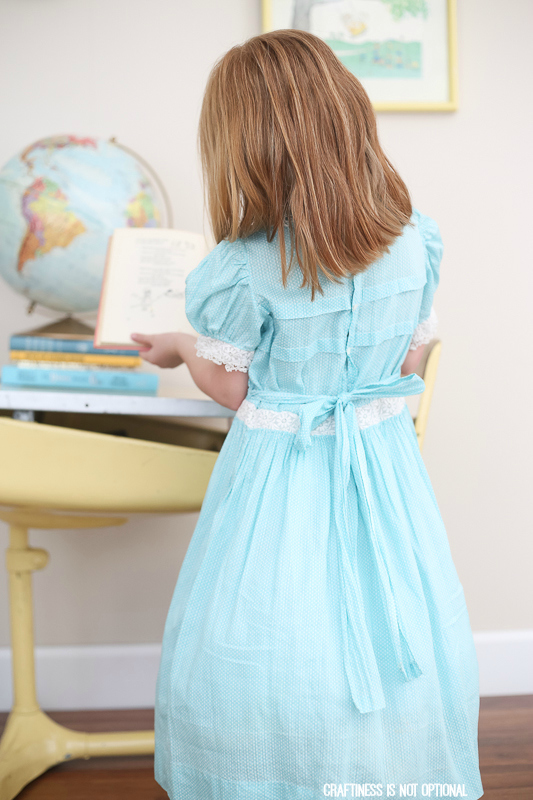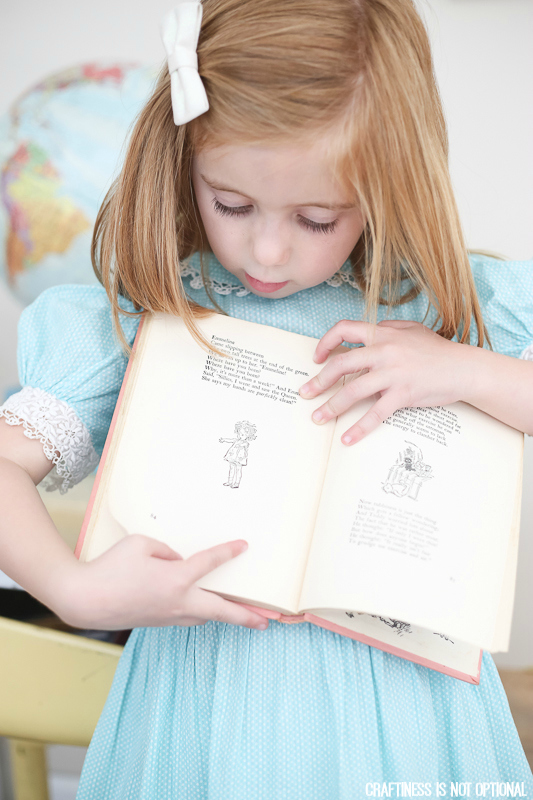 She had fun playing old fashioned school!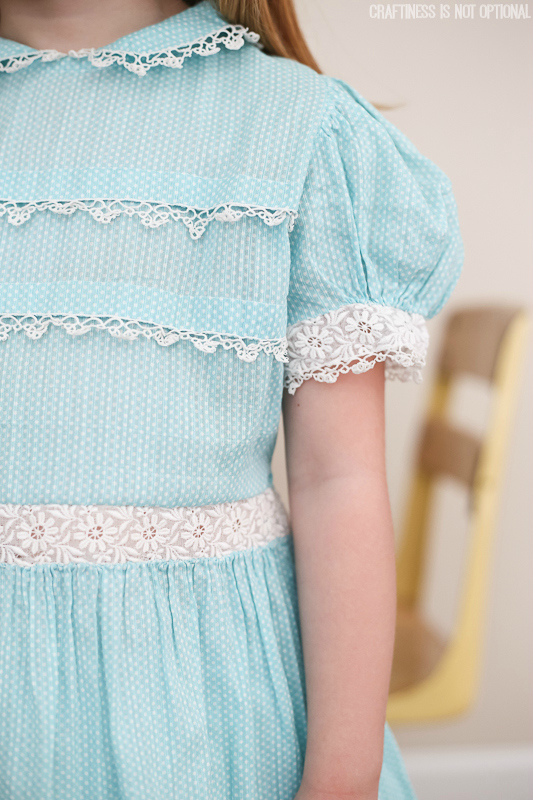 My mom says she thinks the tatting is handmade too. I wouldn't be surprised! I think the lady who sewed this up had many many talents!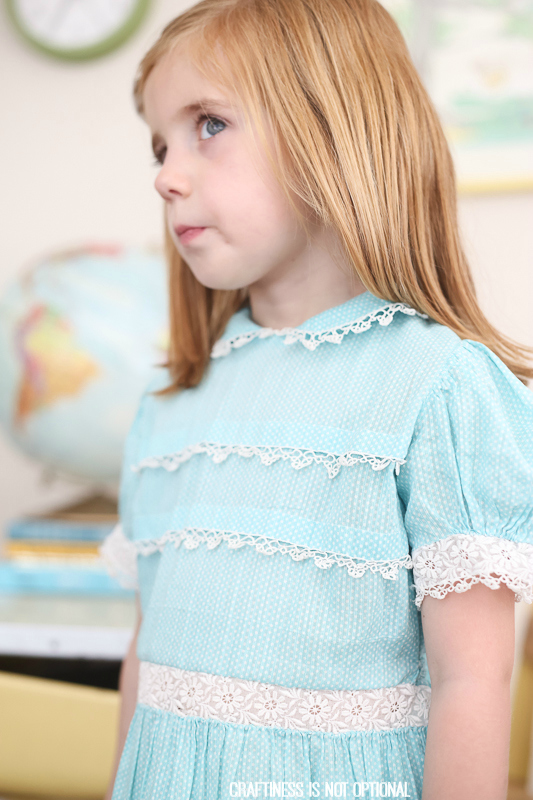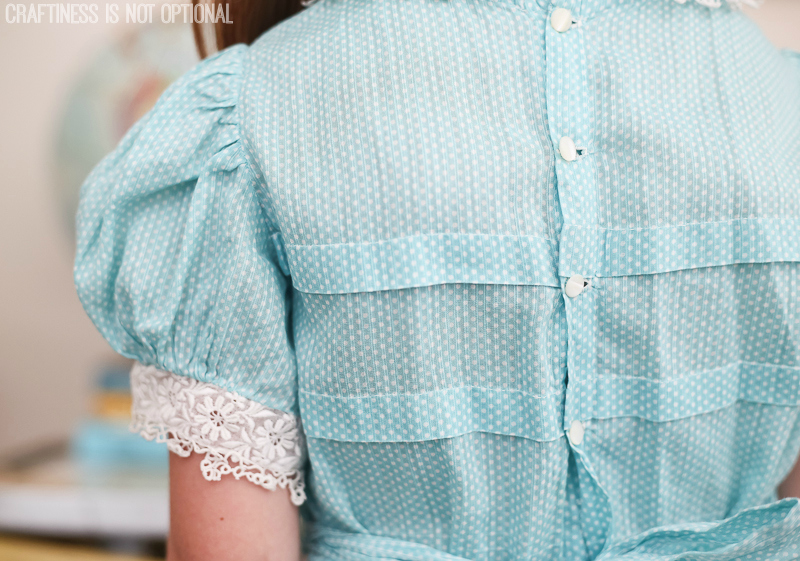 The nice thing about shortening the bodice was that I had an extra button to replace the missing top one! Yes, those pleats are hand sewn.
SIGH…I would marry this dress if I wasn't already taken.
me thinks I may say that a lot.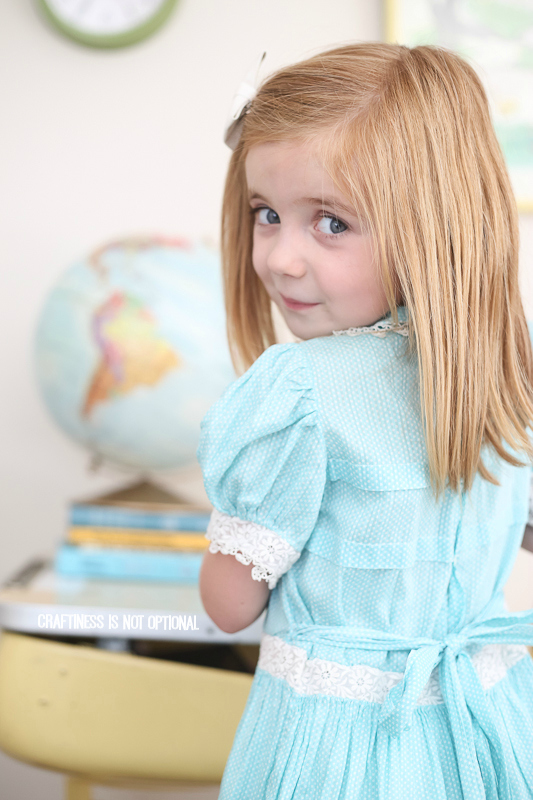 'tis true. I am enamored with this one.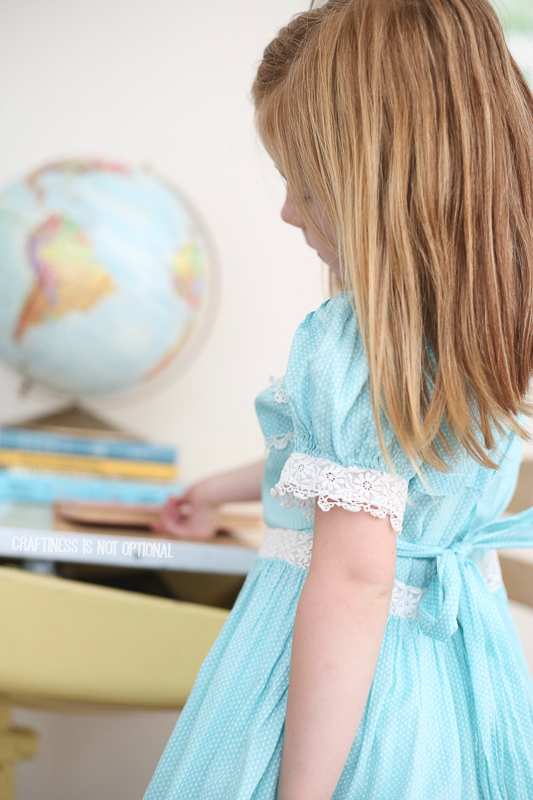 you know the drill! go!