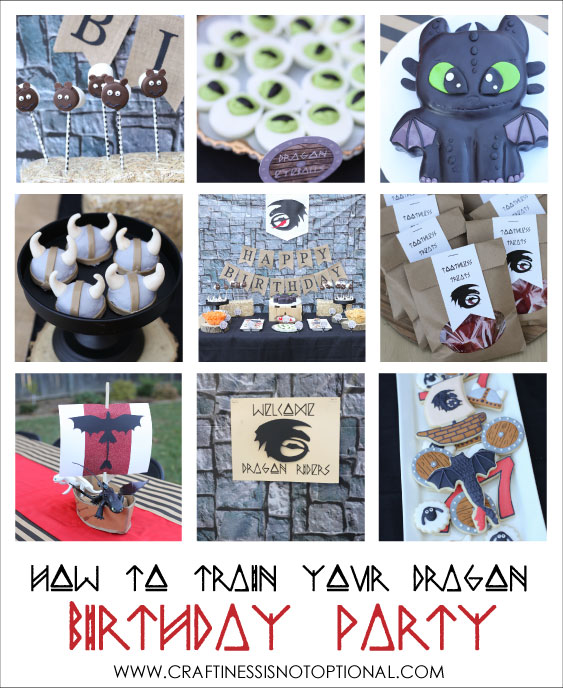 Well, it took a few years, but we finally jumped on the How To Train Your Dragon movie band wagon last year, and Ava fell in love with the movies, books, and tv shows! So when I say she had this theme picked out for awhile…I mean it, lol! It was SUCH a fun party to put on and to plan. From the decor to the food to the invites, I had a BLAST!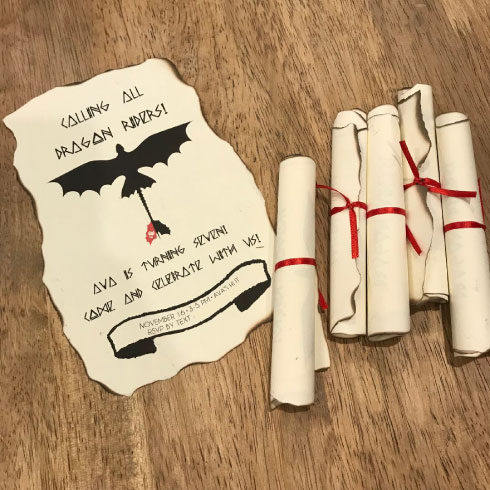 First, the invites. I designed these and printed them off, then took to the backyard with a lighter to get that charred edges-look. Then we rolled them up and tied them with a ribbon. We kept the guest list small so we weren't hand delivering for hours.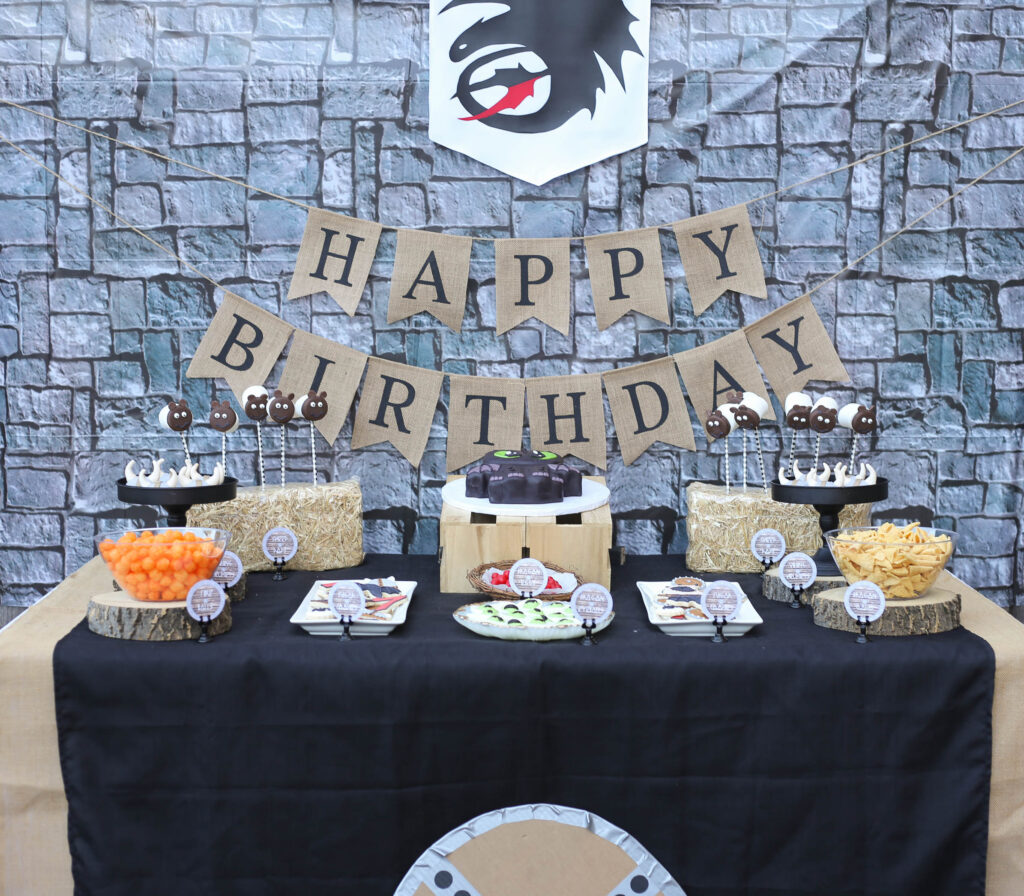 I used the same stone backdrop/tablecloth that I did for Sadie's Harry Potter party!
I also sprung for a new burlap happy birthday banner-I feel like it could work for a lot of themes.
I made the Toothless banner with some fabric and wonder under I had lying around, it turned out pretty cute! Still is hanging on the girls' door, too!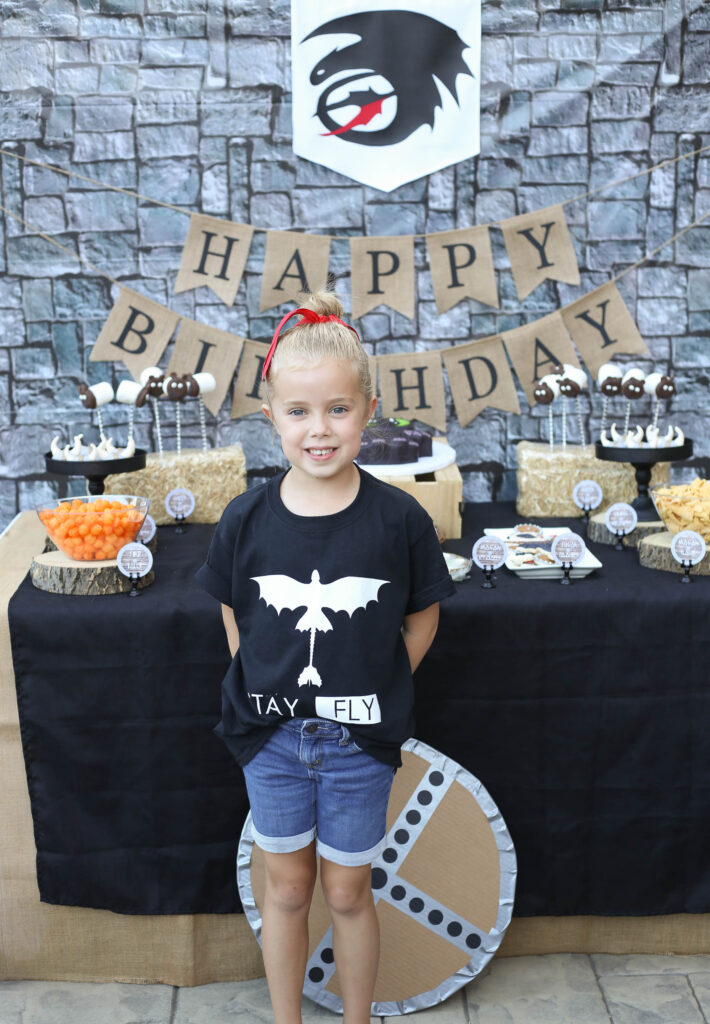 I made Ava's shirt (STAY FLY) with my Silhouette-that thing is my bestie when it comes to parties and shirts!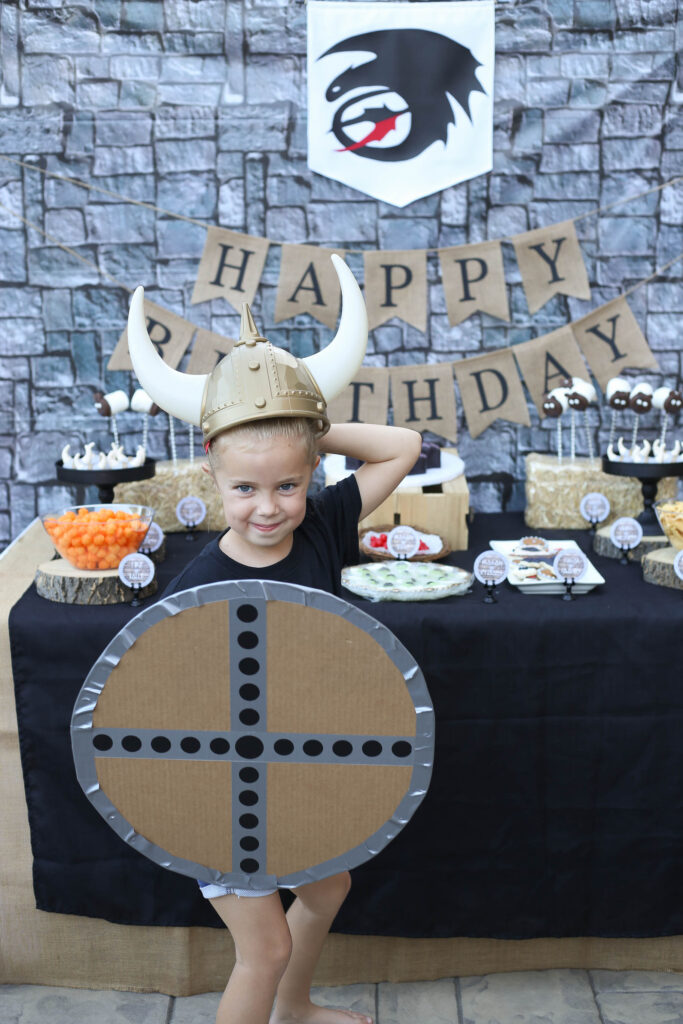 I made the shield with some cardboard, duct tape, and vinyl circles cut out on my-you guessed it-Silhouette!
The viking hat was a lucky thrifting find! It was Halloween season, so our thrift store had several options!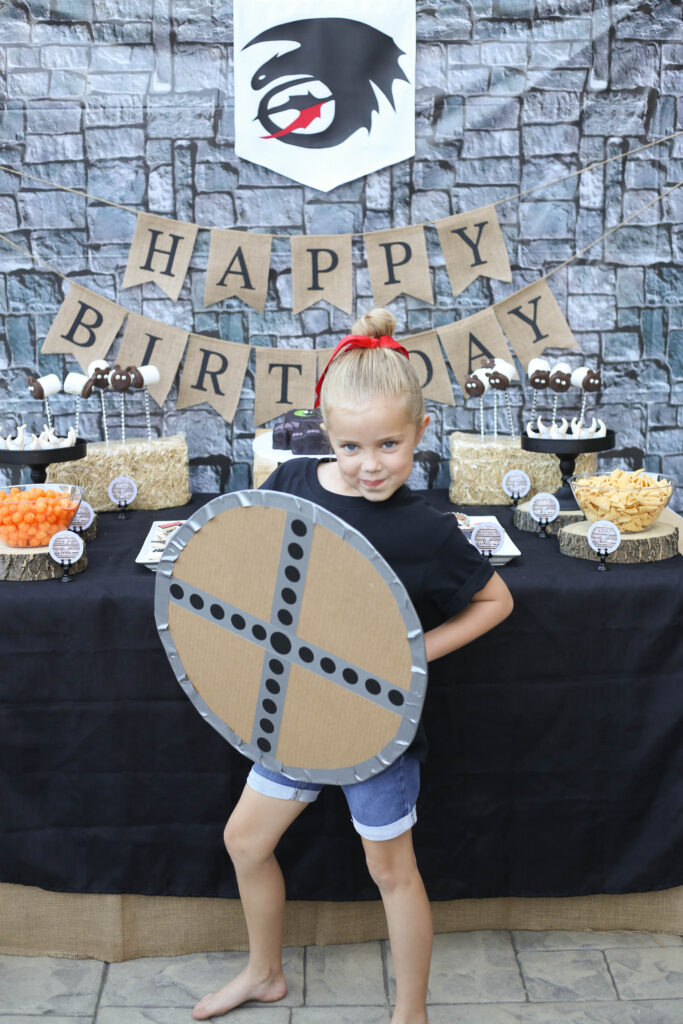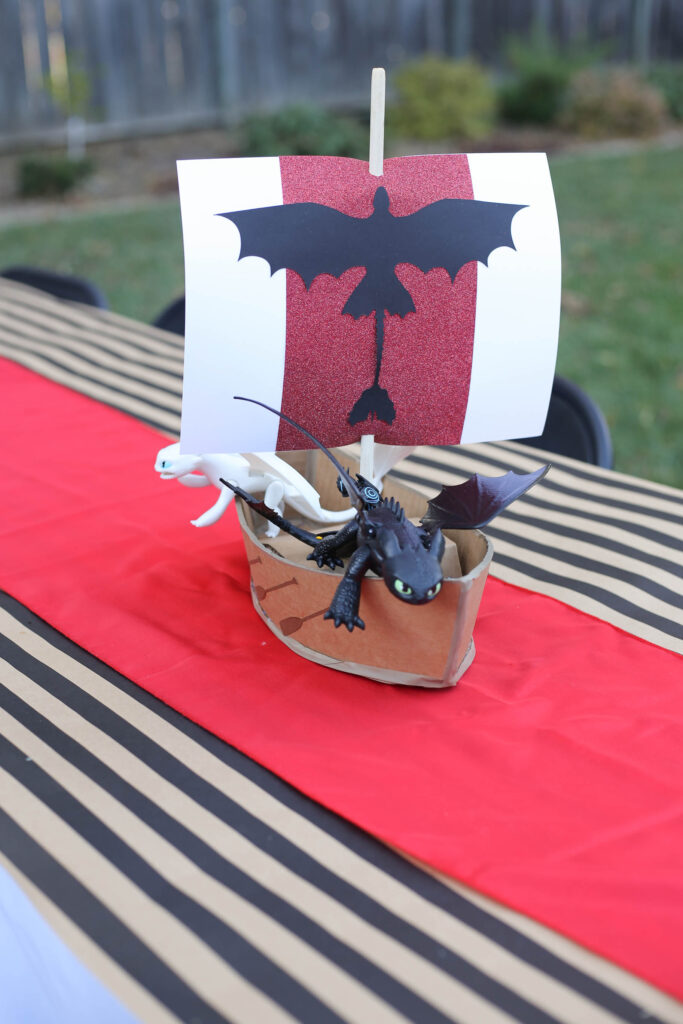 I had two long tables put end to end for all the girls to enjoy their snacks at, and I covered it with a few of my trusty white tablecloths, striped black & tan wrapping paper, and layered on top of that, a red table runner.
I made the viking ship using this pattern/tutorial, and my Silhouette, but of course! The HTTYD figures were birthday gifts for Ava, sometimes if I need to purchase something for a party I'll give it to the kiddo as a gift, double duty!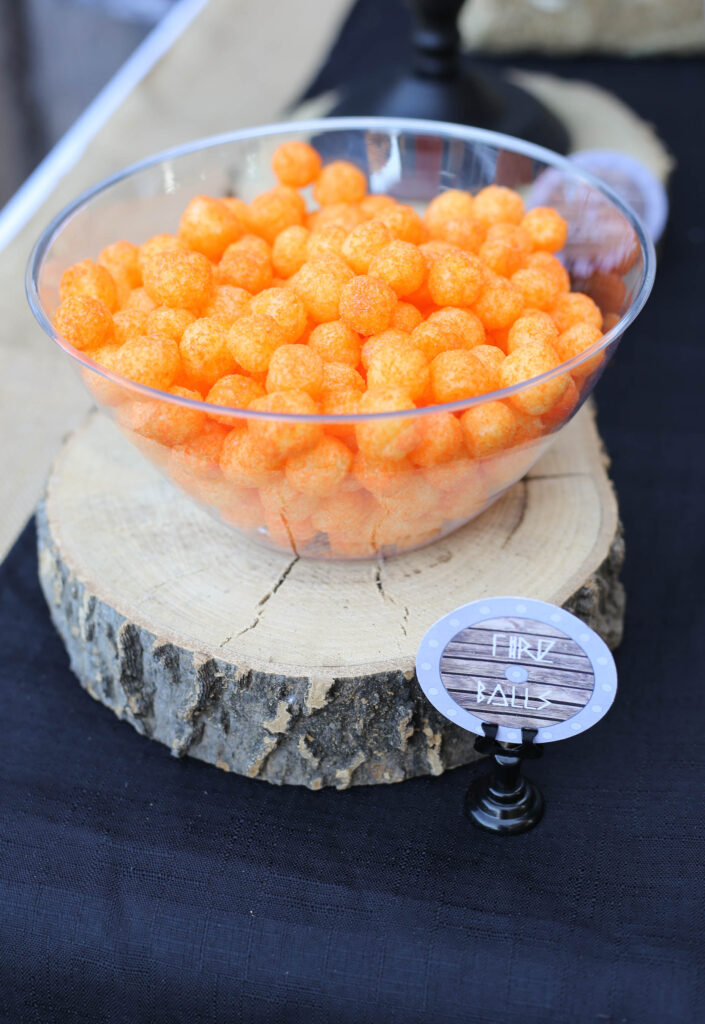 Now, for the food. I made these little shield labels in Illustrator, love how they turned out!
One of our snacks were these cheese balls aka "fire balls!"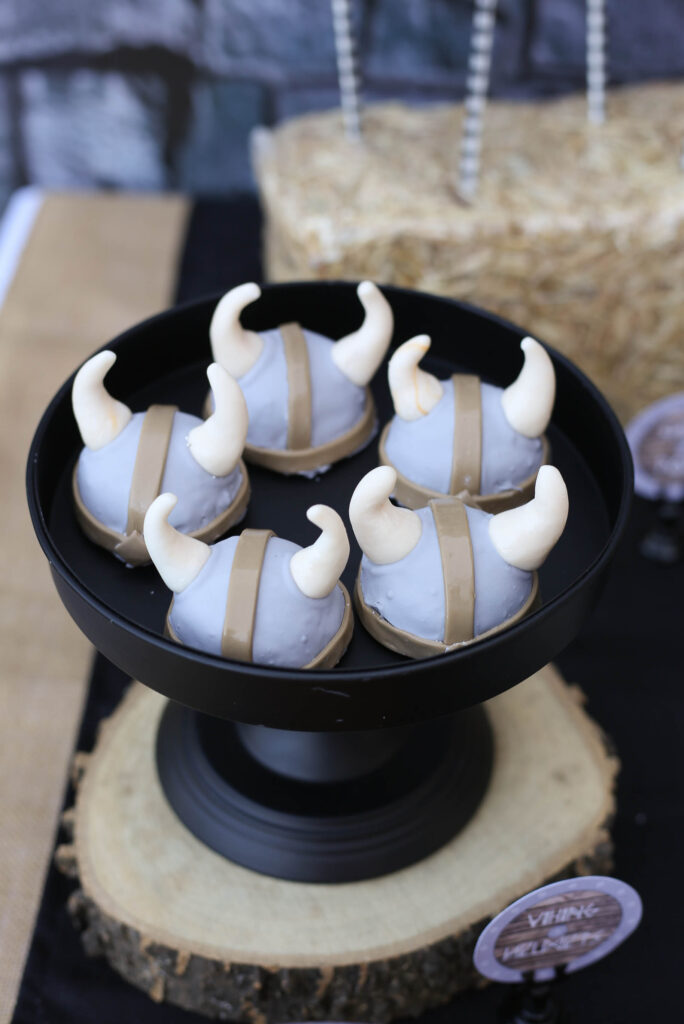 I made some Viking Helmet oreo truffles-these things were pretty big! I made the horns and other decorative parts from leftover fondant, used a large cookie scoop, froze them, then dipped, added the horns, etc, then let them set up in the fridge. Yum!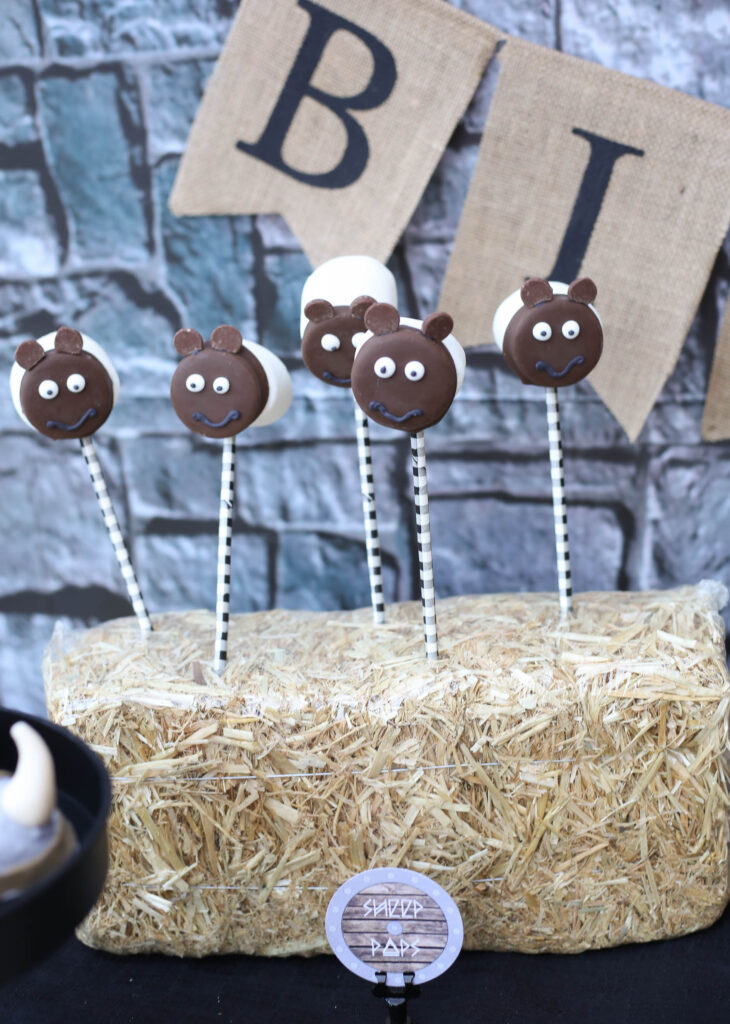 These sheep pops were super easy! I used royal icing to "glue" on chocolate covered oreos to the fronts of large marshmallows, then added eyes and ears, and stuck a paper straw into the marshmallow for the handle!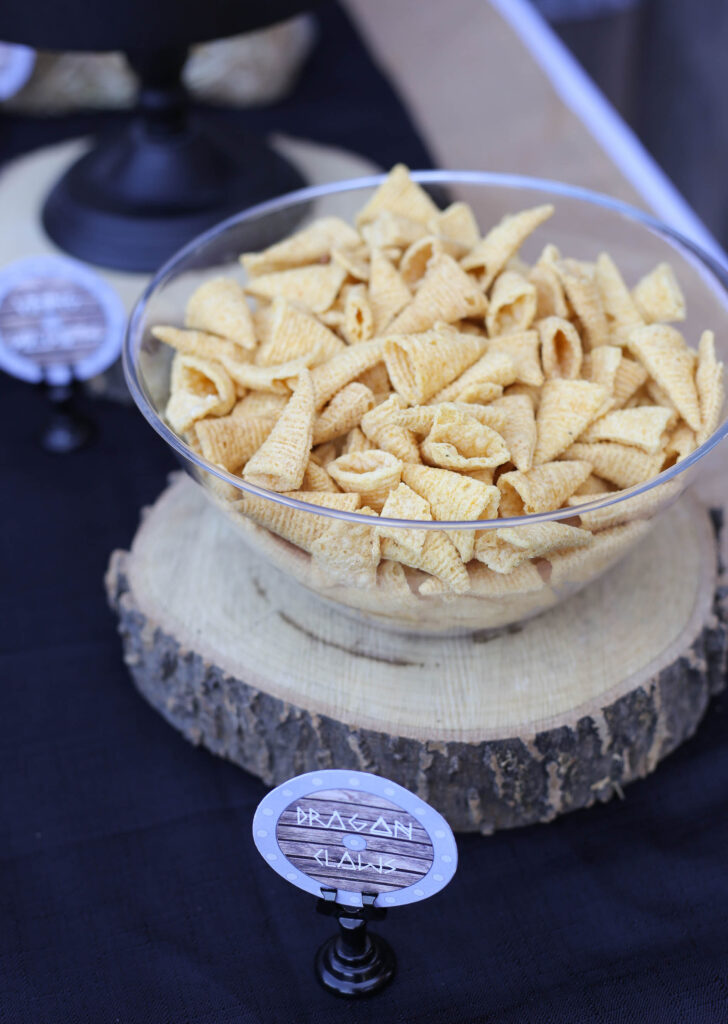 Bugles as "dragon claws"…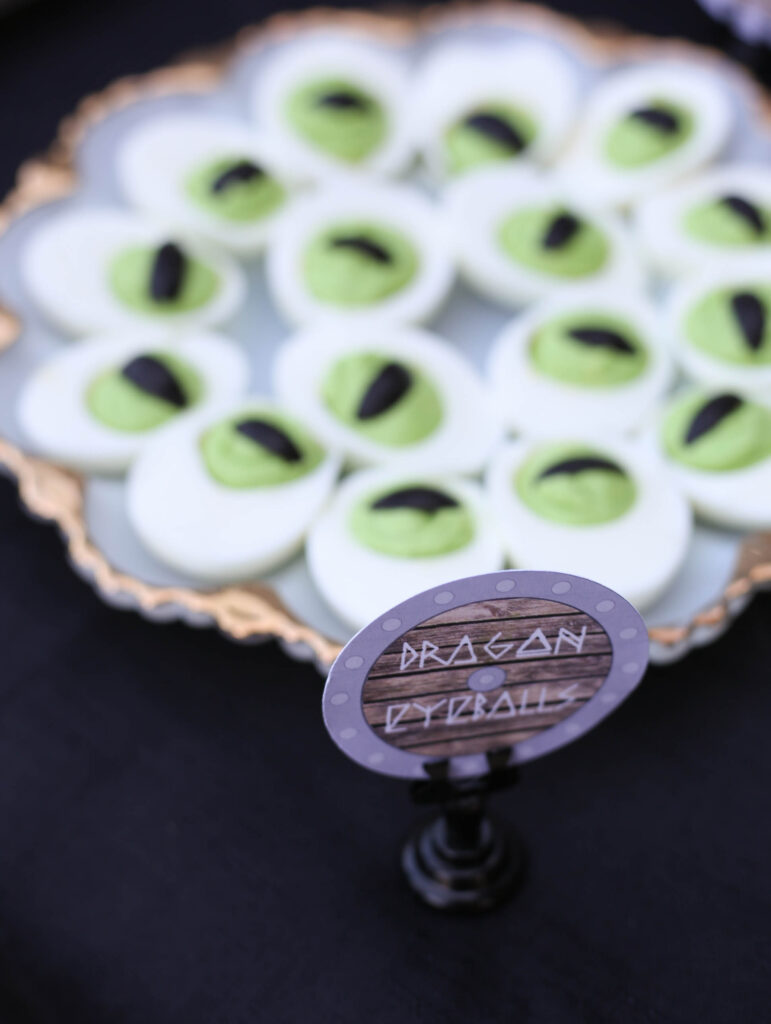 …then some "dragon eyeballs" aka green deviled eggs with a slice of olive for the pupil! So cute!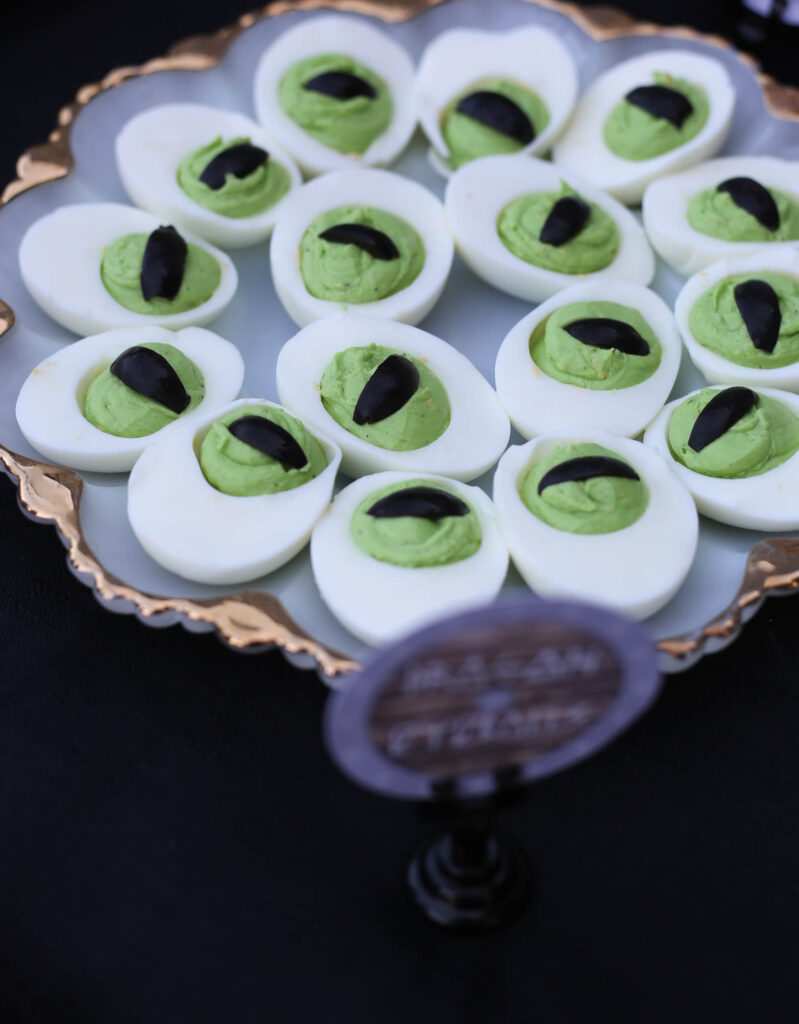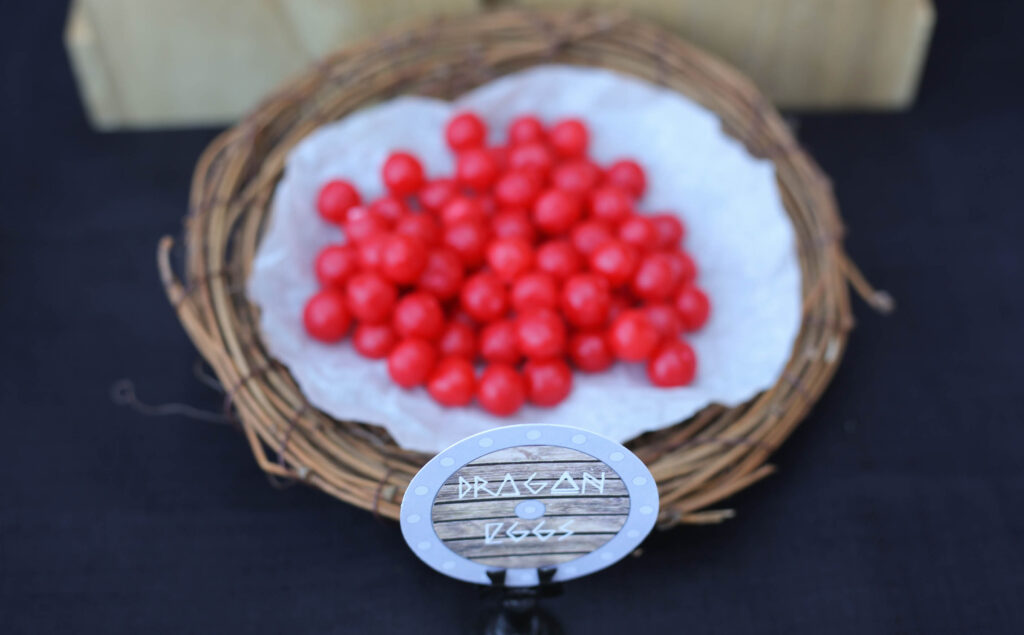 Also some cherry balls aka "dragon eggs"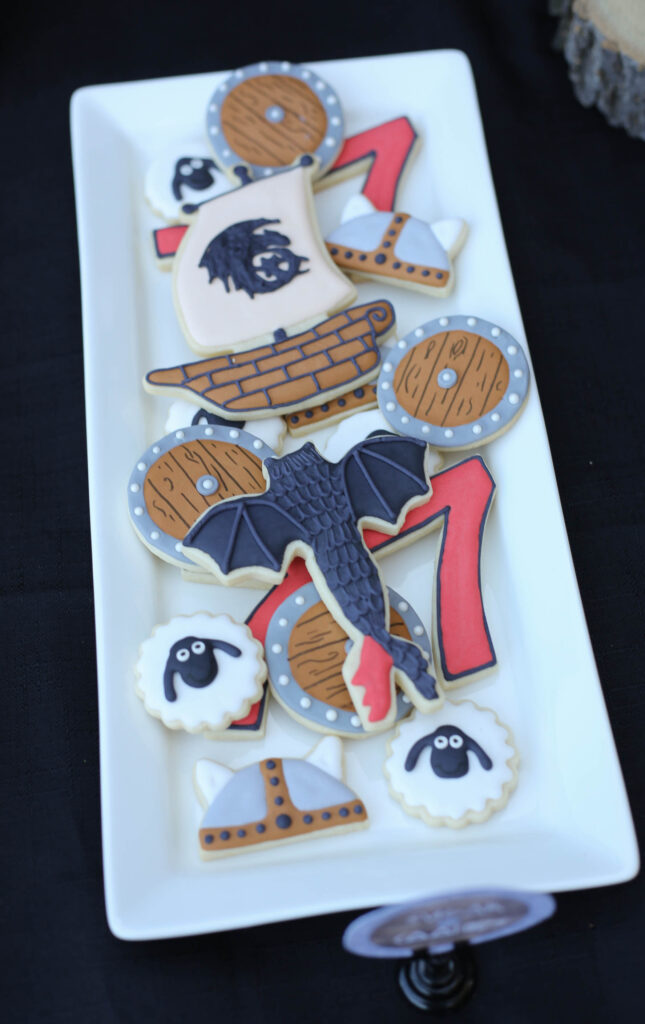 It wouldn't be a CINO party without some sugar cookies! I made some 7's, shield, viking helmets, sheeps, viking ships, and a few of Toothless!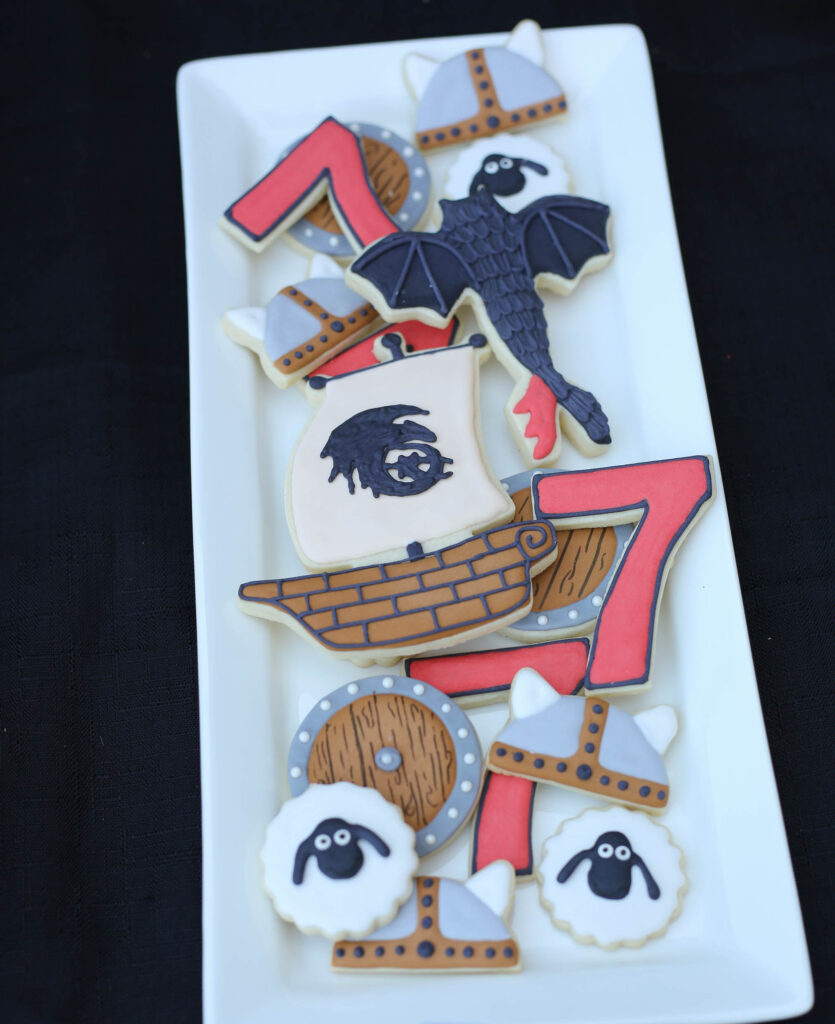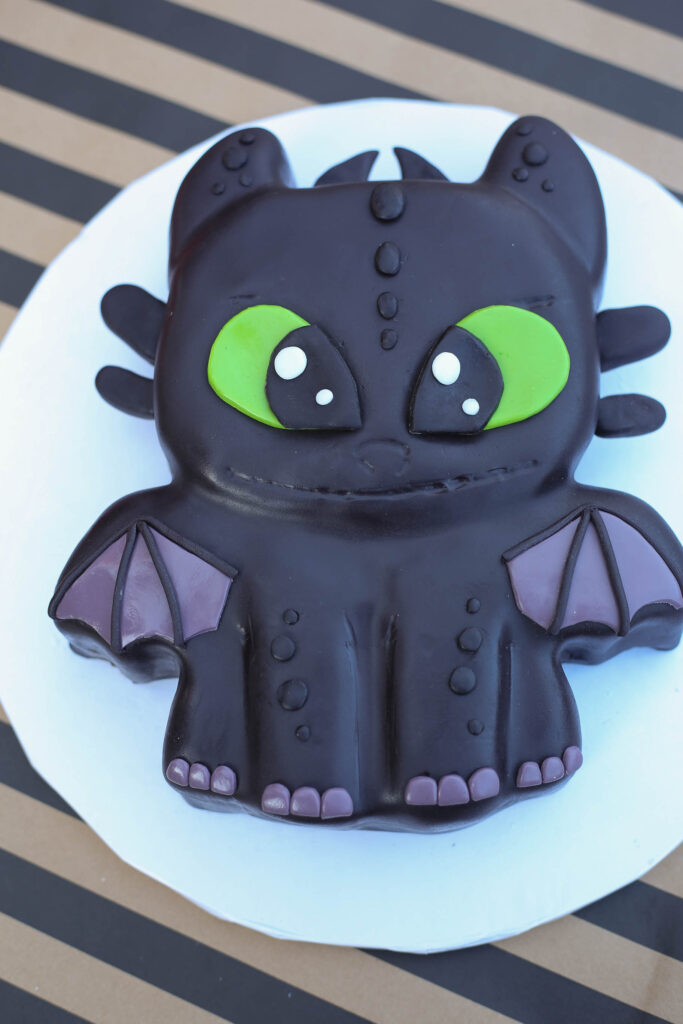 I absolutely adore how the cake turned out! I knew I had to do Toothless since he's Ava's favorite character (besides Astrid).
I spent a lot of time looking at inspiration, but decided on using this tutorial, which was fantastic!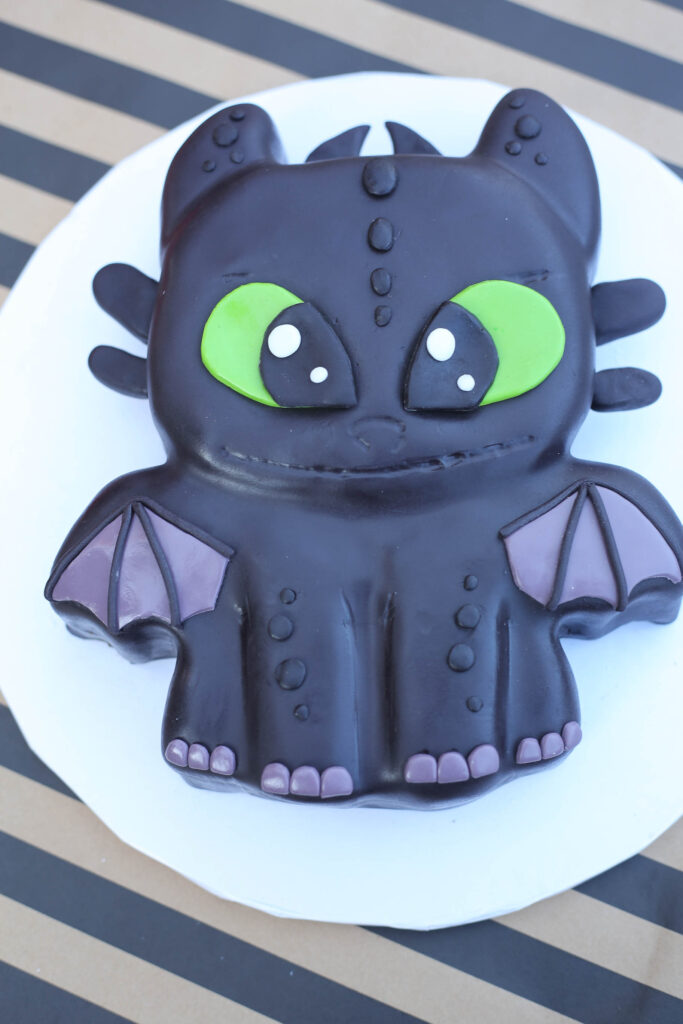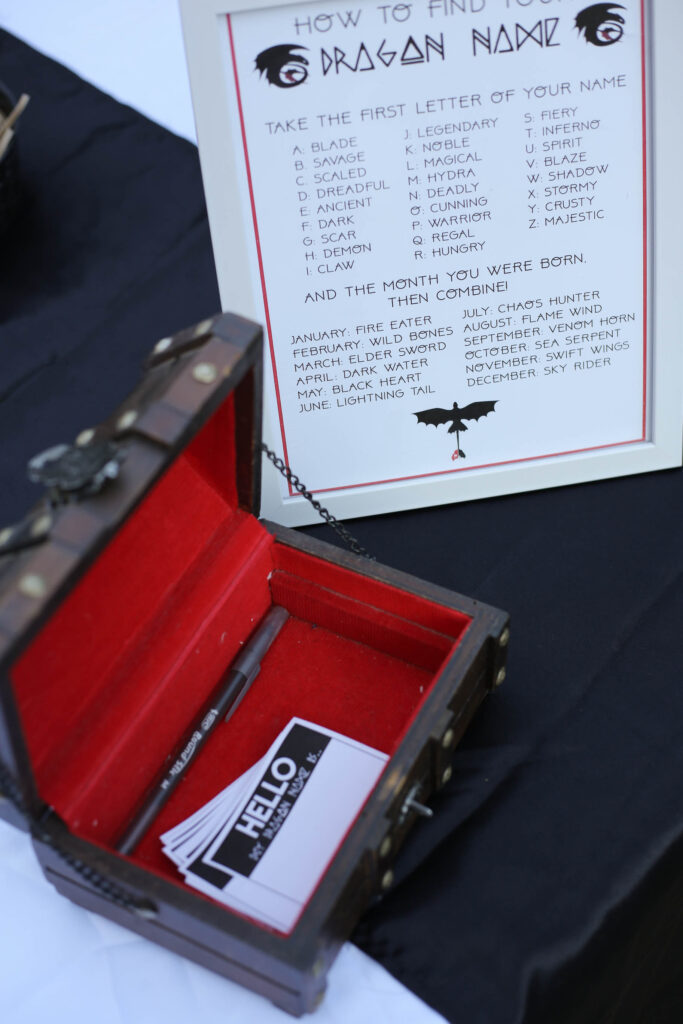 As a kind of ice breaker, while the kids were arriving, I had them figure out what their dragon name was and write it down on some HELLO my dragon name is…tags that I whipped up. They had SO much fun with this one and we had some hilarious names! Mine, for example, was Legendary Swift Wings. I have this as a printable for you to download below for free, as well as the name tags!
<<<<<<FREE DRAGON NAMES PRINTABLE>>>>>>
<<<<<<FREE HELLO MY DRAGON NAME TAGS PRINTABLE>>>>>>
I buy these half sheet adhesive labels for printing anything out that I need to be sticky. They're awesome!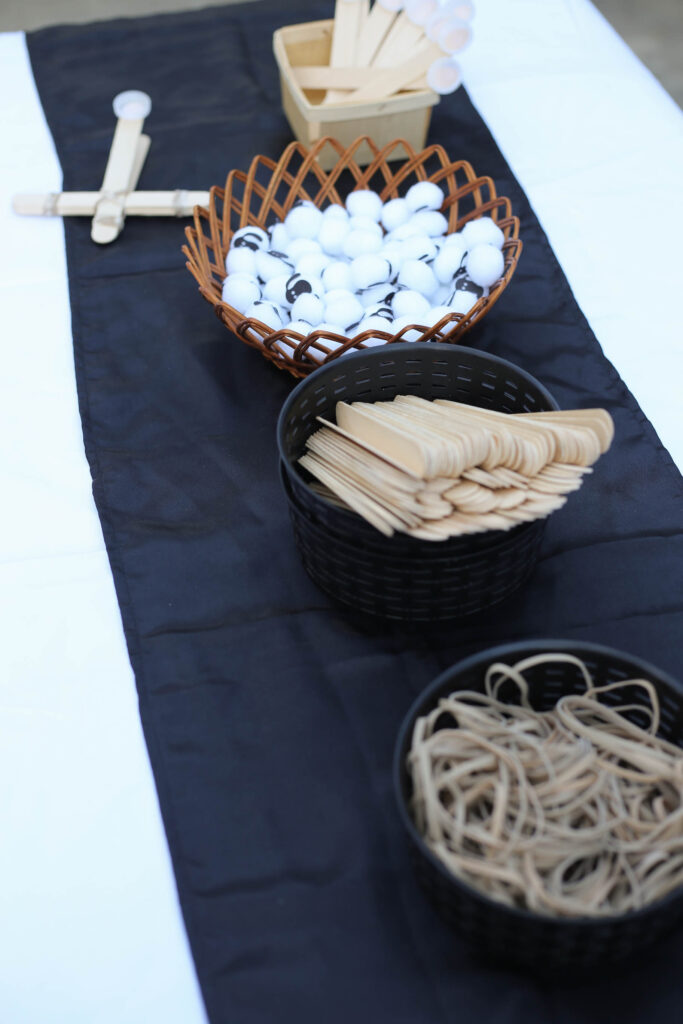 As an activity, we made catapults out of rubber bands, popsicle sticks, and water bottle lids! These are soo simple to make, and the kids had a blast putting them together! Here is the tutorial I used. I cut out tiny black sheep faces with my Silhouette and glued them to white pom poms because I am legit crazy but they turned out cute so is being crazy bad if it made some cute fluffy sheep missiles? (answer is no)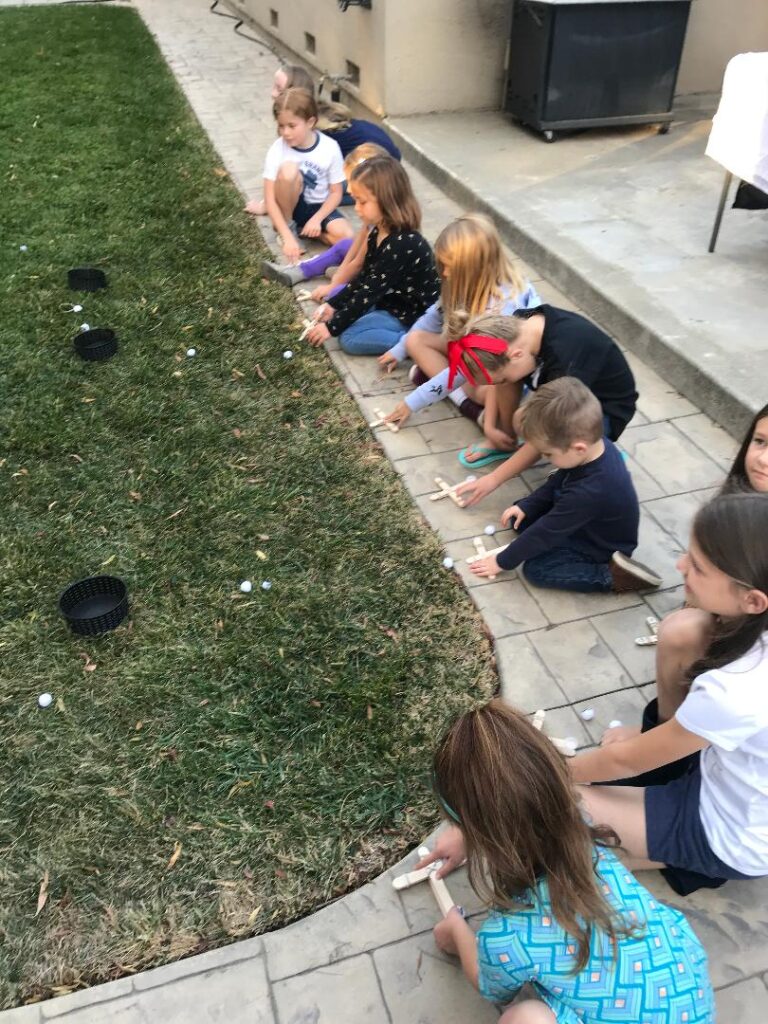 Then we had target practice-SO FUN!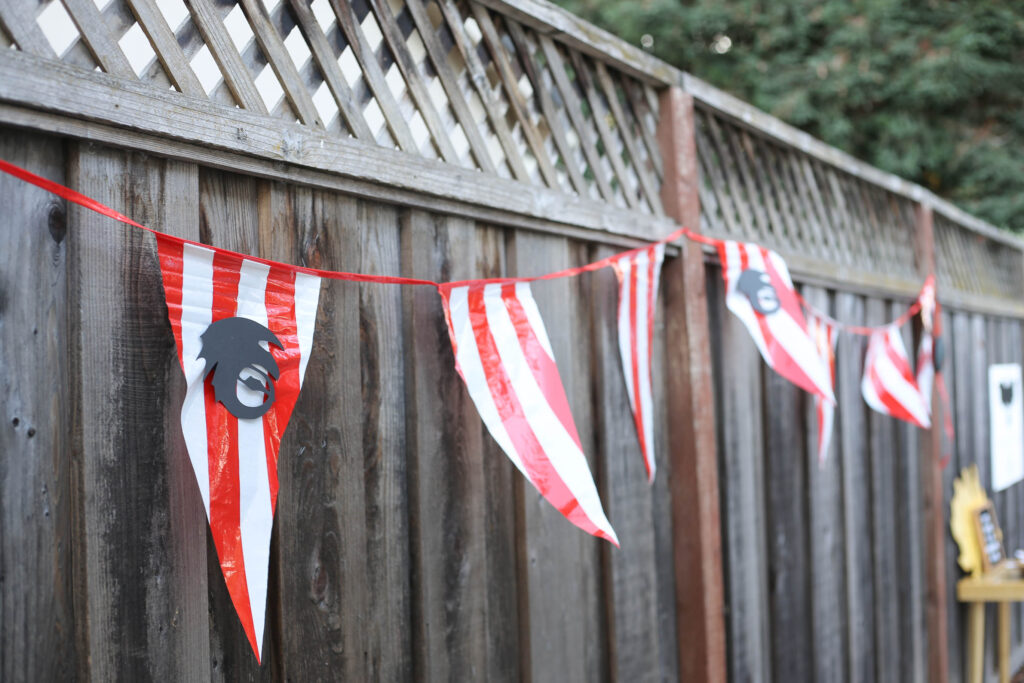 I reused this bunting that I've also used for a circus party, and a movie party, by adding little silhouettes of Toothless that I cut out on my…say it with me….SILHOUETTE.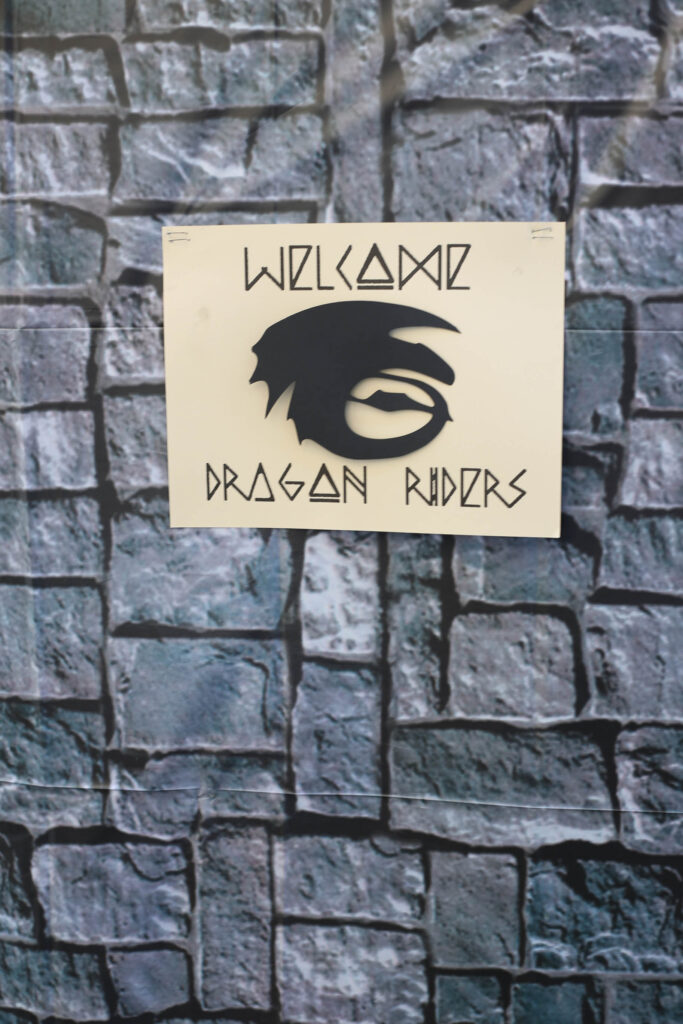 Little welcome sign on the gate..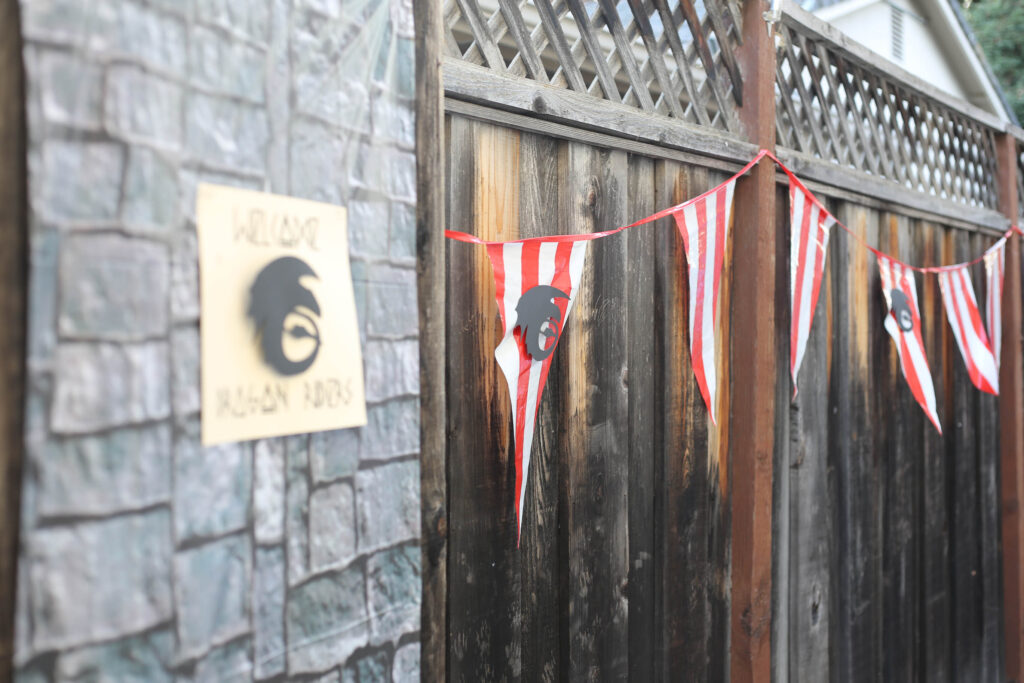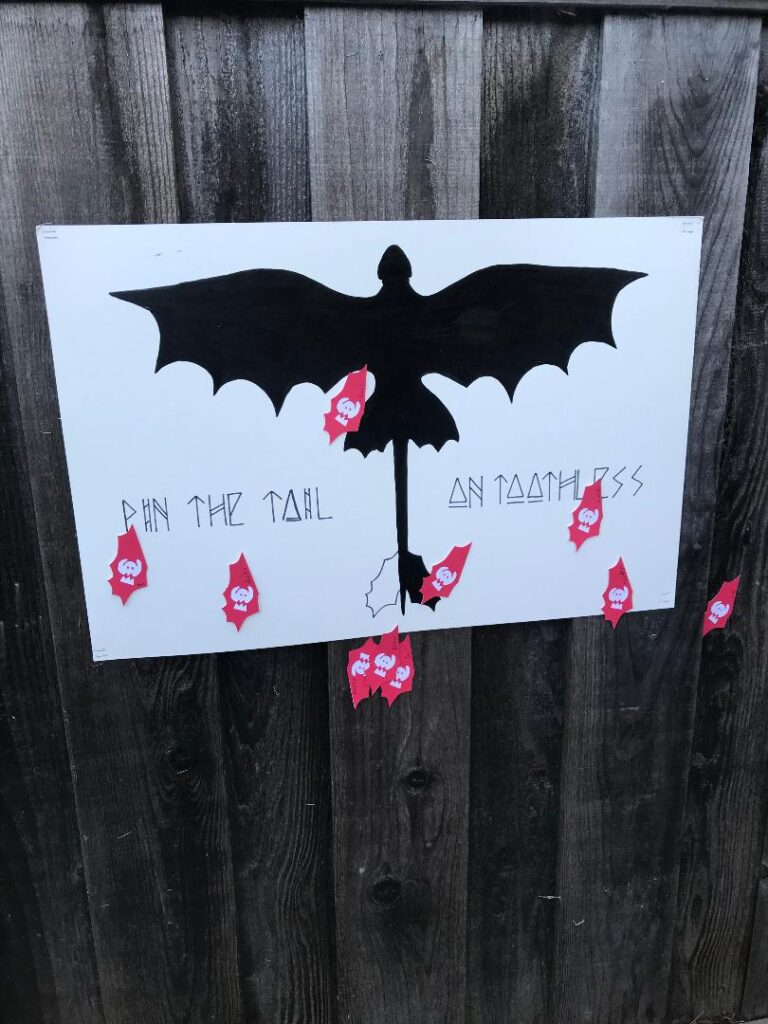 We also played pin the tail on Toothless-I painted his silhouette and then cut out his tail with my…silhouette. This turned out super cute too, and the kids had so much fun!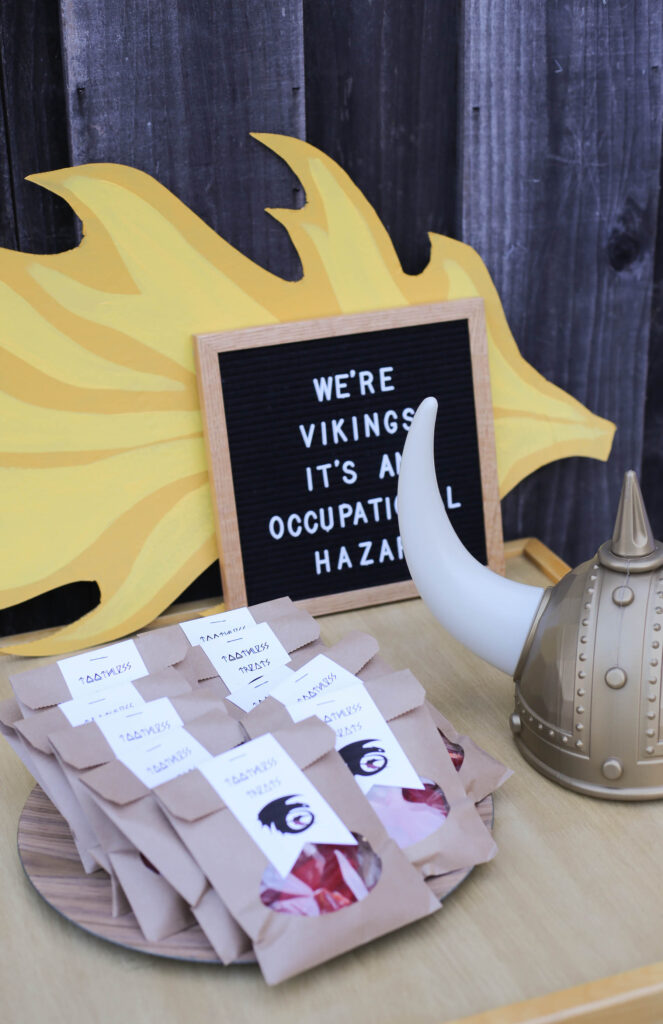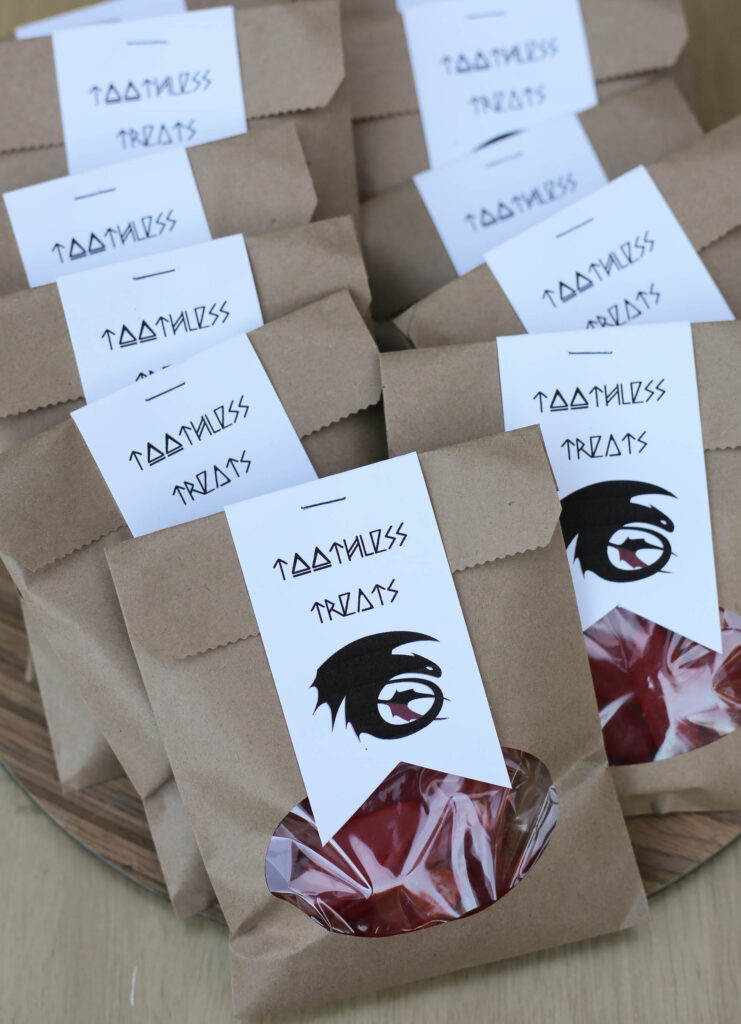 For favors, they kept their catapults and went home with a small baggie of sheep for target practice, and these baggies of swedish fish, aka Toothless Treats! We know how much he loves fish! I grabbed these adorable bags and printed out my own labels. I did have to package them in these baggies before adding them to the kraft paper bags because when I didn't, the oils from the candy created icky spots on the bag. DANG. Good thing they were inexpensive bags, because I had to order them twice!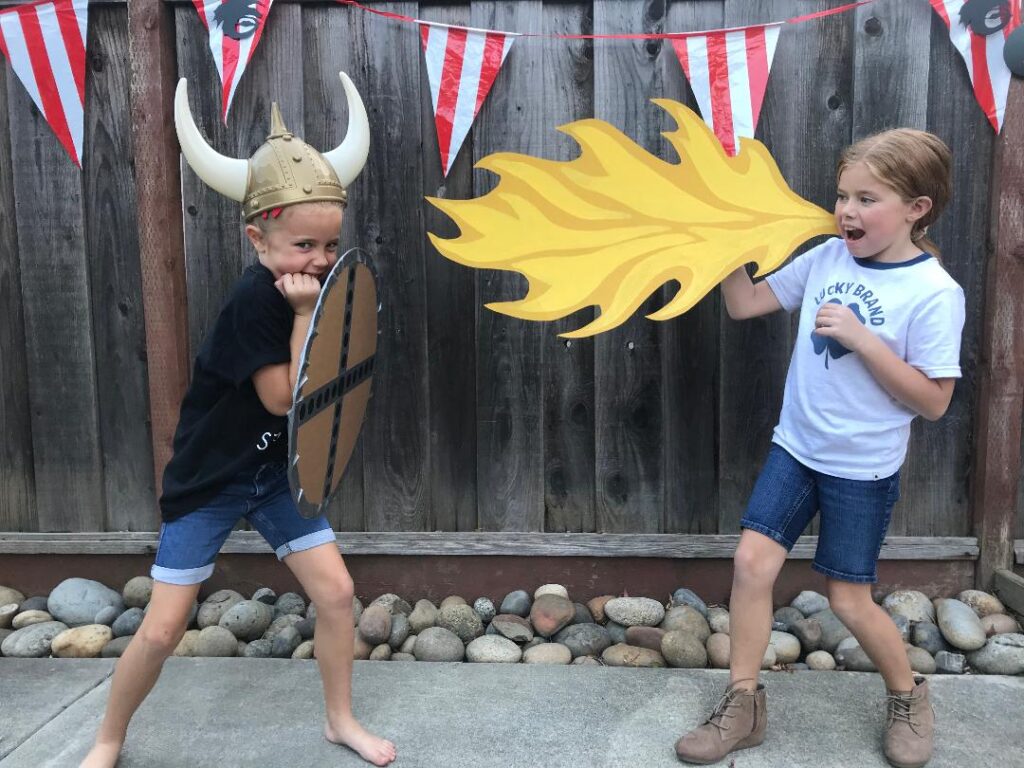 I also made this fire prop with some cardboard and paint, and we had some funny photo op moments!