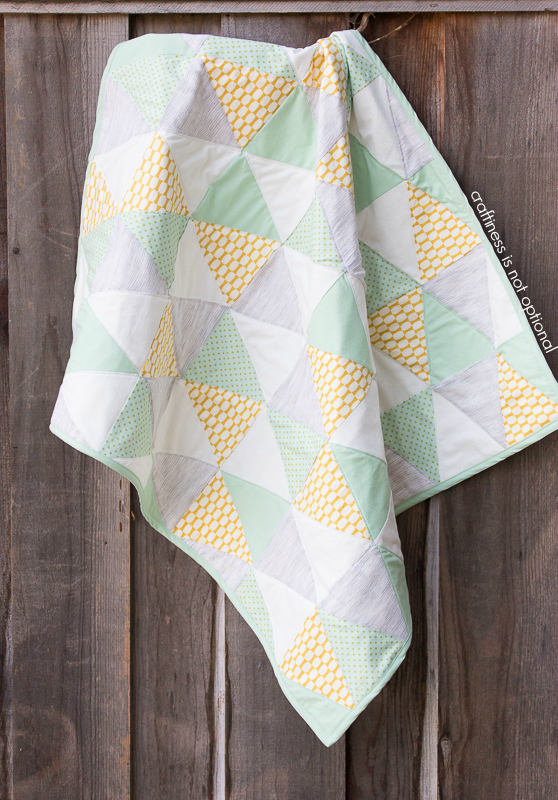 I made this triangle quilt for a good friend, as you may have seen by now. A friend that has been supportive, kind, great at dishing out sewing and design advice, and generally all around awesome. You know her as Kristin, from Skirt as Top! We've been online friends for about a year and a half now, bonding over the gorgeous Junebug remix she created for Project Run and Play, then planning and running Vintage May together. Also our girls have become fast long distance friends by becoming pen pals and emoji texting fanatics. (the two of them playing all weekend long while they visited: SO cute and priceless. we kept looking at each other and going " ohmygersh they're so cute!")
Anyways, as she is having her third baby, another boy, and since she and her daughter were headed down to spend the weekend with us (a few weeks ago now), I spent a few days feverishly working on this quilt to get it done in time. (she found out the gender 4 days before she came down! go time!) I spent a long time picking out fabrics…hoping to get the perfect blend of patterns and colors…and tried to make every seam perfect. (since K is like, part human, part SEWING MACHINE. She sews perfect stitches, peeps) Alas, it was not to be, I made mistakes, like I always do, but at least they were made with love! ha. 🙂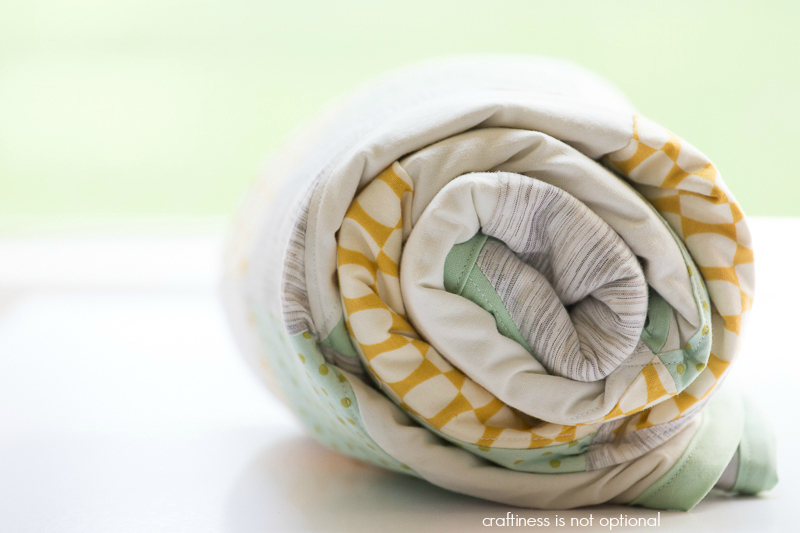 I mostly wanted to finish it before her trip down here so I could see her open it in person-there's something special about gifting a sewing project created from the heart, to another die hard sewist. sniff. Anyways. Enough with the mushiness. Suck it up, Jess.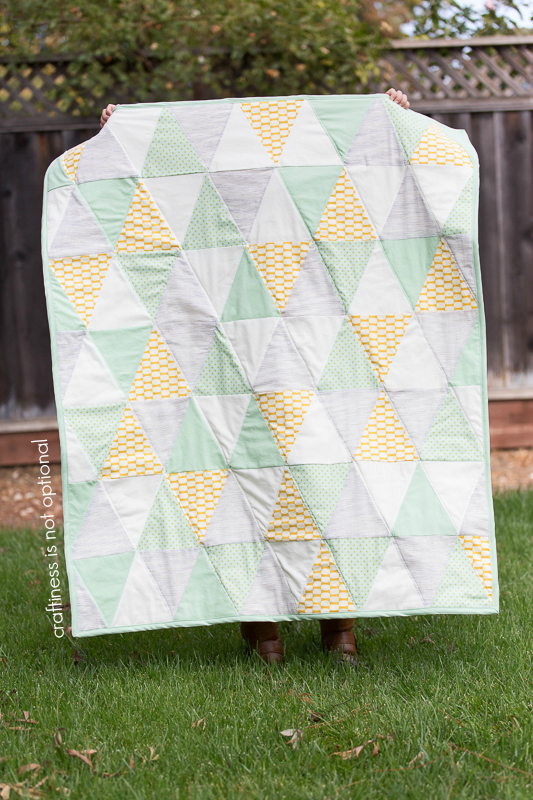 So let's get down to the nitty gritty. I use a combo of tutorials-mostly this one by Happy Together, but also inspired by See Kate Sew and Mommy by day, Crafter by Night.
I used all fabric from my stash except for the grey and white chevron back, which is from Joanns. The heathered grey on the front was voile, which I do NOT recommend using for a quilt, lol. But it's what I had that looked good with the other fabrics, so I went ahead and used it. Plus it's darn soft. The solid mint is a Bella solid, in mint (obvs) from The Ribbon Retreat.  Also I used, from the Bella line, the Porcelain shade.
The yellow is a long time stash piece that I forgot to check the selvage on. Anyone recognize it? Edit: It's 2wenty Thr3e Mustard Modern Girl, from my sponsor, The Fat Quarter Shop. 🙂
blerg, same with the mint and green polka dot. I suck at blogging!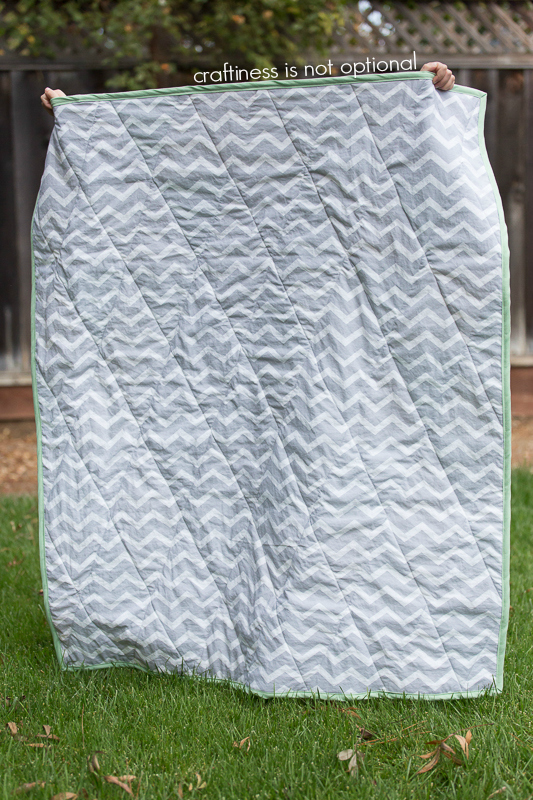 I stuck with simple, straight lines of quilting in a kind of diamond pattern. Just followed the lines of the triangles!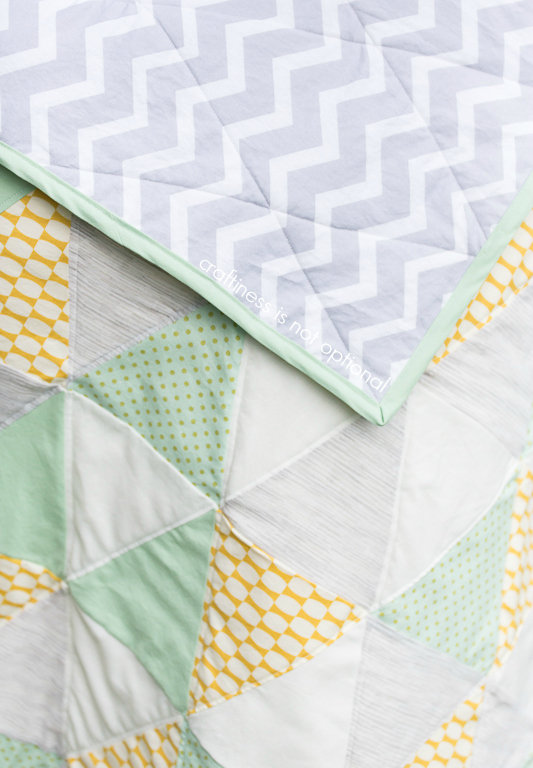 I was really happy with how it came out and I hope K's little baby boy enjoys snuggling with it when he is born!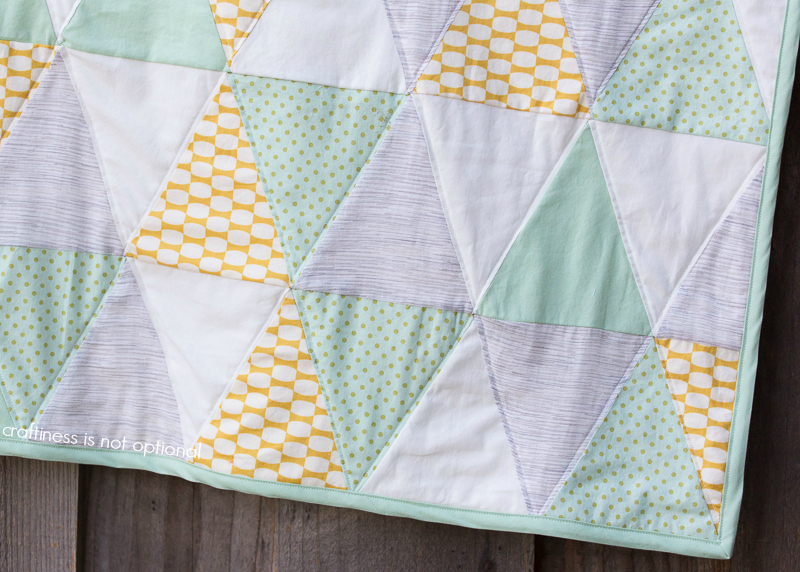 Just realized this quilt totally matches my blog.