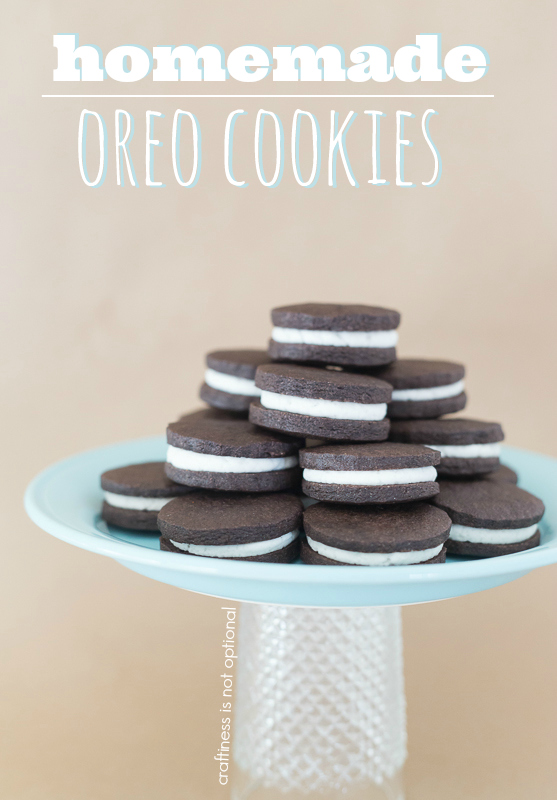 I hosted play date at our house the other week and decided to make these homemade oreos instead of my go to chocolate chip. It's safe to say I think I made the right decision. These have a great balance of salty & sweet, and the cookies are crunchy but not crumbly. I made up my own recipe for the filling on the fly, and I think it tasted pretty darn close to the famous white filling!
Homemade Oreos
adapted from My Kitchen Addiction
(Makes approximately 3 dozen)
For the cookies:
1 cup (2 sticks) unsalted butter, softened
1 cup granulated sugar
1 egg
1 teaspoon pure vanilla extract
2 cups all purpose flour
3/4 cup dutch process cocoa powder
1 1/2 teaspoons baking powder
1/2 teaspoon salt
For the filling: (my own recipe)
3/4 cup of shortening, softened
1 teaspoon pure vanilla extract
Pinch of salt
3 – 3 1/2 cups powdered sugar, sifted
water (anywhere from 1-4 tablespoons)
Start with the cookies. Combine the butter and sugar in a large mixing bowl, and beat on medium speed until light and fluffy.  Add the egg and vanilla, and beat until well mixed.
Meanwhile, whisk together the flour, cocoa, baking powder, and salt. Gradually add the dry mixture to the creamed mixture, beating on the lowest speed.  Continue to mix on the lowest setting until the dry ingredients are just incorporated.
Divide the dough in half (this is where I strayed from the recipe), and place each half between two pieces of parchment paper. Roll out dough to 1/4″ thickness with a rolling pin, then chill in fridge for about 20-30 minutes.
When the dough is chilled, preheat the oven to 350°F.  Line a baking sheet with parchment paper or a baking mat.  Use a cookie cutter (approximately 2 inches in diameter) to cut out cookies and transfer them to the prepared baking sheet.
Bake the cookies for 12 minutes, let cool on baking sheet for about 5 minutes, then transfer to a wire rack to cool completely.
While the cookies are cooling, prepare the filling.  Combine the softened shortening, vanilla, sugar, and salt and beat until combined. Whip on medium speed for about a minute, adding in the water 1 tbsp at a time until it's the right consistency. Not too soft though!
Put the filling into a piping bag fitted with a large round tip.  Pipe the filling onto half of the cookies, and top with the remaining cookies to form cookie sandwiches.
Devour.