lol, just to be clear, I am SO not pregnant, but did I getcha? Even a little bit? nope? oh well. That's what I get for pulling such a lame "joke". 
Anywho, I was referring to my new GO! Baby cutter that the nice folks at AccuQuilt sent me!
I admit, I was a little intimidated by the box when it arrived, thinking it would be hard to figure out…but it was the opposite. Soo easy…no plugs or cords, the cutter is all run on your man-excuse me, woman power. I had to try out the cutter with some simple applique-so Sadie "helped" me, and we picked out some fabrics together.
I applied the heat n bond to the fabric before cutting, and then trimmed it down to fit the die. (it has the shapes on it…you can see the outlines in real life-it's so easy to line it up)
Then you place the cutting mat on top of that, and roll it through the machine. (both Sadie and Charlotte love to play with the handle, and it's totally safe-love that I don't have to scold them for yet another thing they can't touch…haha)
So out pops lovely perfect appliques! You can see the shapes of the die cut better in this picture.
Then I peeled off the paper backing, arranged them on a onesie how I liked (I know a few ladies having girls, yay!), and ironed them on. I'll probably go back and stitch over the edges later.
I also made this sweet little flower with some petals-also on the flower die!
Best part-it works great with felt! Yahoo! Take a gander at these clips. They took all of 10 minutes to make. For all four! I think I'm in love.
I'm sure I haven't even scratched the surface of what this little cutter can do. I can't wait to keep scratching though!….er…weird sentence. Scratch that. erg.
They also have some FREE patterns available-22 of them to be exact. You know I already downloaded them, and they are really cute. They give fabric requirements and cutting instructions for your rotary cutter and mat too, but I am now realizing the potential of these cutters-it was so, so fast to cut out the fabric for these simple projects, I can only imagine how much time it saves with large quilting projects! You can also cut more than one layer per pass, which is nice.
So, anyways! If you want the FREE patterns, just click on the button below, register your e-mail, and they are yours!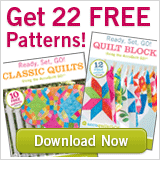 Look for more of me dorking around with my new toy in the future, and also, an exciting giveaway! (betcha can't guess what it is…. 😉
Hope your week is going well!