Remember these?
Well, you can probably guess now what I did with them. Giant buttons!
I sanded, primed, painted them, and then hot glued some ribbon in the holes I had Rory drill for me in the middles. I hung them up with those awesome
Disc-hangers.
(got mine on Ebay)
I LOVE how they look on the wall, they make me smile every time I glance over there!
Speaking of craft rooms… ;)…I put up some updated pics on my
crafty space post
, so go check it out!
I also have a button on my sidebar for future updates!
Cause you KNOW I can't leave well enough alone. I always like to change things up!
Don't forget to go check out this week's Green projects over on One Month to Win It!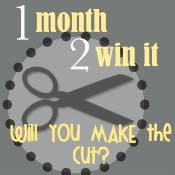 Vote for your fav! Wonder if you can guess mine? 😉