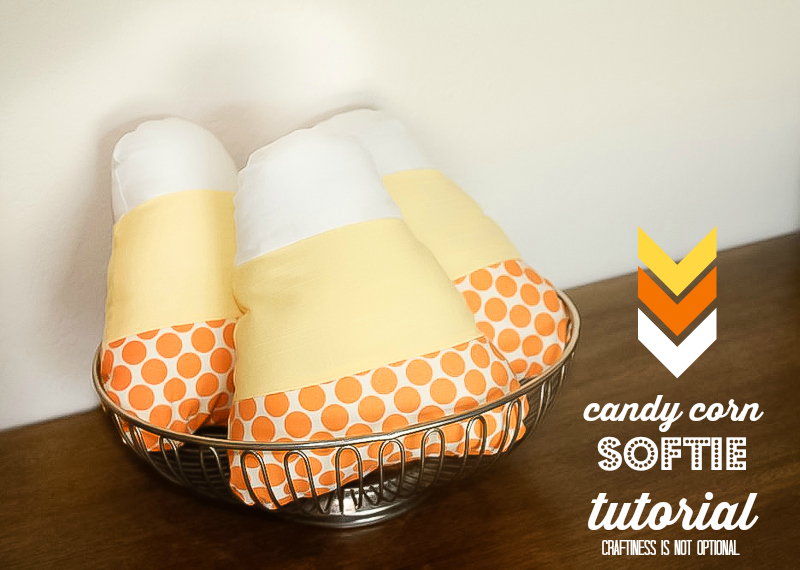 i'm not a big fan of the actual candy corn, but the stuffed version i like just fine.it's a lot more cuddly too.
i suppose you could cuddle with the candy, but it might get sticky.
edit: er. candy corn is yellow on the bottom. then orange, THEN white. oh well. i like this way better, but if you feel the need, go ahead and make yours the "correct" way. or be like me and rebel against the man!
alright, enough joking around. aren't these the cutest?! i love dressing up for halloween, but not so much for the decorating. too much spooky stuff. (i scare easily.)
you'll need: orange, yellow, and white fabrics, cut into 3.5 inch by 8.5 inch strips, 2 per color, per candy corn
thread
sewing machine
rotary cutter
poly fil
so…cut your fabrics! 3.5″ by 8.5″ 2 per fabric per corn

sew the orange to the yellow, and white to the yellow, with 1/4″ seam

cute colors already, huh? press seams down.
make sure to line up the seams, right sides together, lay the pattern out, and cut!
then pin!
sew around 1/4″ seam, leaving about 2 inches on the bottom to turn, back stitch at beginning and end.

clip corners with scissors (carefully!)

turn right side out and press opening (it will make it easier to slip stitch later)

stuff it with poly fil to your heart's content. then, slip stitch the opening closed with a needle and thread. this little photo set shows how. easy peasy!
then, display for halloween! i think they'd be cute smaller too!
featured on Craft Gossip!
***If you have used any of my tutorials, I'd love if you'd add a quick pic to my flicker group! Thanks!***